Kurtmen ~ "GALAXY" Swarovski Crystal~ REAL Black Onyx~ Encrusted Black Italian Leather Tote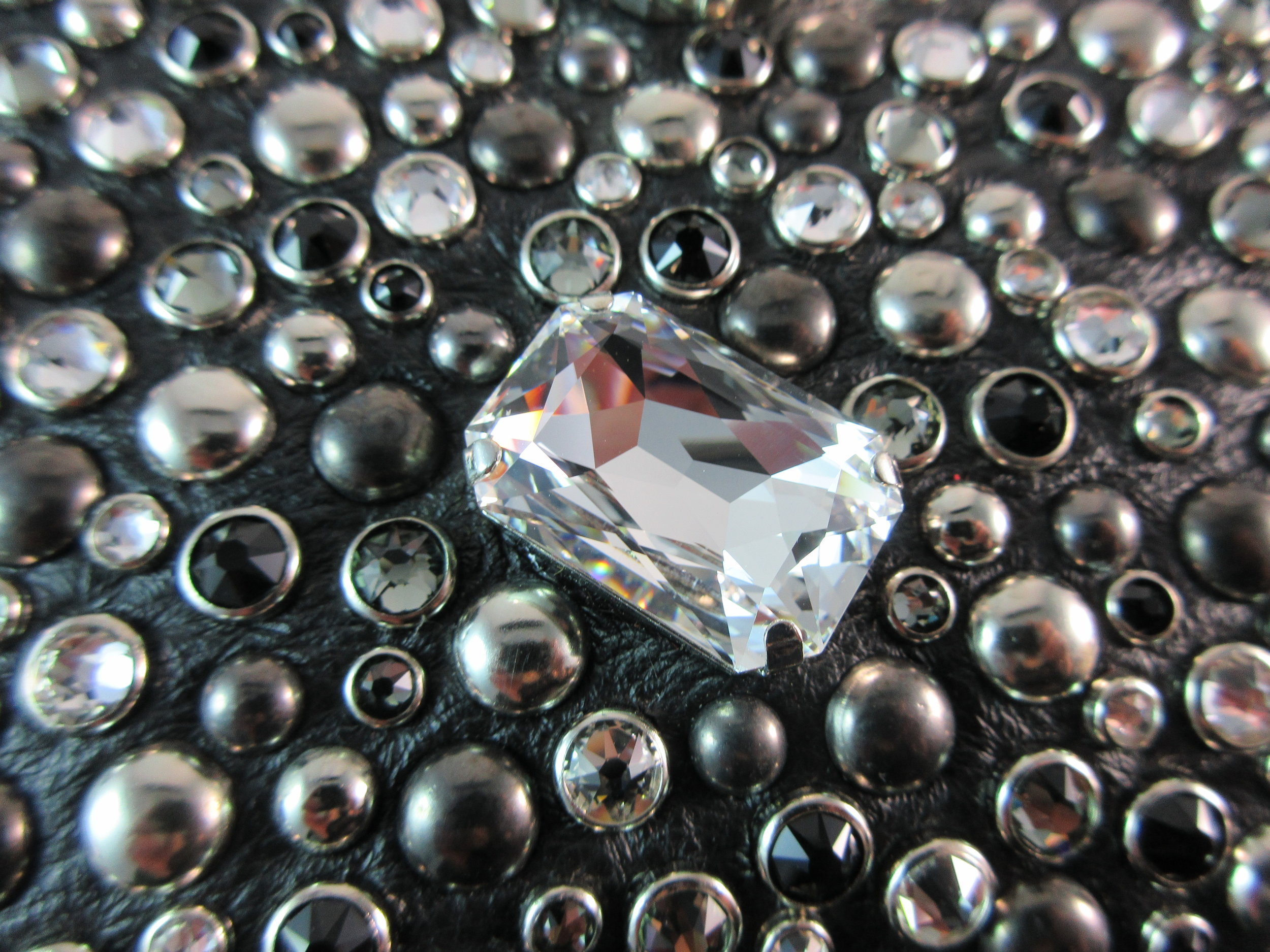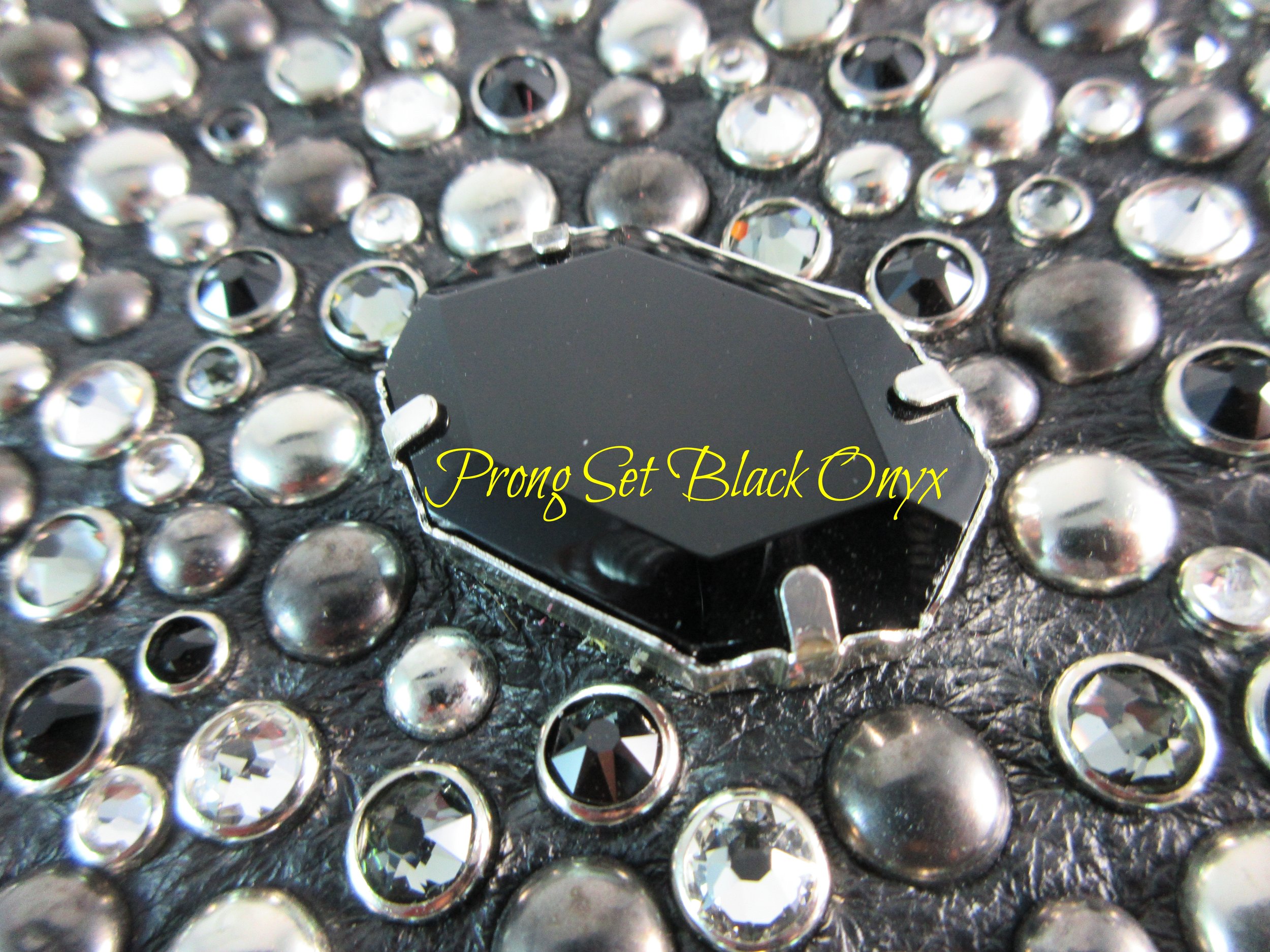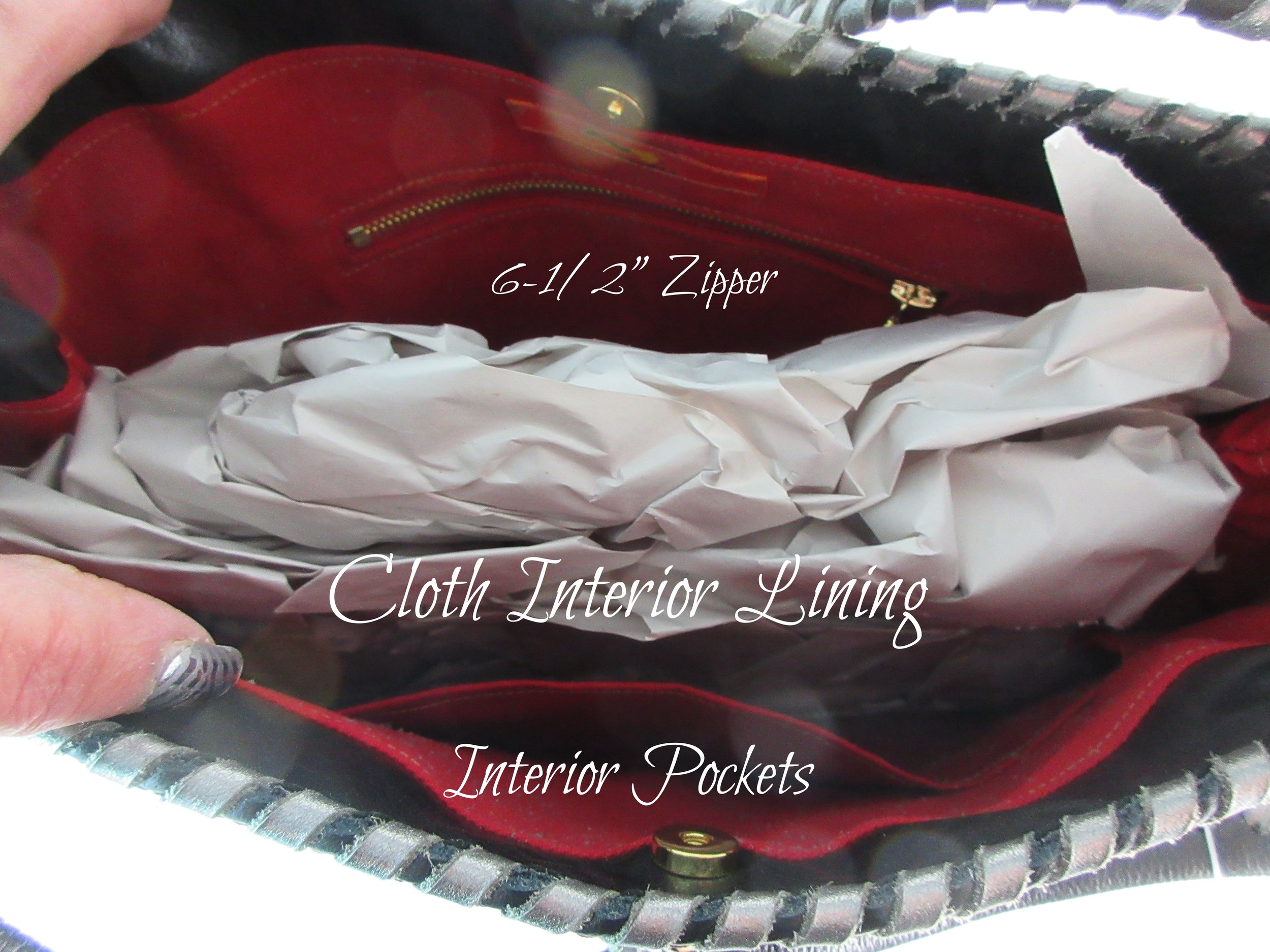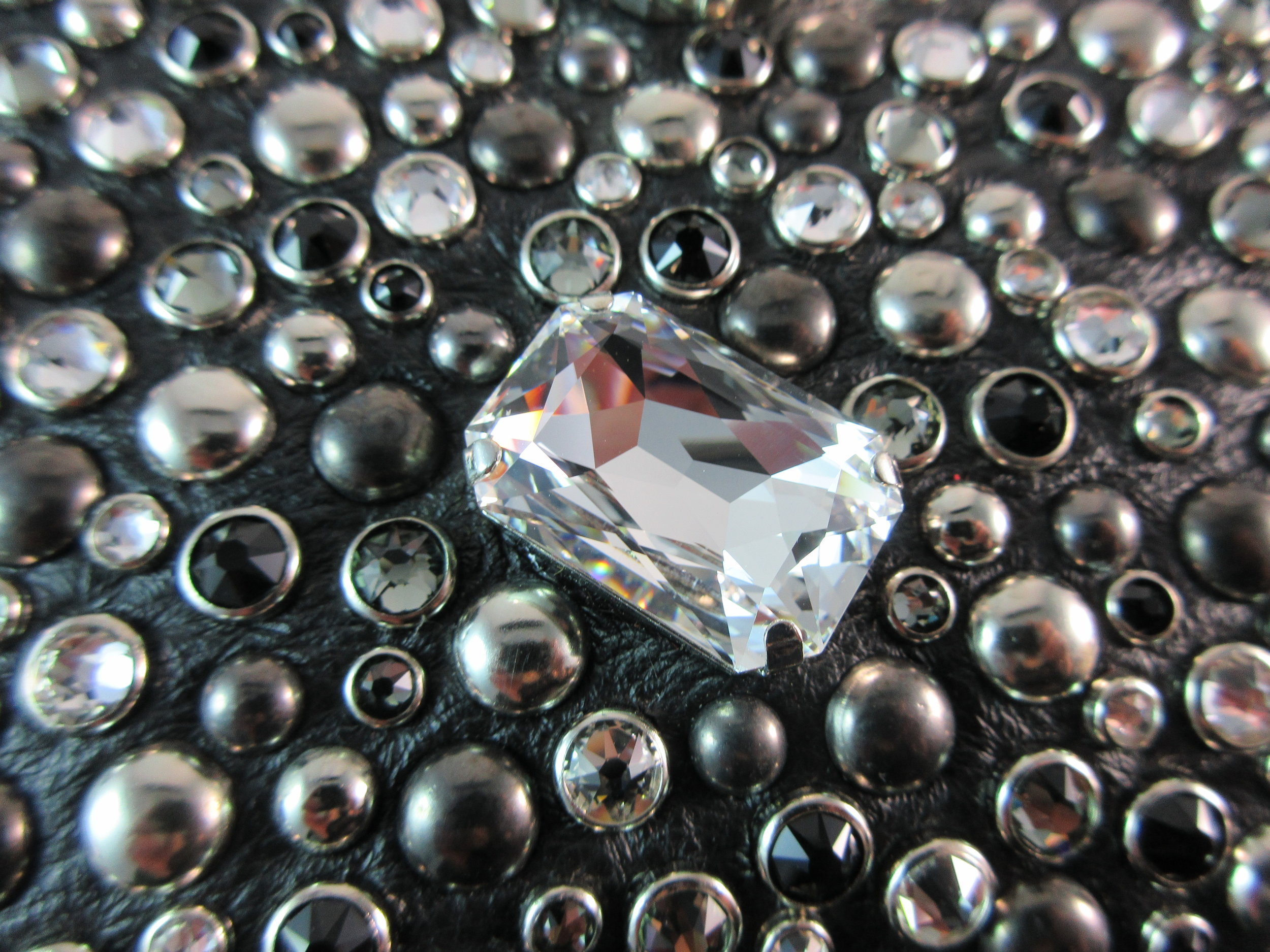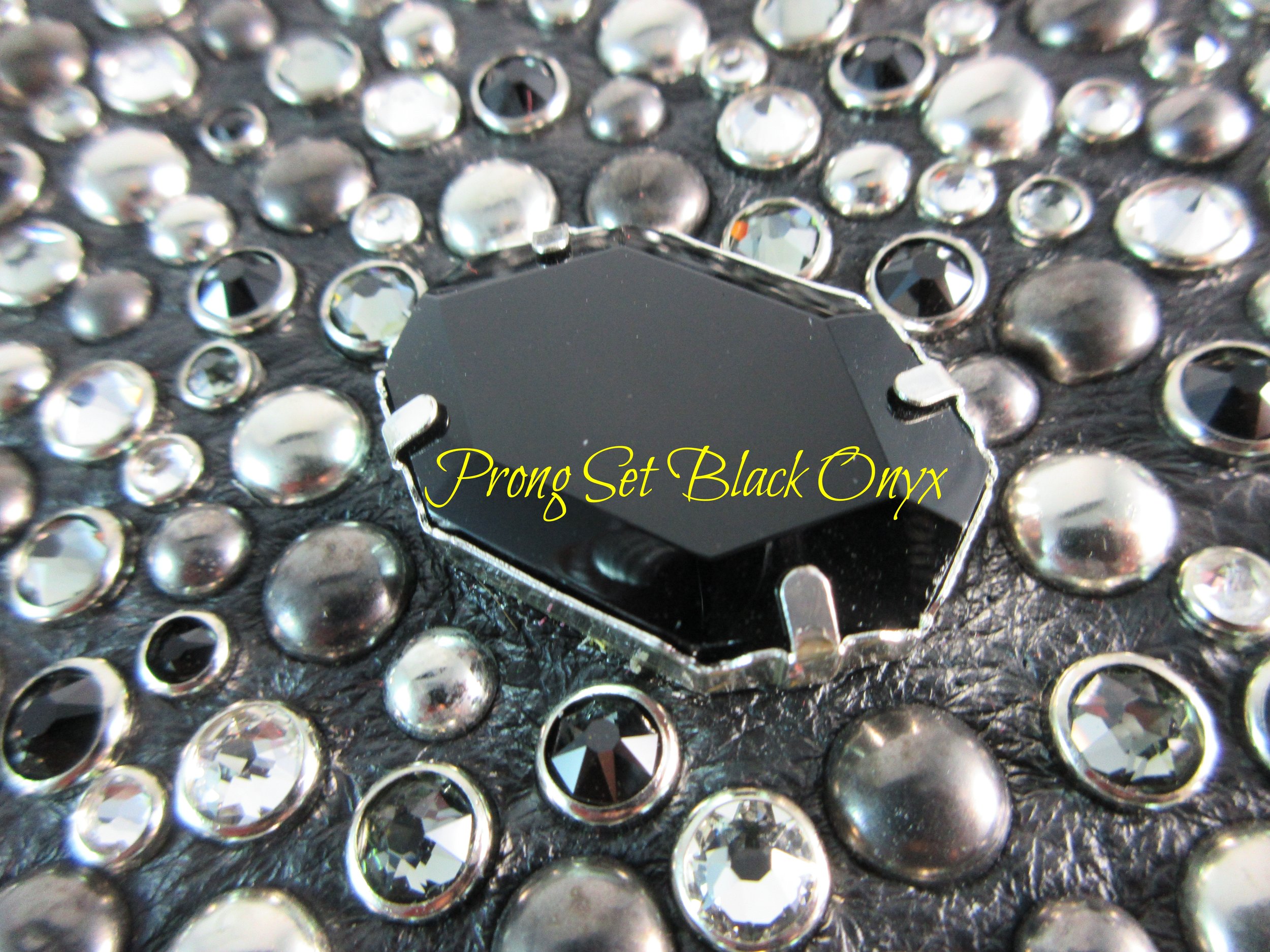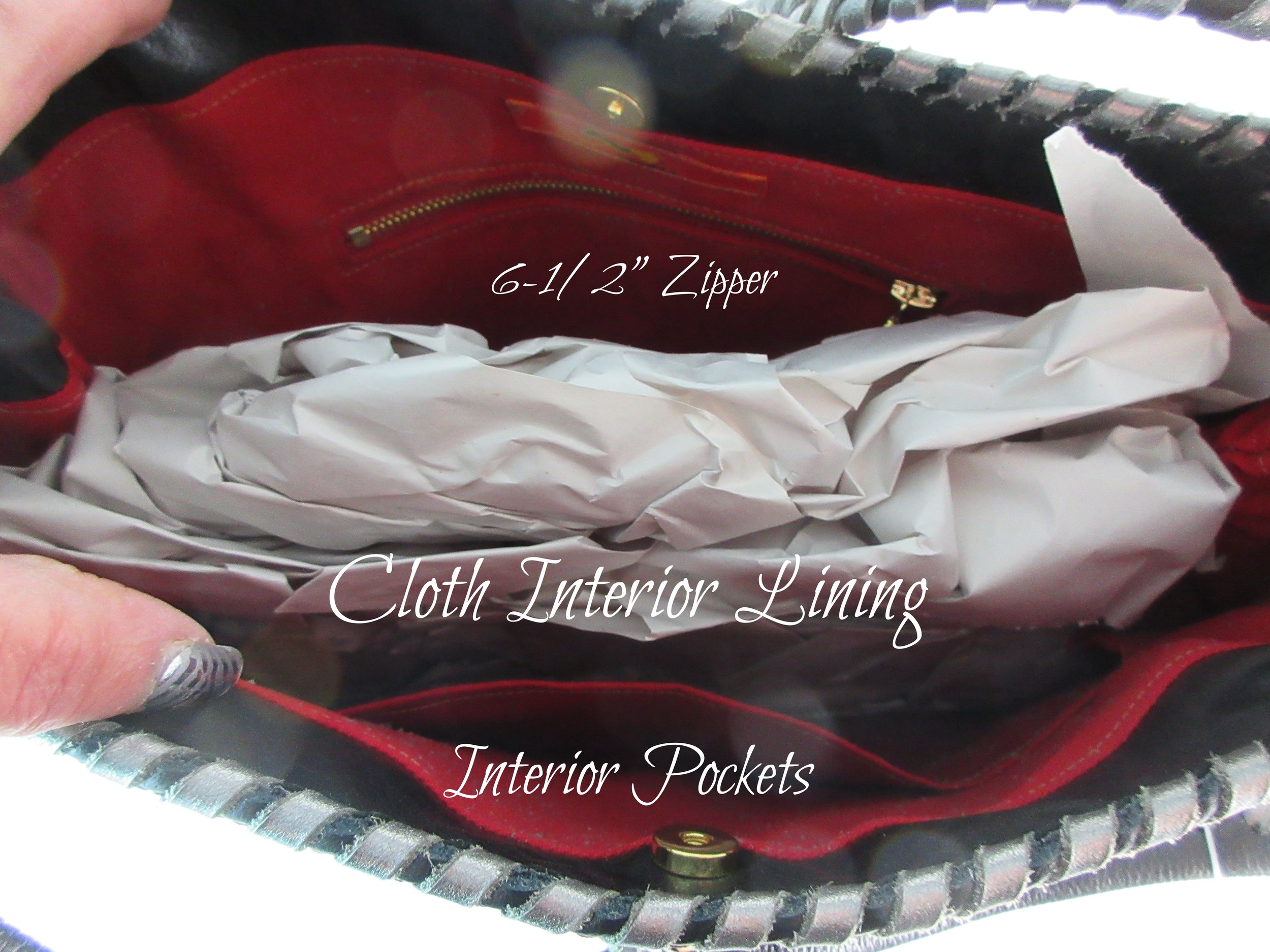 Kurtmen ~ "GALAXY" Swarovski Crystal~ REAL Black Onyx~ Encrusted Black Italian Leather Tote
Called the "Galaxy" but I don't know of stars that shine this bright!! Looking at this, is like looking into a fine diamond jewelry case! WOW!! Pictures just don't capture the shine!
I don't even know where to begin with it,it is that overwhelmingly gorgeous & you don't even have to look at the shining stars when you got a bag like this!!
This purse oozes quality,sophistication & urban western class!
It's made of the finest leather money can buy (Italian),that maintains it's buttery soft feel & gets better with age.
Combine that with huge octagon shaped faceted Swarovski clear crystals,REAL black onyx (Also Octagon shaped) & encrusted with complimenting accents of gunmetal colored studs,silver tone studs,smaller clear Swarovski's,faceted black diamond crystals & you are going to wow everyone you cross path's with!!
It is also accented with silver metallic gunmetal colored whip stitching, that is all done by hand & lays along the perimeter & handles & really pulls the black & grey tones together!!
This is one serious tote & probably the finest that your going to get by Kurtmen that is made in a upscale style!
Designed for the woman who loves to shine & loves her wardrobe to be on the 'Finer,Sophisticated" side.
Because of the fully encrusted work,this contributes this to be more of a weightier purse.
A real show purse for any high end,glamorous event! Perfect tote for Vegas,Santa Fe,Houston,Dallas or New York!(And all places in between!)
**In the last photo,is a Galaxy crossbody with removable strap to then carry as a clutch! It is listed in the "crossbody" drop down!
~~~~~~~~~~~~~~
FYI:
Swarovski crystals are THE best crystal you can get,that never dulls & maintains it's sparkle throughout their entirety..
Because of the process that goes into Italian Leather,also makes it to be considered the finest leather out there! So breaking it down,between all the fine materials this has, then put the love,passion & time on top of that,this is one extremely powerful,top notch purse's you may own!!
Made in the USA with all that Texas Love!
LABELED: KURTMEN
HAND MADE IN: TEXAS,USA
COLOR: BLACK ITALIAN FINE LEATHER
ENCRUSTED MATERIALS:SEE DESCRIPTION
OCTAGON SHAPE ONYX SIZE: 36 mm X 25.5 mm (PRONG/BEZEL SET)
OCTAGON SHAPE SWAROVSKI CRYSTAL SIZE: 25 mm X 18 mm (PRONG/BEZEL SET)
TECHNIQUE: WHIP STITCHING~MACHINE PRESSED STUDS~STONES & STUDDING FINISHED BY HAND~HAND KNOTTING~SEWING
MATERIAL: FINE BLACK ITALIAN LEATHER~RED COTTON INTERIOR
PURSE WIDTH: 17" WIDE
PURSE HEIGHT:12"
STRAP DROP: 10"
CLOSURE: MAGNET
STYLE: ENCRUSTED CRYSTAL ELEGANT BOX TOTE
COMES WITH KURTMEN PURSE SLEEVE
**This also comes in a crossbody with a detachable strap that doubles as a hand held clutch!!** (Keep a eye out!)