Guadalupe~ Swarovski Crystals~ Distressed Red/Turquoise Italian Leather Western Tote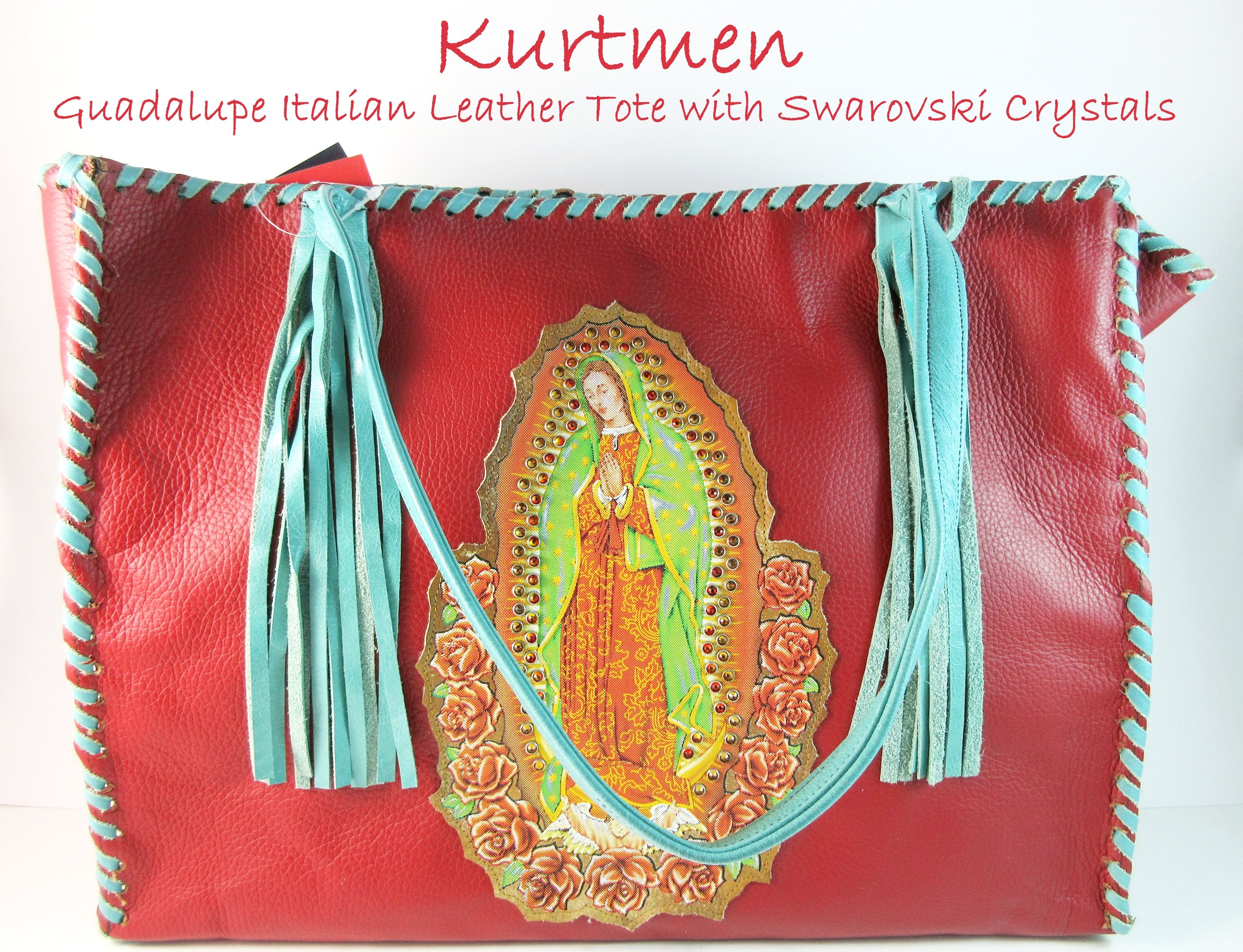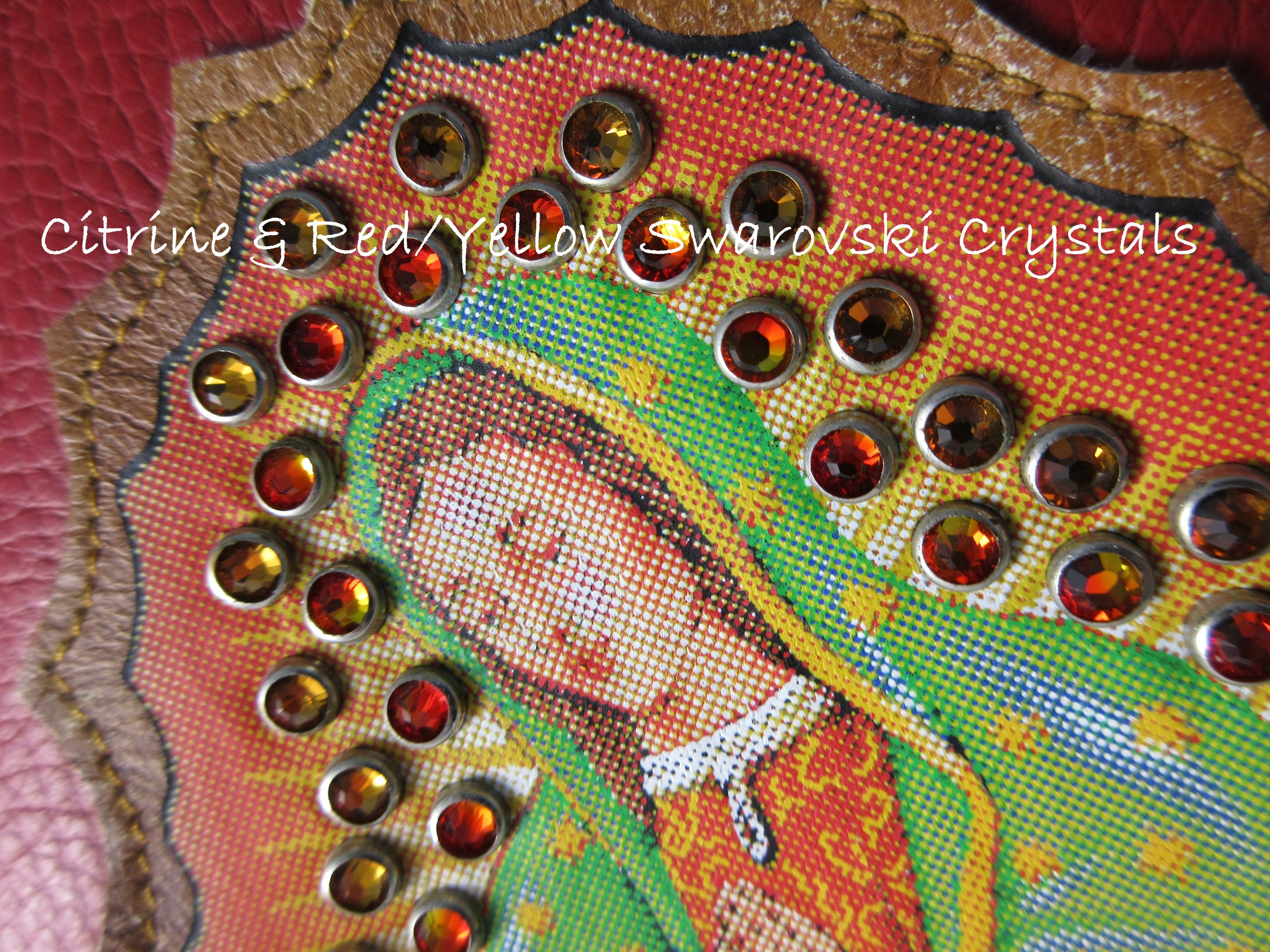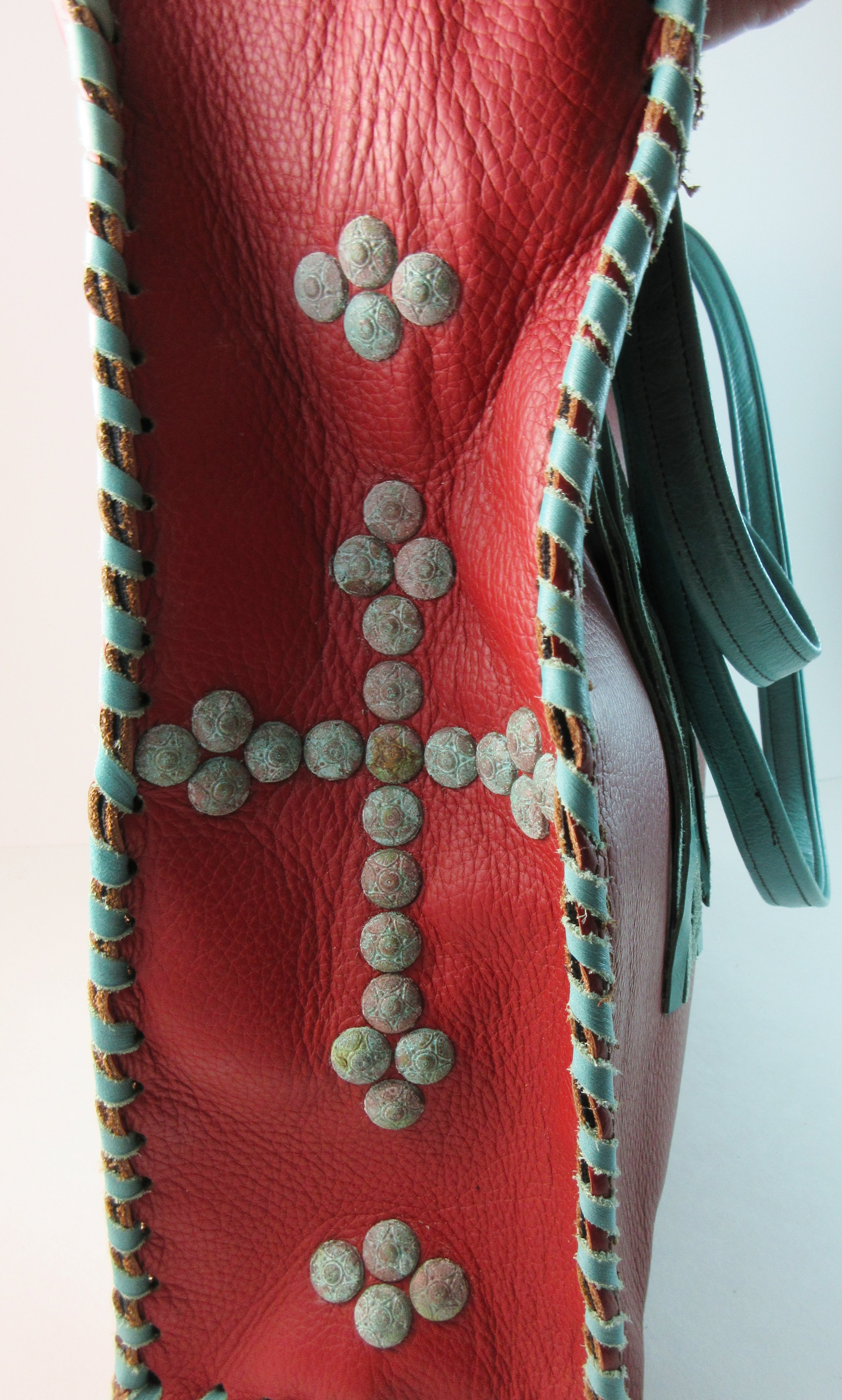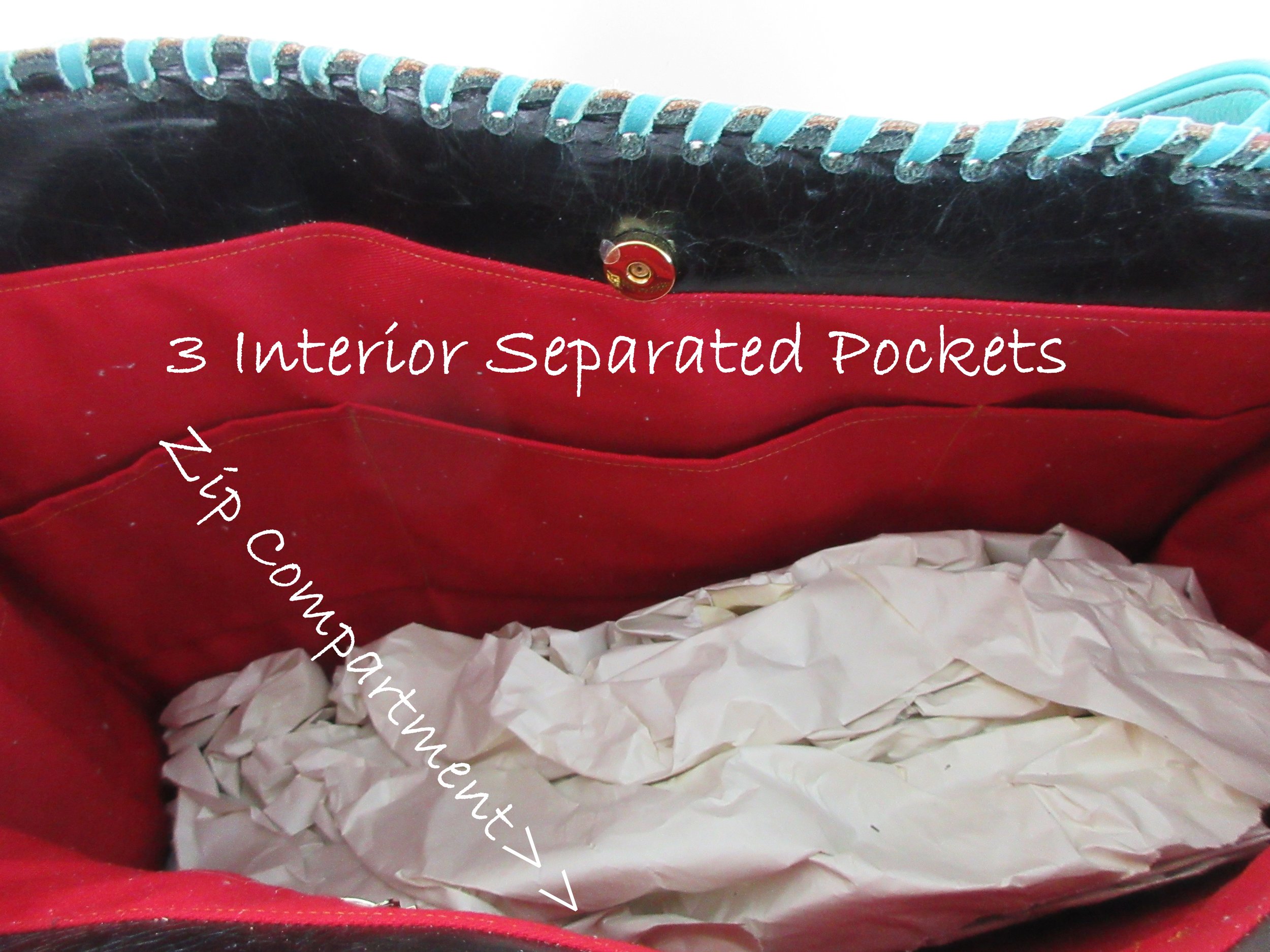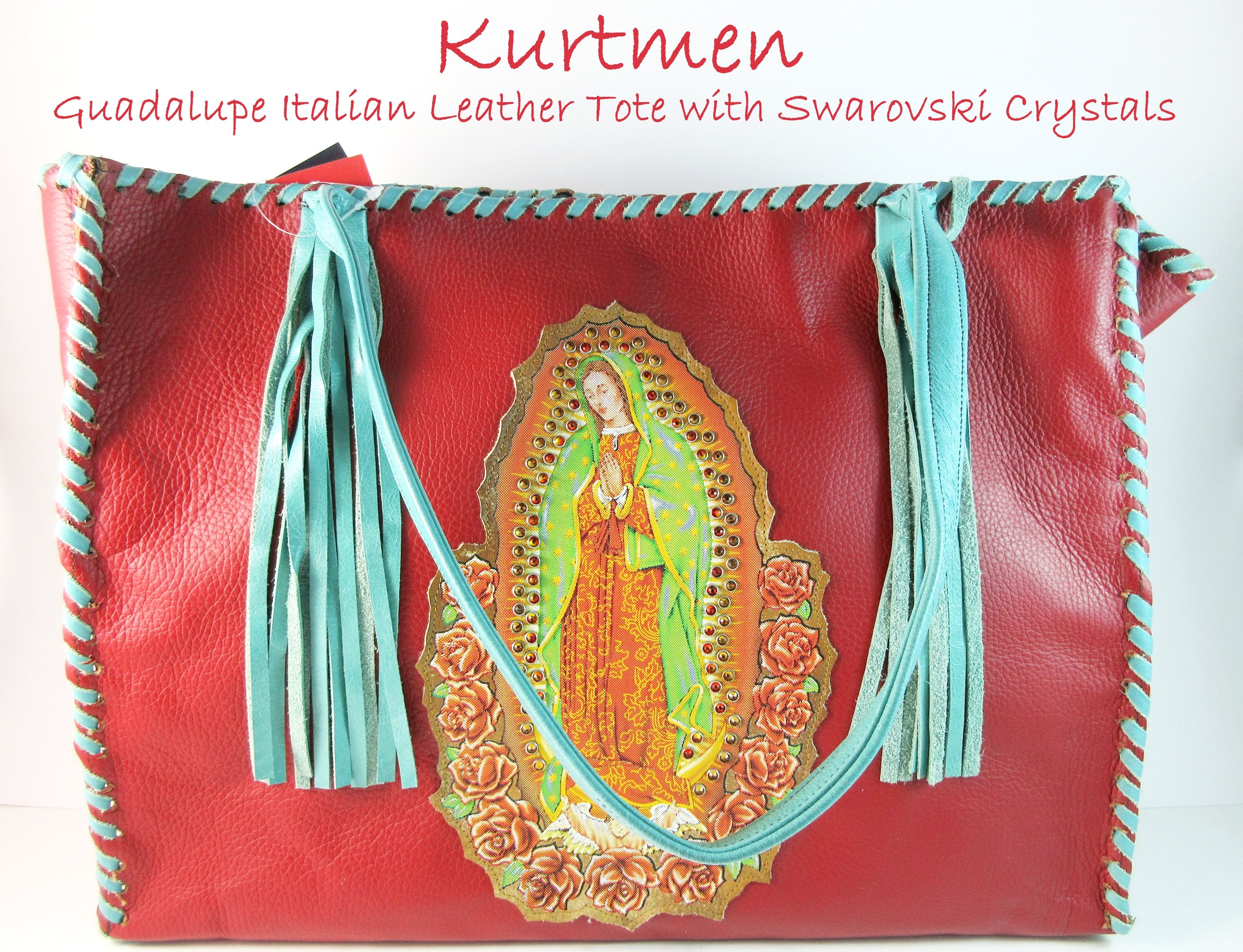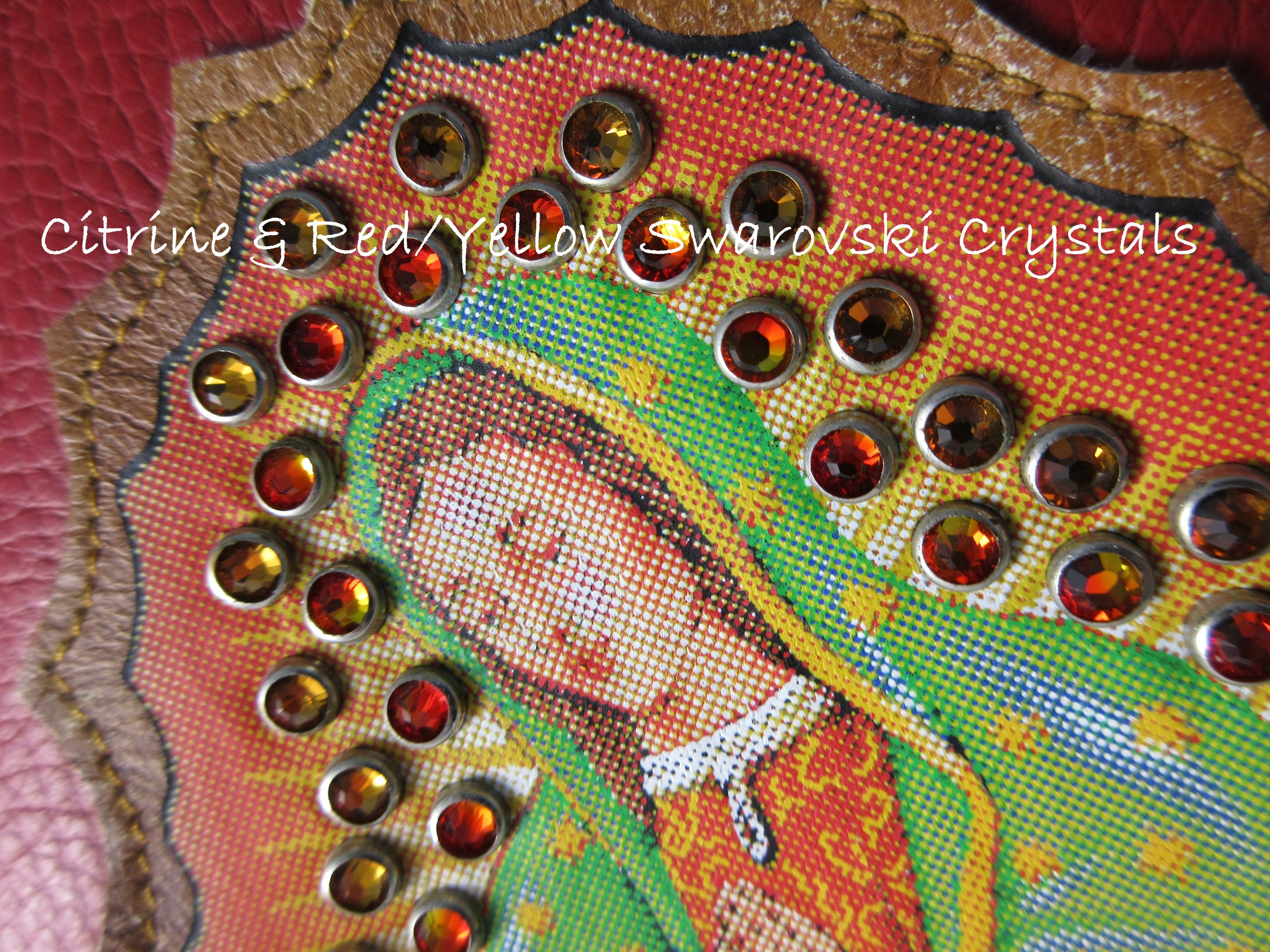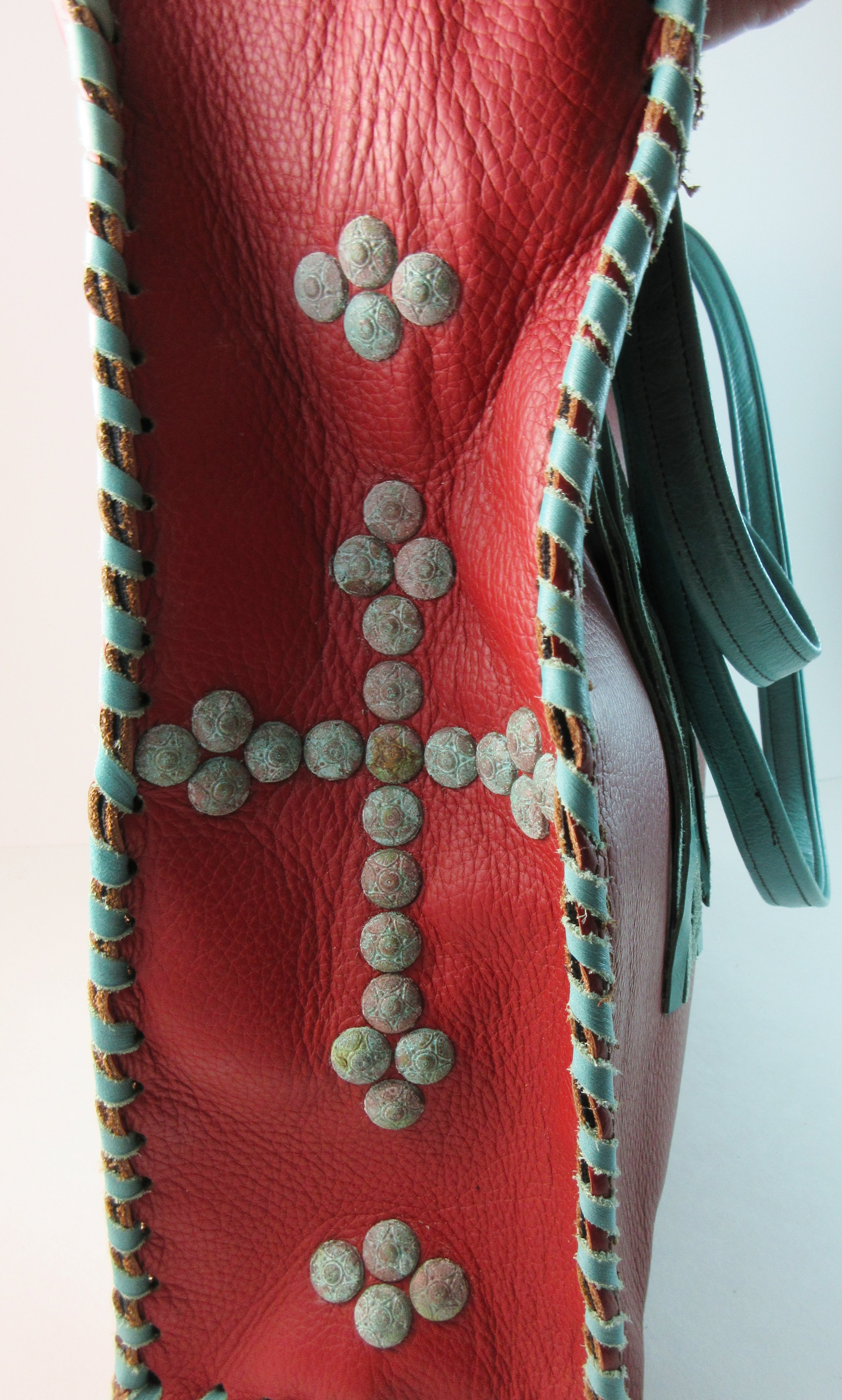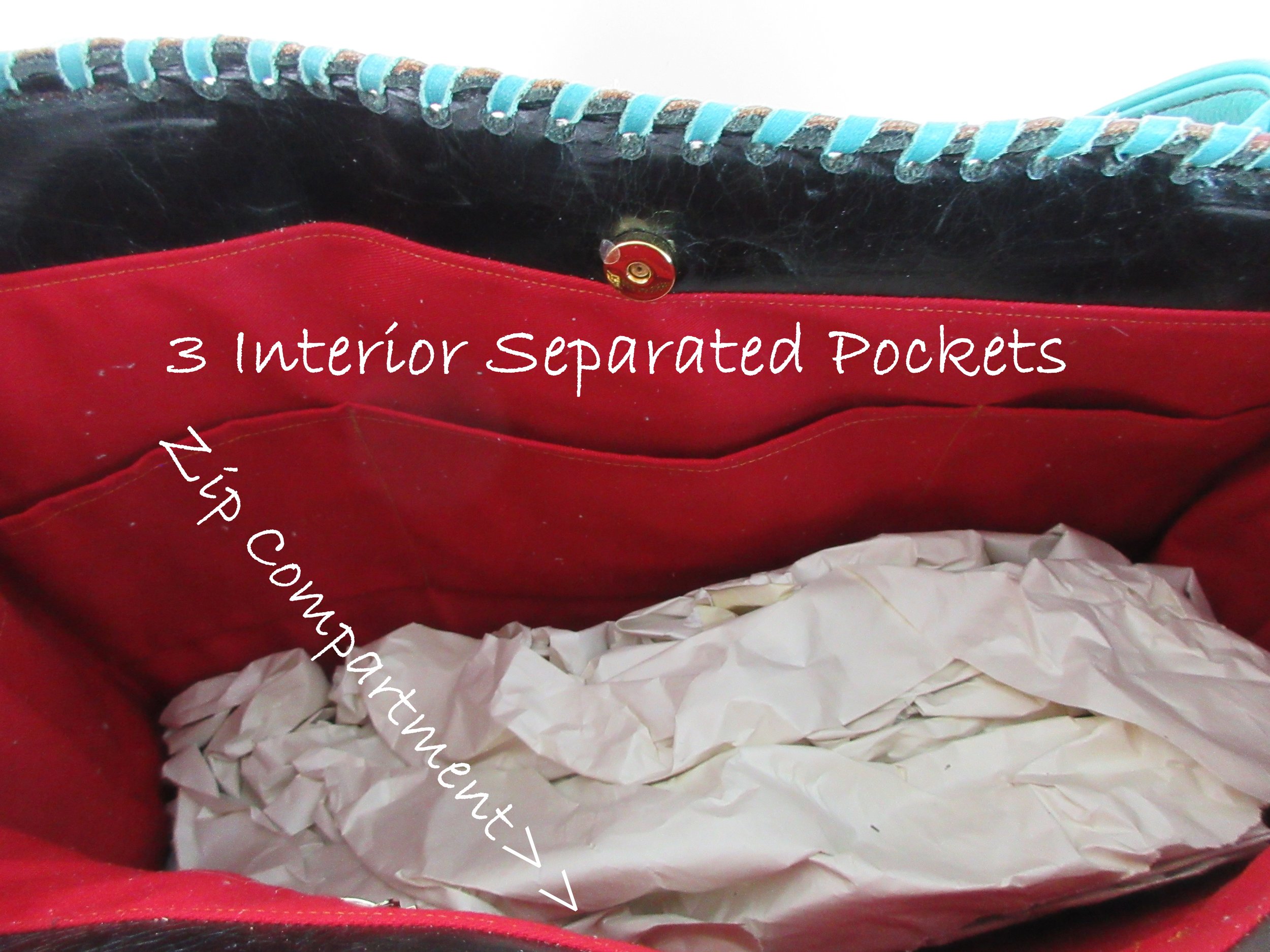 Guadalupe~ Swarovski Crystals~ Distressed Red/Turquoise Italian Leather Western Tote
Made in a Mexican themed~western style tote, that is designed with a more urban feel of the iconic Guadalupe & has little faceted Swarovski crystals that act as her 'Glow"!!!
Outside of her gown,is a outline of 4.5 mm faceted citrine color & yellow/red crystals that sparkle all around her! The crystals coincide with the colors that she is wearing.
She is stitched onto a red Italian Leather that is soft & pliable & will only feel better the more it's used..Turquoise is used as the complimenting color & is used for the fringe tassels,as well as all the whip stitching.This has to be the prettiest color combinations!!!
If you zoom in on the photos,you will see the coppery turquoise cross that is made of patinated studs that are 'machine pressed' in there good,(As opposed to 'heat applied') so there is no chance they're going to fall off in time! The crystals are applied the same way.The interior is fully lined in red cloth & has pockets on one side & a zipped compartment on the other side.
This is a large tote,so you can carry a whole lot in it! It would be great for travel,overnighting,shopping,laptop carrier,etc..
I also carry this in a distressed brown (See last photo) & also in a red & turquoise but without the swarovski crystals.
It doesn't get any more 'cowgirl' than this!!!
MADE BY: KURTMEN
MATERIAL: QUALITY ITALIAN LEATHER/SWAROVSKI CRYSTALS/STUDS/CLOTH INTERIOR
COLOR:RED/TURQUOISE PRIMARY COLORS
HEIGHT: 12"
WIDTH: 16"
DEPTH: 4-3/4"
STRAP DROP:11"
STYLE: WESTERN/MEXICAN TOTE
THEME:GUADALUPE
TECHNIQUE:HAND RUBBED COLOR /WHIP STITCHING/HAND APPLIED STUDS~CRYSTALS/LOVE
Comes with the purse sleeve for storage
**PLEASE DISREGARD THE WORD 'BLACK' IN MAIN PHOTO~MY MISTAKE,IT IS DARK BROWN!!!**
~~~~~~~~~~~~~~~~~~~~~~~~~~~~~~~~~~~~~~~~~~~~~~~~~~
**PLEASE READ ABOUT SHIPPING PRICES BEFORE PURCHASE:**
SHIPPING PRICES FROM POST OFFICE ARE BASED ON 3 THINGS:
WEIGHT,DIMENSIONS OF BOX & HOW FAR THE BOX TRAVELS FROM ORIGINAL LOCATION TO DESTINATION.
IF IT IS A XL PURSE, THEN IT NEEDS A LONGER,LARGER,WIDER BOX,WHICH MEANS A HIGHER PRICE FOR THE POST OFFICE.I HAVE NO CONTROL OVER THIS..HOWEVER,IF I FIND AT TIME OF CREATING SHIPPING LABEL,THAT IT DID NOT COST AS MUCH AS WHAT I CHARGED,I WILL REIMBURSE YOUR ACCT.,LESS MATERIAL FEES(FOR EXAMPLE,IF I HAVE TO BUY THE BOX FOR SHIPPING IT)**