Long Rope~ Guadalajara~ Western/Santa Fe Style~ VIBRANT RICH TURQUOISE BLUE~ Tooled Leather Handbag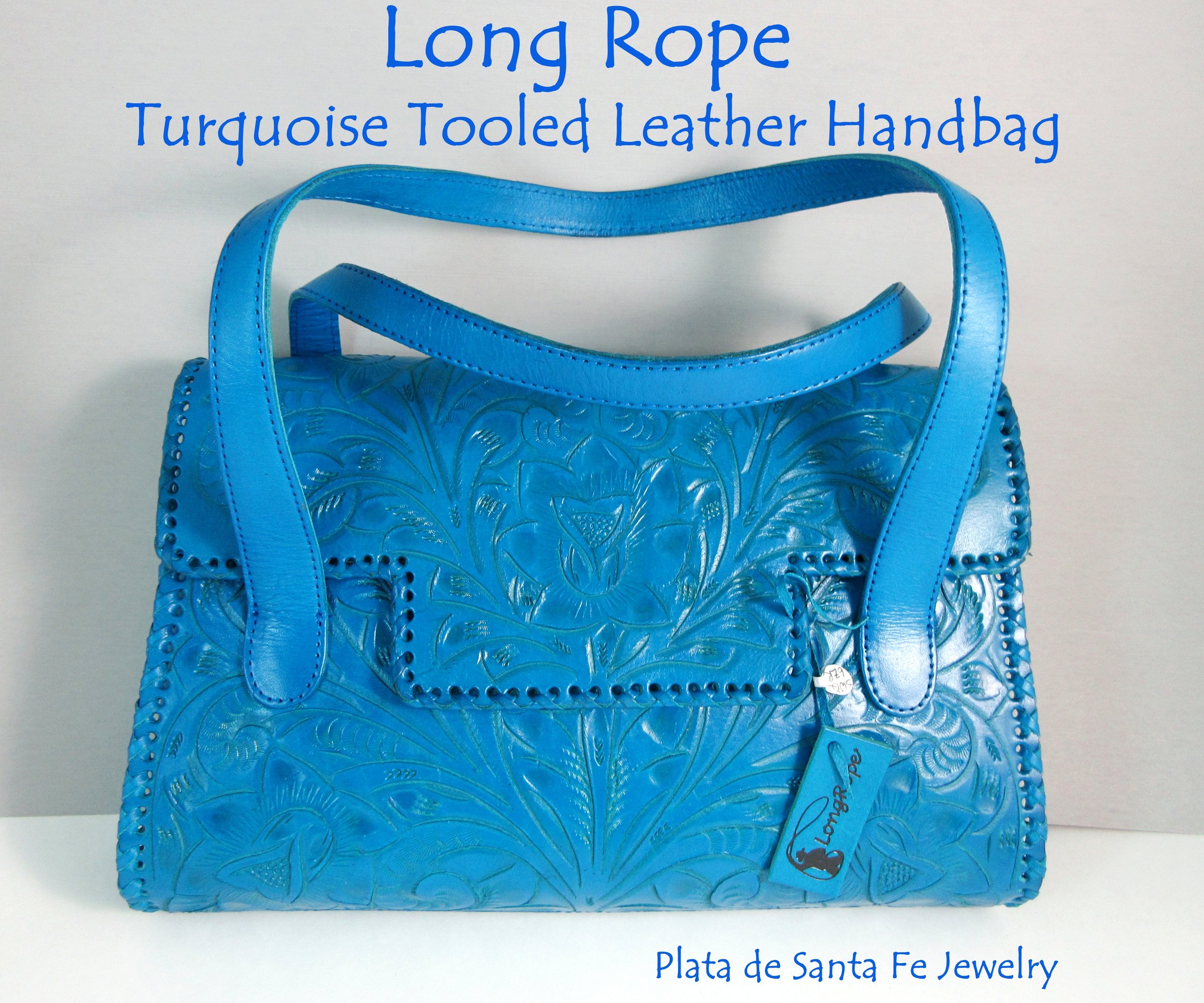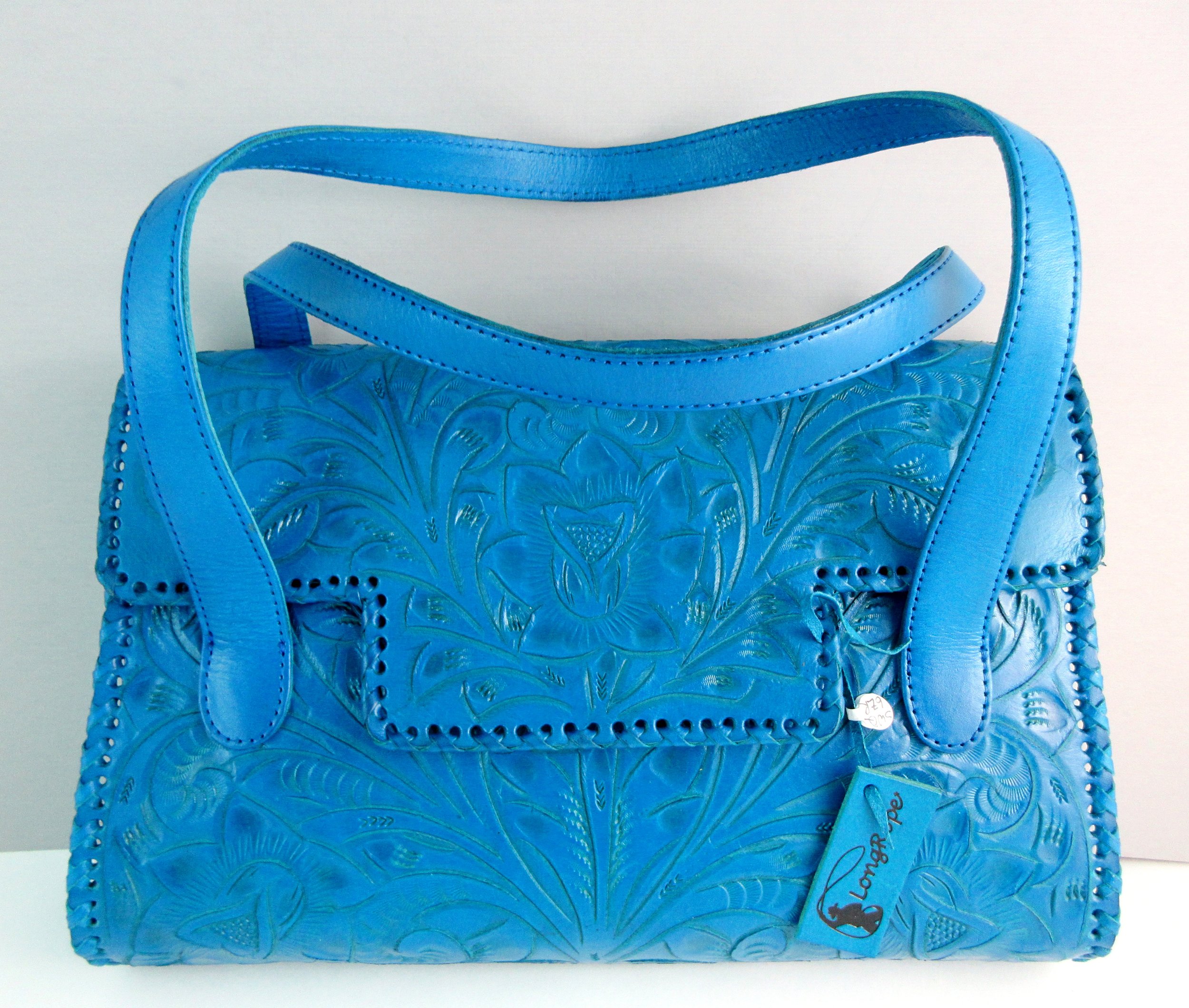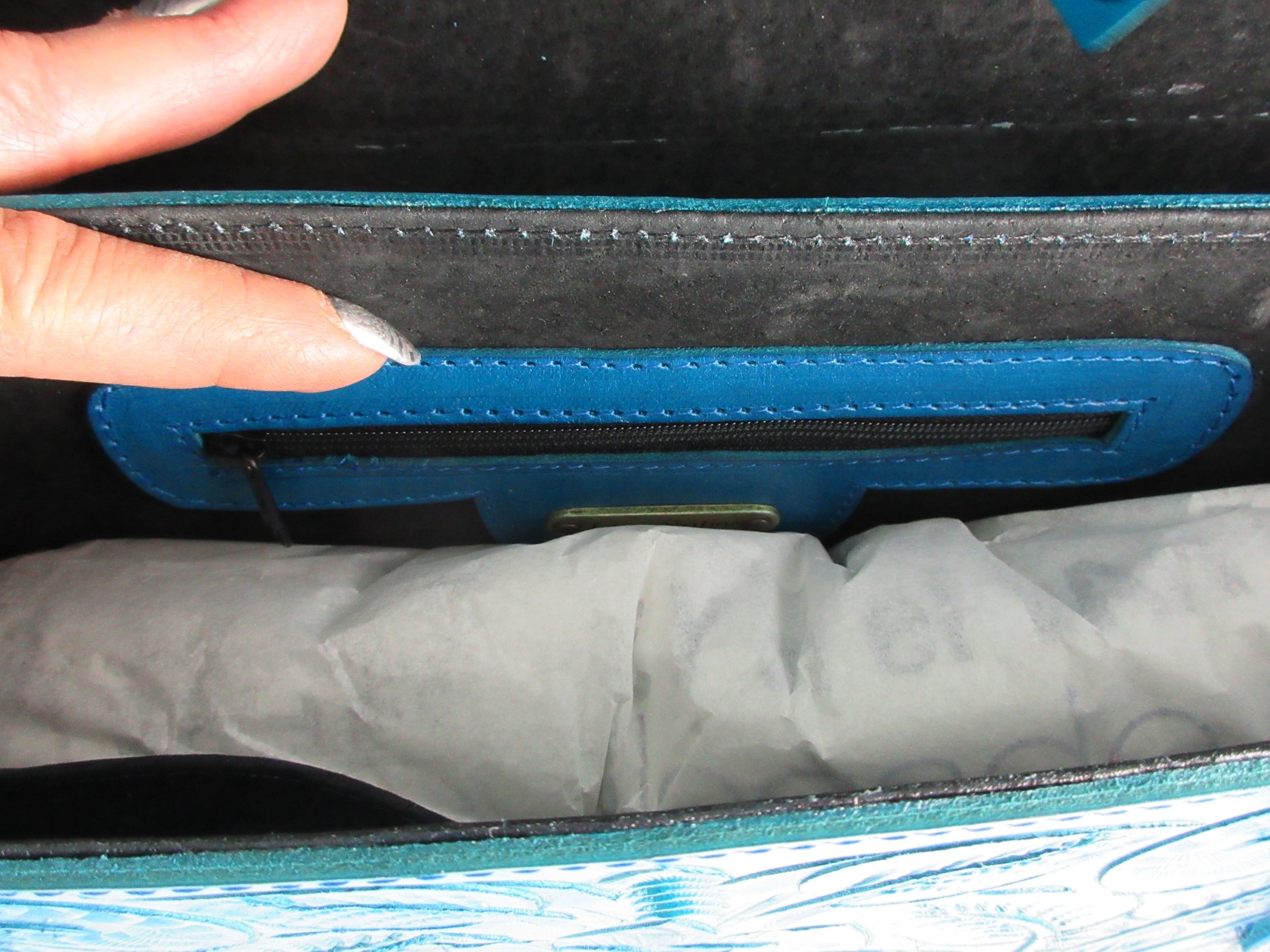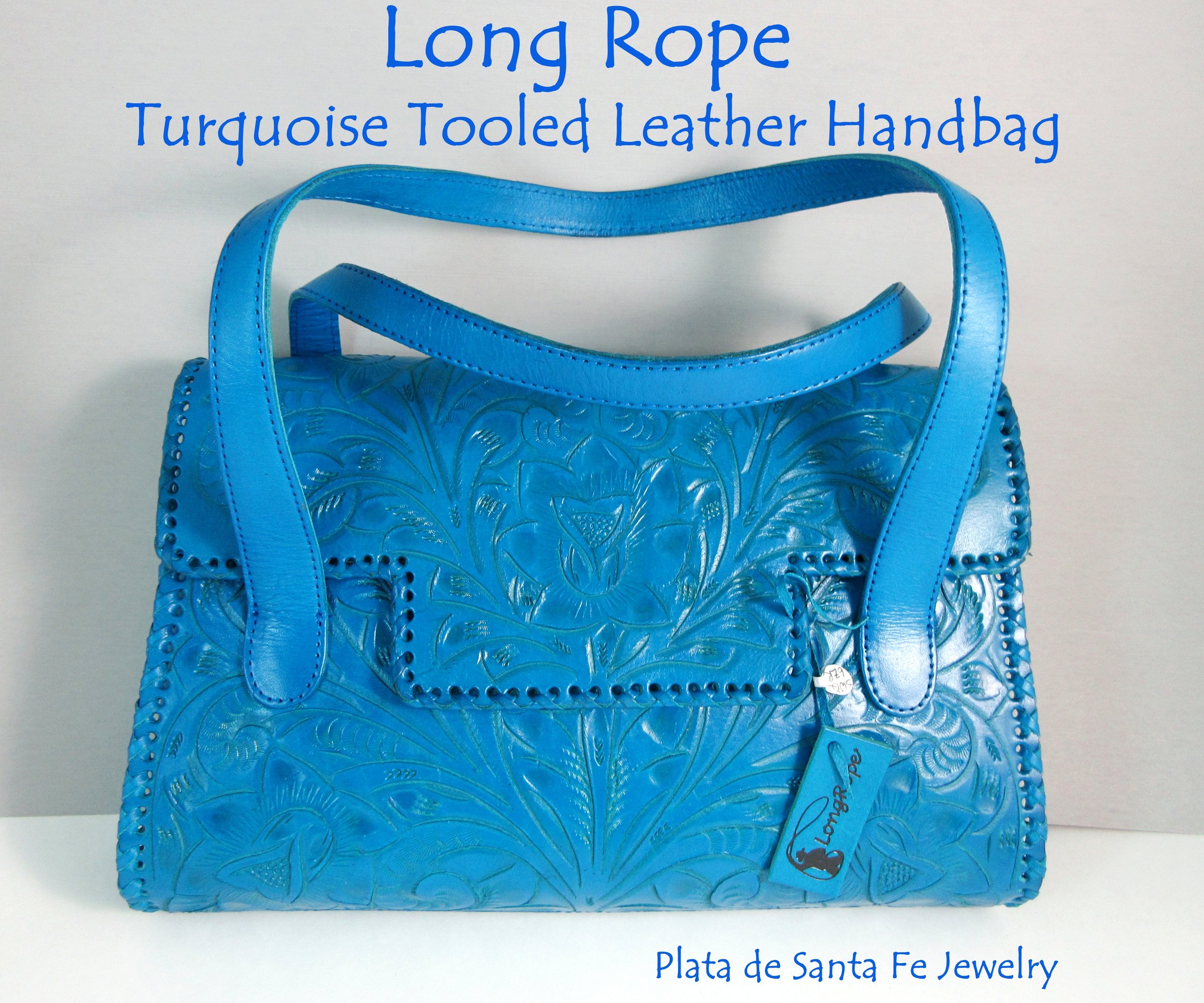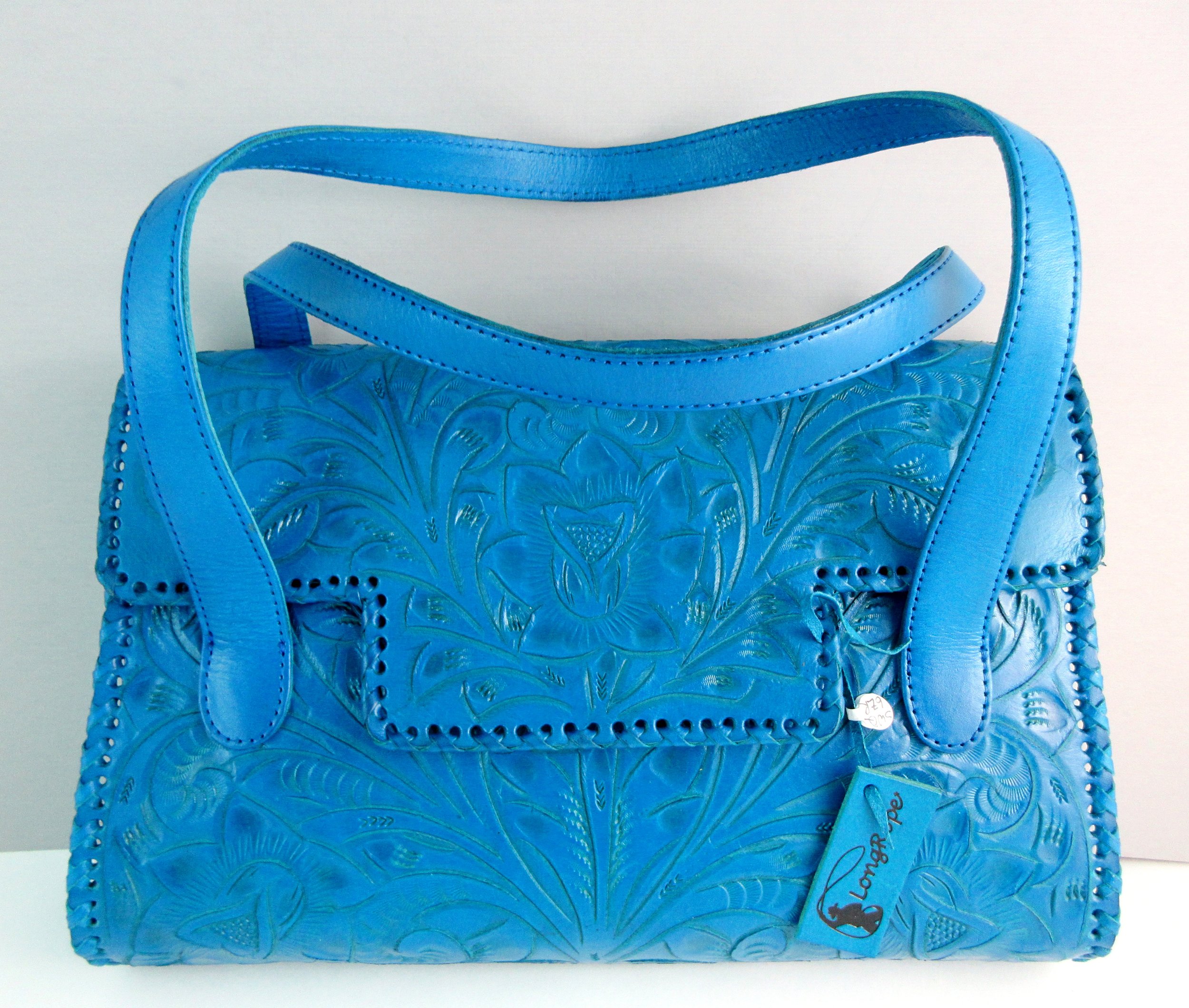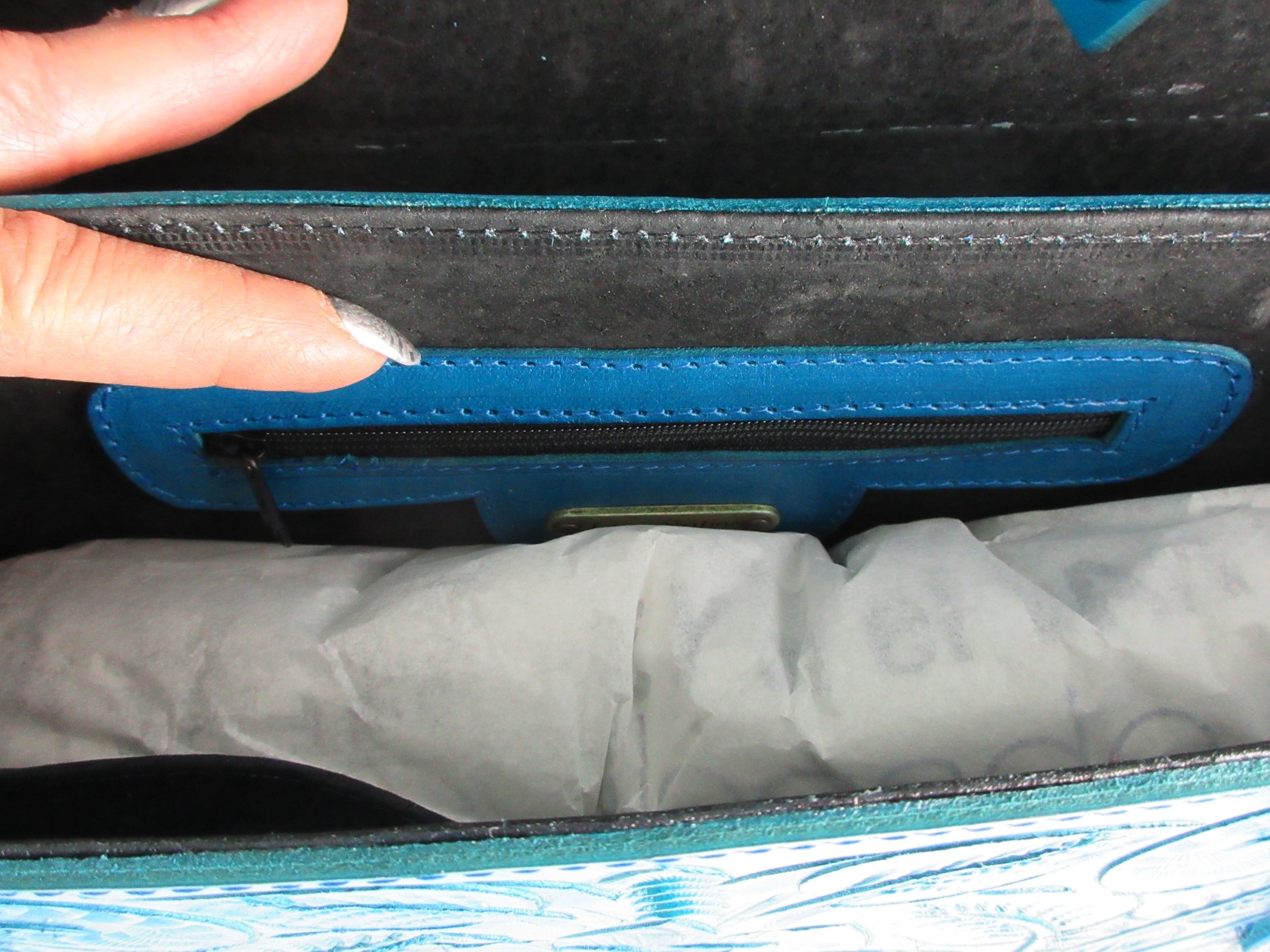 Long Rope~ Guadalajara~ Western/Santa Fe Style~ VIBRANT RICH TURQUOISE BLUE~ Tooled Leather Handbag
DESCRIPTION:
Get your Southwest look on!!
This is designed with a look that oozes sophistication & class!! It's not only the deep & richly vibrant turquoise color that gives this the most amazing look it has,but it's professional Western Style..
It's a perfect every day size purse that is neither too big,nor too small..The size lets you carry your basic items & is shallow enough to where you can see & be able to grab anything your looking for!
On both front is beautifully tooled with the tooled floral design & the back is basically plain,except for at the very top.(See photo) The perimeter has hand punched holes,that are then used for all the whipped stitching.It has a magnetic closure with a fully lined interior, of brown suede..
These artisans use a thicker,more durable leather for their purses,so they can pound the design into it without ruining the integrity of the leather,so the bag is nice & strong & will stand the test of time without falling apart in a matter of month's!
**Just like we have to condition our skin,it is also wise to condition these about every 6 month's & you want to do it more often, if you live in a dry climate.A 'boot cream' is recommended..It will leave it soft! **
Perfect Western Cowgirl Chic purse or will also look stunning with any Mexican wardrobe!
MADE BY: LONG ROPE
MADE IN: GUADALAJARA MEXICO
COLOR: HAND RUBBED DEEP RICH TURQUOISE BLUE
TECHNIQUE: HAND FLORAL TOOLING,WHIP STITCHING,MACHINE STITCHING,HAND APPLIED DYED,LOVE
MATERIAL: LEATHER EXTERIOR/ BROWN SUEDE INTERIOR
PURSE LENGTH:14" WIDE
PURSE HEIGHT: 9"
USABLE DEPTH:2-1/2" ( FROM SIDE TO SIDE TOTAL:3" )
STRAP DROP: 6" (TOP OF STRAP TO BASE)
STRAP STYLE: FLAT
BOTTOM OF PURSE SHAPE: ROUNDED
INTERIOR 'SIDE' ZIP COMPARTMENT MEASUREMENT: 5-1/2"-6" RANGE
ADDITIONAL FEATURES:CELL PHONE INTERIOR COMPARTMENT,1 INTERIOR WIDE MIDDLE ZIPPED COMPARTMENT,MAGNETIC CLOSURE
LABELED: LONG ROPE
STYLE: COWGIRL CHIC/MEXICAN/WESTERN
~~So far I have this style in Fuchsia,Mustard/Marigold Yellow,True Red.