Roja Fall '18 ~Black Velvet~ Colorfully Embroidered Folk Art Style~ "BIRD TUNIC"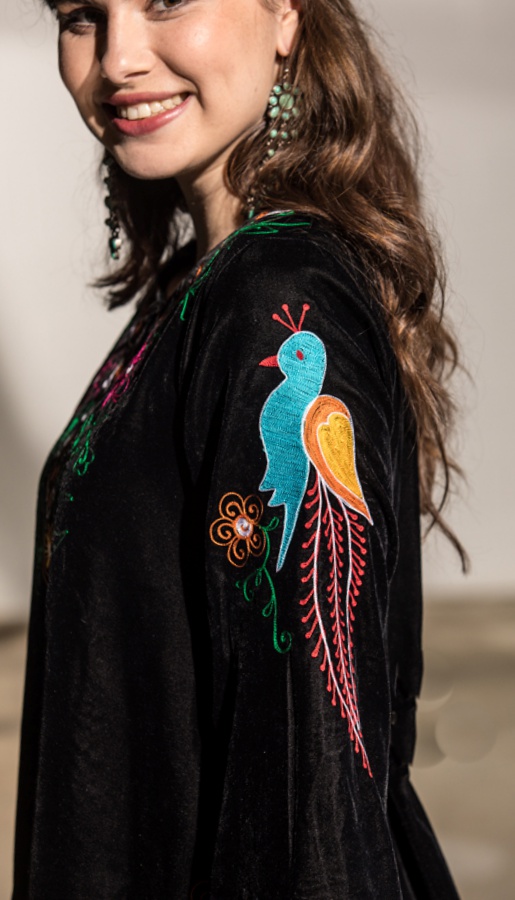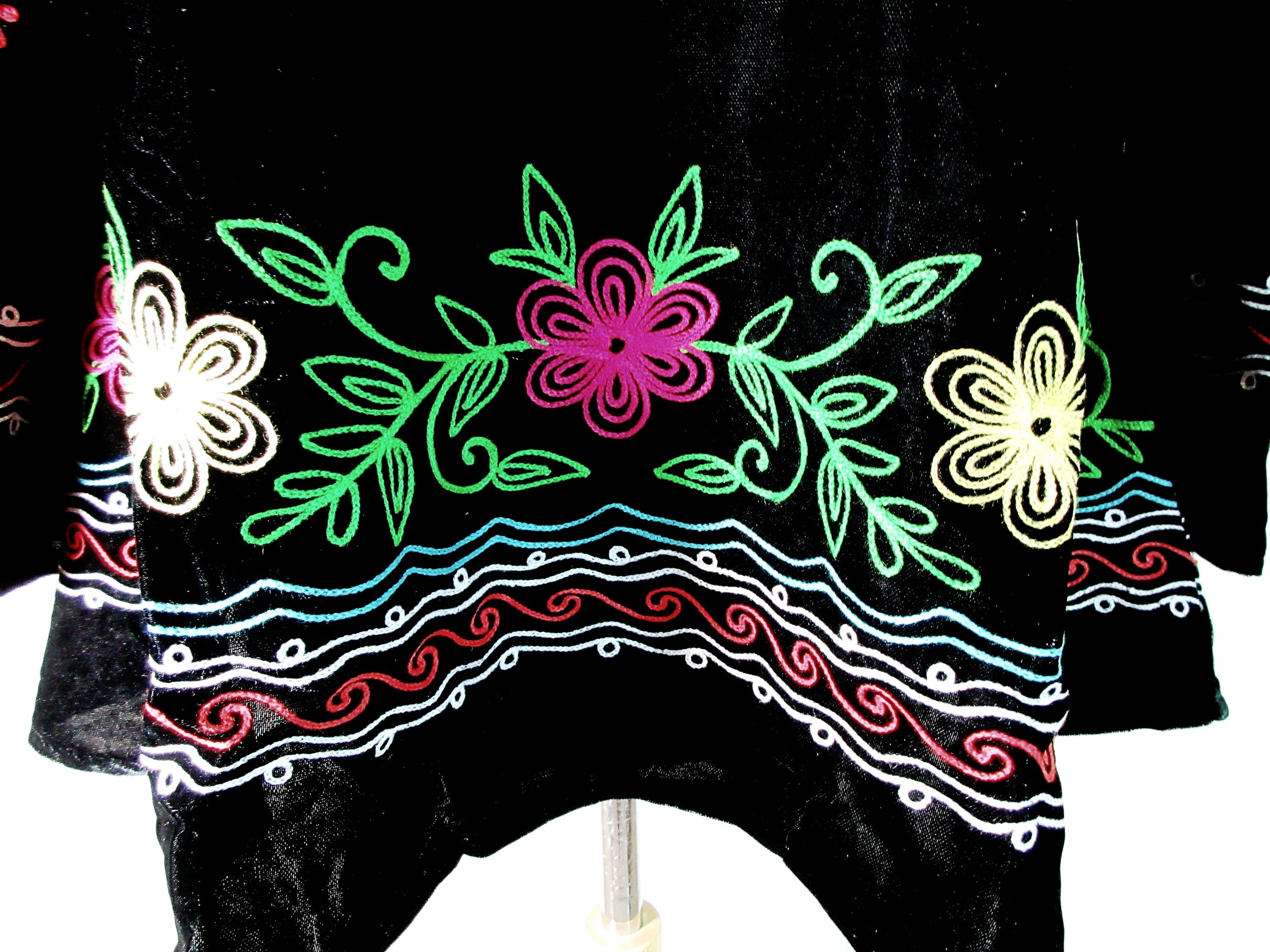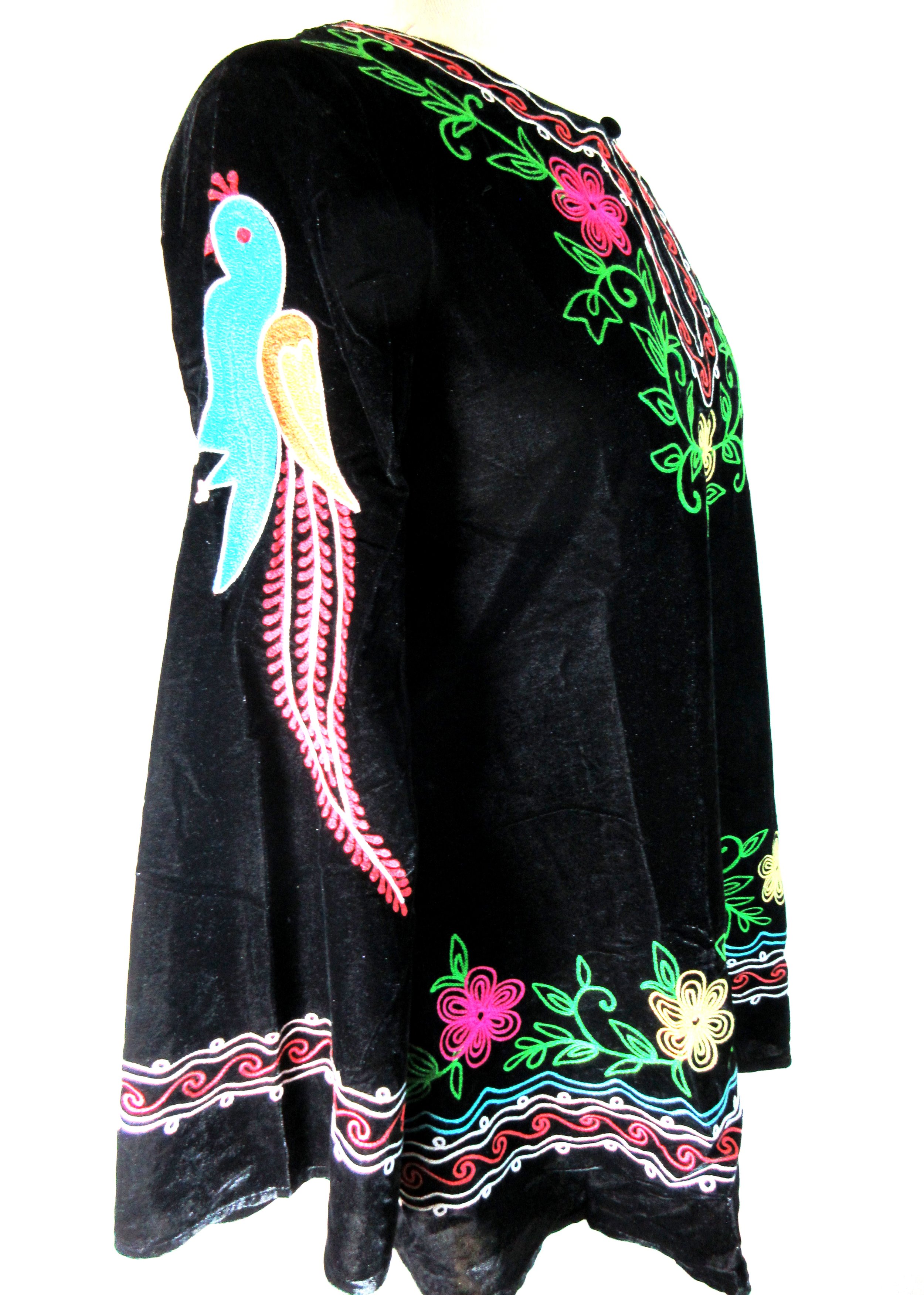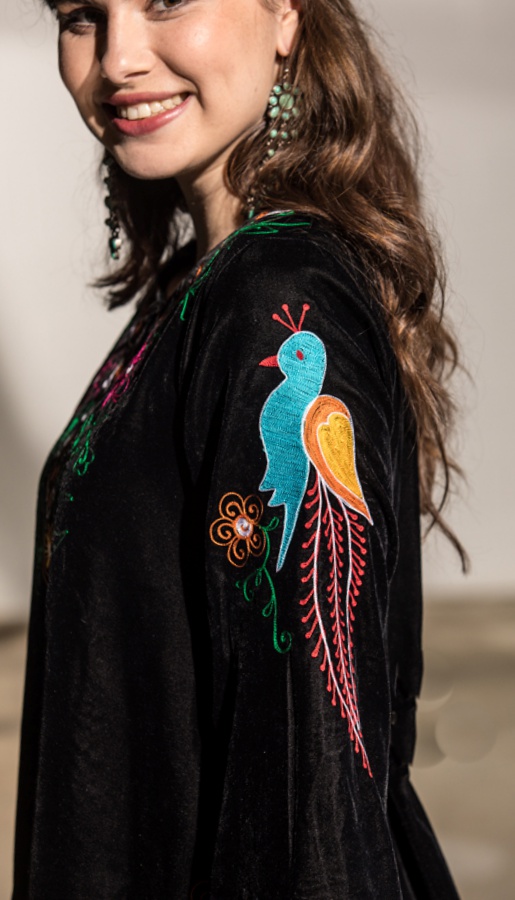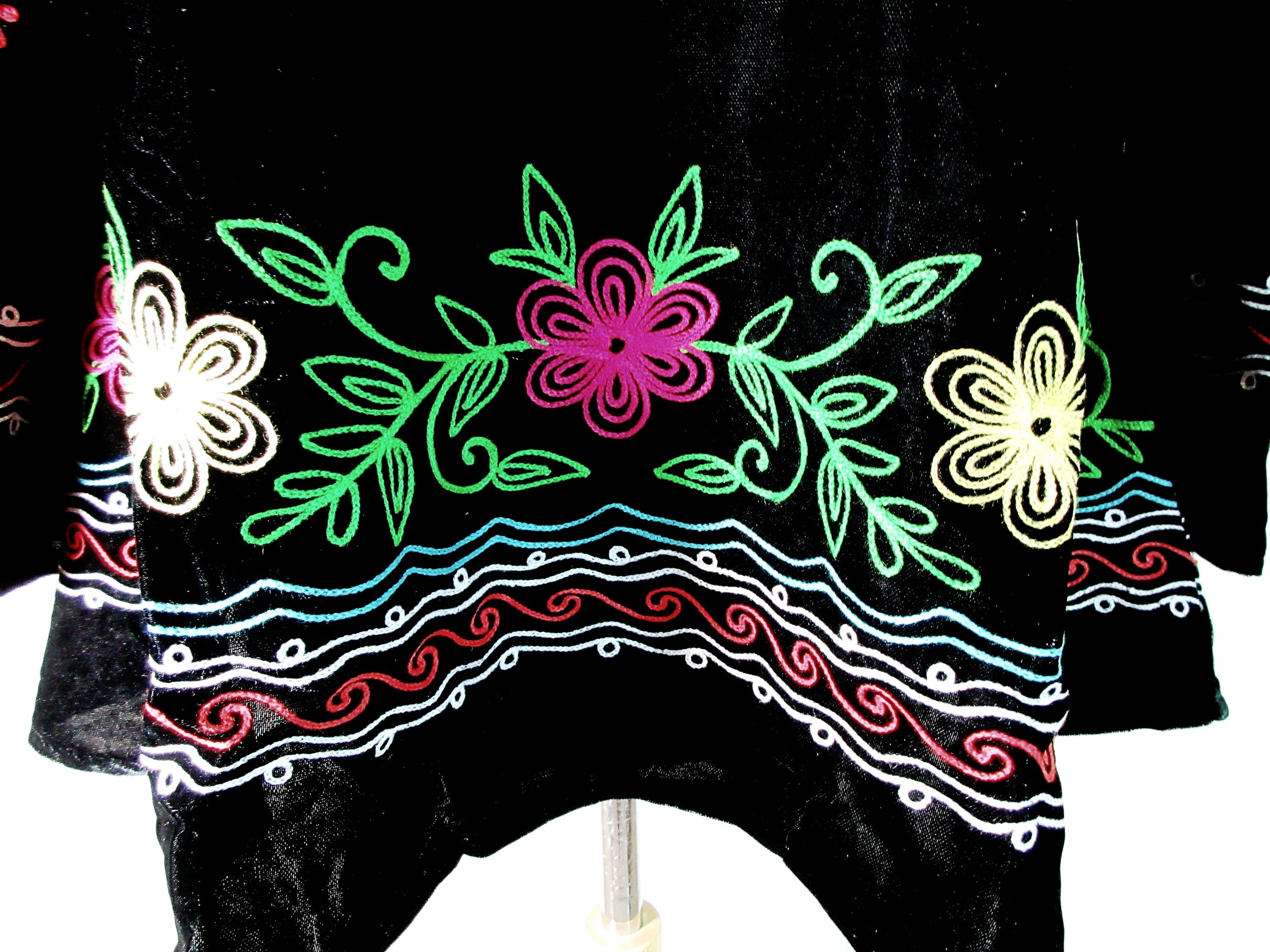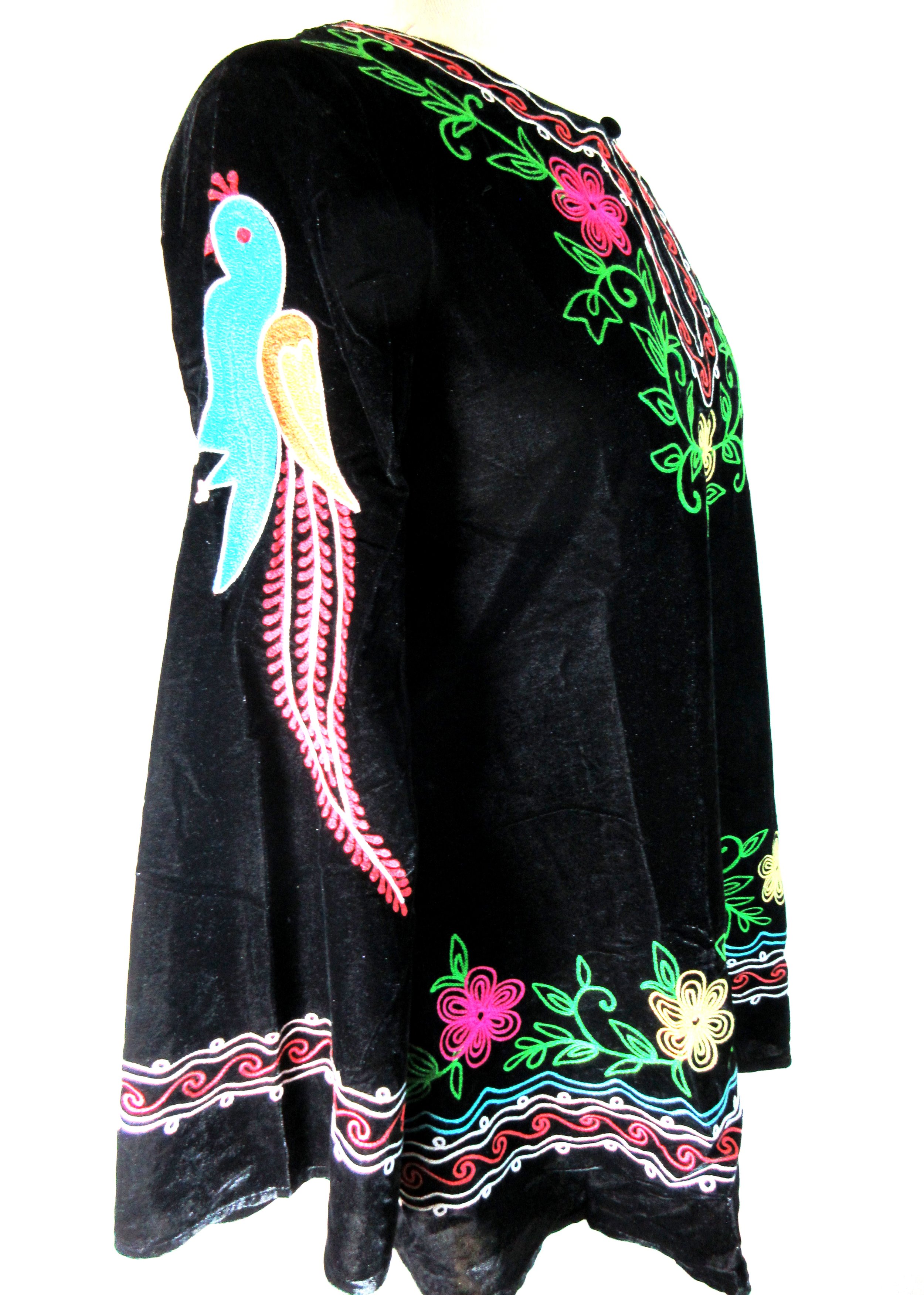 sale
Roja Fall '18 ~Black Velvet~ Colorfully Embroidered Folk Art Style~ "BIRD TUNIC"
~~NO RETURNS ON CLOSEOUTS SO PLEASE READ MEASUREMENTS BEFORE PURCHASING~~
FROM THE ROJA FALL 2018 COLLECTION by ANN TOBIAS
THE BLACK VELVET "PEACOCK 'BIRD' TUNIC" WITH COLORFUL FOLK ART FLORAL EMBROIDERY
~~~~~~~~~~~~~
DESCRIPTION:
This cheerful & fun top cannot help but put a smile on your face! Not only is it tastefully embroidered in a Folk Art,Boho style,but those peacocks that are embroidered down the arms are a sight to see! The large size peacock can't help but be noticed,since his body is big & tail is long! The sleeves can't help but be a conversation starter!
Designed with a generous amount of magenta,kelly greens,yellows & reds that are embroidered on the front's top & bottom portion & red/white & blue embroidery that goes around the front & back.The colors come to life against the stark black velvet backdrop!
It has a slight flare below the waist & the sleeves are slightly flared as well..
**I find that if the sleeves are too long,you can do one of 2 things..One is,you can get them taken up by your seamstress or 2,what I personally do is take a large size rubber band (Make sure it's large & isn't too tight & uncomfortable!!) & then fold the fabric over it,so it doesn't show! Works every time!**
Measurements are taken on one side only,so please double.This material has movement,so measurements are approximate,so please allow room for error.Length taken center backside.
INFO:
DESIGNER: ANN TOBIAS
MATERIAL: 100% POLY VELVET
BASE COLOR:BLACK/MULTI
~~~~~~~~~~~~~~
SIZING INFO:
SMALL:Shoulder to Shoulder: 15-1/2"~Underarm:19"~Bust:19"~Waist:19"~Length:28"~Sleeve:23"
MEDIUM:Shoulder to Shoulder: 16"~Underarm:20"~Bust:20"~Waist:20"~Length:29"~Sleeve:23"
LARGE:Shoulder to Shoulder: 16-1/2"~Underarm:21-1/2"~Bust:21-1/2"~Waist:22"~Length:29"~Sleeve:23"
XL:Shoulder to Shoulder: 18"~Underarm:24"~Bust:23-1/2"~Waist:23-1/2"~Length:30"~Sleeve:24"
Comes packaged & labeled.Because of the delicacy of the fabric & embroidery,dry cleaning is recommended.