Cuzco Peru Spanish Colonial Hand Painted One Of a Kind 16-18th Century "VIRGIN with ROSARY" Distressed Italian Leather Tote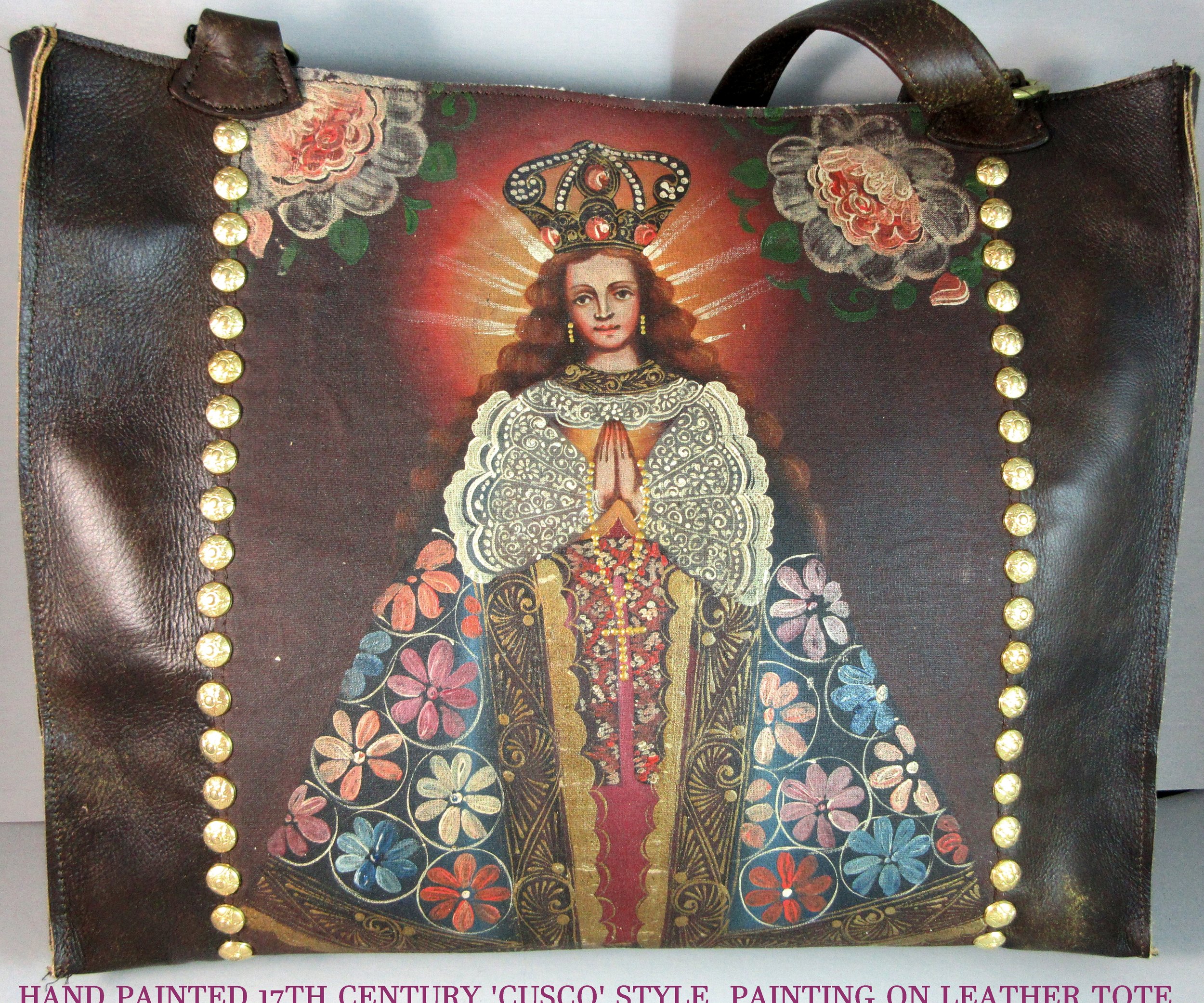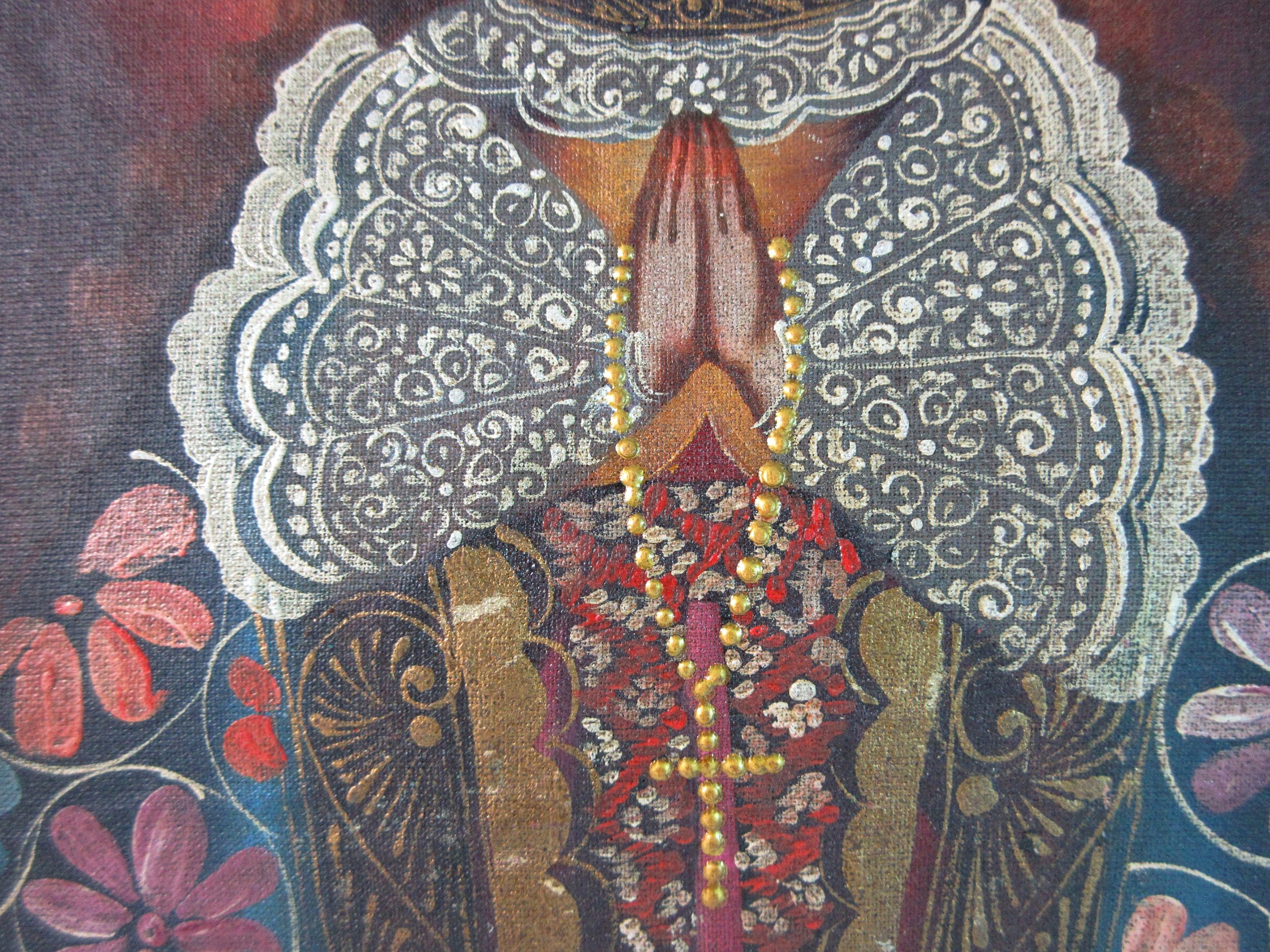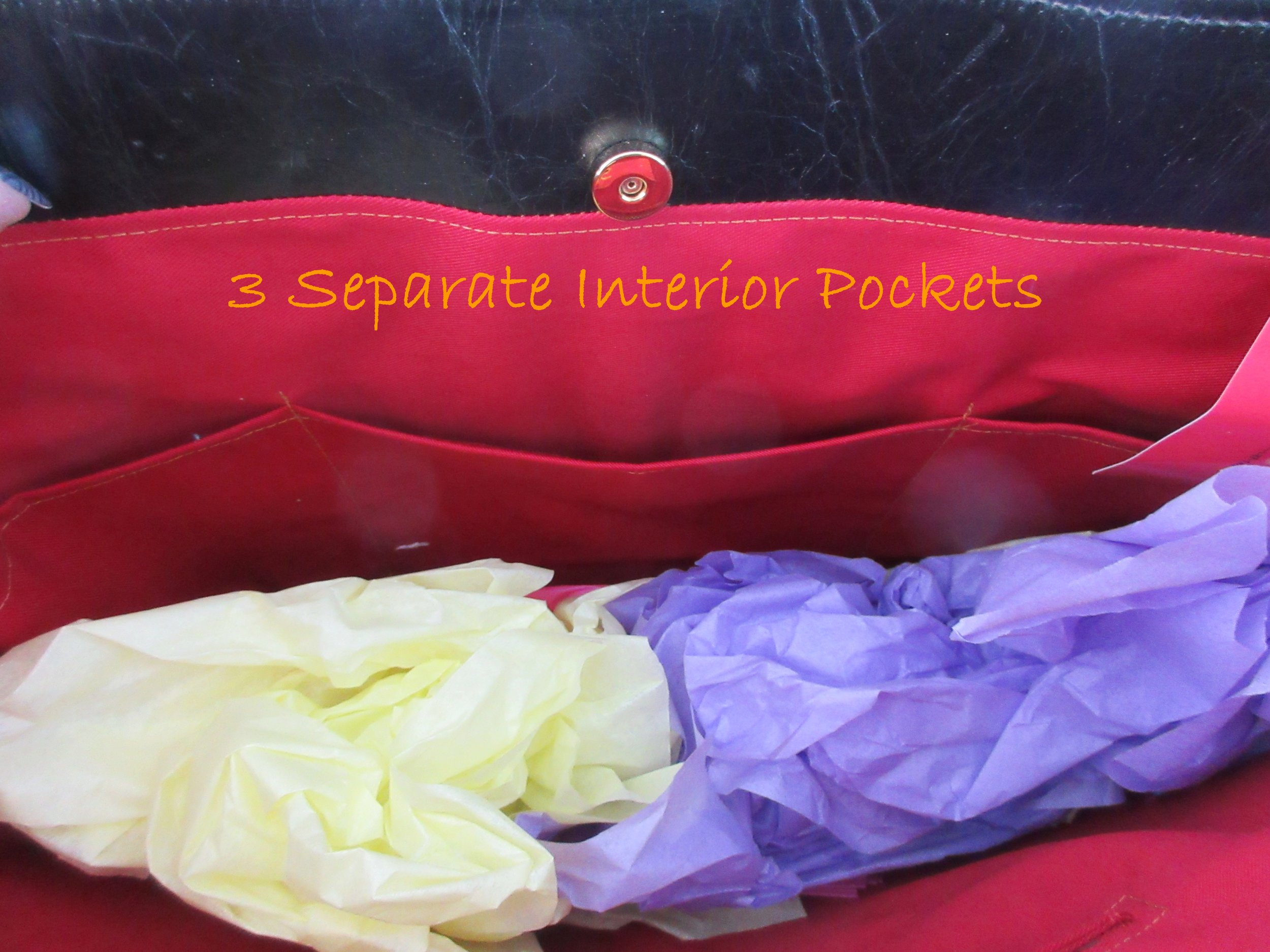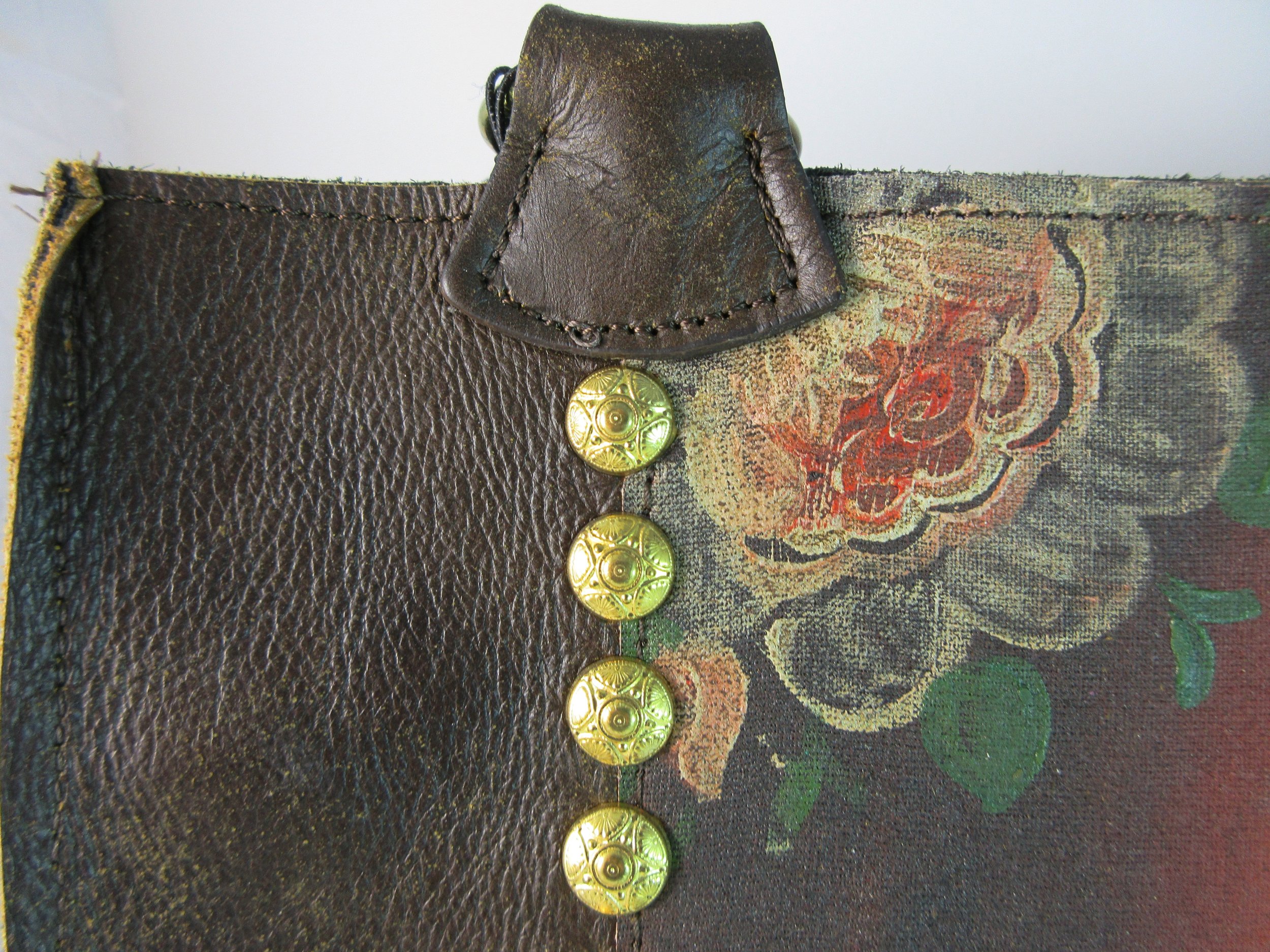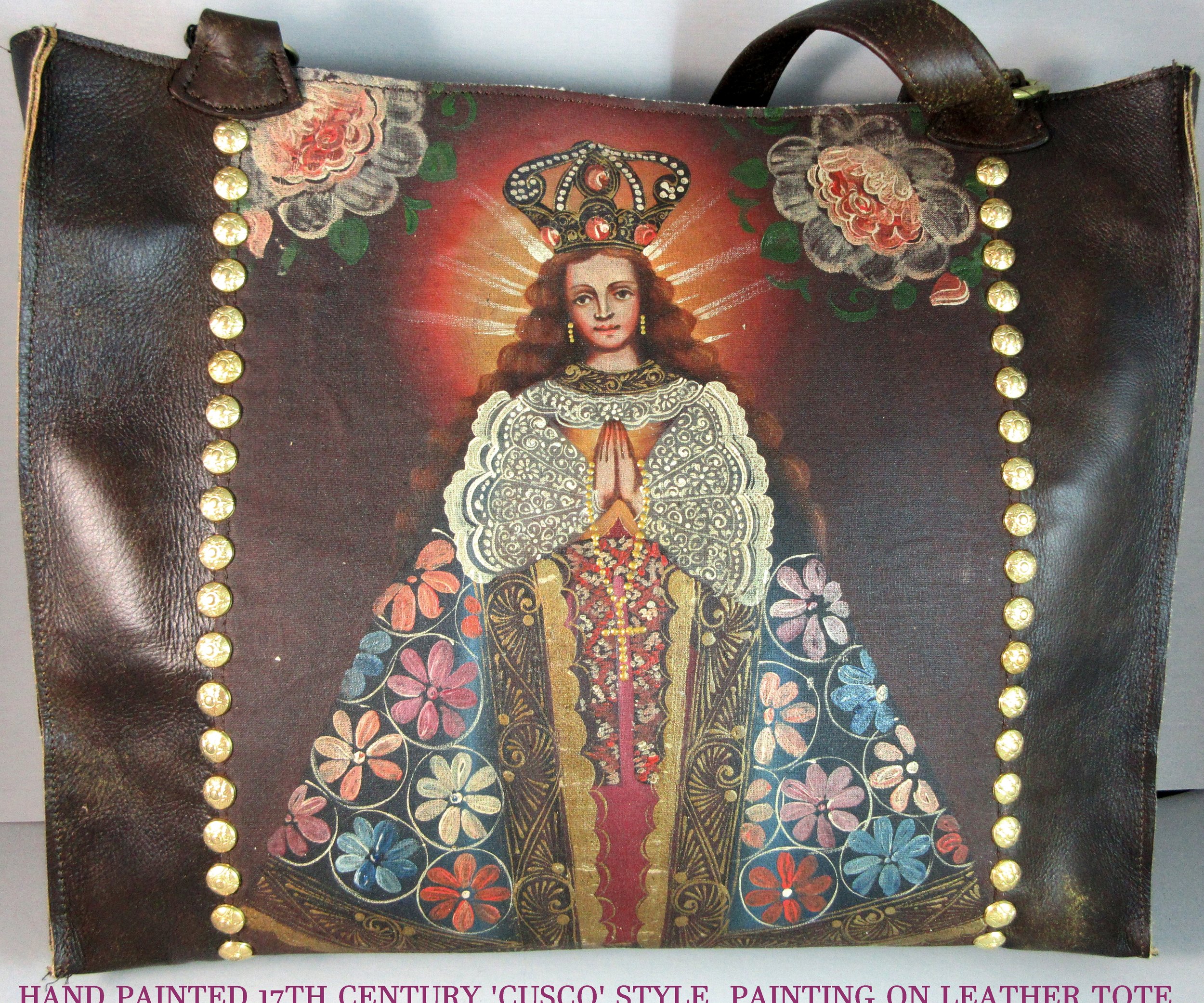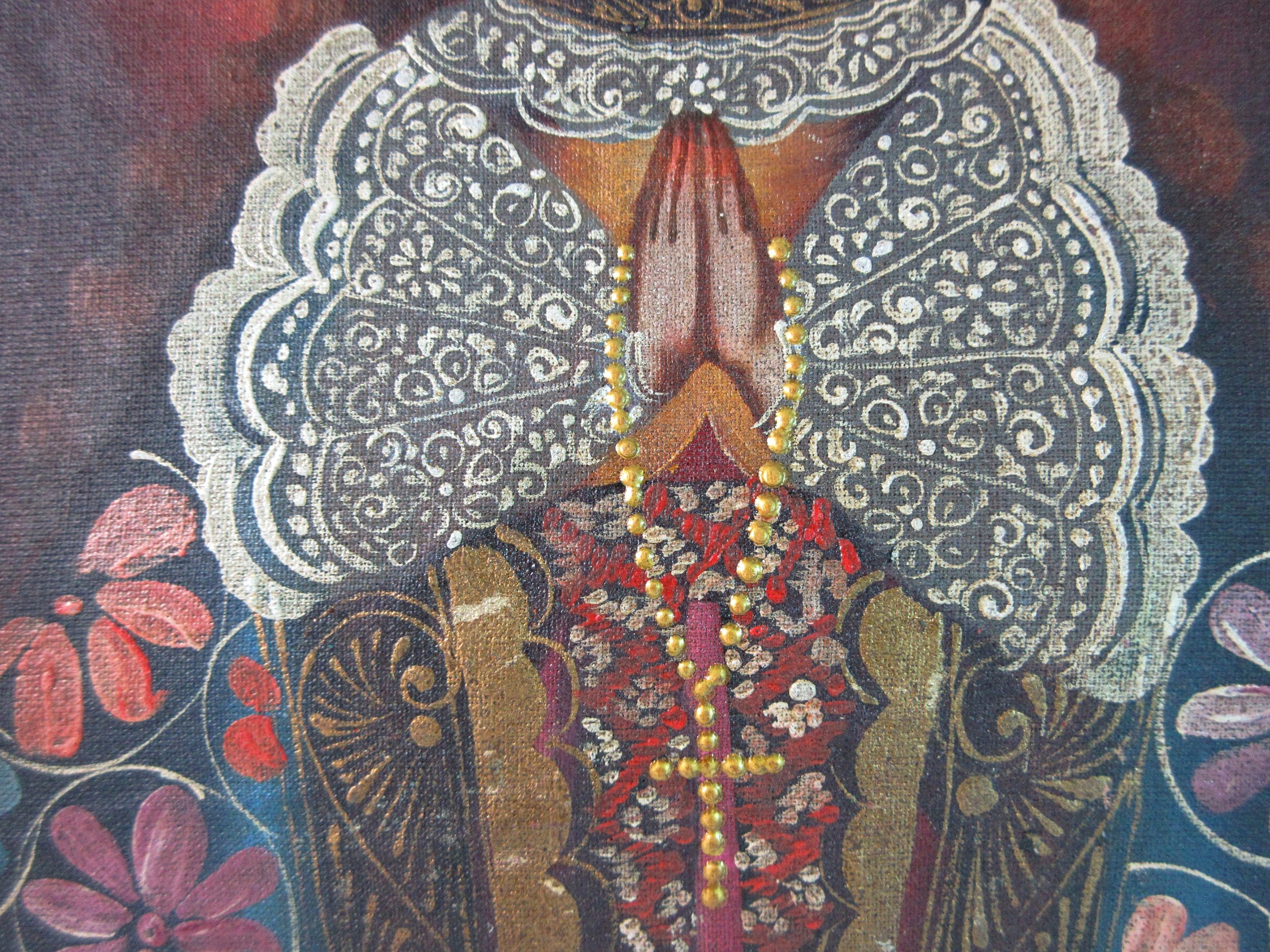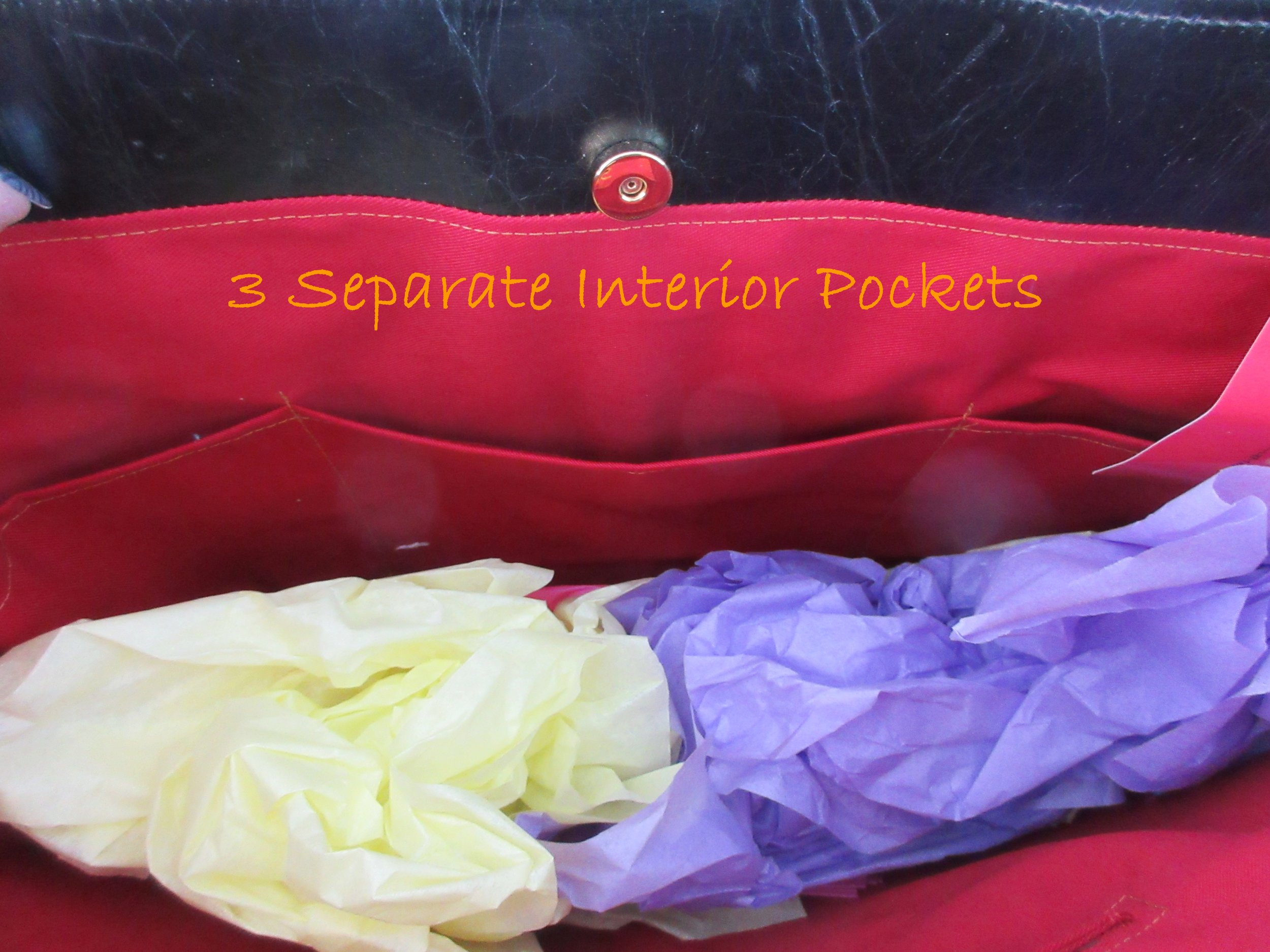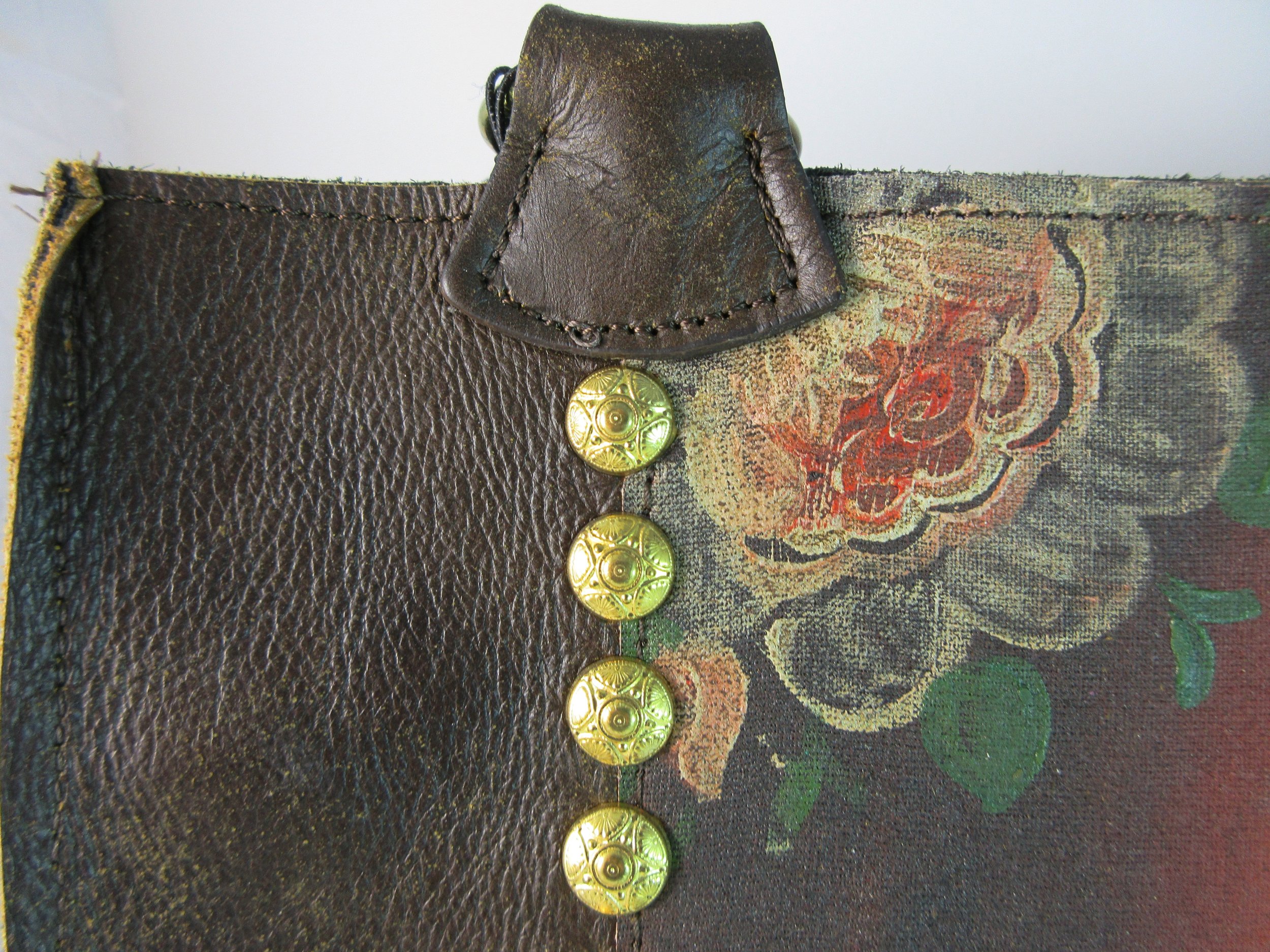 Cuzco Peru Spanish Colonial Hand Painted One Of a Kind 16-18th Century "VIRGIN with ROSARY" Distressed Italian Leather Tote
ABOUT THE ART:
If you were to walk through any Museum that has Spanish Colonial~Latin American paintings,or any fine art gallery that specializes in carrying 16th-18th century "Devotional Art" pieces from the Latin Americas,(with the focus on Cuzco Peru), these are the type of paintings you will find & also come out of the Cuzco School.This traditional style of painting originated after the 1534 Spanish Conquest of the Inca Empire..These style of paintings are from Roman Catholic artistic tradition based in Cusco, Peru during the Colonial period from the 16th to the 18th Centuries. The European influence in these paintings came from the Spanish who tried to convert the Incas to Catholicism. These specific style of paintings are characterized by their exclusive use of religious images, lack of perspective, and the predominance of red, yellow, and earth colors & lots of gold leaf.
~~~~~~~~~~~~~~~~~~~~~~~~~~~~~~~~~~~~~~~~~~~~~~~~~~~~~~~~~~~~~~~~~~~~~~~~~~~
This is one of my personal favorites out of all these I carry..She is SO beautifully painted,with so much artistic detail & just like any painting,each are "One of a Kind" paintings & you will be the only one with this particular purse.
Each of these "Devotional Art" purses are literally hand painted onto soft distresssed brown Italian leather & are literally pieces of art, that look like they came off of a "Colonial Era~Latin American" wall in some Cuzco Peruvian/Spanish Colonial Museum.
The style is 16th-18th century Peru & is beautifully painted by a painter that was commissioned by Kurtmen & studied directly under the Cuzco Masters of Peru & is a master himself,having painted this lady so traditionally beautiful.
The beautiful Madonna stands crowned with her hands folded in prayer & is holding a long rosary that is painted with gold leaf drops to replicate beads..She is painted with delicate features, with long auburn wavy haired & has a warm halo glow around her as she stands clothed in a triangular gown with very fine detailed white lace,colorful flowers & gold leaf.She is wearing gold earrings,which you do not see often in these paintings.Flowers are a dominate detail.
It is designed with KurtMen's western style edge & have gold tone prong style studs that are machine pressed for longevity & run the height of the tote.The leather is right from Italy & the finish is hand rubbed to give it the distressed look & also allows the leather to remain subtle.The interior is fully lined in red cloth & has a deep drop.
She is painted on a brown distressed soft Italian Leather & is made in a western style tote..She is accented by gold tone studs on each side.The interior is fully lined in cloth & has a zip compartment & 3 separate interior pockets.
Having a purse like this,will say so much about who you are & your expressive love for Latin American art..NO one else will have this,since no 2 are alike!!! They are One of a Kind works of art!
PLEASE GO THROUGH ALL THE PROVIDED PHOTOS TO WITNESS THE BEAUTIFUL DETAIL!!
**To read about "KurtMen Designs",click on "Woman's Jewelry" & use the drop down to click on"About the Artists".**
MADE BY: KurtMen LEATHER DESIGNS
MATERIAL: QUALITY ITALIAN LEATHER~CLOTH INTERIOR~GOLD TONE STUDS
COLOR: BROWN LEATHER
HEIGHT: 13-1/2"
LENGTH: 16-1/2"
DEPTH: 2-3/4"
STRAP DROP: 14" (TO TOP OF TOTE)
THEME:CUZCO~COLONIAL STYLE HAND PAINTED MADONNA WITH OIL PAINTS/22 K GOLD LEAF
TECHNIQUE: ~MACHINE STUDDED~HAND RUBBED COLOR FOR DISTRESSED LOOK
Comes with Tote Sleeve.