Master Navajo Bead Artist ~"Rose Martin"~ HUGE~ Authentic~ Hand Made~ Oxidized 925 NAVAJO PEARL/ Bench Bead Necklace~ 28"~ Over 1/2 Pound~ Best!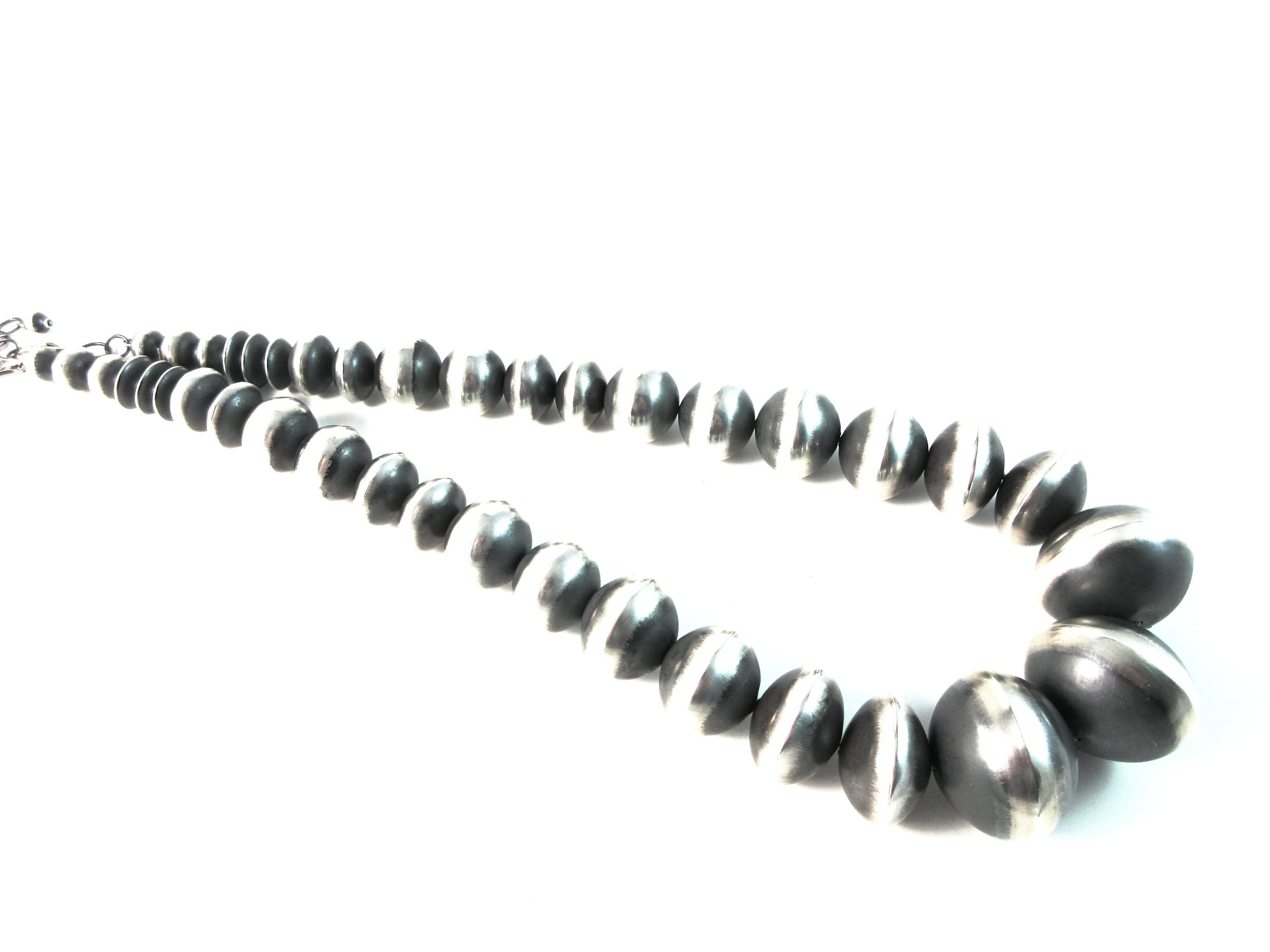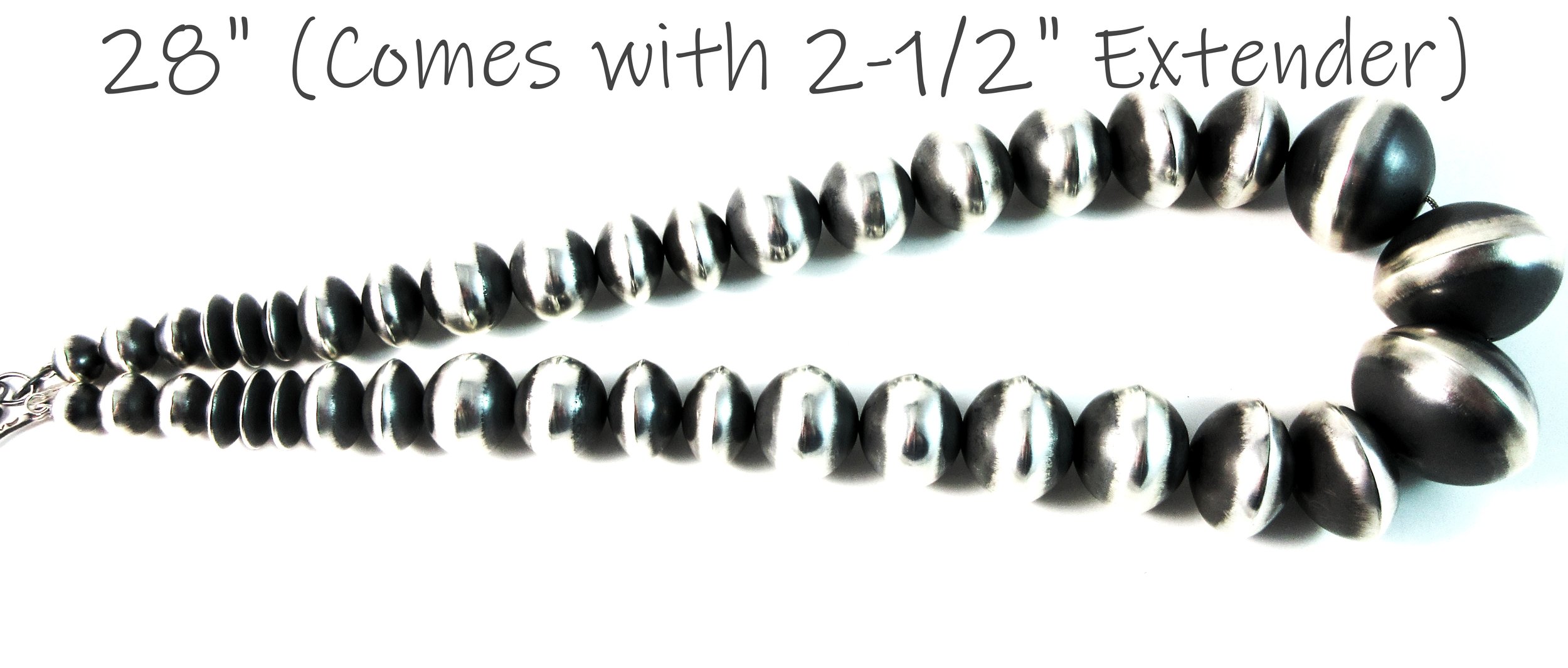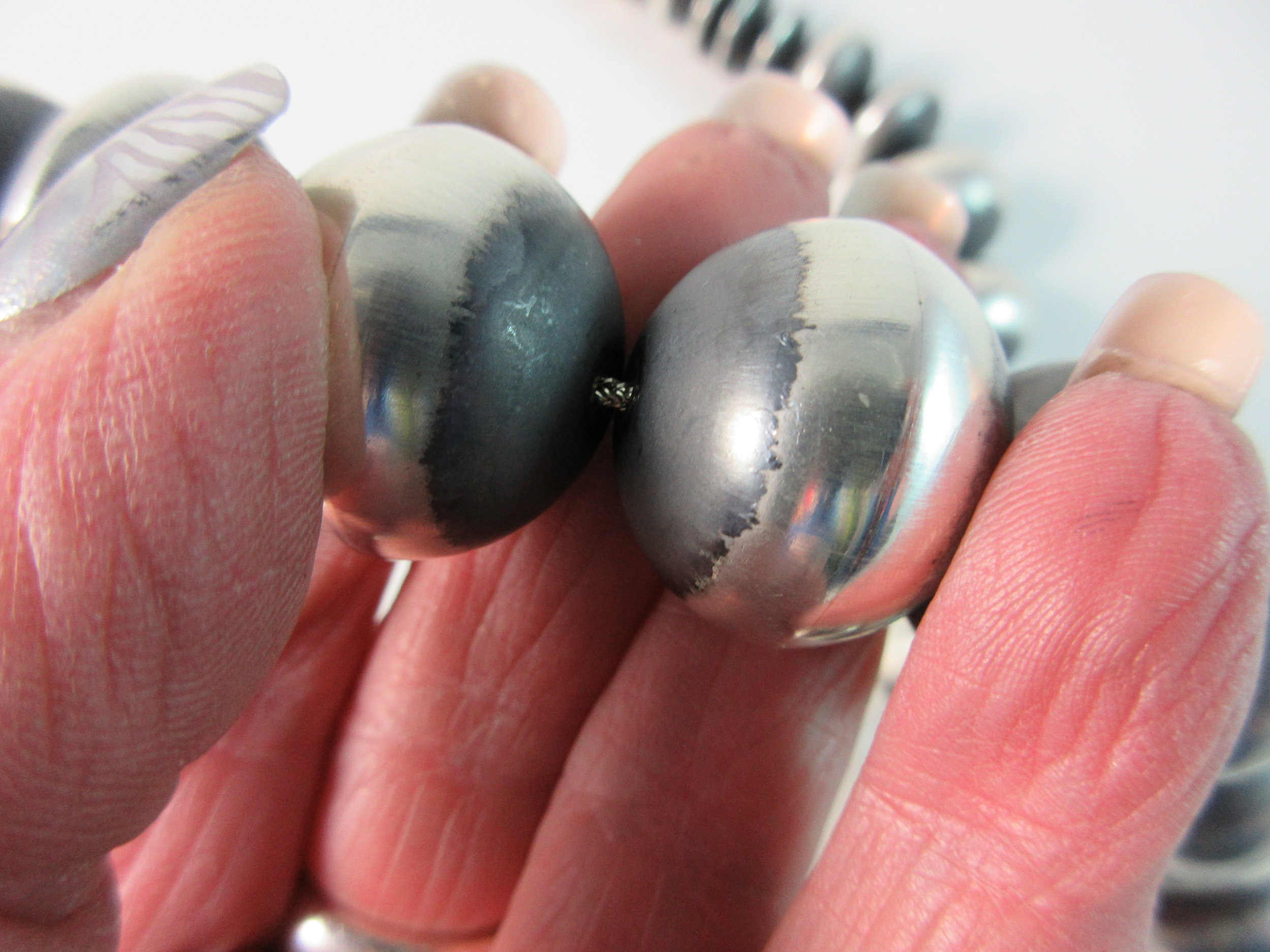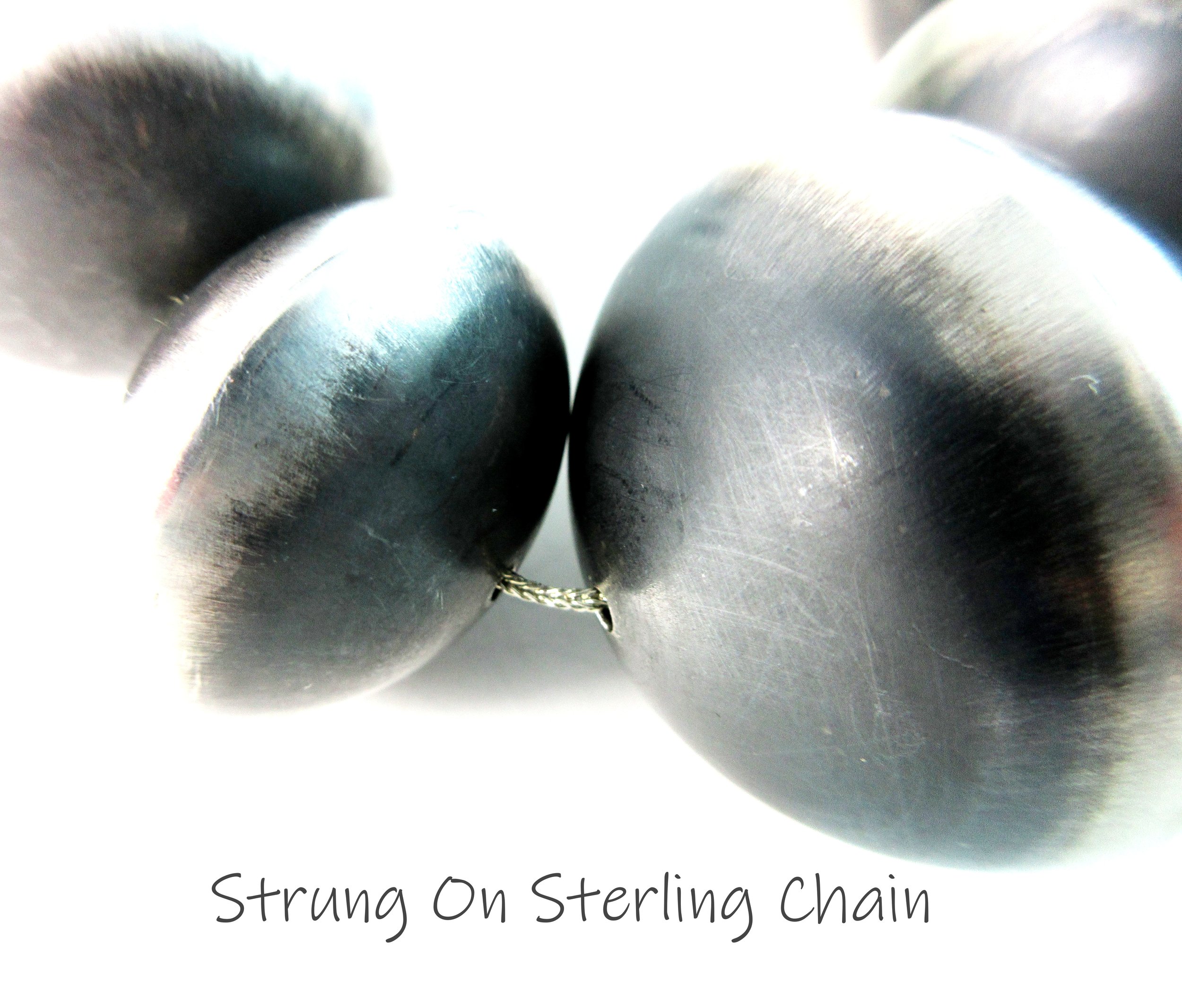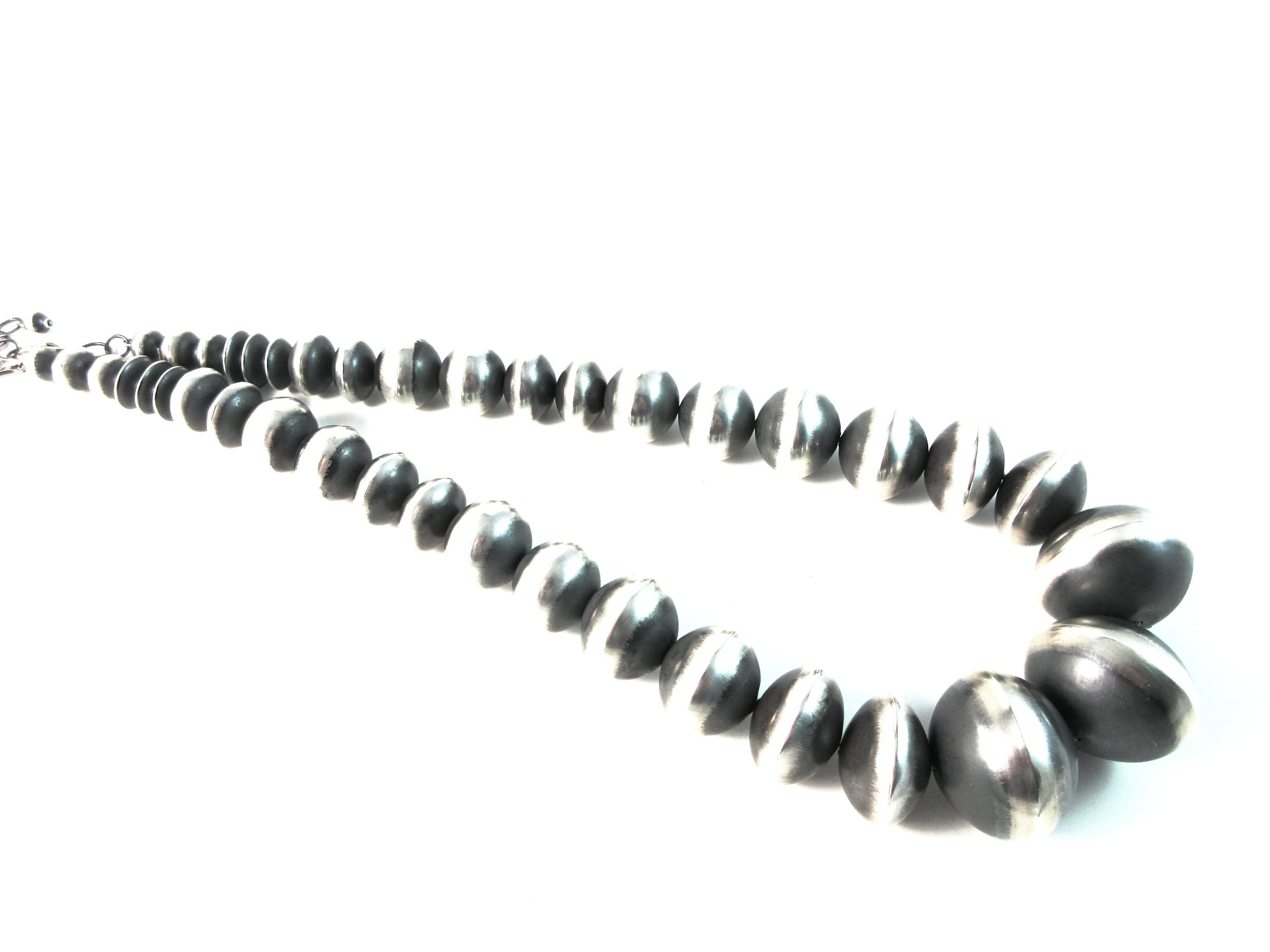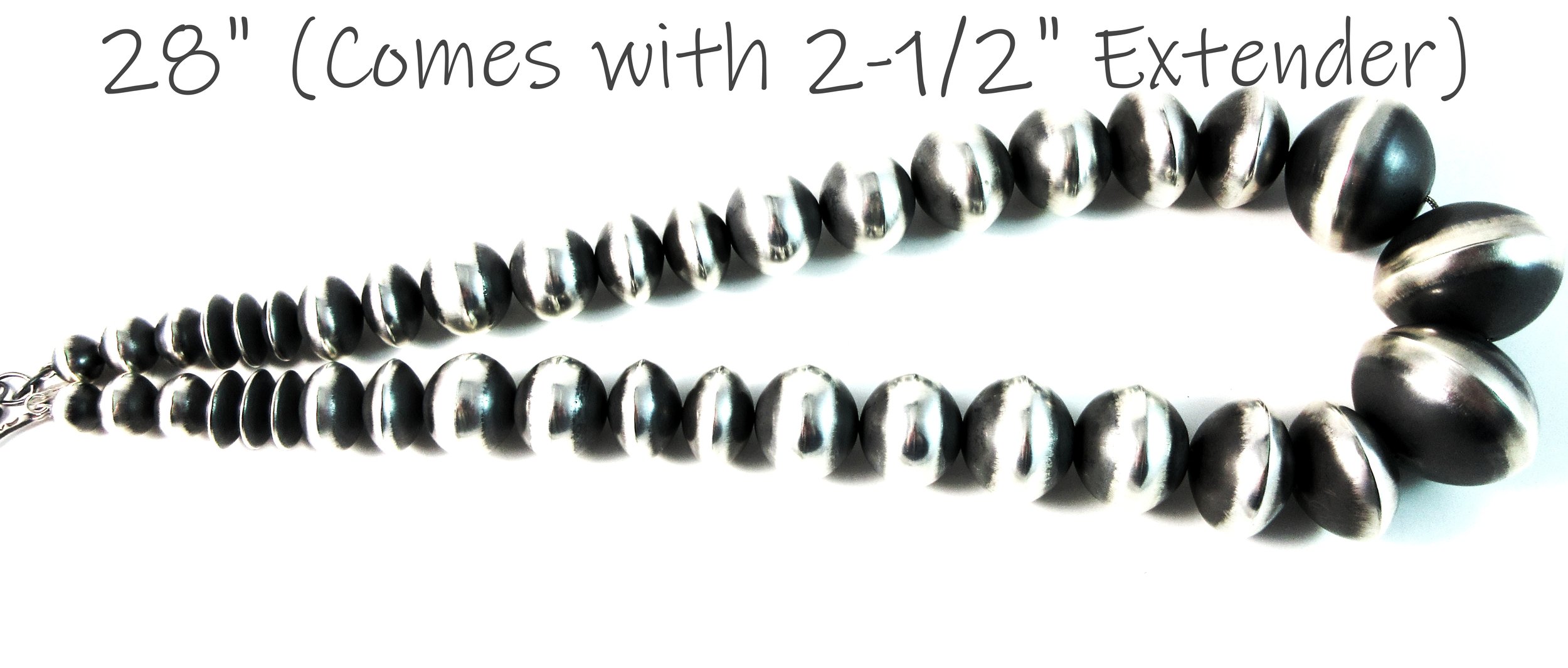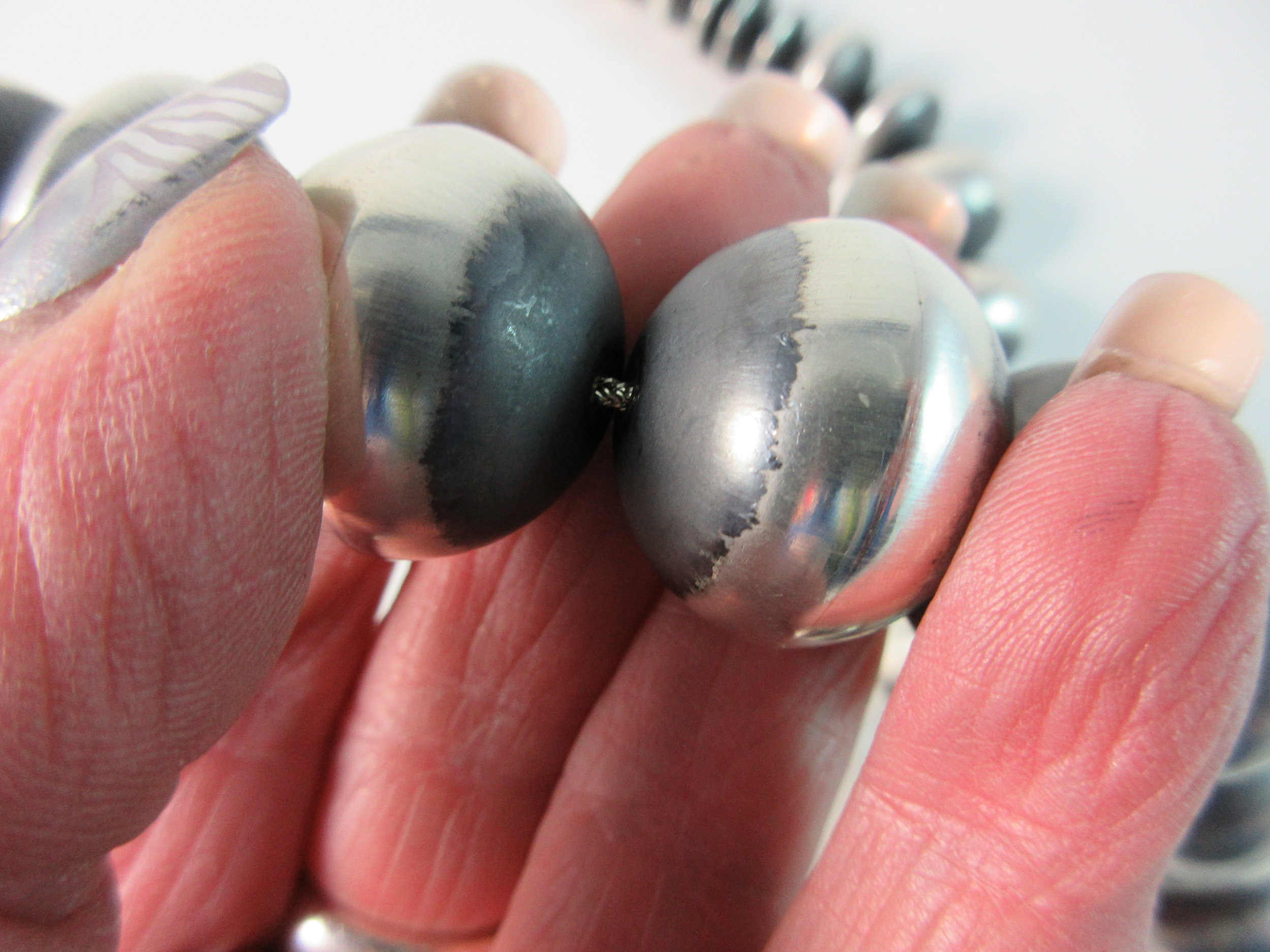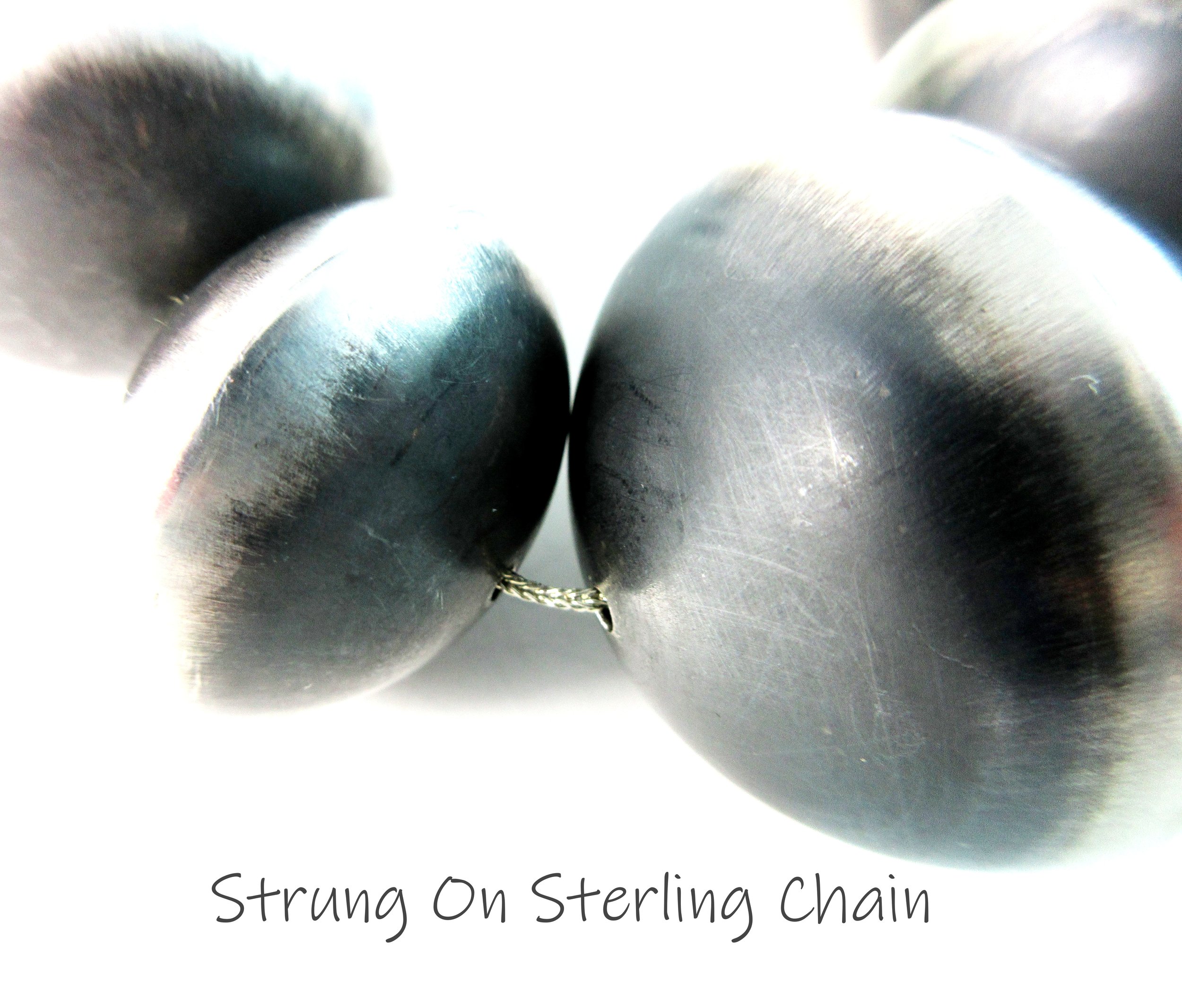 Master Navajo Bead Artist ~"Rose Martin"~ HUGE~ Authentic~ Hand Made~ Oxidized 925 NAVAJO PEARL/ Bench Bead Necklace~ 28"~ Over 1/2 Pound~ Best!
ABOUT AUTHENTIC NAVAJO PEARLS:
Authentic Navajo Pearls are made entirely by the hands of Navajo silversmiths.Made out of heavy gauge sterling & are an extremely labor intensive process..These are made with the silver being melted, rolled & go through a lengthy process by cutting,drilling each hole,soldering,filing,hand stamping(If any),hand finishing them & then stringing each,one by one.The heavy gauge silver used in these highly collectible beads, gives the finished strands a hefty weight and are quite substantial! There is nothing used by manufactures to make them go faster & nothing you'll find are done in a commercial way.These are made the 'Old School' way & unlike machine cut,touristy,commercial,overseas made beads,these are validated by the beads not having quite the same exact millimeter size & you can also see it in the seams.Each bead will also vary.
~~~~~~~~~~~~~~~~~~~~~~~~~~~~~~~~~~~~~~~~~~~~
ABOUT ROSE:
Navajo Rose Martin is a NM native who resides on the Navajo reservation,in Pinedale,NM just outside Crown Point.She is the descendant of a multi generation family who were the 1st to start making Navajo Pearls decades ago & with each generation,each learn the art of making traditional Navajo Pearls..Rose has now been making them for at least 30 years & is considered "A MASTER" of making these precious,time consuming beads.You won't find Rose making nothing other than beads,so you are guaranteed a Navajo Pearl necklace, by one after decades of doing these,that definitely knows what she is doing! She blesses each strand with sage before going to the public,so the wearer has blessings with wear.
~~~~~~~~~~~~~~~~~~~~~~~~~~~~~~~~~~~~~~~~~~~~
DESCRIPTION:
These are the "Rolls Royce" of Navajo Pearls!!!
Nothing will give you a more STUNNING look than a beautiful strand of the finest of Navajo Pearls/Navajo Bench Beads made!! This is a long,extremely bold style necklace & meant for the confident!These impressive beads are designed on a more "grandeur" scale & are meant to be seen! The graduated beads are over a 1/2 pound & are huge,weighty & full of statement,but "statement" is actually a under statement! There is nothing dainty about these & have definite WOW Factor & if you want the best,Rose's are it.You won't find better,down to the hook closure!These are THE real deal!

The center beads alone are HUGE & measure in the 40 mm range (Over 1.60")..The necklace graduates to as small(Or big!) 12 mm size at the closure.The way Rose finishes the sterling is truly outstanding,with each bead hand finished with a deep,dark oxidized appearance & then given this gorgeous satin finished center that you just want to stare at!!There are rounded beads,flattened saucer beads in this.

The closure is a hook style & is made of a durable gauge sterling that is all hand tooled with design.Comes with a 2-1/2" extender,so you can wear it as short as 28" or as long a 30-1/2"..
These have heirloom quality & can be passed down from generation to generation.

Imagine this with your favorite black dress,but how stunning they will look against anything!!!They are extremely classy & very sophisticated!
" New Mexico True! "
** 2 STRAND SHOWN BY ROSE,AS WELL AS ON MODEL WEARING THE ONE STRAND & 2 STRAND **
ARTIST: Rose Martin
TRIBE:Navajo
METAL: Sterling
METAL FINISH: Satin/Oxidized
LARGEST BEAD SIZE: 40 mm~(1.60")
SMALLEST BEAD SIZE: 12 mm Range
WEARABLE LENGTH: 28"
EXTENDER LENGTH: 2-1/2"
WEIGHT: 8.8 Ounces (250 Grams)
STRUNG ON: Sterling Chain
STYLE:Navajo Bench Bead Necklace - Authentic Navajo Pearl Necklace
TECHNIQUE: EVERYTHING Made by Hand
HALLMARK: Rose Martin/Sterling(see photo)
CLOSURE: Hook & Eye