Kewa Pueblo Folk Art Artist~ MARY TAFOYA~ Colorful/ Abstract/ Whimsical Mosaic Inlaid Pendant with Kingman Turquoise Heishi Necklace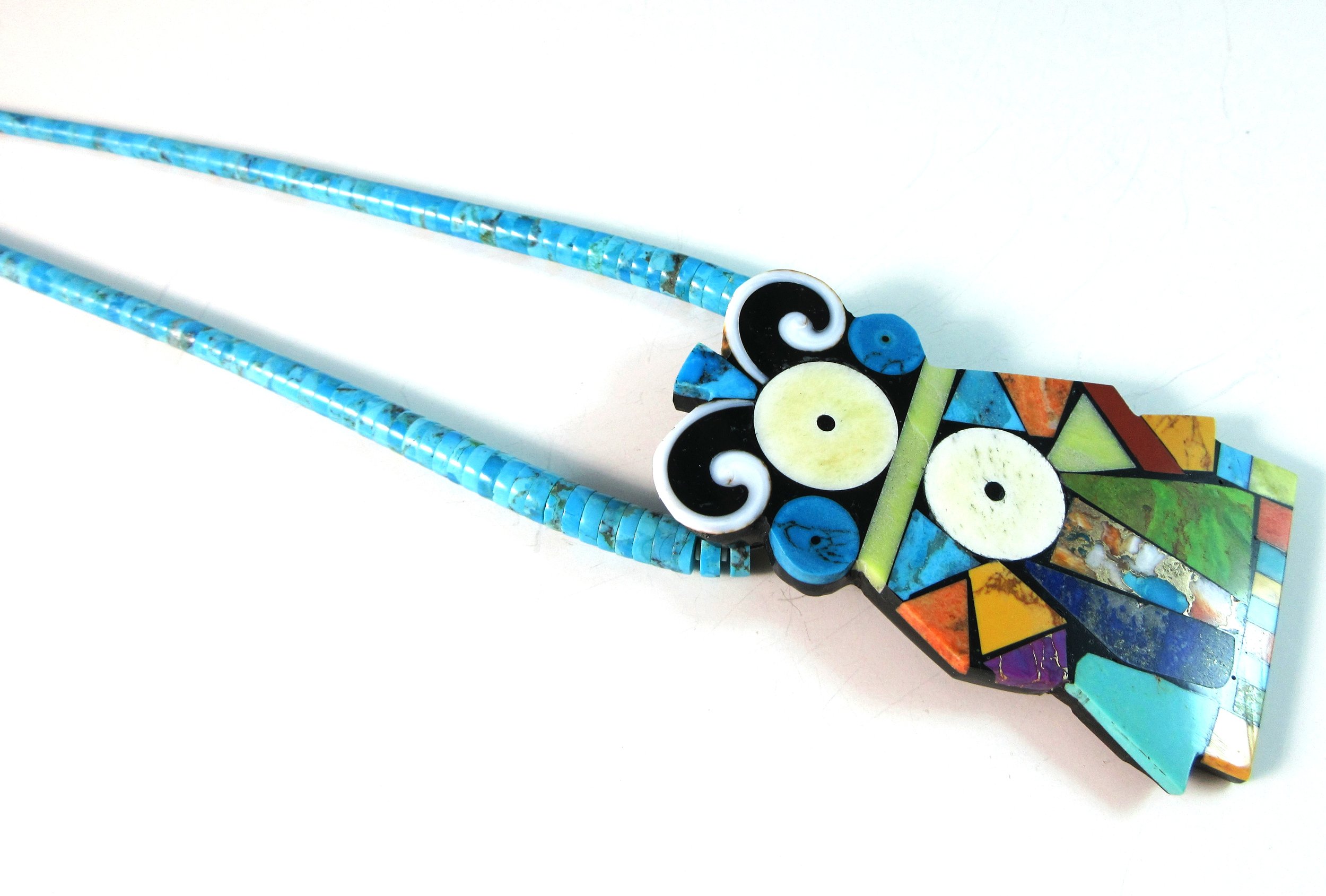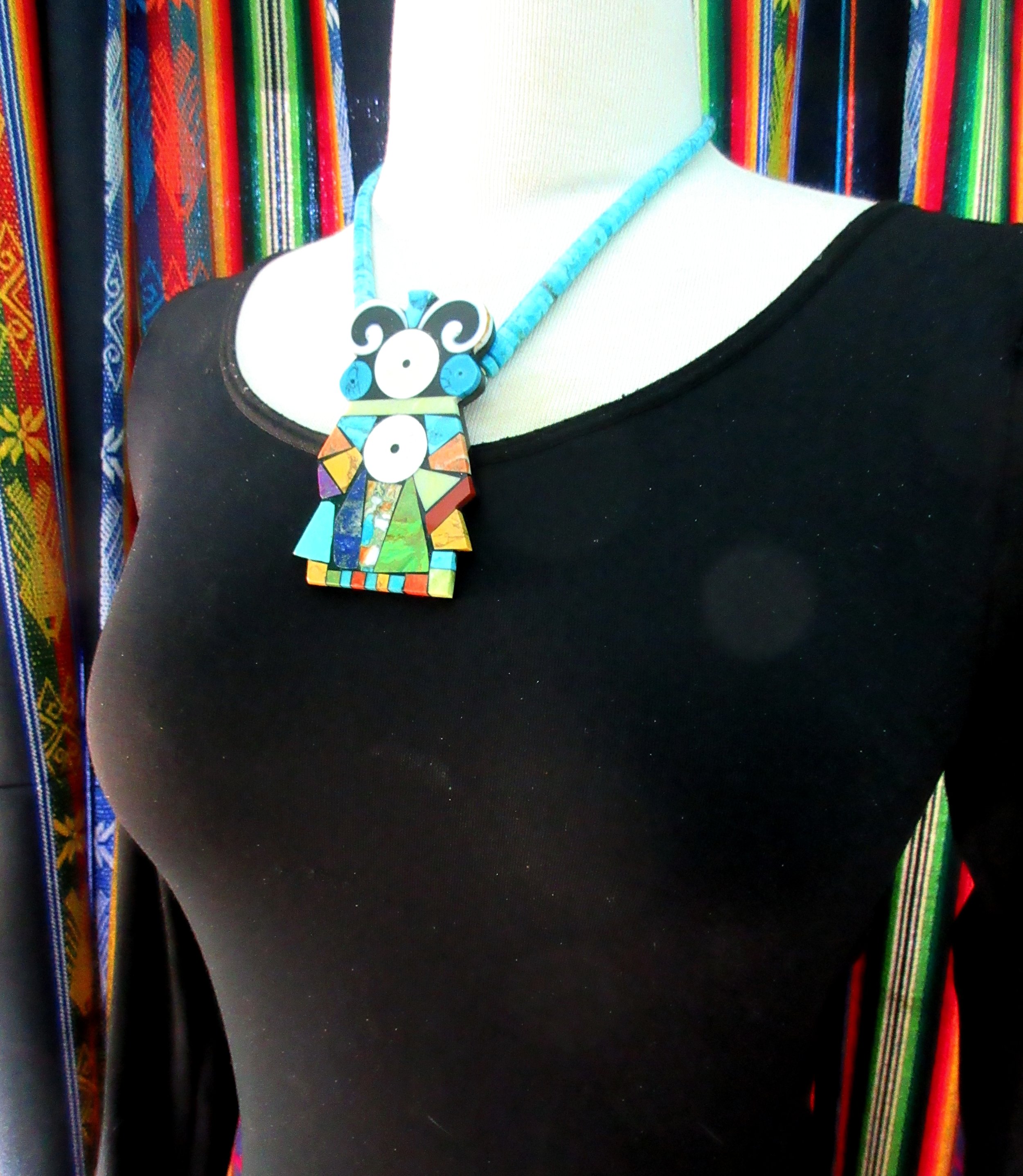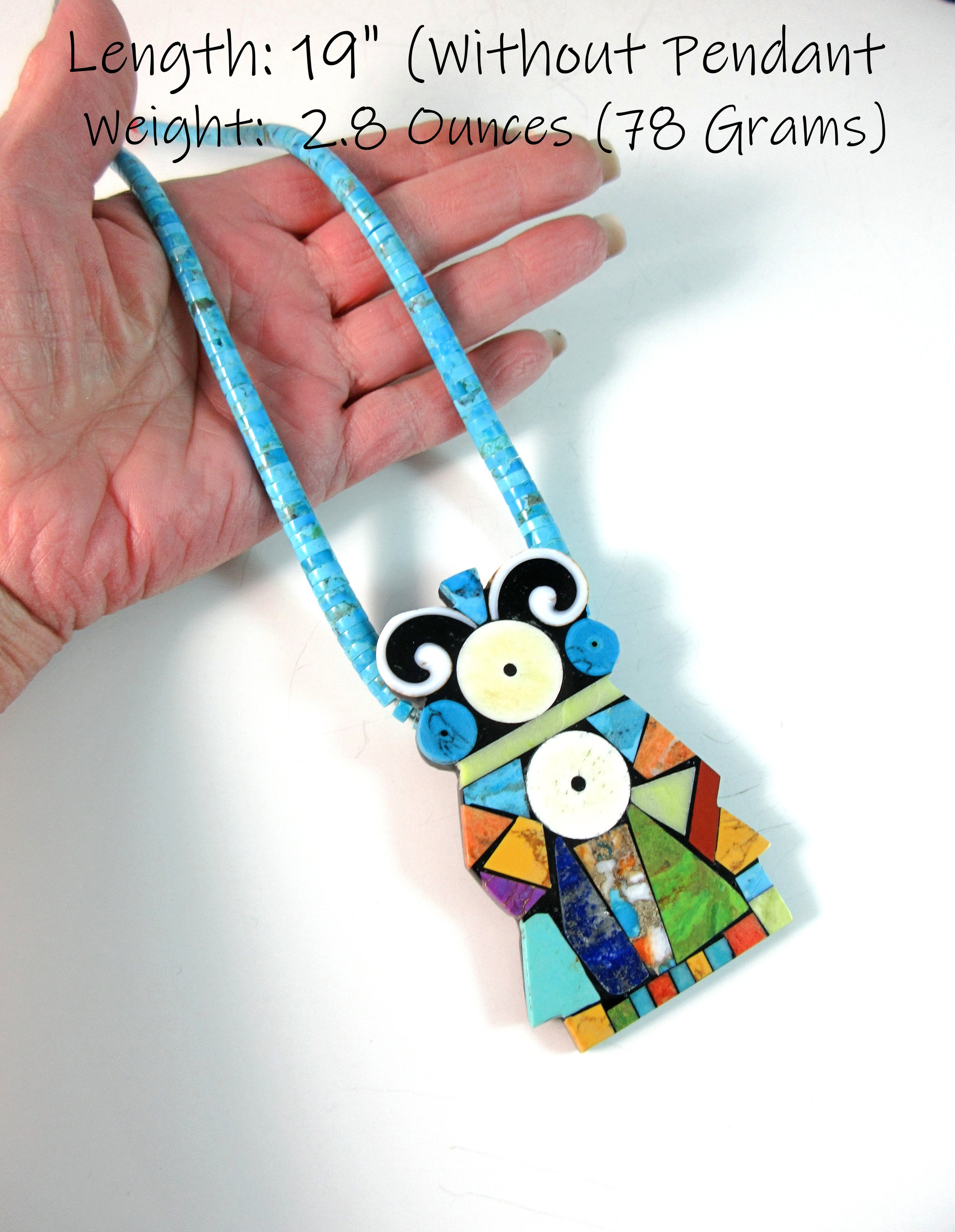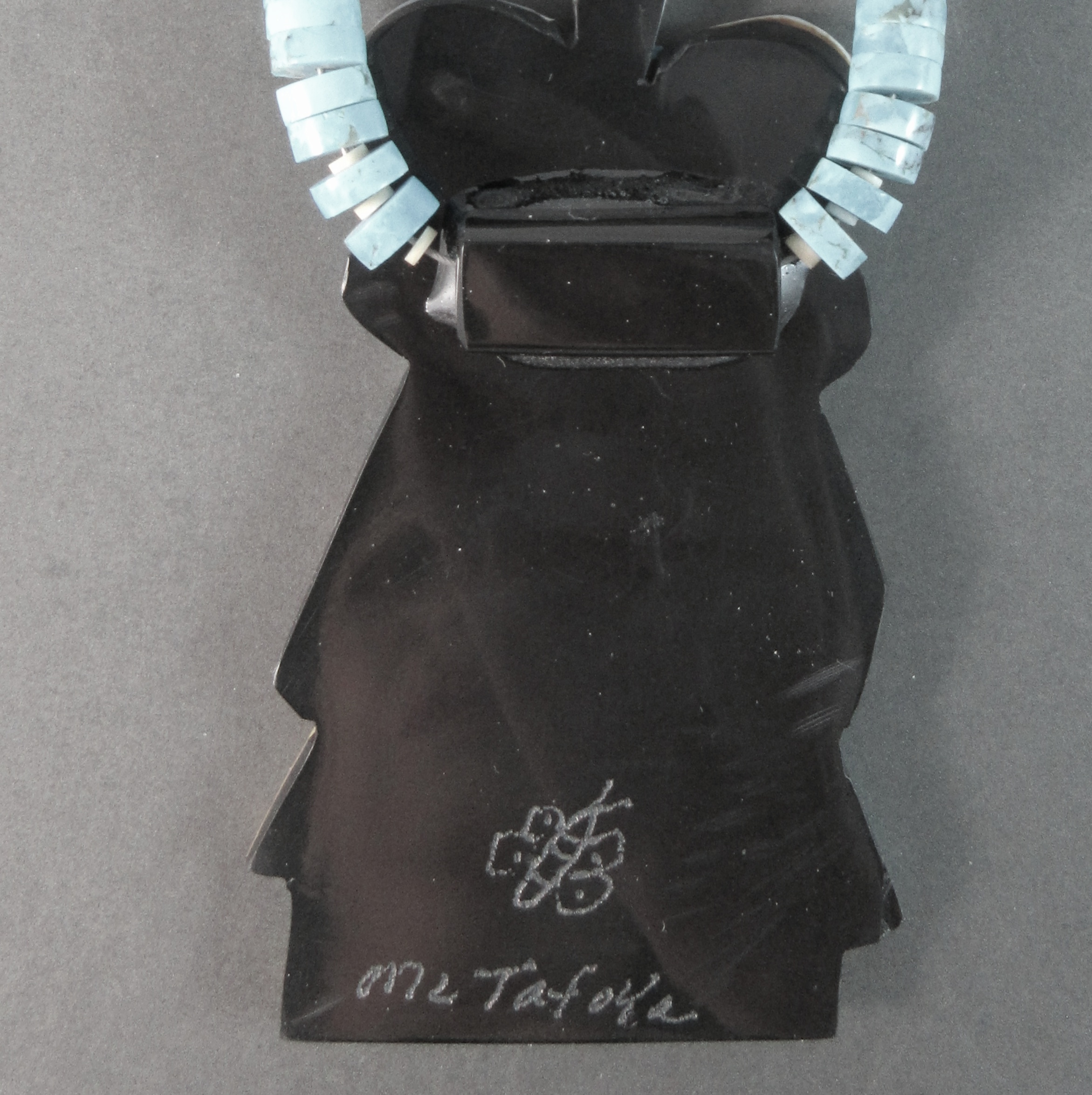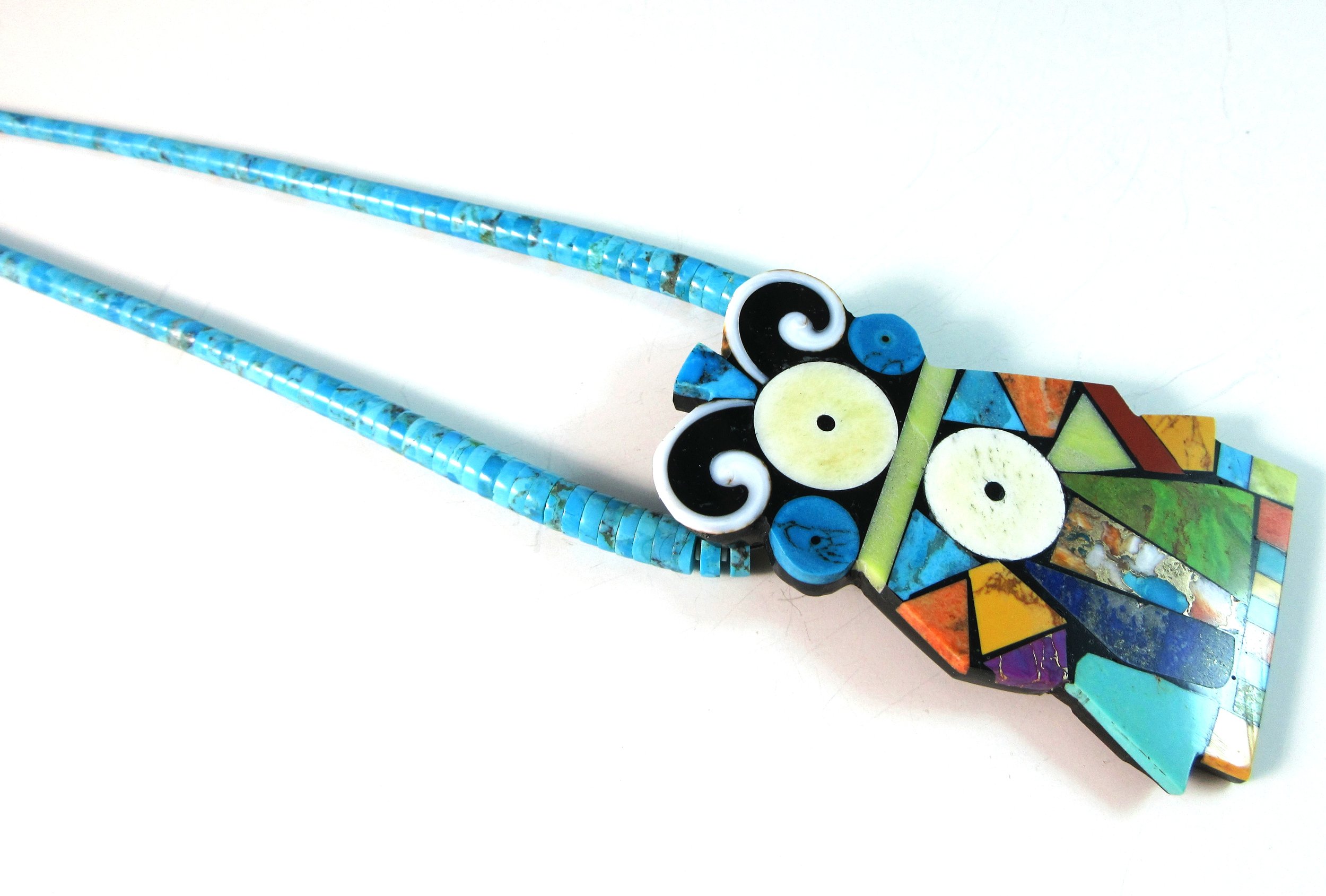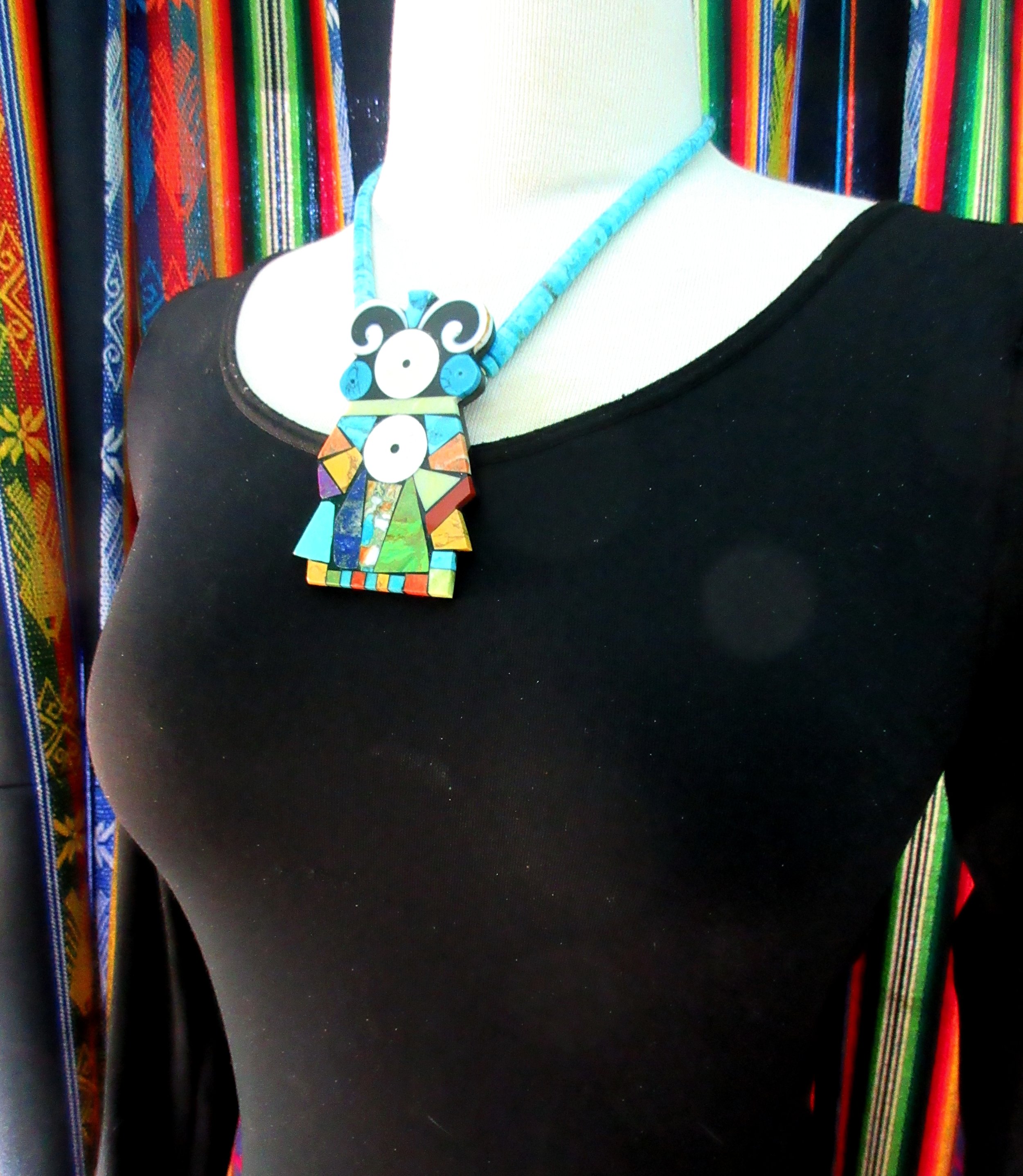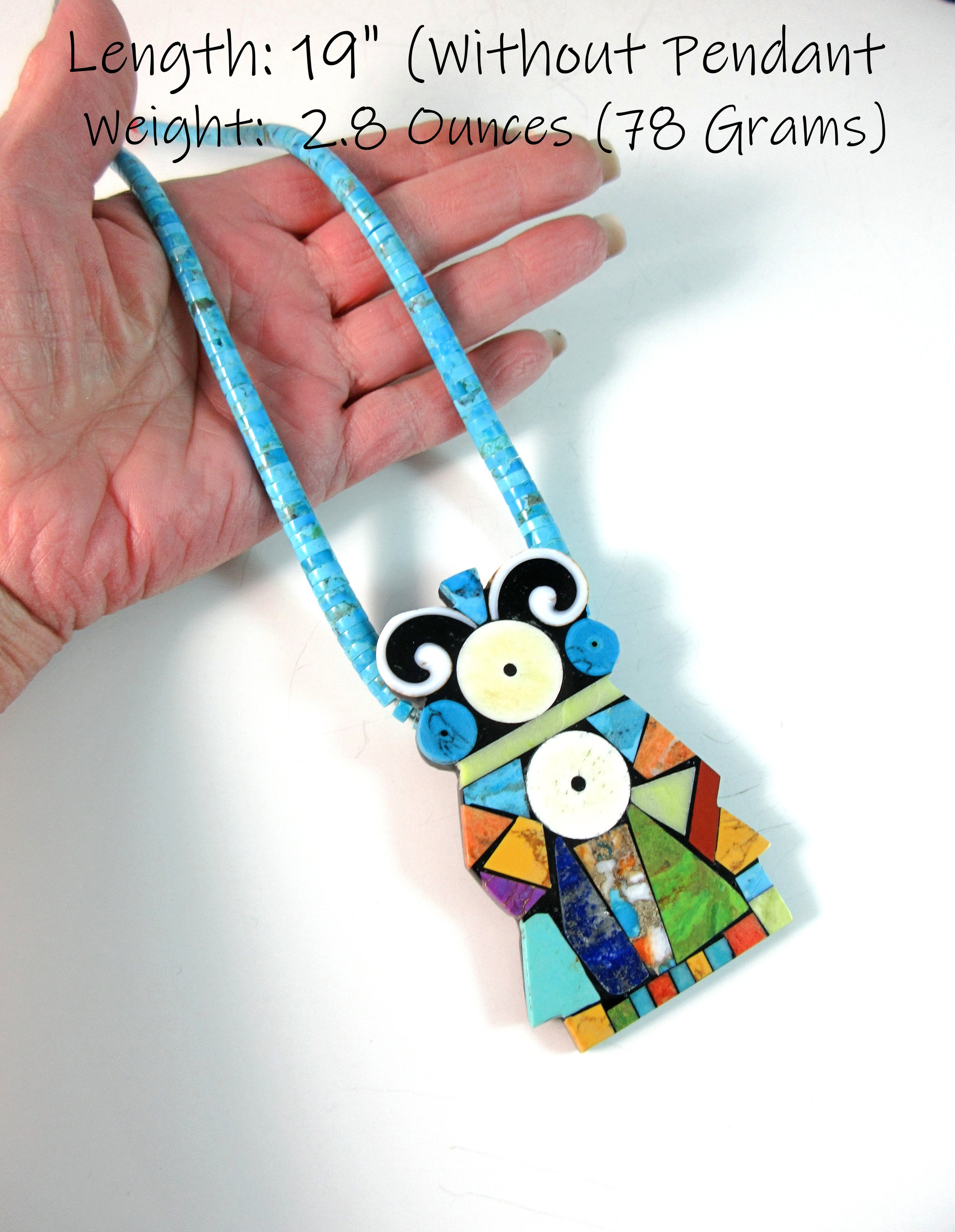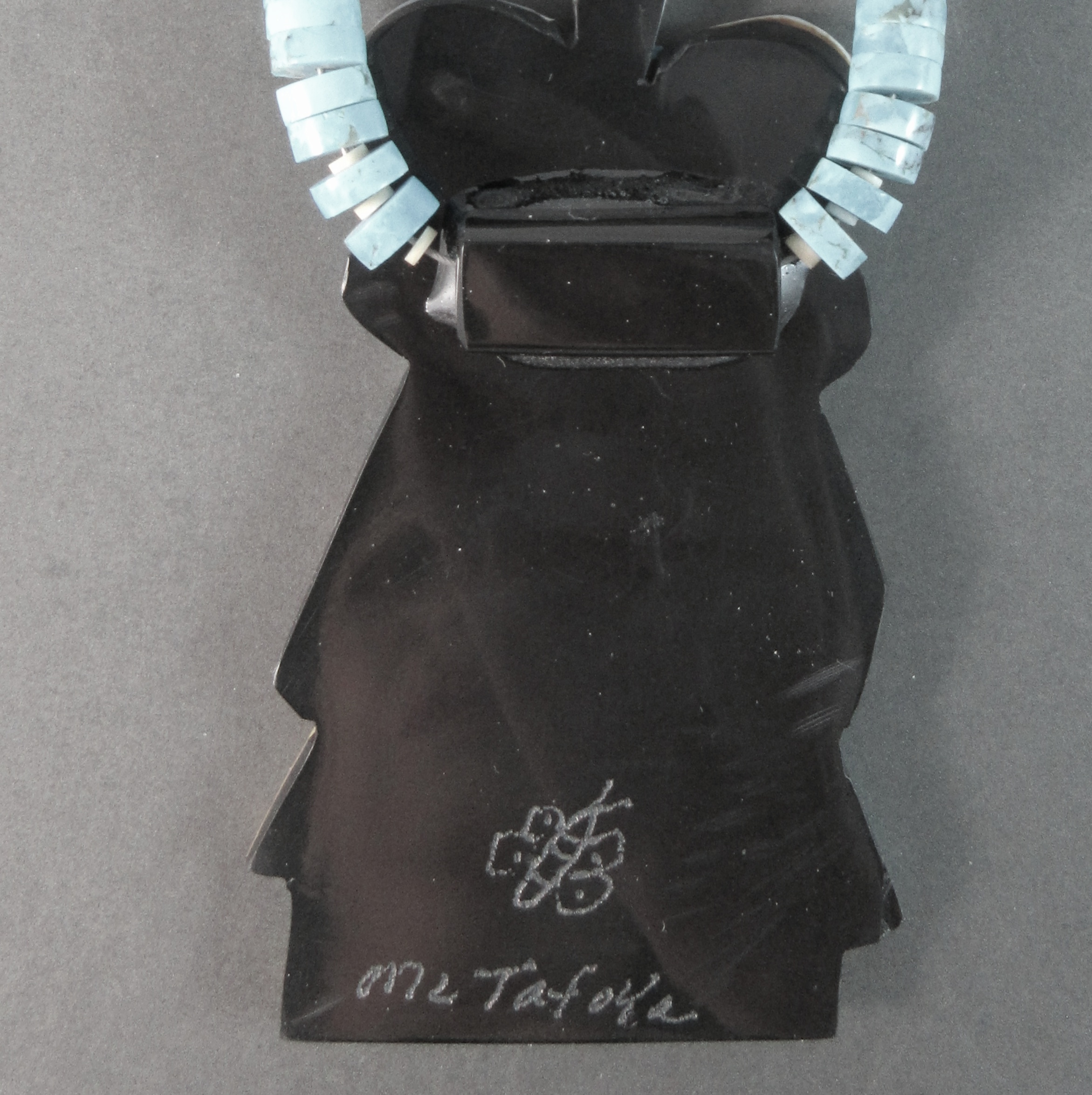 Kewa Pueblo Folk Art Artist~ MARY TAFOYA~ Colorful/ Abstract/ Whimsical Mosaic Inlaid Pendant with Kingman Turquoise Heishi Necklace
** TO LEARN ABOUT MARY,PLEASE CLICK ON THE DROP DOWN UNDER"ABOUT THE ARTIST" DESCRIPTION:
How many times have you looked at clouds & what you see,no one else does?This is the way you look at Mary's art..You will see it one way,others will view it differently! By having said that,I look at this & see a "Abstract Pueblo Maiden"..Personally,the Conus shell curls at the top,look like a Hopi Maiden & the round cuts of turquoise below the shell,look like turquoise earrings & then of course the round bone cut looks as though she is faceless.It can also remind you a little of Picasso's work! But you may see her as something far from what I do! Her pieces are all in how YOU see them to be!
The pendant drop is made in a larger statement size that is made with every color there is & can't help but lift the wearers spirit! This is definitely a cheerful necklace!
Mary hand cut all the geometric cuts & then mosaic inlaid them where they lay every which way in order for the design to work.Each piece is then carefully inlaid atop of black jet.It has a 6 mm average thickness,so it's nice & hearty.
The pendant is non-removable & is attached the bright blue Kingman turquoise heishi that is totally hand cut & then rounded off into graduating sized little round disks by her husband Lorenzo,who hand drills each & every hole for their daughter then to string for the necklace! Lorenzo shows off how skilled & precise he is,by having made this in a perfect graduated cut style & is cut with precision!!! If you run your hands down the strands,there are no rough edges & is nice & smooth which shows skill & experience!
A sterling hook & eye act as the closure.If you like to wear this longer than the 19",you can easily make a extender or have one made.
ARTIST:Mary Tafoya~for Plata de Santa Fe Jewelry
TRIBE: Santo Domingo Pueblo (Kewa)
WEARABLE LENGTH:19" (Without Pendant)
HEISHI SIZE BEADS: 7.8 mm Down to 4 mm
PENDANT DROP MEASUREMENTS: 3-1/2" Tall x 2-1/4" Wide
WEIGHT: 2.8 Ounces (78 Grams)
METAL:Sterling Closure
MATERIAL IN PENDANT:
Kingman Turquoise(Bright Blue)
Bone(Round Cream Cuts)
Apple Coral(Orange Yellow)
Butter Nut Squash Serpentine (Deep Mustard Yellow)
Gaspeite (Green)
Dyed Turquoise(Vivid Purple)
Conus Shell(Swirls in Tail/Body)
Serpentine (Yellow/Green
Anulite (Navy Color)
Spiny Oyster Shell,Turquoise & Copper (Blue/white/orange/metallic all pressed together)

PENDANT THICKNESS: 6.2 mm Range Thick
BACKING: Black Jet
HALLMARKS:M L TAFOYA with a Butterfly
Comes boxed & ready for gift giving!!
~~~~~~~~~~~~~~~~~~~~~~~~~~~
PLEASE NOTE:
Anything Mary makes is a conversation piece & you can also mix her pieces together,regardless that they may not be the same,since it's the 'look' that matches! BECAUSE THIS IS MADE WITH HUMAN HANDS & NOT COMMERCIAL MANUFACTURING MACHINES,THERE ARE SLIGHT VARIATIONS.