Kewa Pueblo Folk Art Artist ~MARY TAFOYA~ Hand Rolled Turquoise Bead Necklace with Attached Abstract Mosaic Inlay Pendant Drop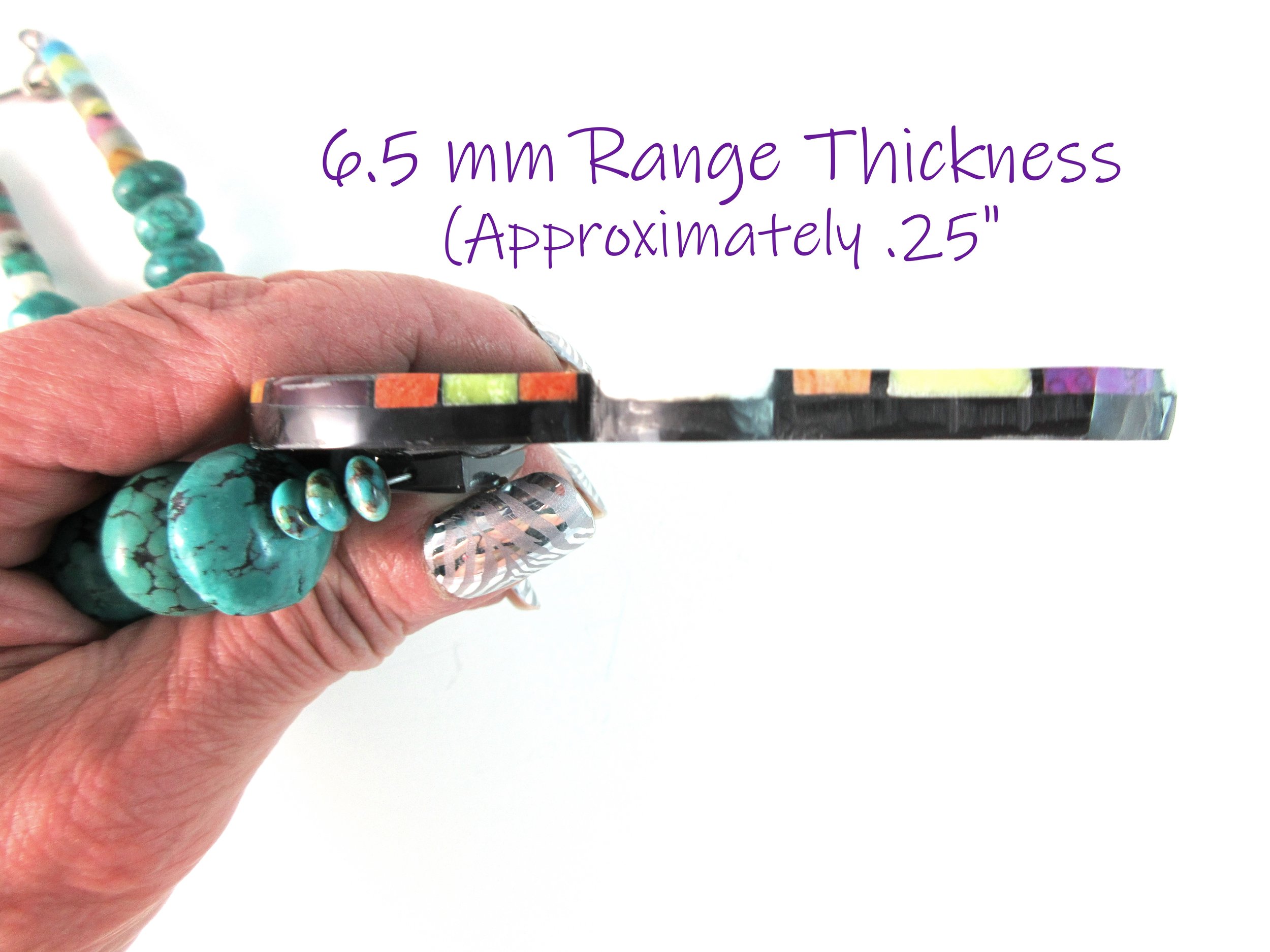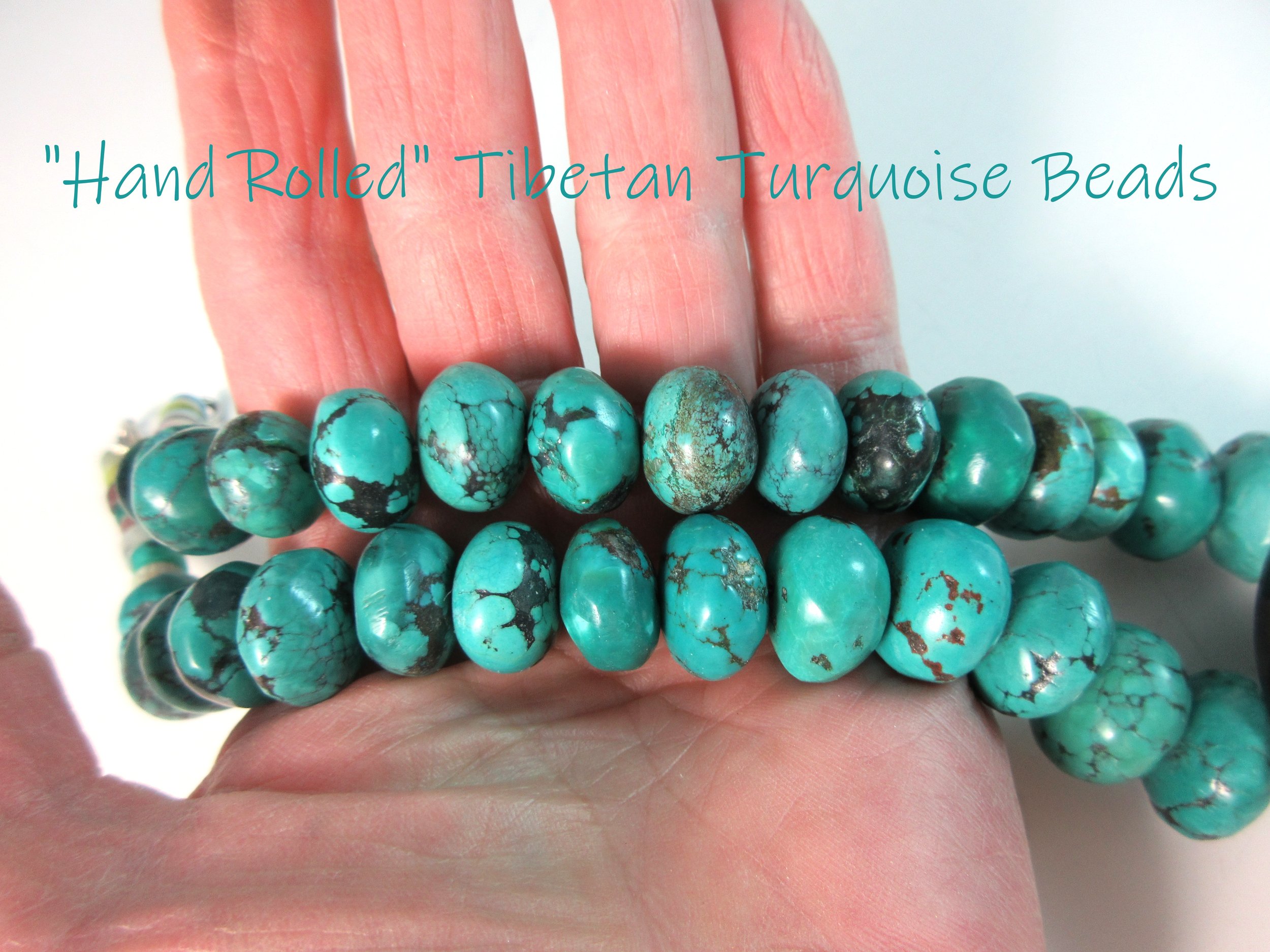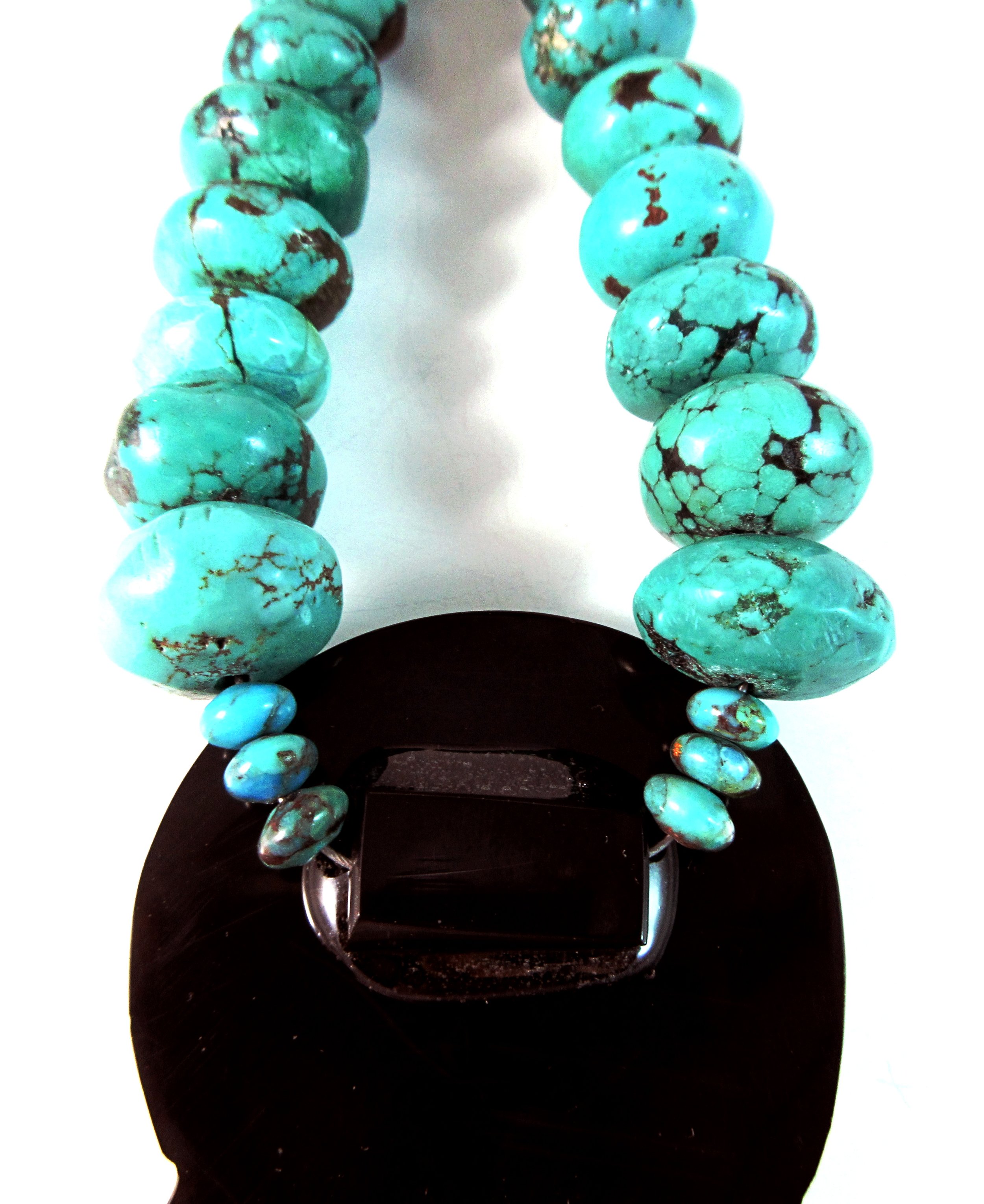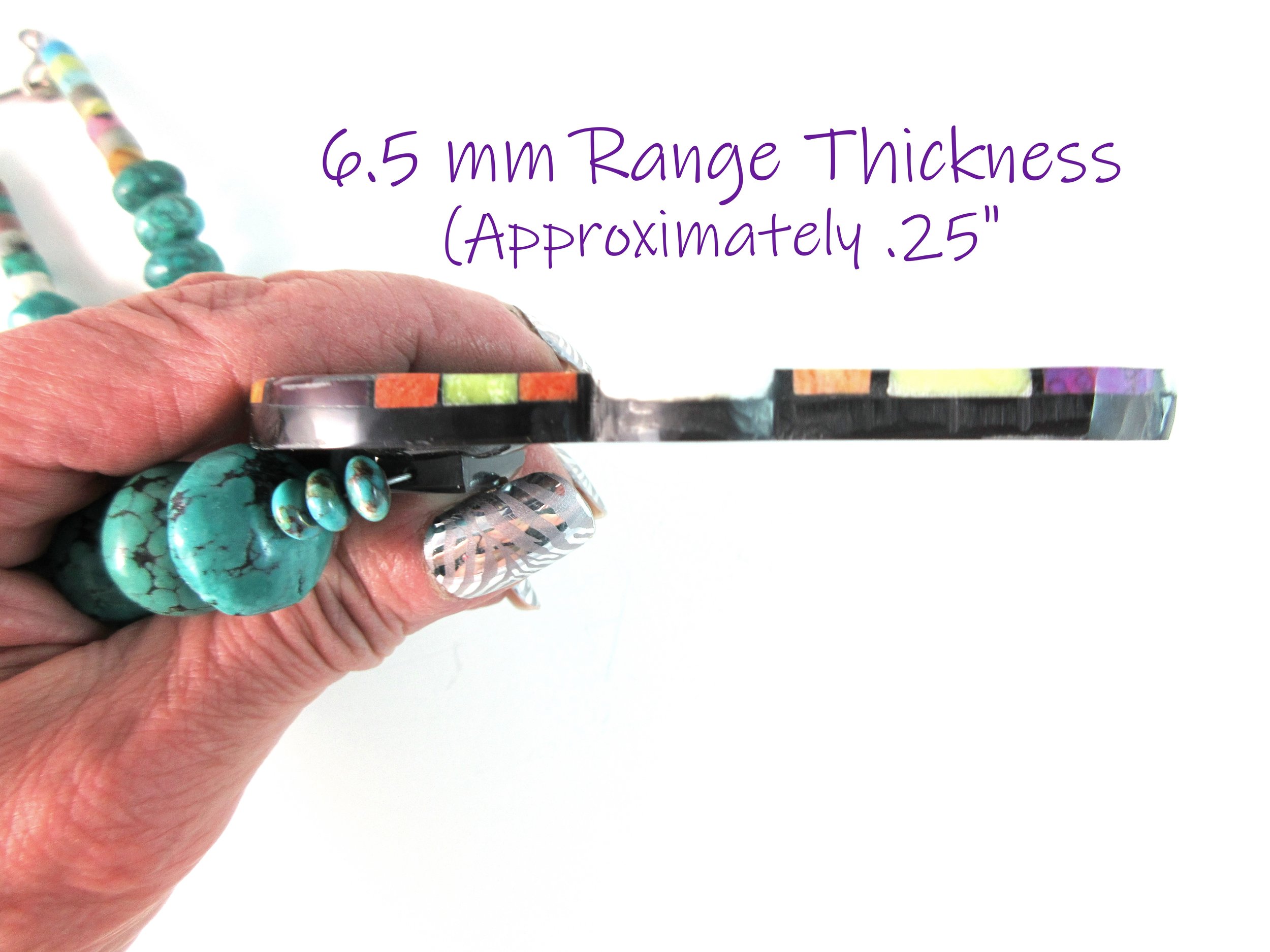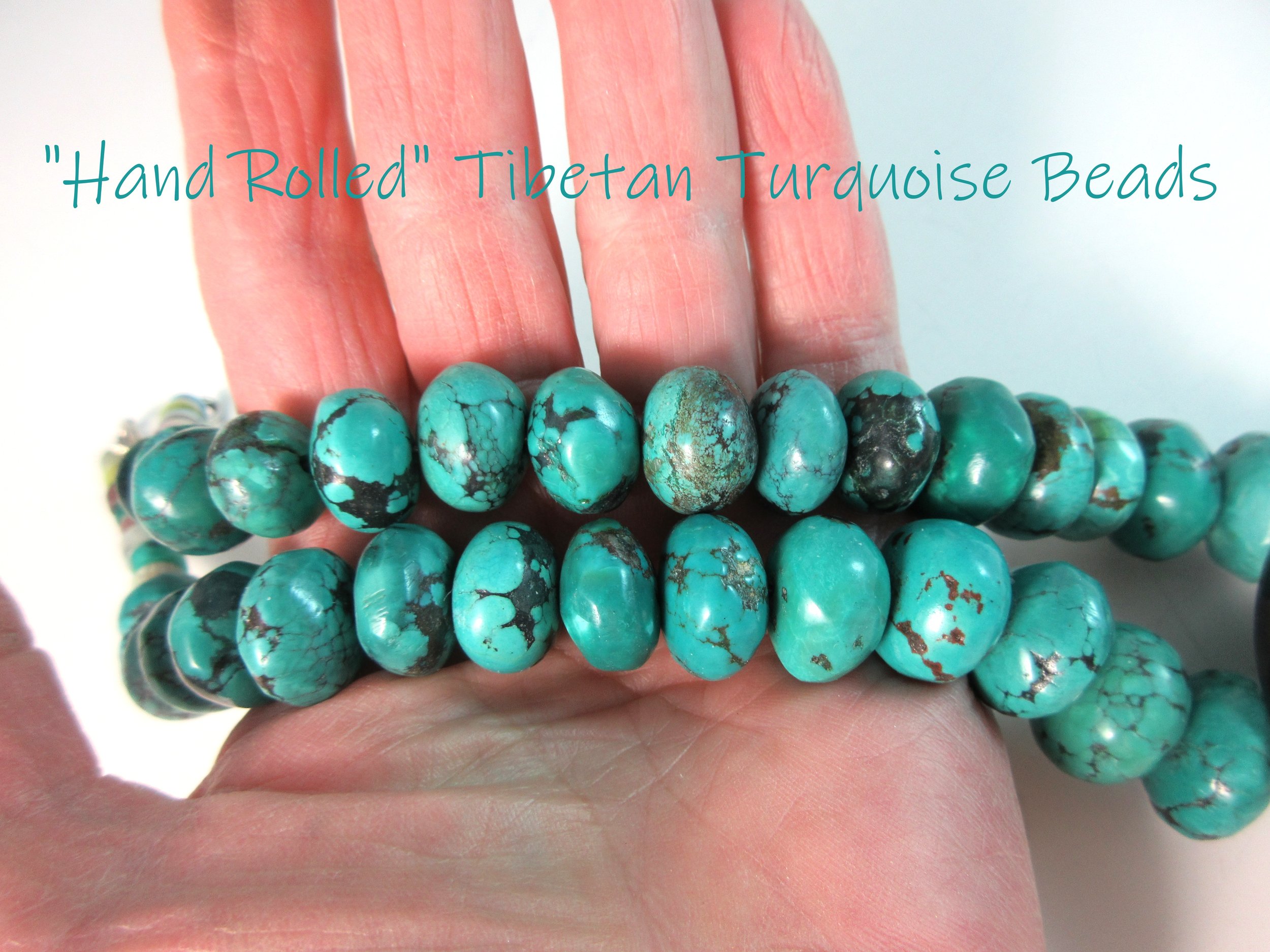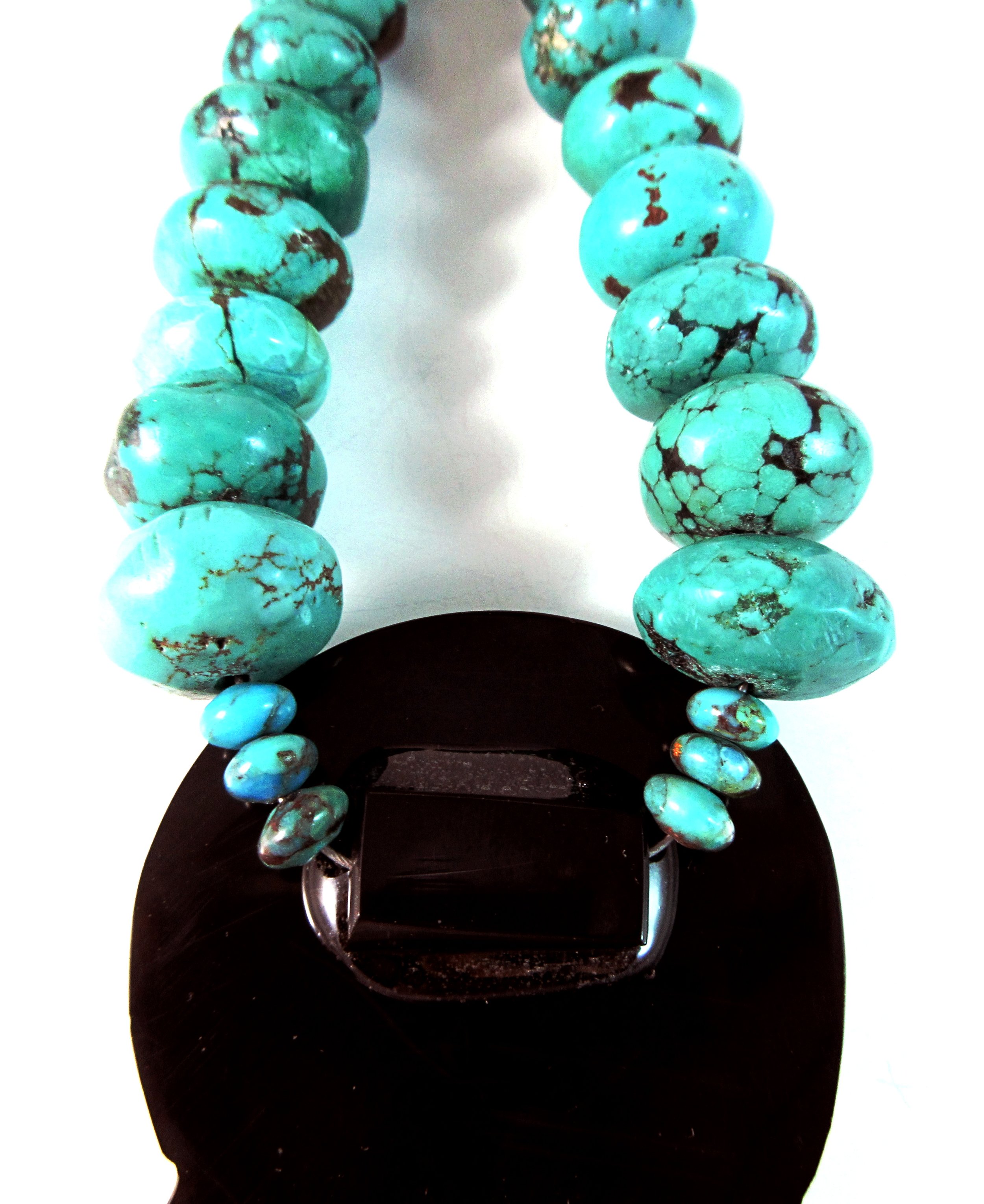 sold out
Kewa Pueblo Folk Art Artist ~MARY TAFOYA~ Hand Rolled Turquoise Bead Necklace with Attached Abstract Mosaic Inlay Pendant Drop
** TO LEARN ABOUT MARY,PLEASE CLICK ON THE DROP DOWN UNDER"ABOUT THE ARTIST" DESCRIPTION:
Everything Mary produces has a funky edginess to it & this necklace is no exception! It's a 'Mood Lifter~Happy" necklace that's full of vibrant colors & can brighten up any gloomy day! Down to the sterling closure,literally everything in this,is done with the power of the hand!!
THE NECKLACE:
Made in a chunky rounded bead size is deep teal colored Tibetan turquoise..Each of these beads are "Hand Rolled",meaning that they weren't bought that way,but were MADE that way, by starting with the large size turquoise chunk that is then cut down to a more workable size & then each are rounded,sculpted,beveled over & over,one by one (via grinder) & then lastly the hole is drilled for stringing! It's a time consuming process to make your own beads, but that's the beauty of artisan work,compared to commercial manufactured items where all the fun & artistry is taken out! With "Hand Rolling',each bead size will vary..The beads are in a graduating size from bigger to smaller as they get to the closure.
THE PENDANT:
Made with a look that only belongs to Mary,this colorful drop is made with all hand cut stone/shell that is then mosaic inlaid atop of black jet.Mary is known to take the shapes of the shells she uses, that then become apart of what becomes a 'piece of art'.With this,it is the Conus Shell that creates the flourishing swirls. The pendant is non-removable from the beads..
Never knowing how a piece will turn out or what is is soon to become, until her creative mind starts working! The pendant will be,what YOU see it as..We all have our own interpretation! (See "material" listing below)
**If you would like to wear this longer than the 18" length,you can easily get a sterling chain to make an extender.**(It has to be a big enough chain for the hook to fit into)
** Anything Mary makes is a conversation piece & you can also mix her pieces together,regardless that they may not be the same,since it's the 'look' that's the same & one that ONLY belongs to her!!!**
ARTIST:Mary Tafoya~Exclusively for Plata de Santa Fe Jewelry
TRIBE: Santo Domingo Pueblo (Kewa Pueblo )
WEARABLE LENGTH: 18" (Without Pendant)
BEAD NECKLACE: Tibetan Turquoise
BEAD SIZE: From as big as 17 mm to as small as 12 mm
PENDANT MEASUREMENT: 3-1/2" Tall x 1-7/8" At it's Widest(The Top)
WEIGHT: 4.98 Ounces (141 Grams)
MATERIAL:
Blue: Kingman Turquoise
Cream Color Circles:Bone
Orange: Apple Coral
Yellow: Serpentine
Purple: Dyed Turquoise
Maroon: Pipestone
Swirls: Conus Shell
Vertical Center Bottom: A Mix of Spiny Oyster Shell,Turquoise & Copper Pressed together (In between vertical turquoise lines)
BACKING: Black Jet
OTHER MATERIAL: Epoxy
METAL:Sterling Hook & Eye Closure
BACKING: Black Jet
HALLMARKS: M L TAFOYA with a Butterfly
PLEASE NOTE:
BECAUSE THIS IS MADE WITH HUMAN HANDS & NOT COMMERCIAL MANUFACTURING MACHINES,THERE MAY BE SLIGHT VARIATIONS.