KE-WA Pueblo ~MARY TAFOYA~ 3 Strand Hand Cut Turquoise Heishi Necklace with Removable Mosaic Inlay Whimsical DOVE Pendant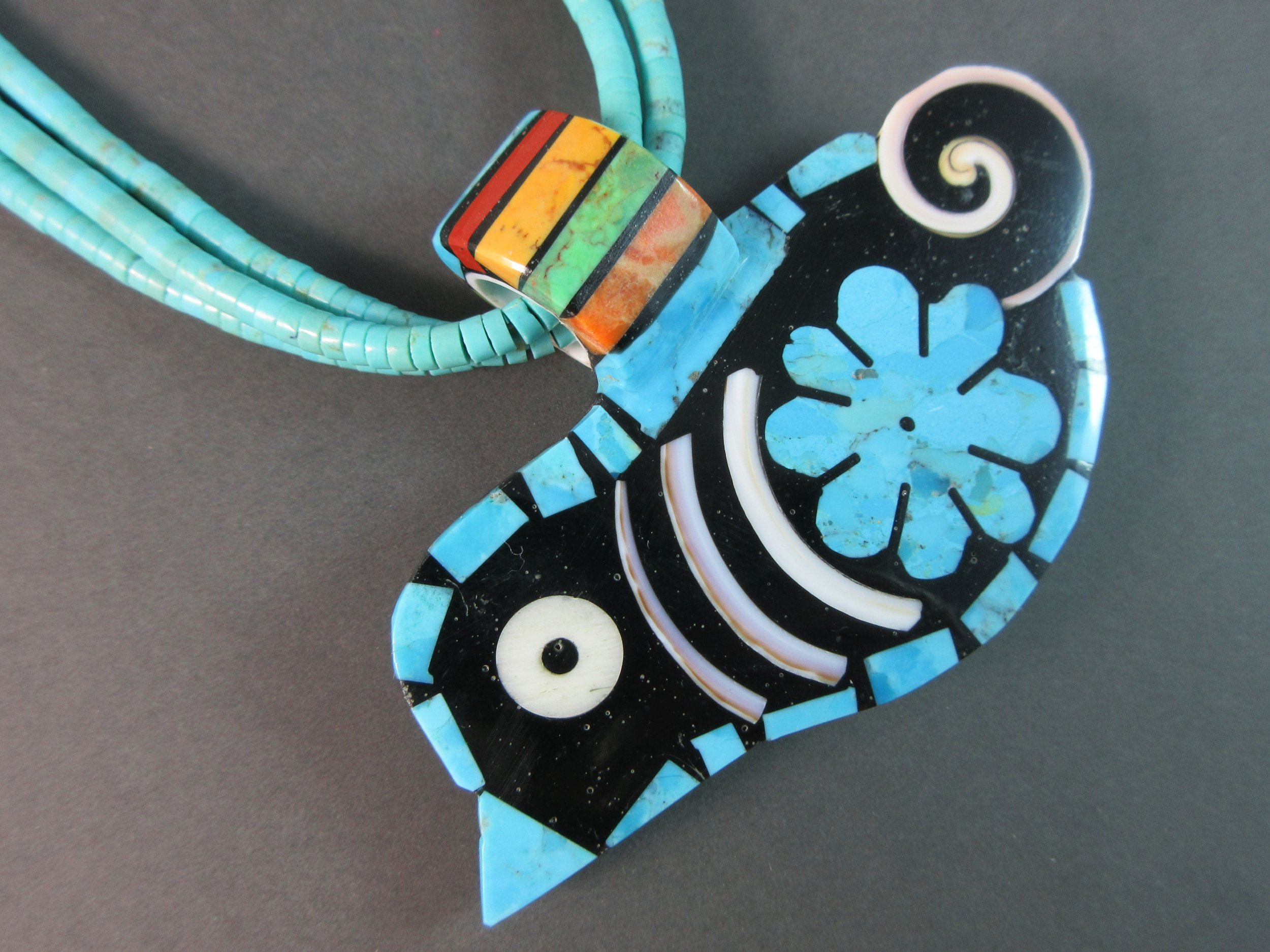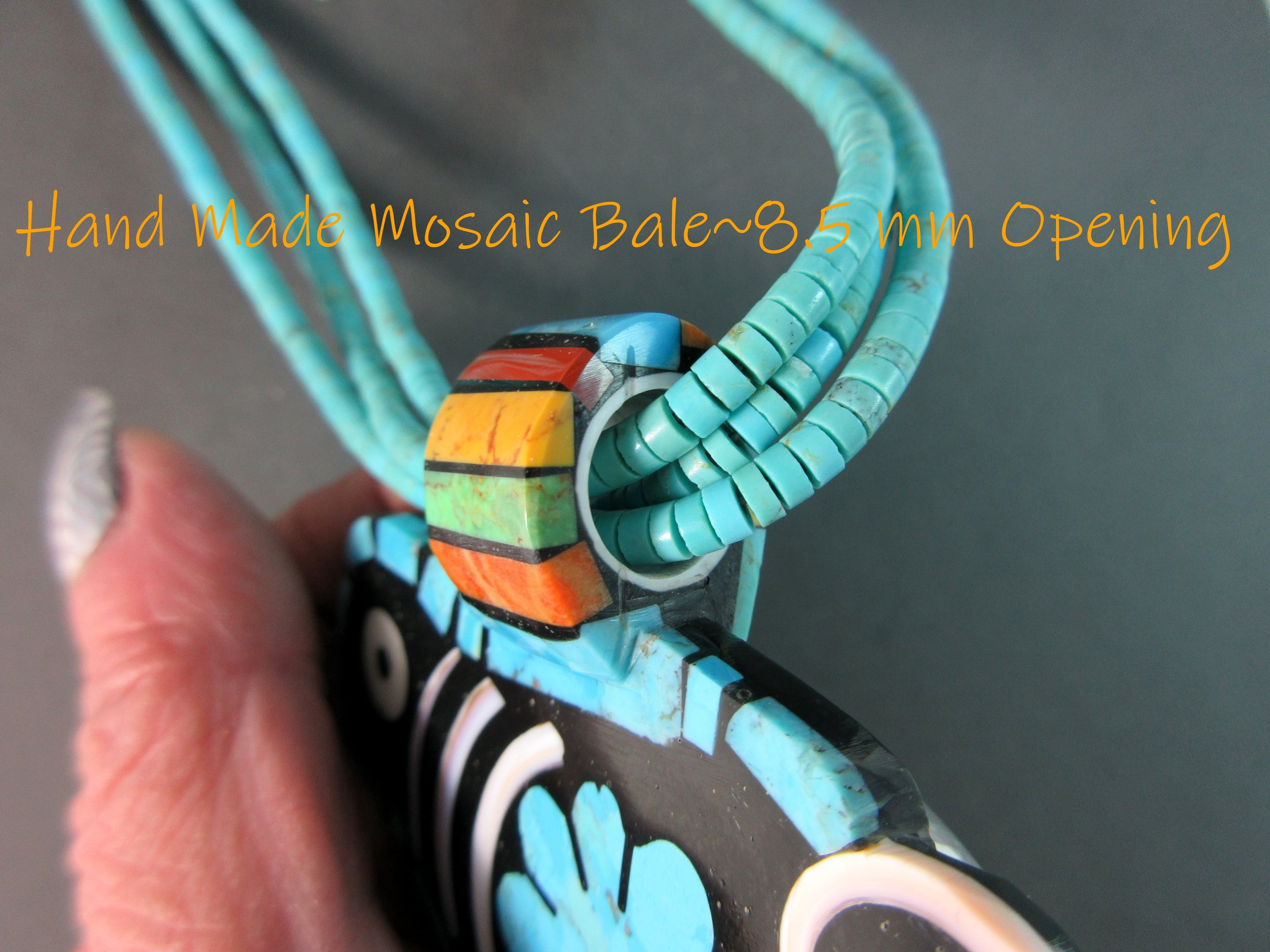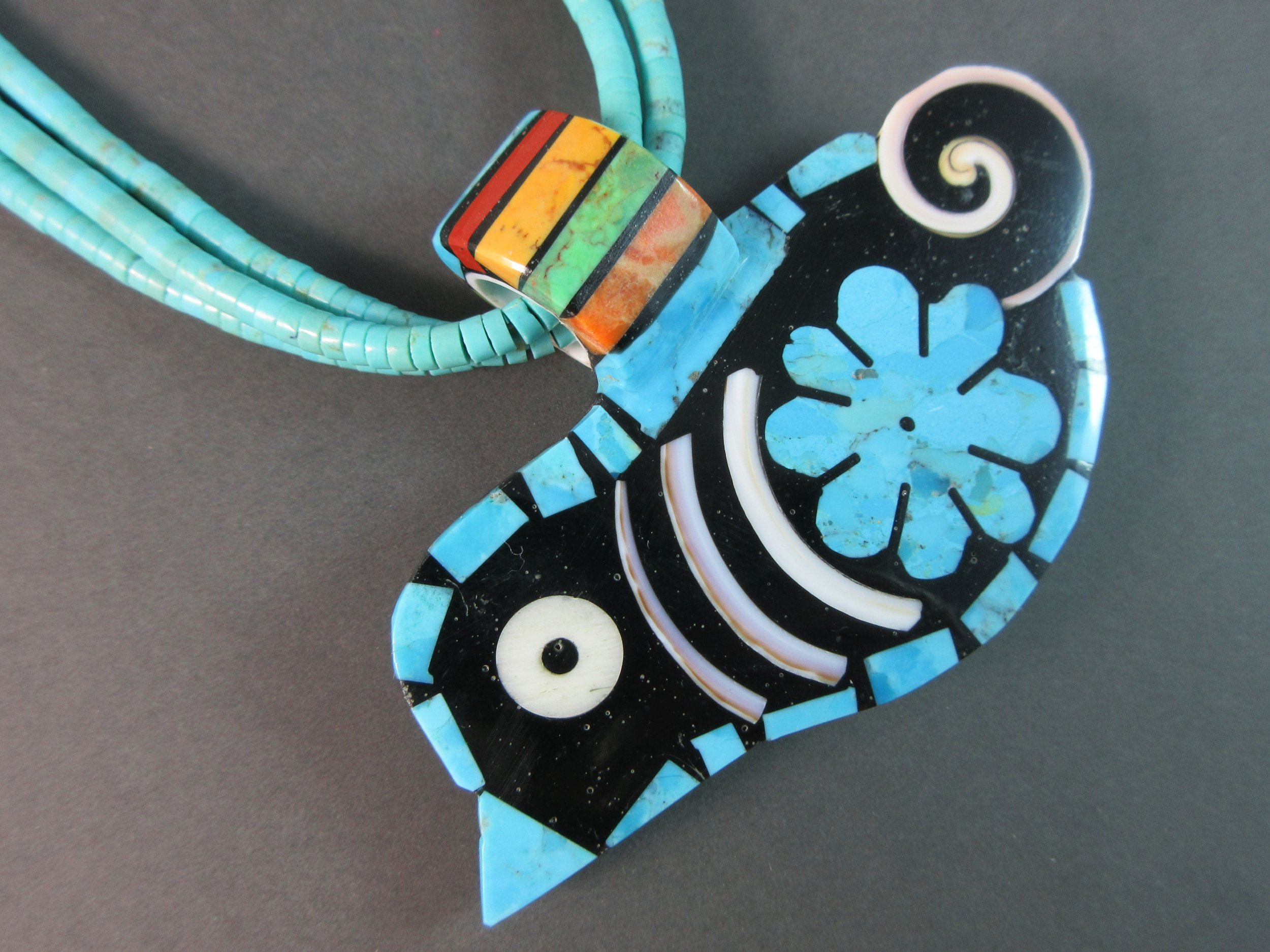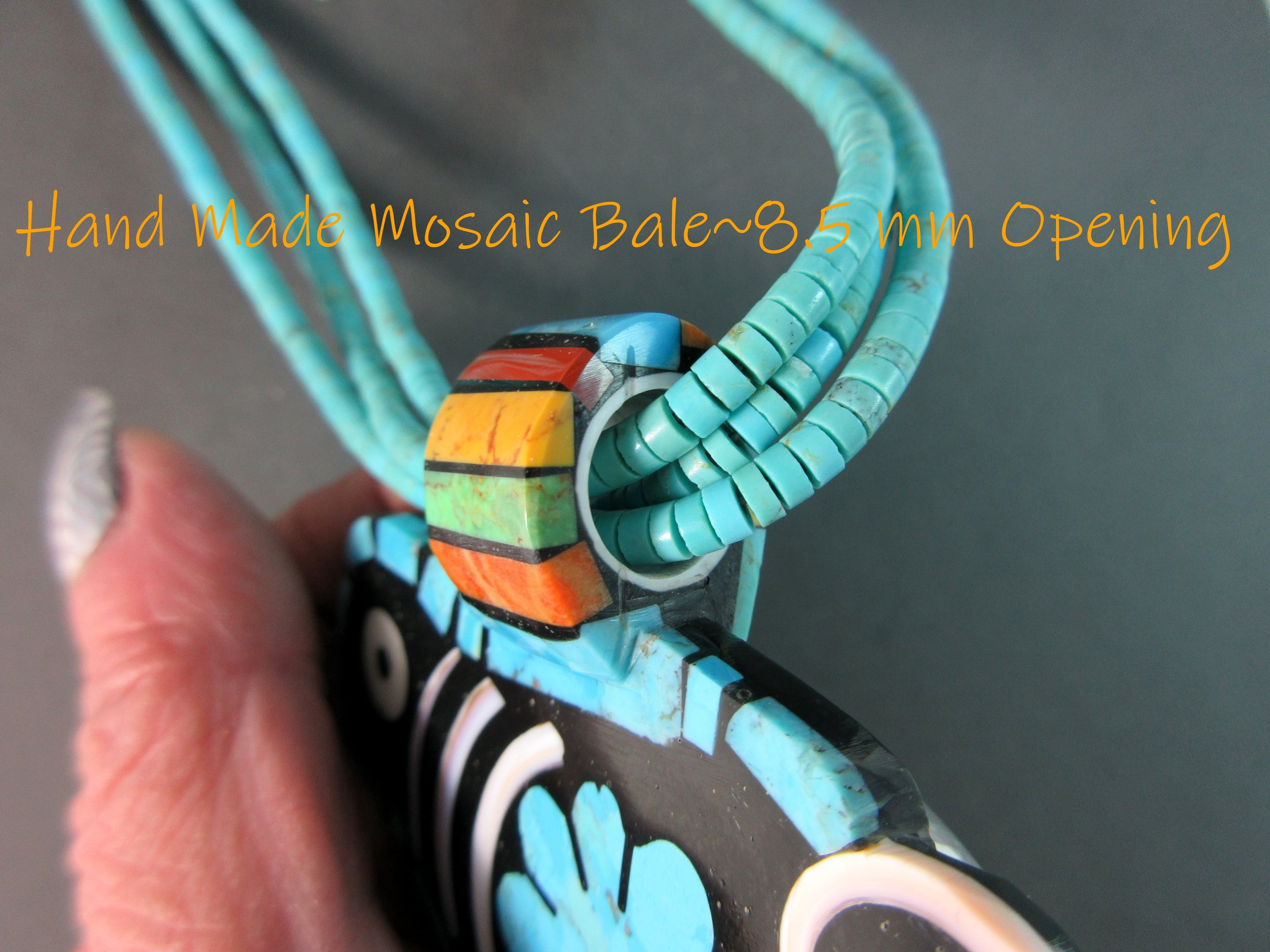 sold out
KE-WA Pueblo ~MARY TAFOYA~ 3 Strand Hand Cut Turquoise Heishi Necklace with Removable Mosaic Inlay Whimsical DOVE Pendant
** TO LEARN ABOUT MARY,PLEASE CLICK ON THE DROP DOWN UNDER"ABOUT THE ARTIST" DESCRIPTION:
Created in true Kewa Pueblo tradition,this versatile necklace is made with Mary's Folk Art,whimsical & very signature style! Totally made by hand,from the cutting & drilling of each & every turquoise bead, to the mosaic that is cut down to size from the larger rock/shell! Yes,it's a time consuming process,but this is the beauty of Pueblo jewelry when you stay true to what your ancestors passed on to you!
THE DOVE PENDANT:
This funky little bird is made of a mosaic display of irregular cuts of bright blue Kingman turquoise & act as the border,beak & the turquoise flower. This style flower is fairly new to Mary's jewelry,where she takes the larger chunk of turquoise & then by slices it for the separation which end up being the petals! Also used is her 'signature' Conus shell for the flourishing tail & she uses the shapes of the shell to create her picturesque pieces of art! Everything is mosaic inlaid into the black jet background..The dove is connected to a non-removable bale that is made with a multi colored stone mosaic..
THE 3 STRAND TURQUOISE HEISHI NECKLACE:
The softer blue colored Kingman turquoise heishi is totally hand cut & drilled & then rounded off into little round disks by Mary's husband Lorenzo,who hand drills each & every hole for their daughter then to string for the necklace! The bead size is small & are in the 3.3 mm range.The strands end in olive shell heishi & are capped off with sterling cones & a 6" sterling chain extender,so you can wear it as short as 18" or drop it as long as 23-1/2"!!! (You can go anywhere within the extender)
VERSATILE!:
It's a versatile necklace where you have a few ways to wear it..1) You can wear as is,2) you can wear the 3 strand alone,3) or put another pendant on the strands 4) or put the dove through say,a strand of oxidized sterling Navajo Pearls!!
Anything Mary makes is a conversation piece & you can also mix her pieces together,even though they may not be the same,it's the 'look' that's the same & one that ONLY belongs to her!!!
DESIGNED & MADE BY ARTIST:Mary Tafoya~Exclusively for Plata de Santa Fe Jewelry
TRIBE: Santo Domingo Pueblo (Kewa Pueblo )
WEARABLE LENGTH:18" to 23-1/2" (Without Bird)
EXTENDER LENGTH: 6"
DOVE MEASUREMENTS: 3-1/8" Wide x 2-1/4" Tall
BALE OPENING: 8.5 mm Range
WEIGHT: 1.88 Ounces (53.5 Grams)
METAL:Sterling Closure/Cones/Extender chain
BALE MATERIAL: Kingman Turquoise,Bone,Apple Coral,Gaspeite,Butternut Squash Serpentine,Serpentine & Epoxy
BACKING: Black Jet
HALLMARKS:M L TAFOYA with a Butterfly
~~~~~~~~~~~~~~~~~~~~~~~~~~~
PLEASE NOTE:
BECAUSE THIS IS MADE WITH HUMAN HANDS & NOT COMMERCIAL MANUFACTURING MACHINES,THERE MAY BE SLIGHT VARIATIONS.