FEDERICO JIMENEZ Cleopatra Turquoise Cluster 925 Collar Necklace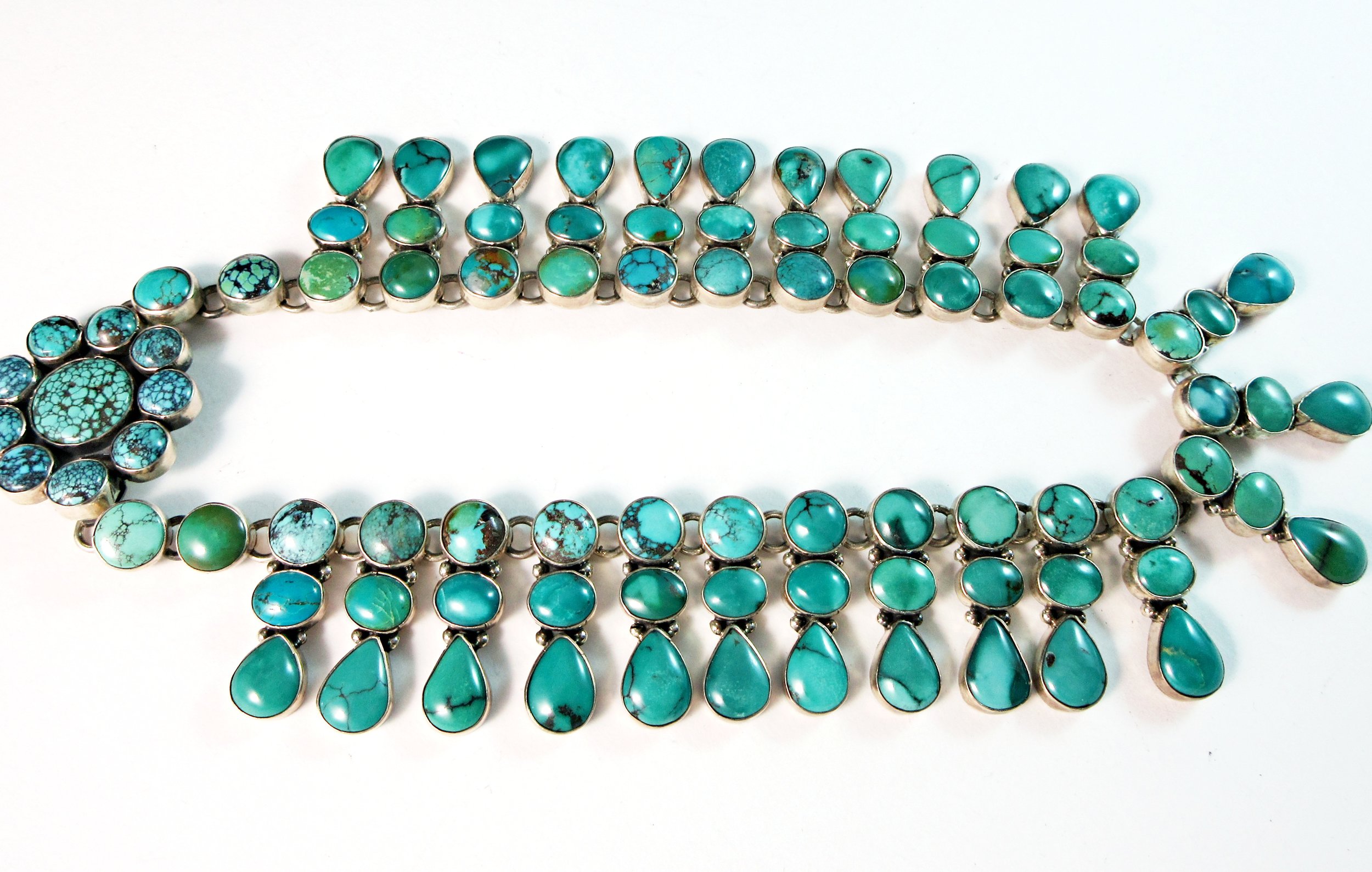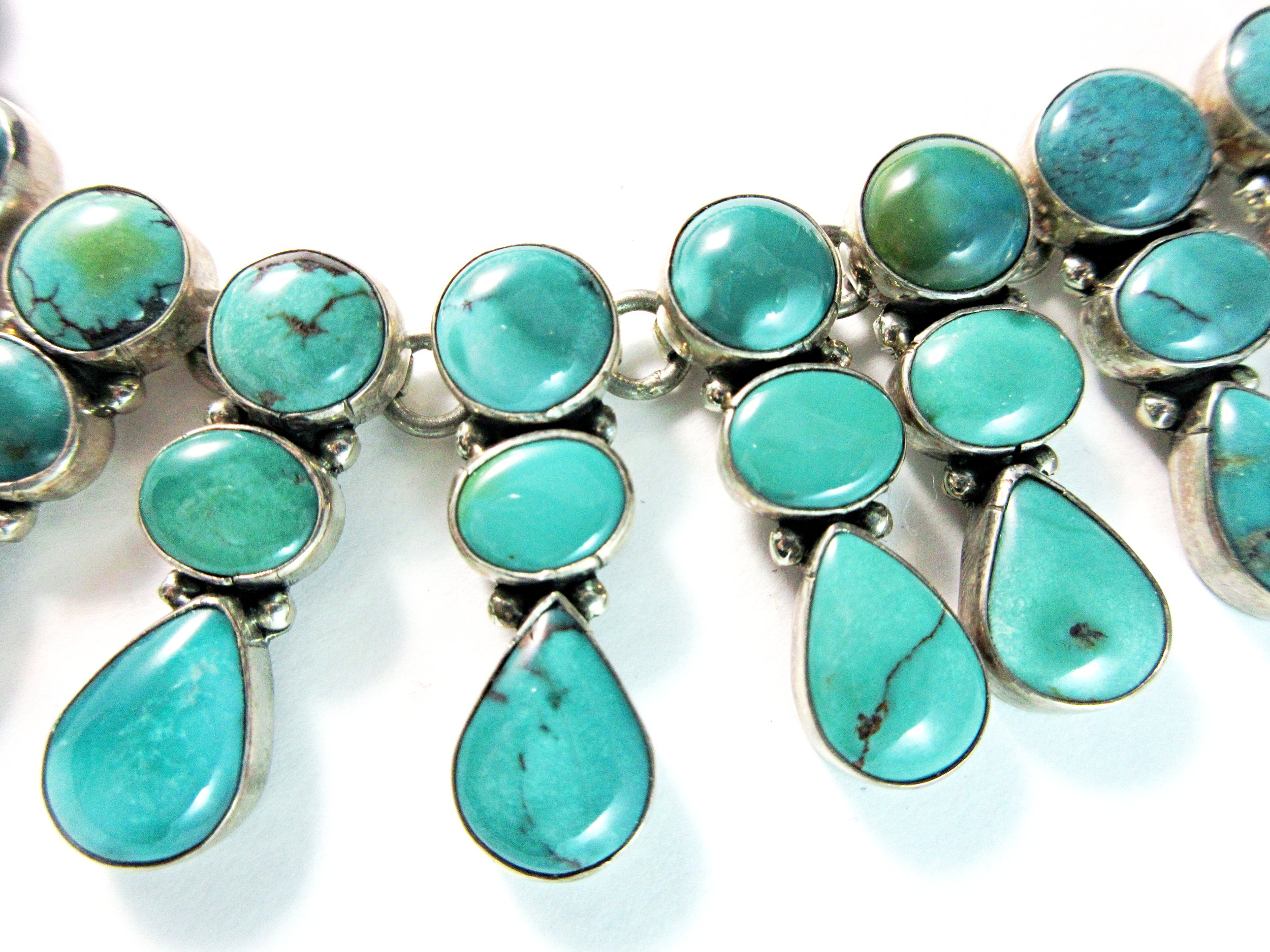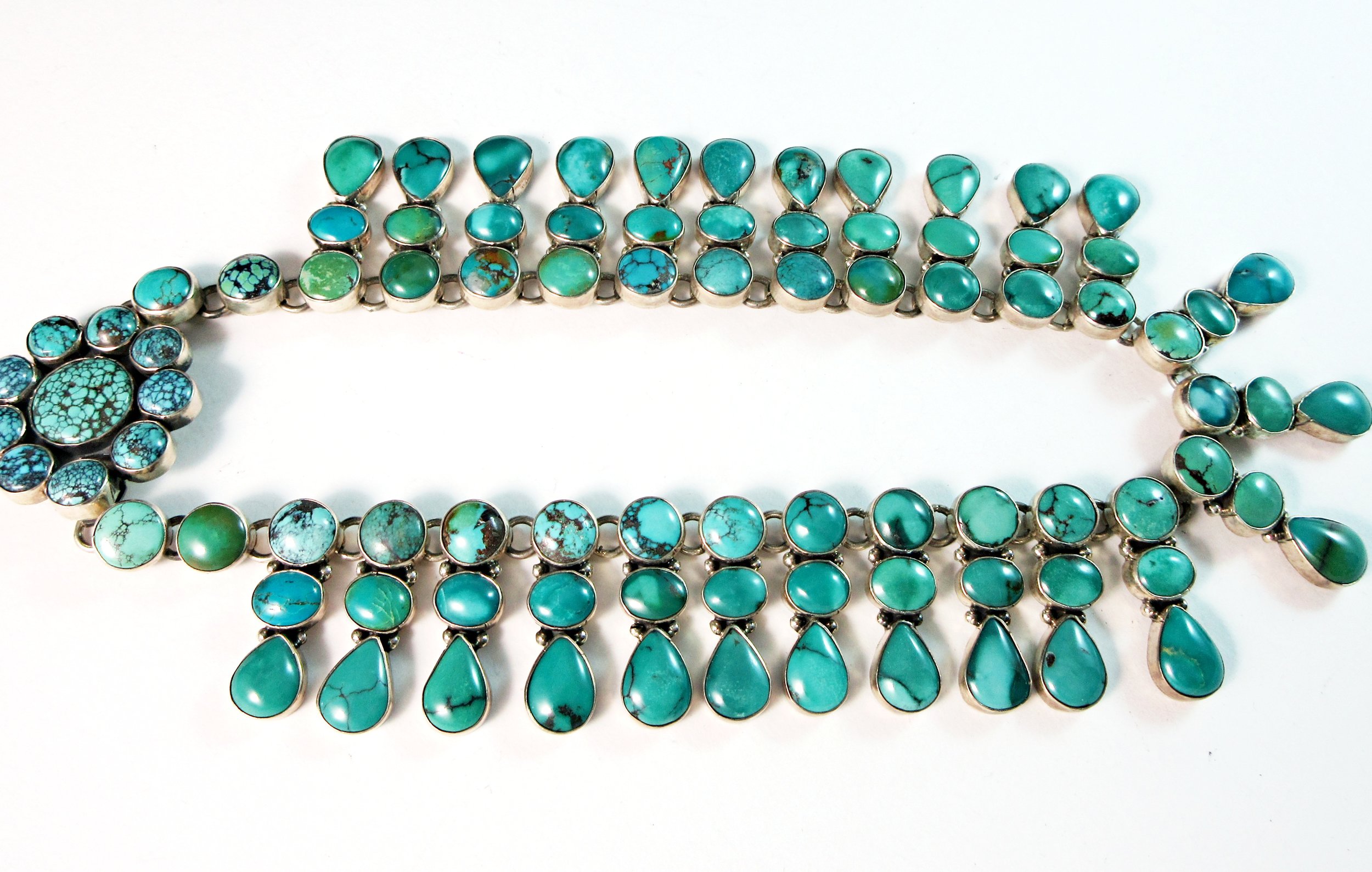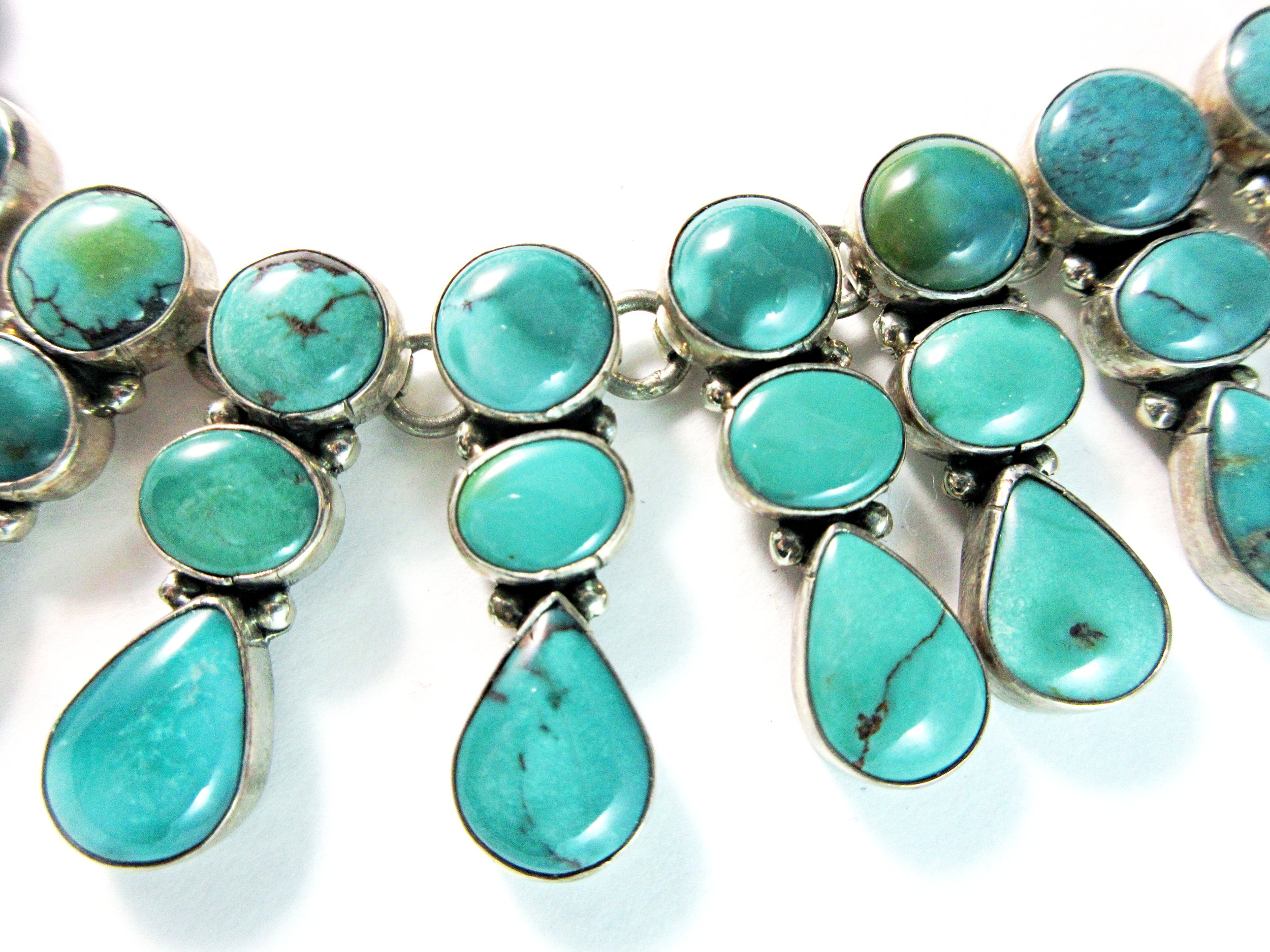 FEDERICO JIMENEZ Cleopatra Turquoise Cluster 925 Collar Necklace
DESCRIPTION:
Known for designing jewelry like no other designer ever dares to go,Federico takes turquoise jewelry to a whole new level & is not afraid to take jewelry designs over the top! He gives us these incredible pieces that are so super catchy to the viewer's eye,with this Cleopatra style "Collar" necklace being without exception!It is elegant,highly sophisticated & fit for the woman who loves to flaunt her 'own style' & does it by turning heads no matter where she goes!
It is made up of vertical panels of very well chosen,choice cuts of deep teal colored Tibetan turquoise, which is a turquoise that so many artists are using because of it's deep tonal value & very distinct black matrix.This is not treated nor stabilized turquoise,but comes without treatment.We are seeing more & more inferior,lower grades of turquoise hitting the contemporary market,so it is refreshing to deal with a designer who takes pride in the stones he chooses...
Each panel itself,consists of a round cut cabochon,a oval laid horizontally & a tear drop shape at each bottom.The panels stay stationary,since they are all soldered on one sterling setting,but move because of their "O" ring connection from the back.(See backside photo)..
All the stones are so well matched in size & this is the reason it has such an attractive look.If the stones were off in size just by a few millimeters,this would not then have the precise look it has..
The floral closure is made up of very webby,Kingman turquoise & has a closure unique to Federico..Please zoom in on photos...In photo 11 you will see it closed.What you do is not pull,but push down on one of the cabochons(Photo 12) & then slide it out to open it..(photo 13)
We associate turquoise with SW jewelry,but with this one,it is not one of those pieces where you feel you have to pile on your Native pieces if you don't want or if you don't have...It can be worn anywhere in the world..It will work in So-Ho,as it will in Santa Fe,Dallas,Scottsdale,Miami or Beverly Hills!
ARTIST:Federico Jimenez
LENGTH:17" Long
METAL: Sterling Silver
METAL FINISH:Contemporary
EACH PANEL MEASUREMENT: 1~1/2" Tall x 3/8" Wide
STONES:Natural,Un-Treated Tibetan & Kingman Turquoise
STONE CUTS: Rounds,Ovals,Tear Drop
STONE MEASUREMENTS: Rounds: 11 mm** Ovals:10.7 mm x 8.5 mm**Tear Drop: 14.5 mm x 10.5 mm Range
WEIGHT: 6.7 OUNCES
HALLMARK:JF/STERLING
Comes Boxed..