FEDERICO JIMENEZ Early 1900's Hand Carved Mayan Mexican White Jade ~ Chinese Green Jade Necklace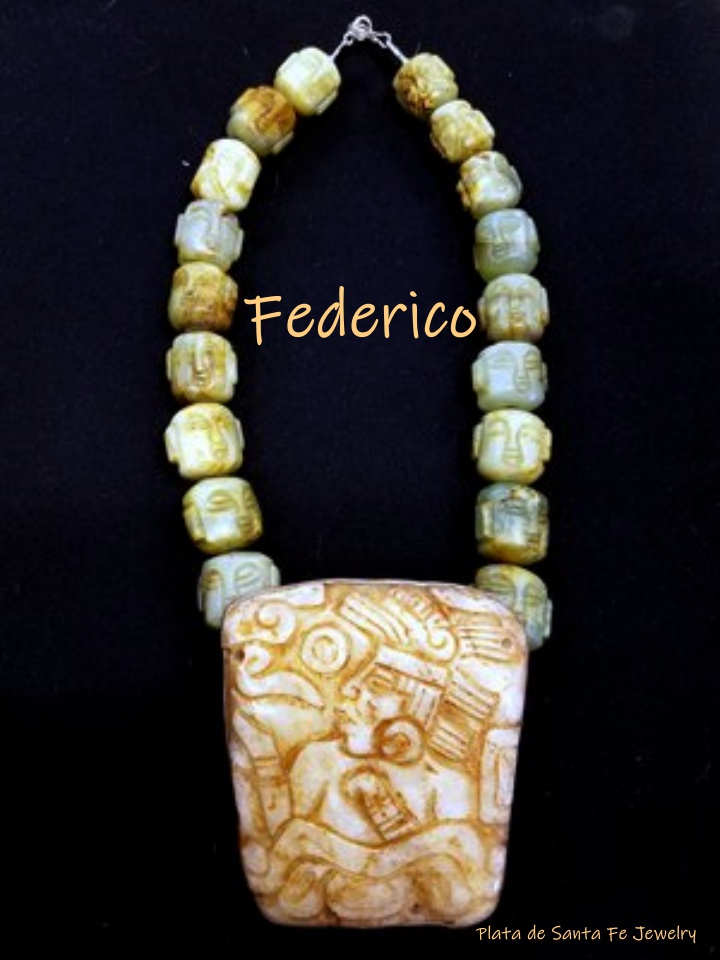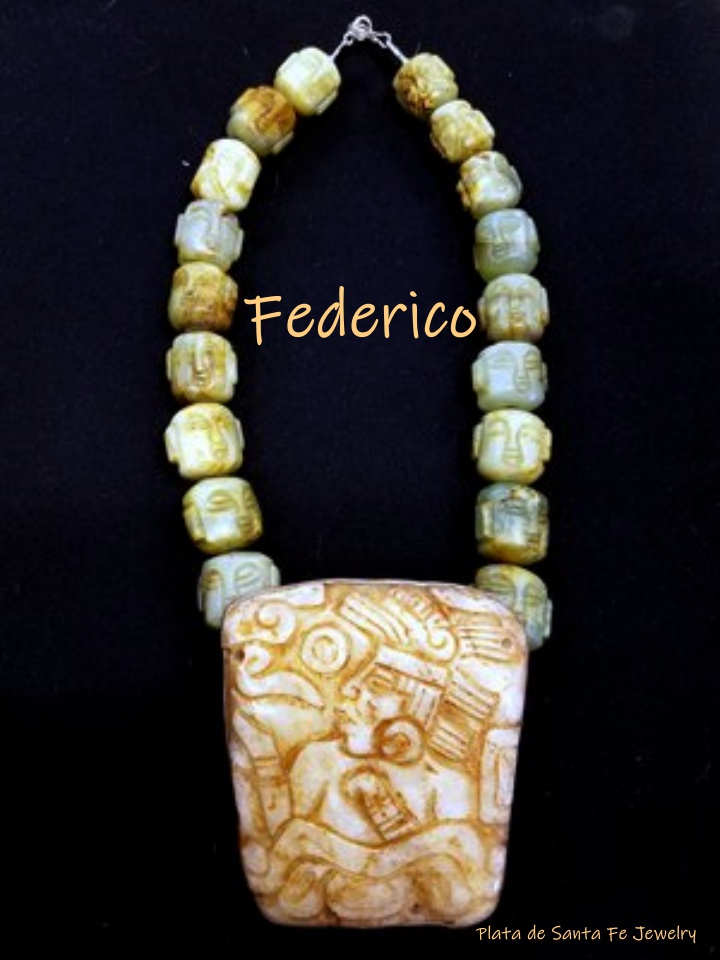 FEDERICO JIMENEZ Early 1900's Hand Carved Mayan Mexican White Jade ~ Chinese Green Jade Necklace
This necklace is HUGE,super chunky & seriously massive!
Two things you will immediately notice besides it's wondrous beauty are: 1~~The massive size & 2~~the weight...This is designed with 2 different Jades that come from 2 different cultures, but in the same time period..
The large center as you can see is a MAYAN face & is all hand carved from Mexican "White Jade" & was originally from the 1900's that Federico got his hands on & chose to bezel set it into a pendant..All the chunky green Jade beads are all hand carved faces & are originally from 1920's China.. So the necklace is made of super old vintage pieces,but put together in modern day..
The color of the pendant is very much like the color of very old Ivory that has patinated & aged well,so it has a 'brown-ish" coloring,especially in the crevices of the carving.It is bezel set & backed by sterling,which adds to the weight.There are 2 holes in the front on each side at the top & 2 holes on each side of the front side bottom.These are, my guess is,as if it originally came from a necklace previously & were there to hold the pendant as a necklace?
The beads have somewhat of a translucency,that is typical to Jade.They have brown matrix..There are 3 'o'rings on the backside, where the green Jade is looped through one of the 3..I think,maybe he was deciding whether to make this into a 3 strand,before deciding on the one strand of Jade faces(?)
This is not your 'average',piece that you will find on anyone,anywhere!! There is ONLY one & this is it!! It is for the woman who loves to stand out solely from the rest & admires larger,chunkier,WOW,one of a kind pieces of jewelry!
ARTIST: Federico Jimenez
METAL: Sterling
MATERIAL: Chines Green Jade/Mexican White Jade
PENDANT SIZE: 3-5/8" X 3-1/4"
PENDANT THICKNESS: 9 mm -12 mm Thick
BEAD SIZE: 20 mm - 24 mm Range
WEARABLE LENGTH: 21-1/2"
WEIGHT: 16 Ounces/2 grams
STRANDS: 1
STRUNG ON: Foxtail
CLOSURE: Hook & Eye
Come Boxed.