FEDERICO "Protective Hand" Milagro Hands~ 4 Strand Red White Heart Beads Necklace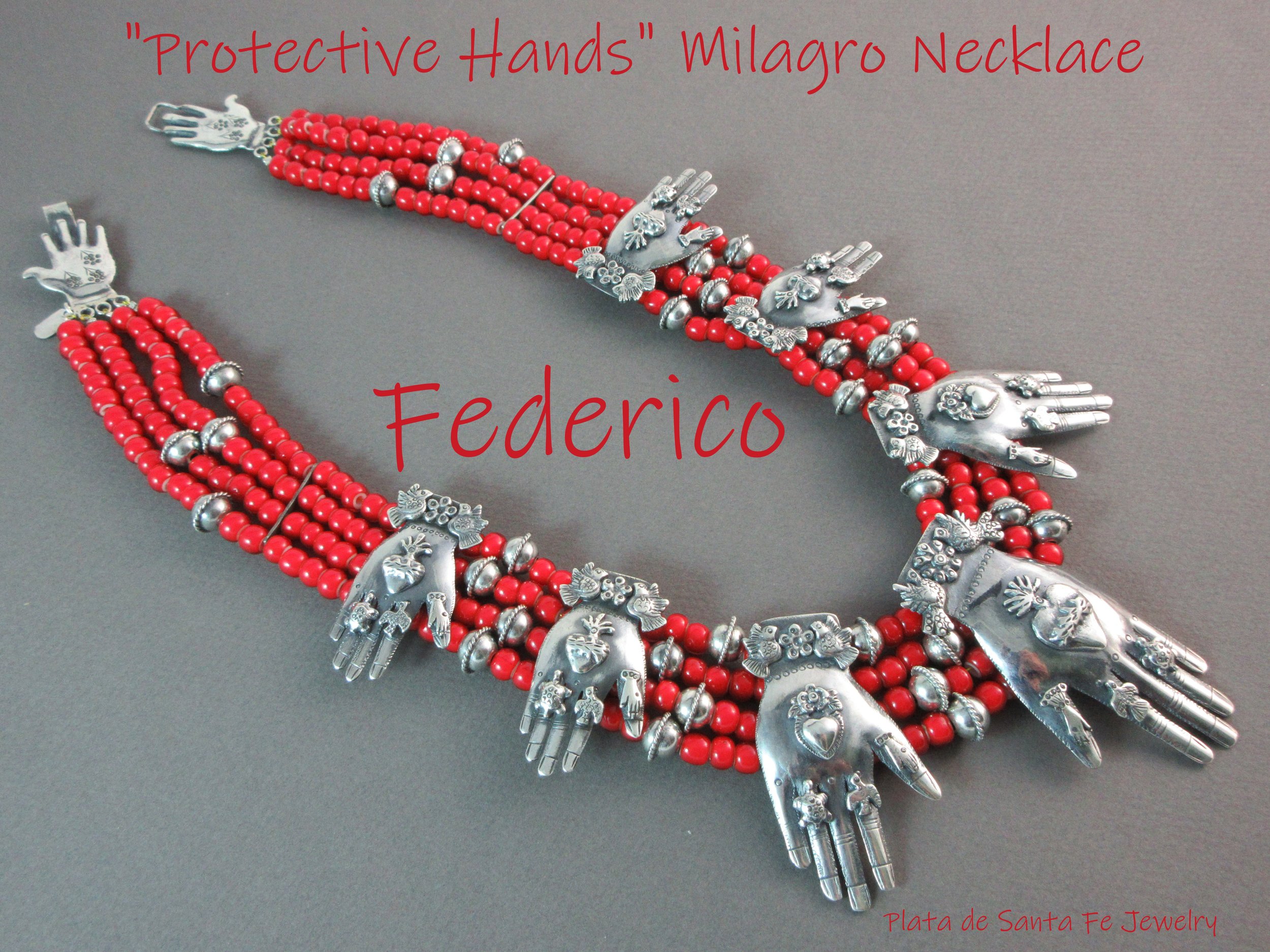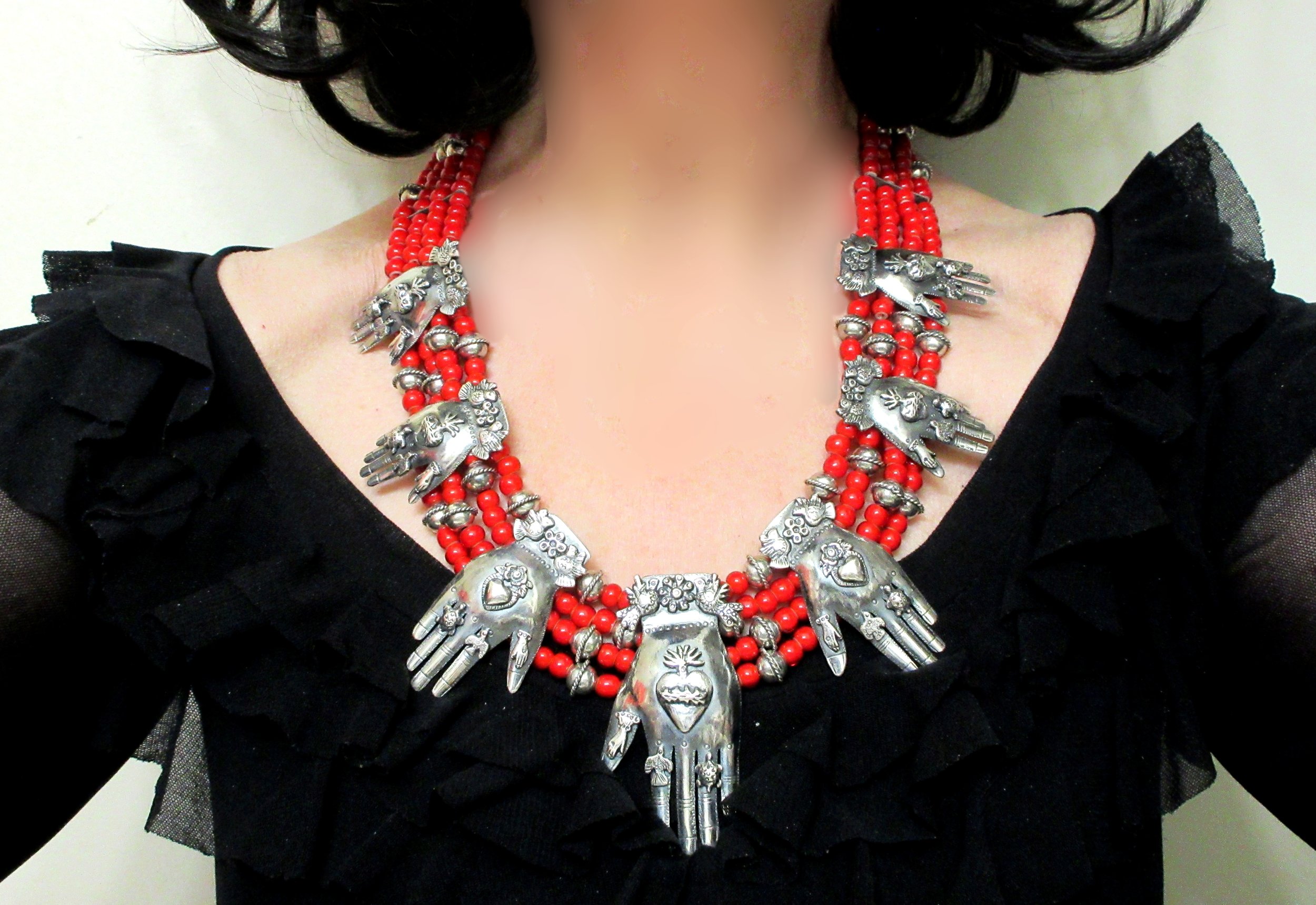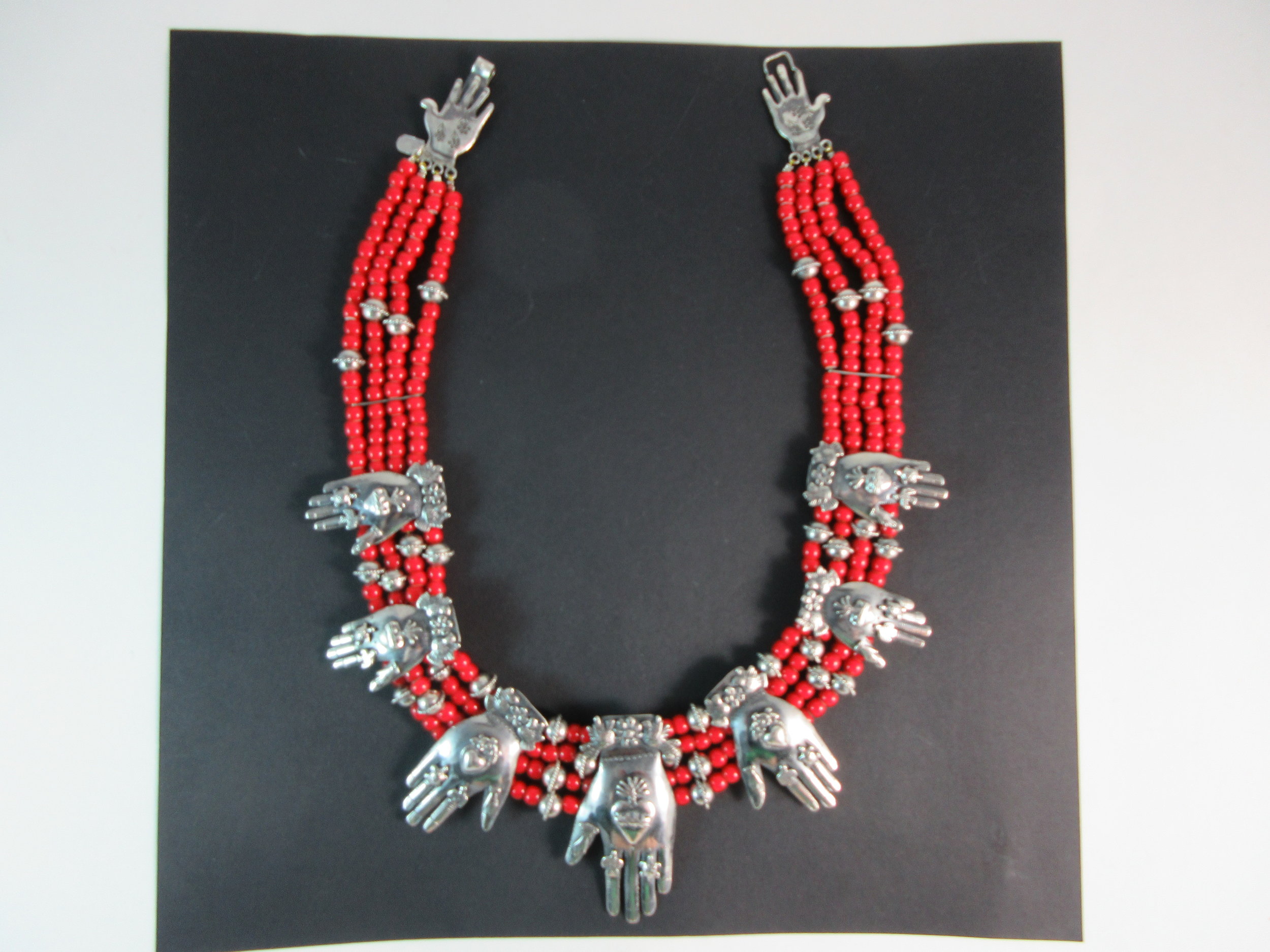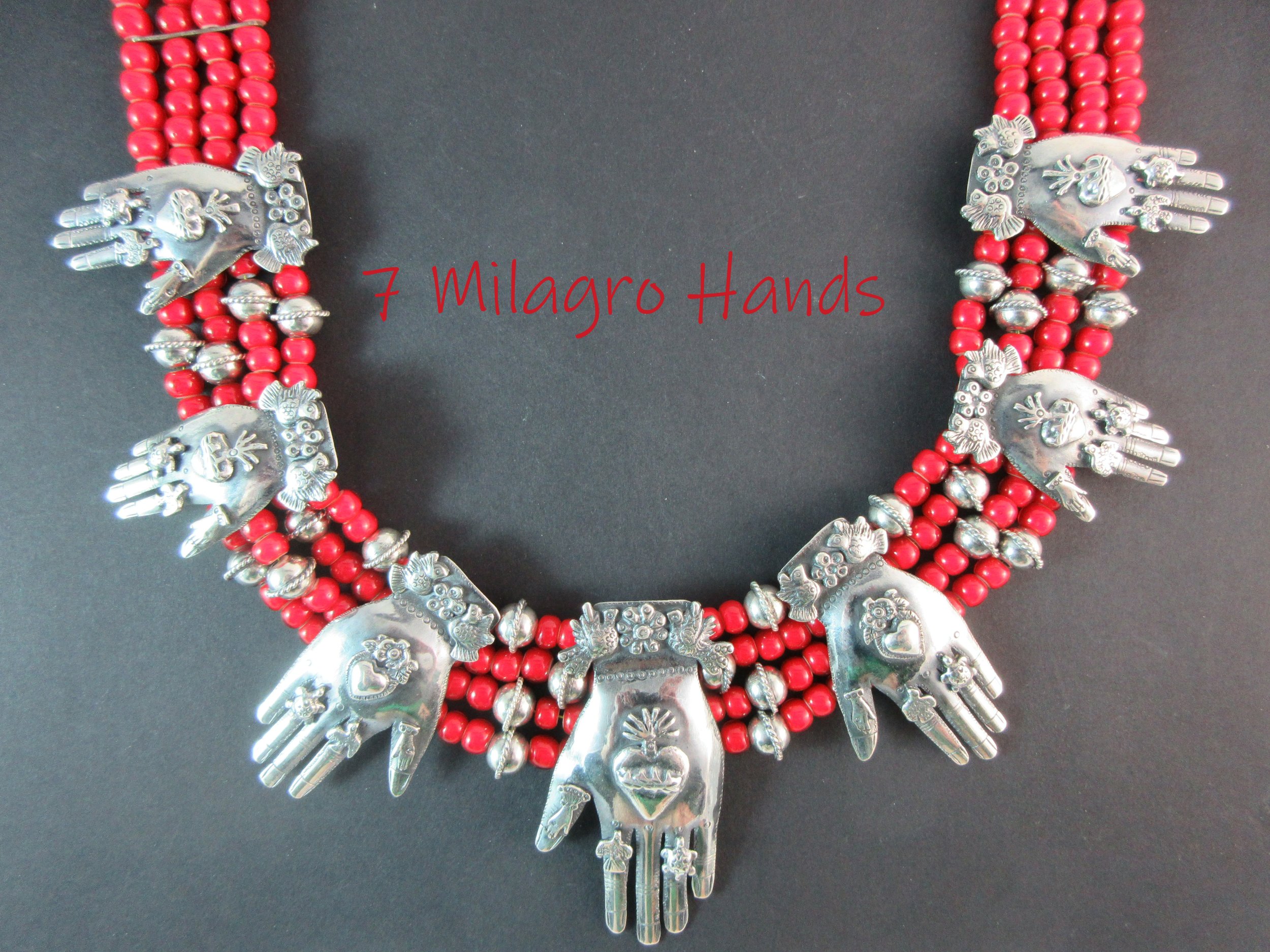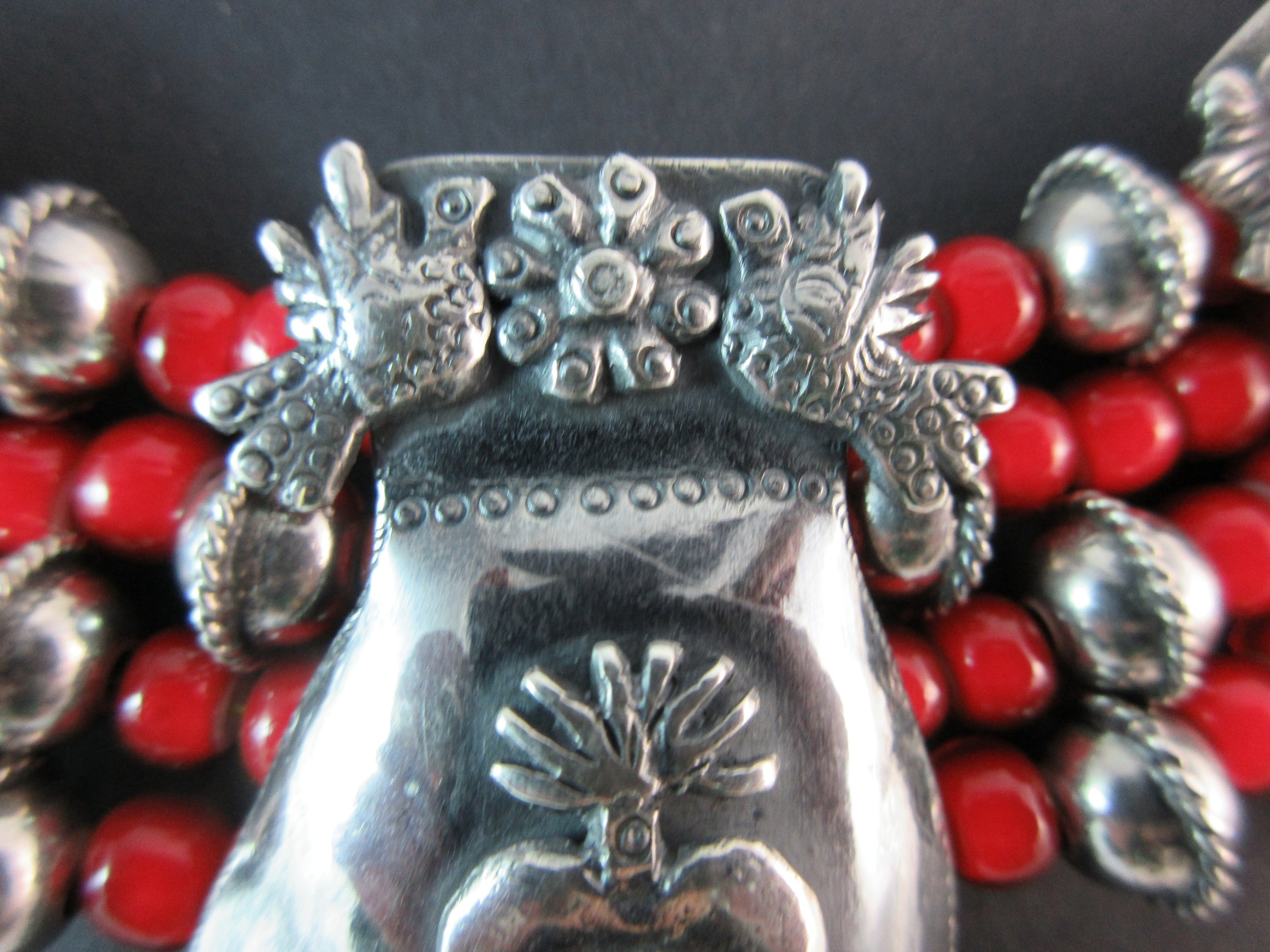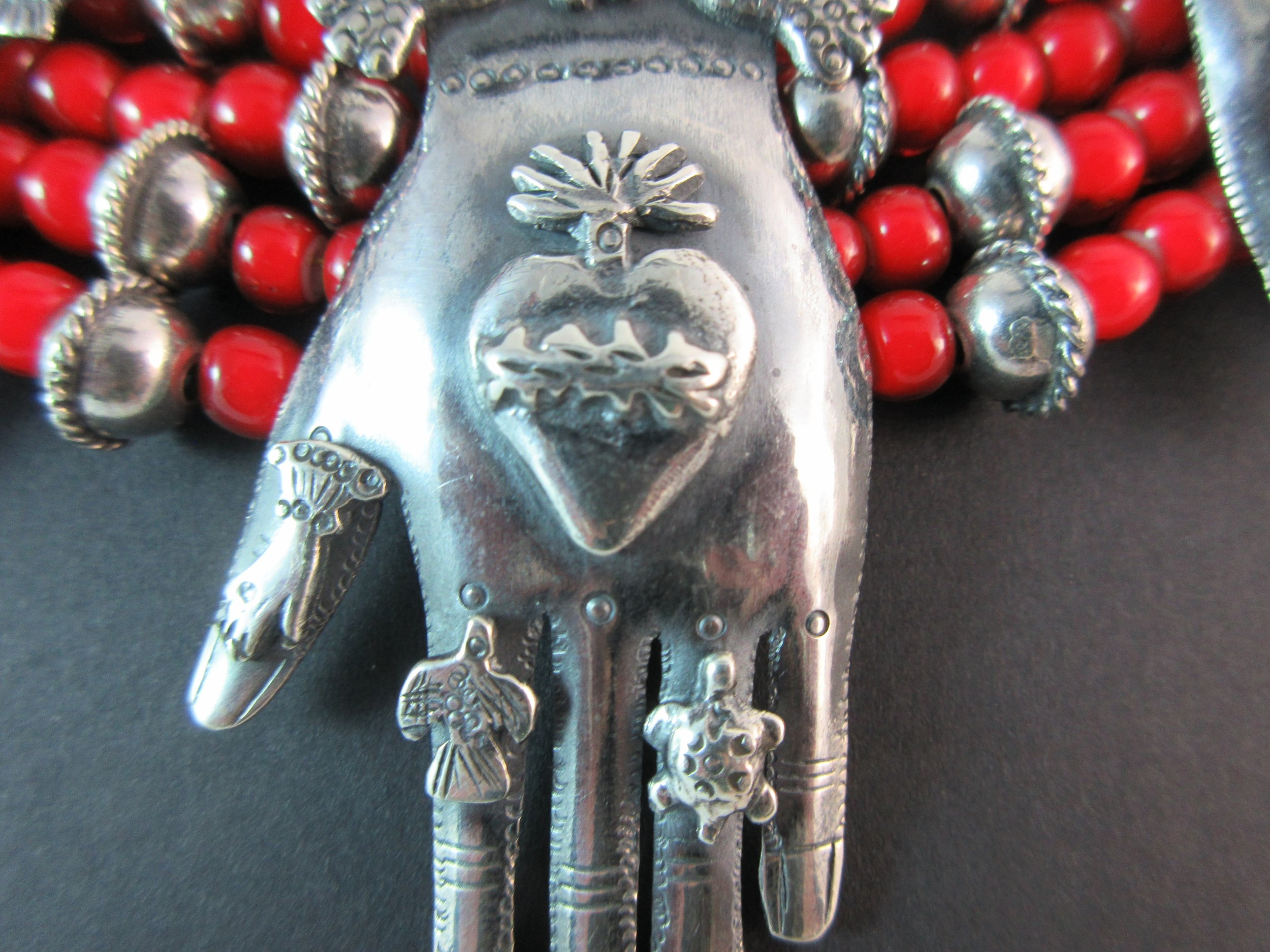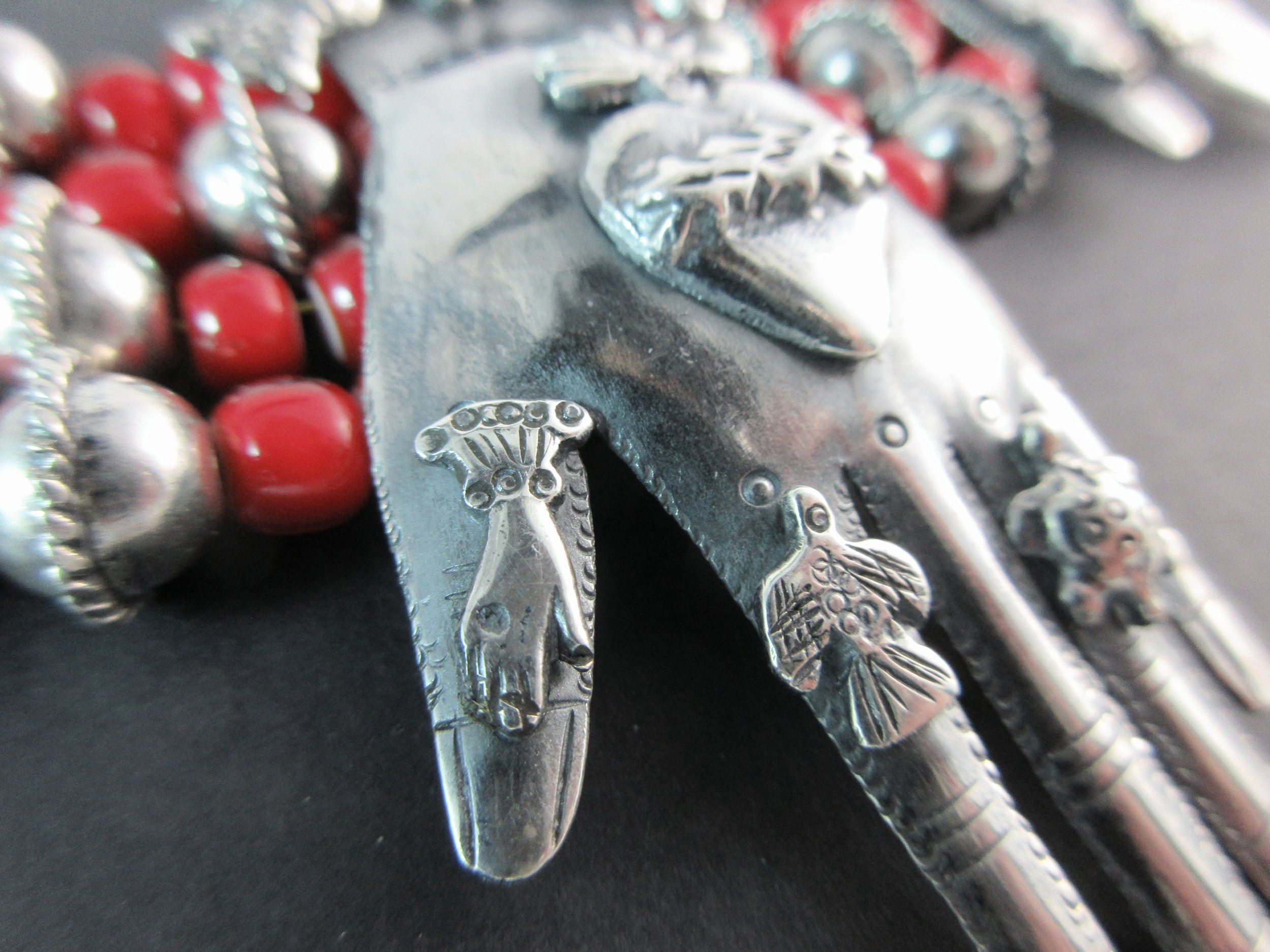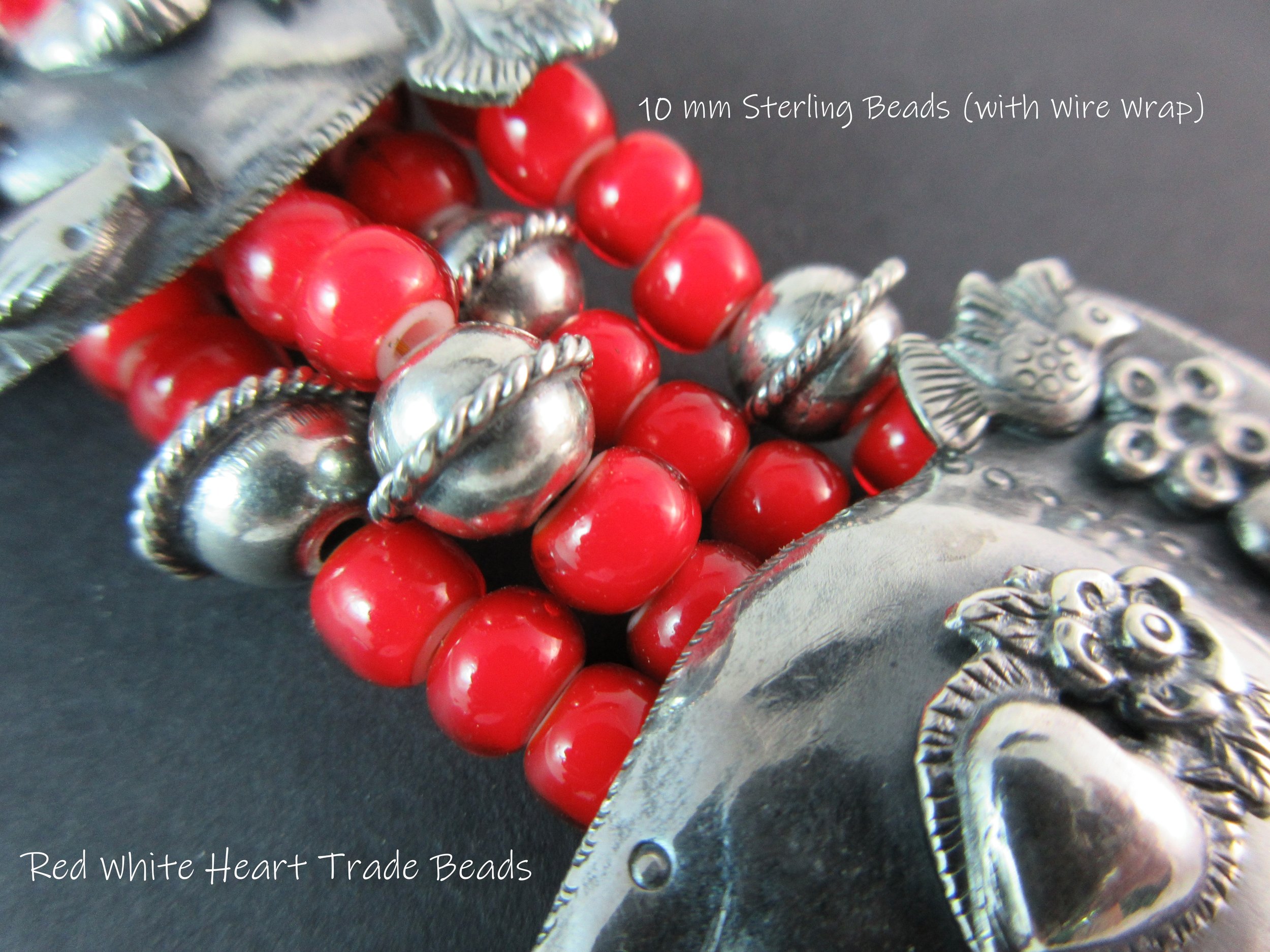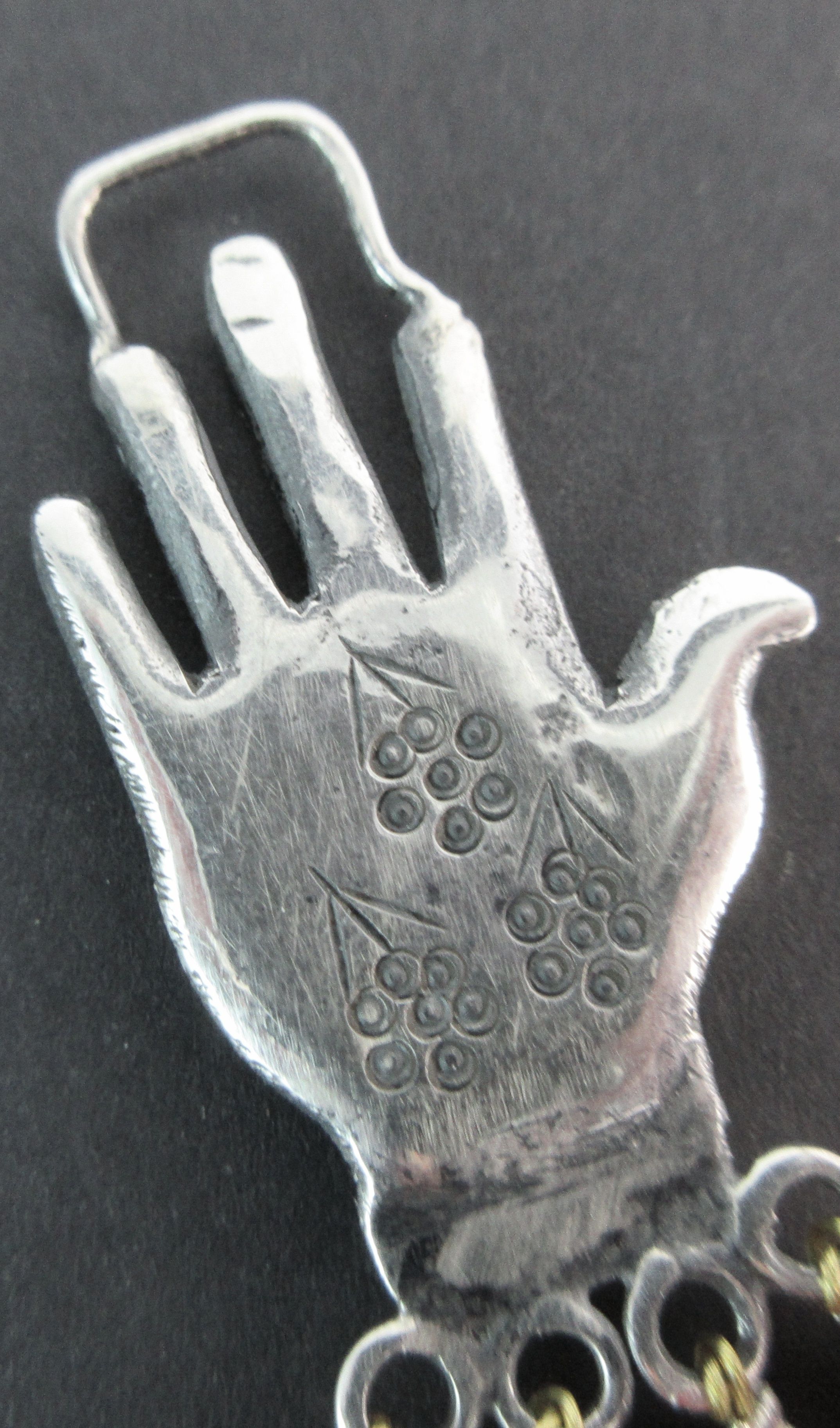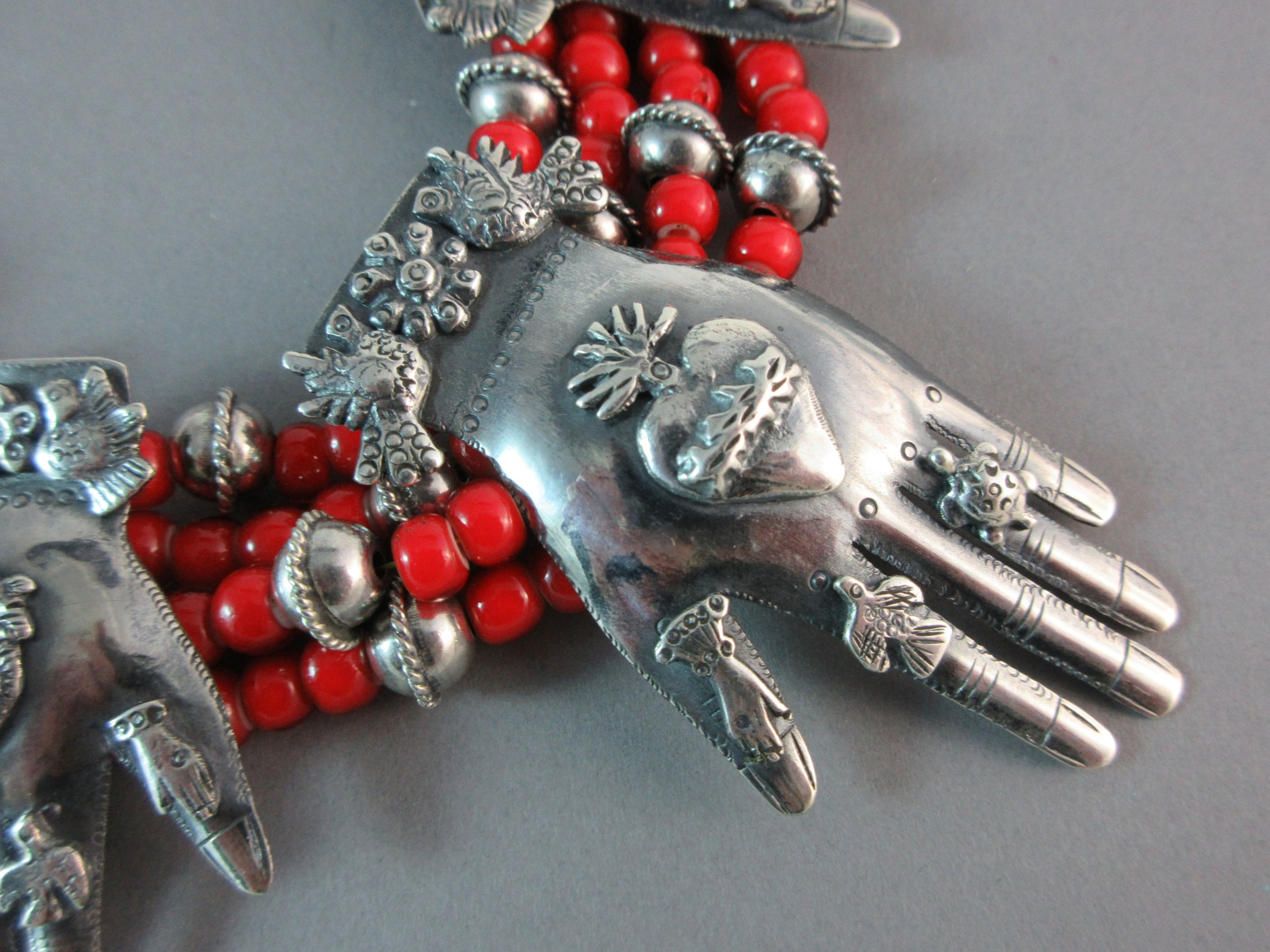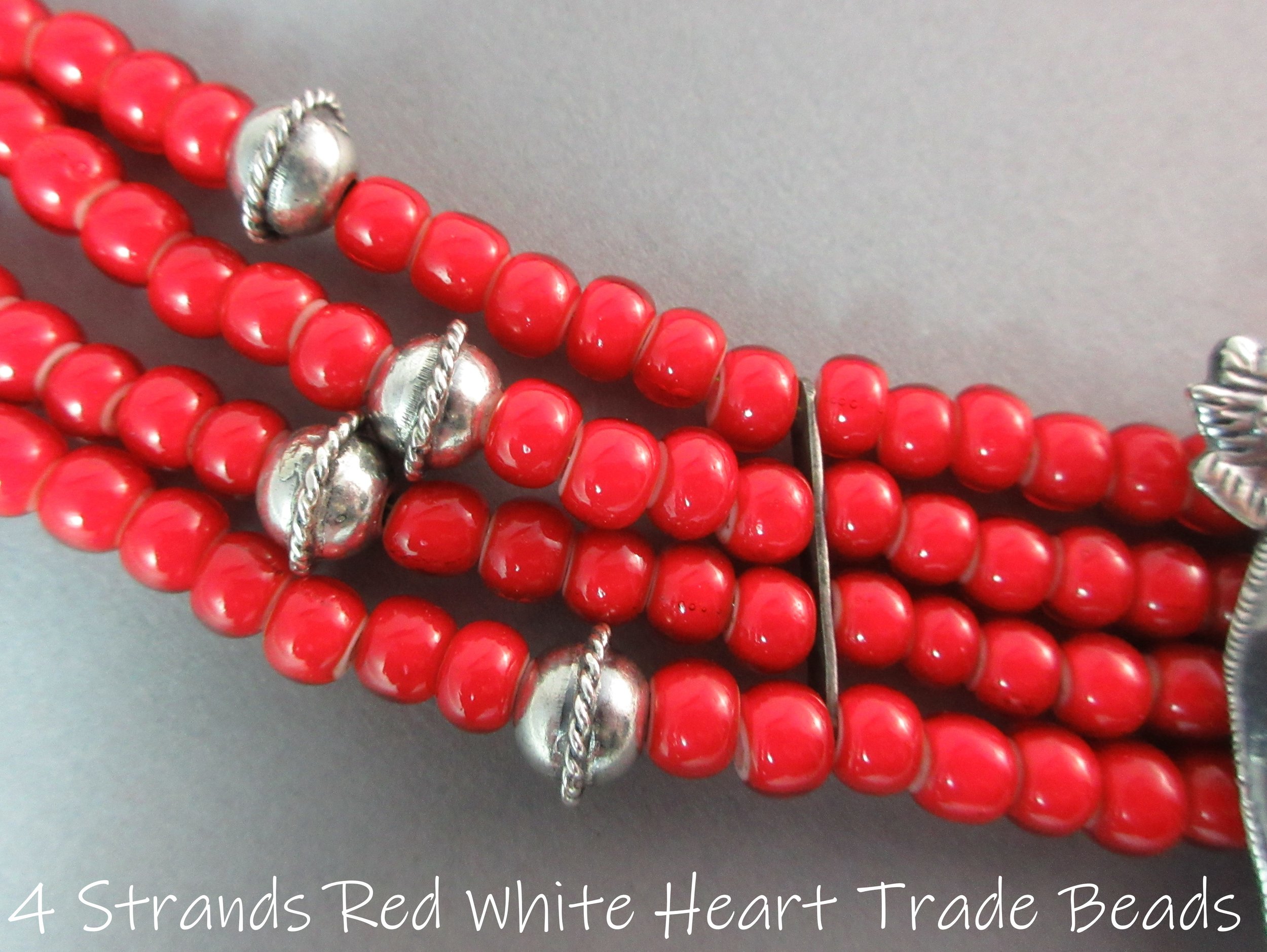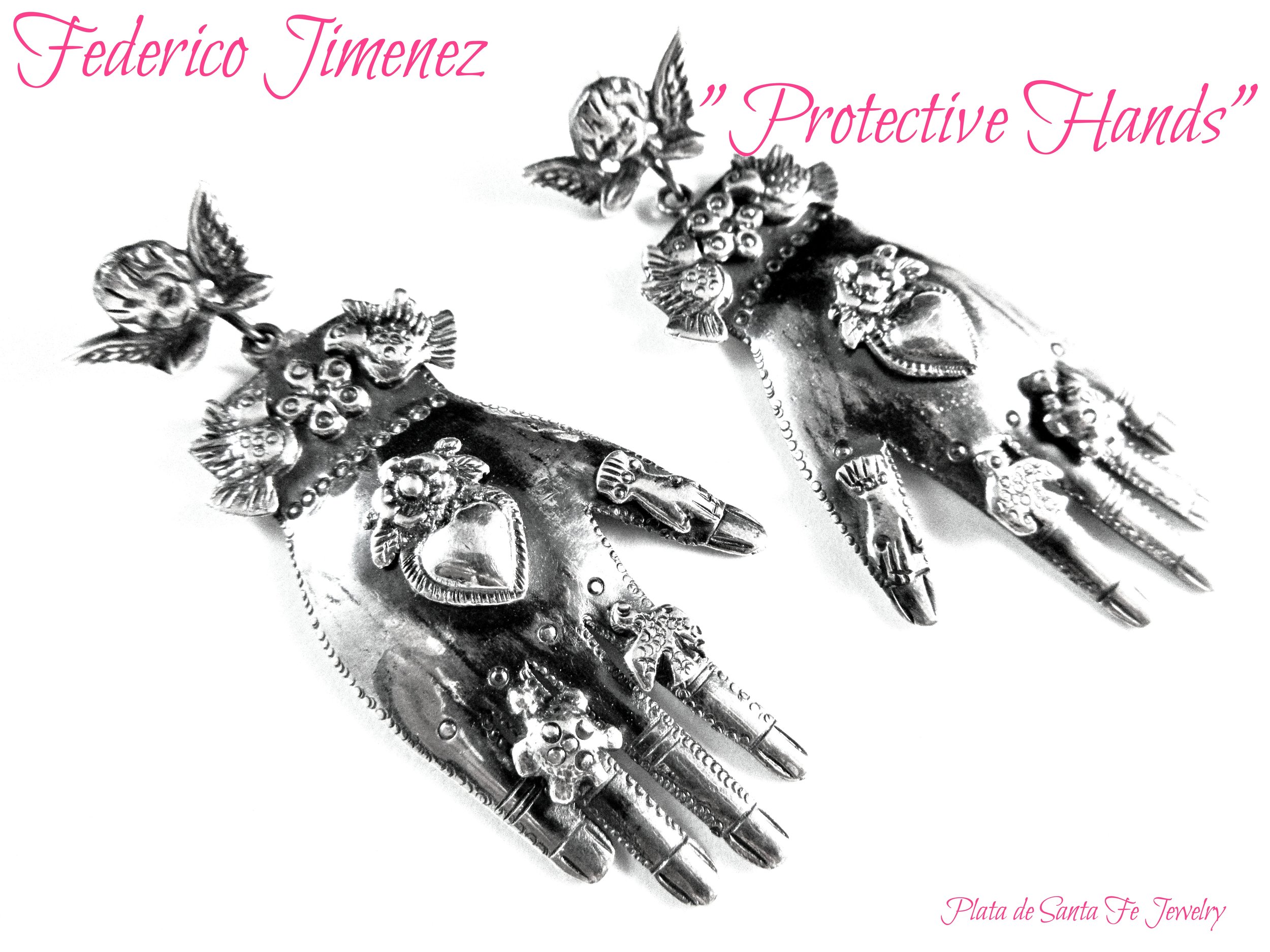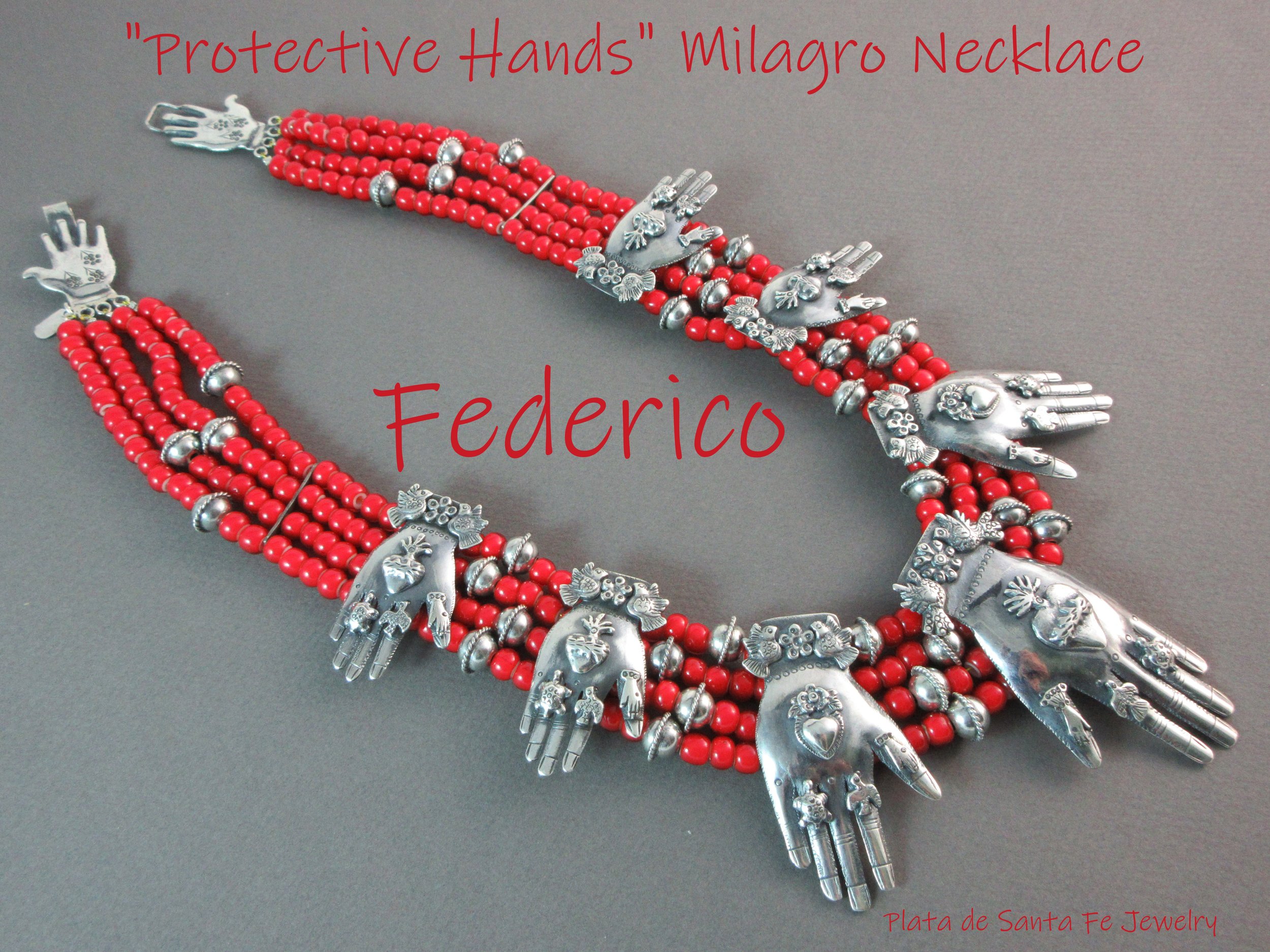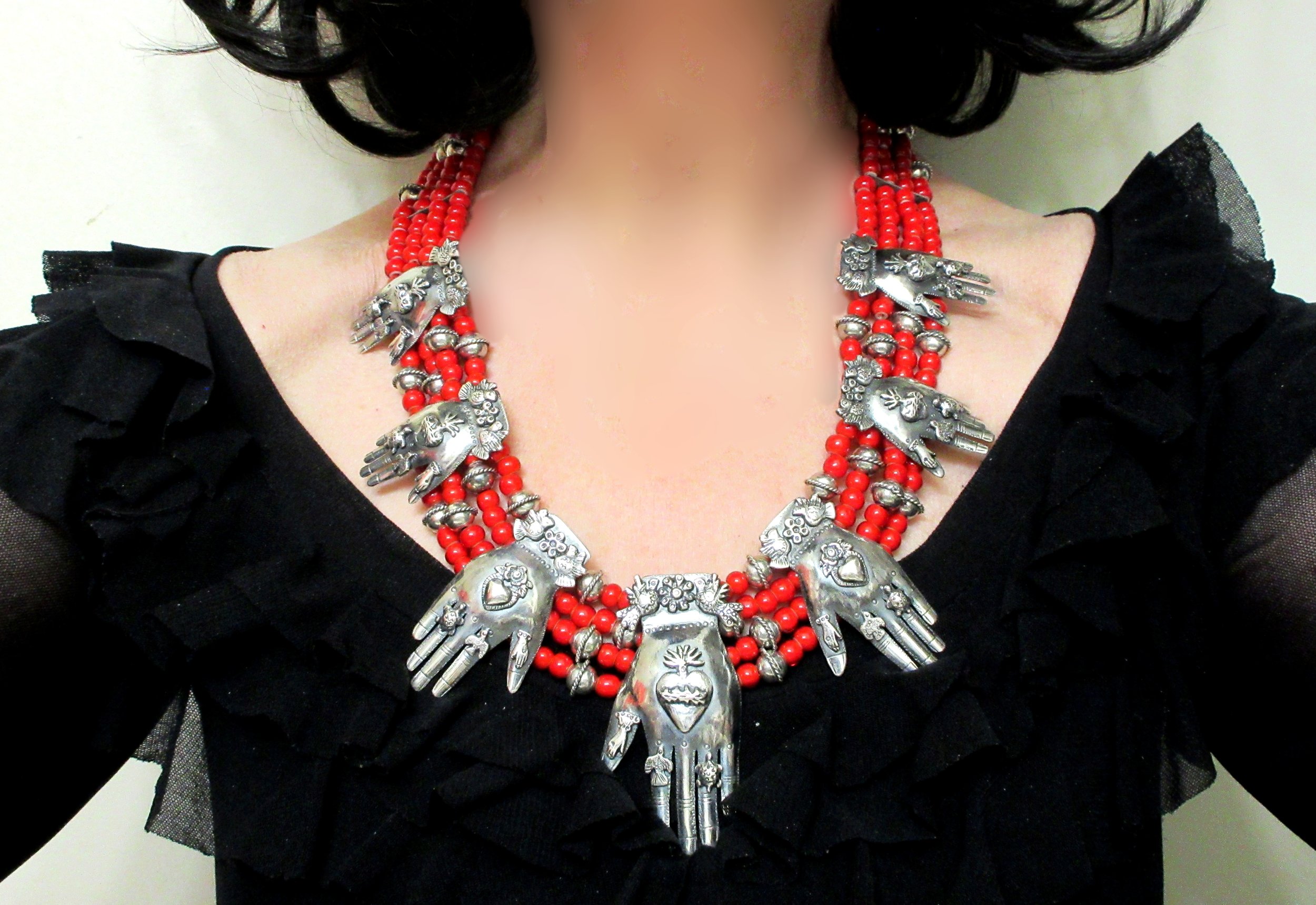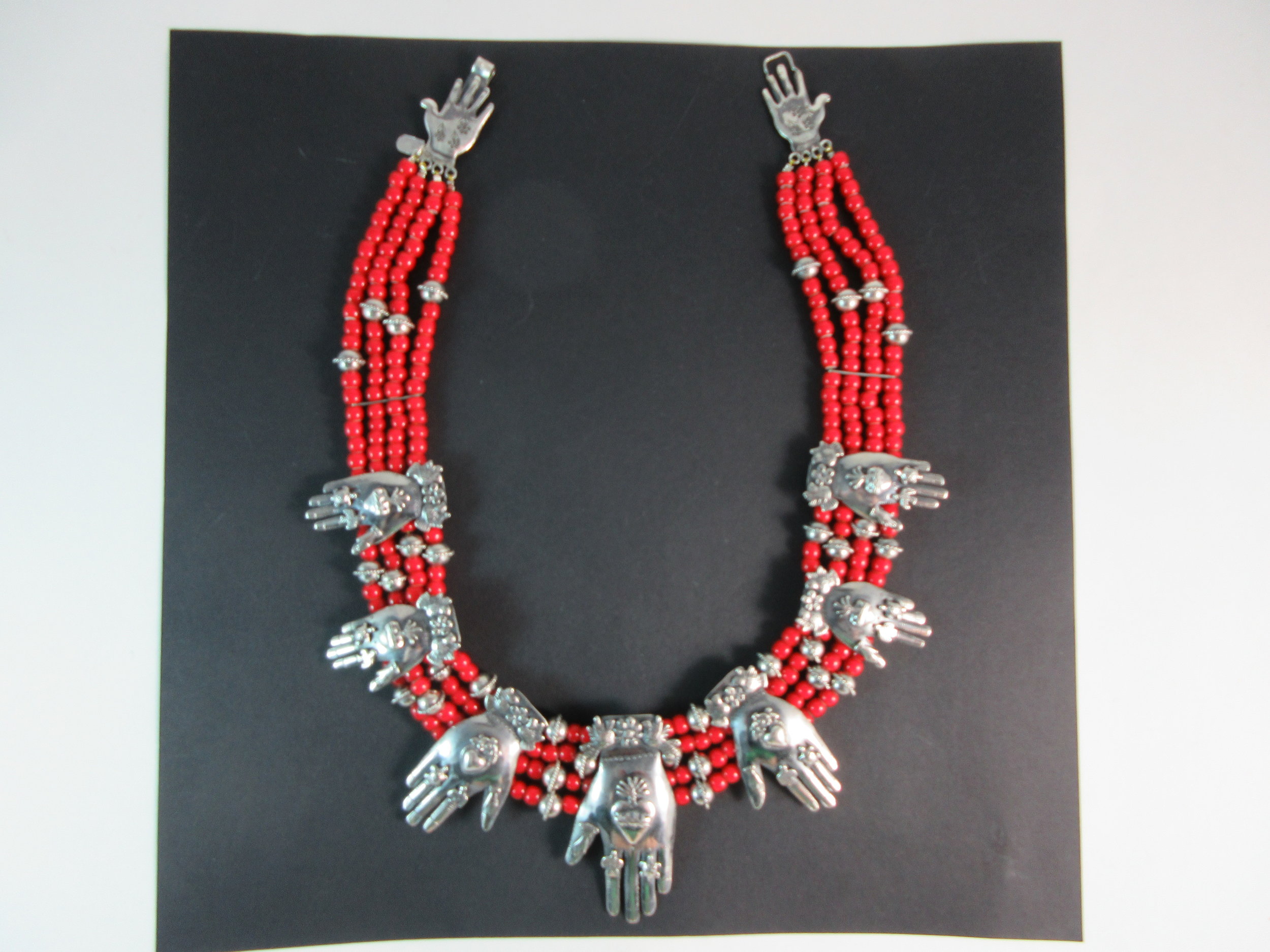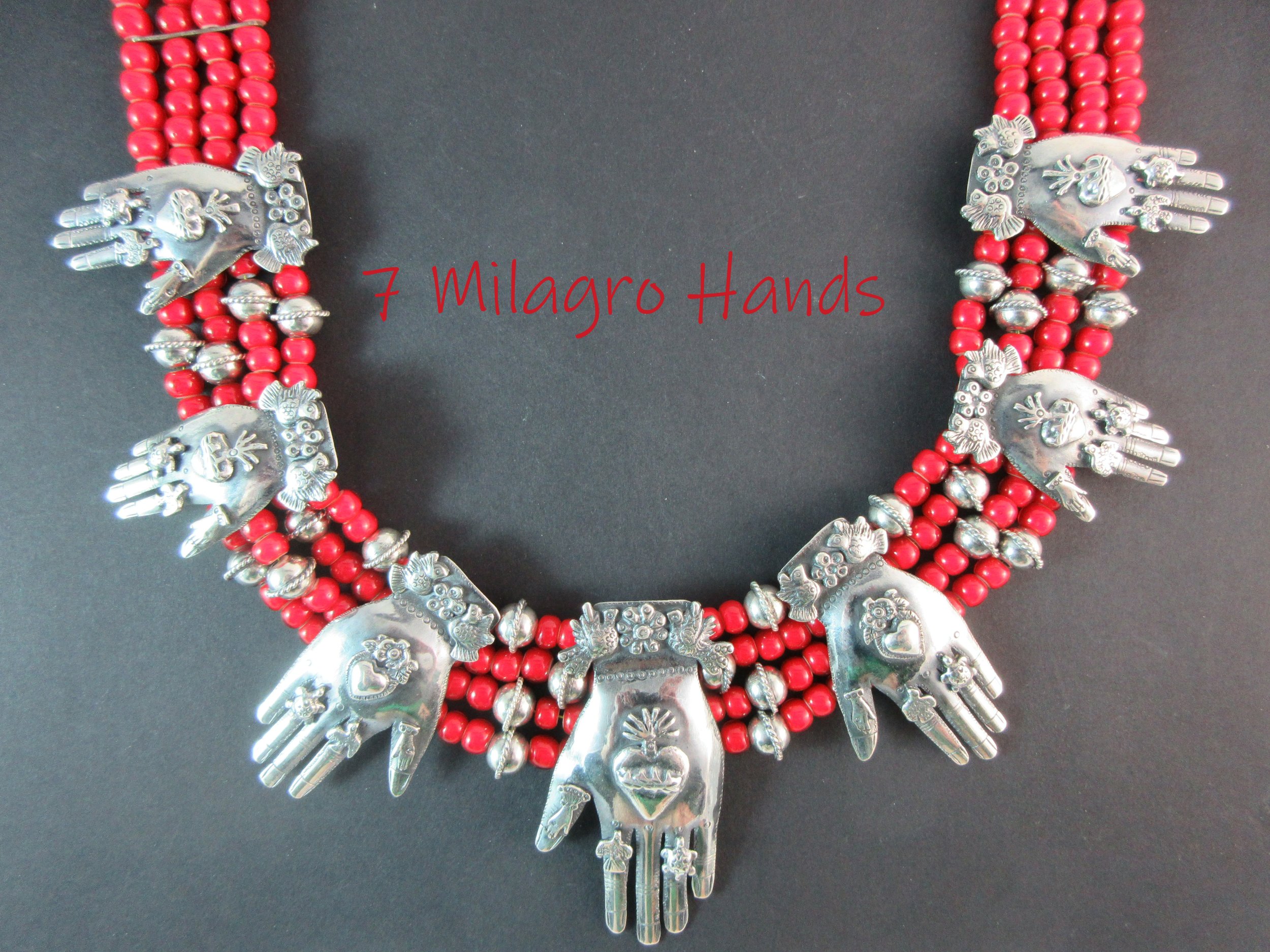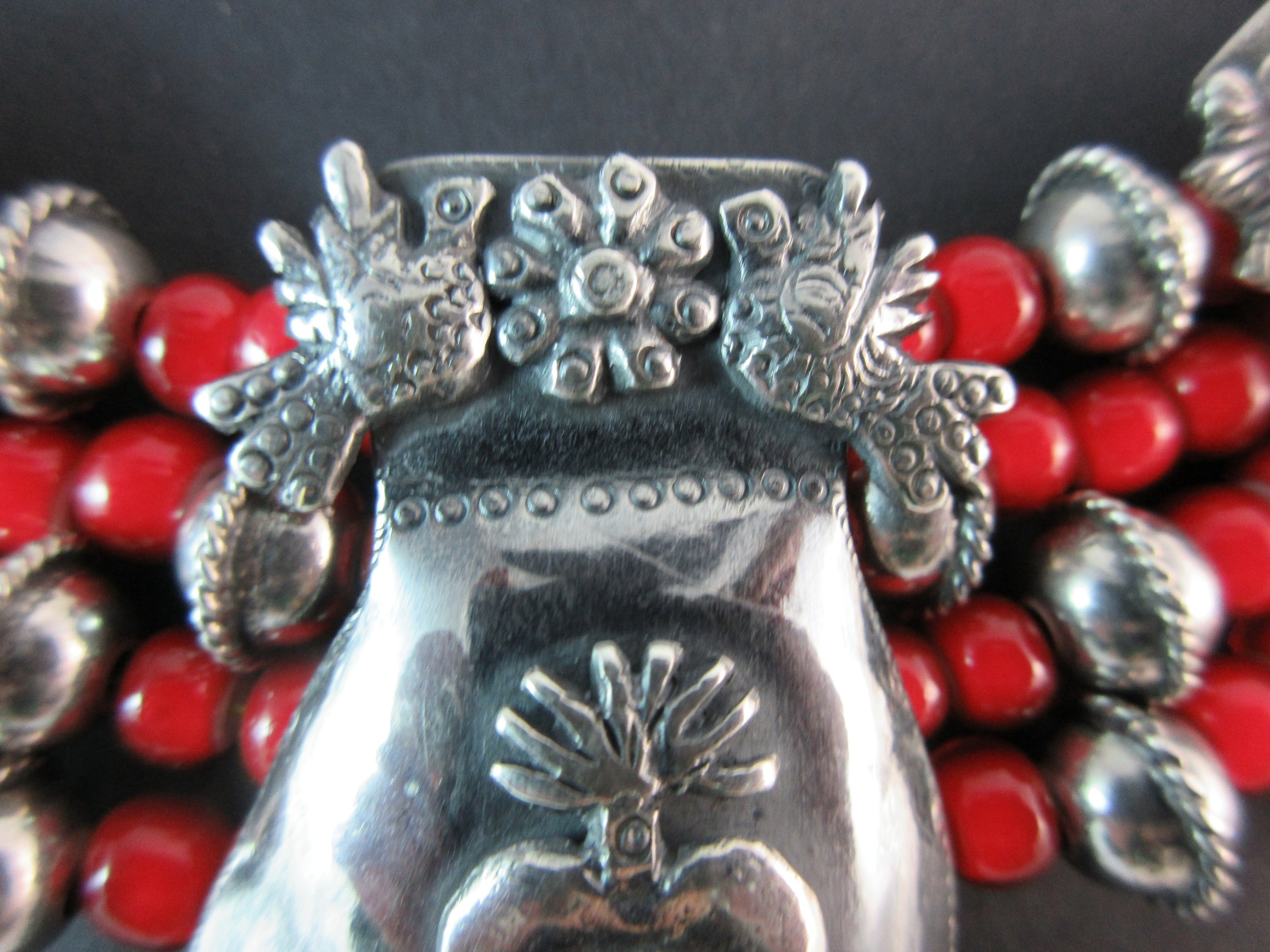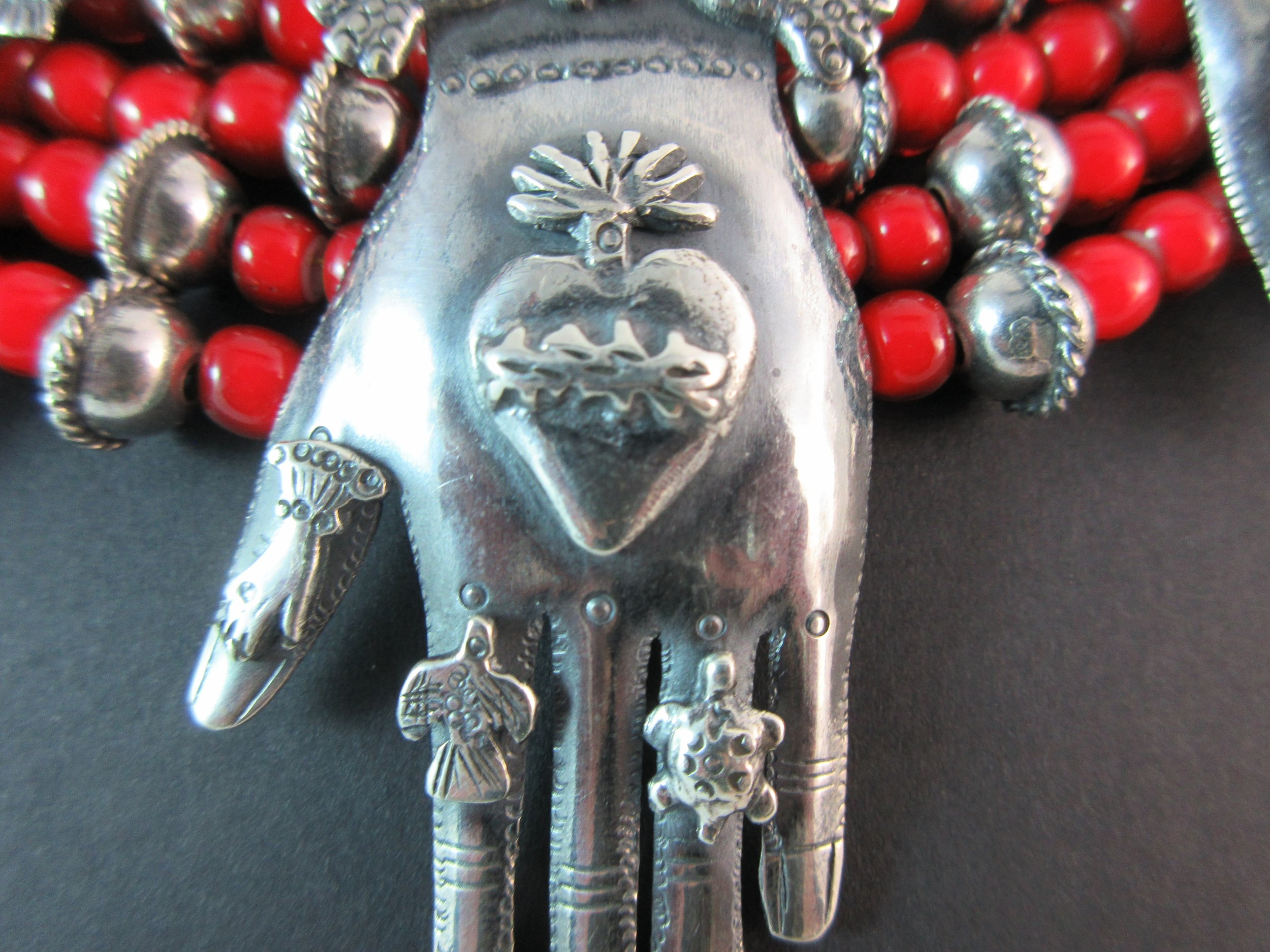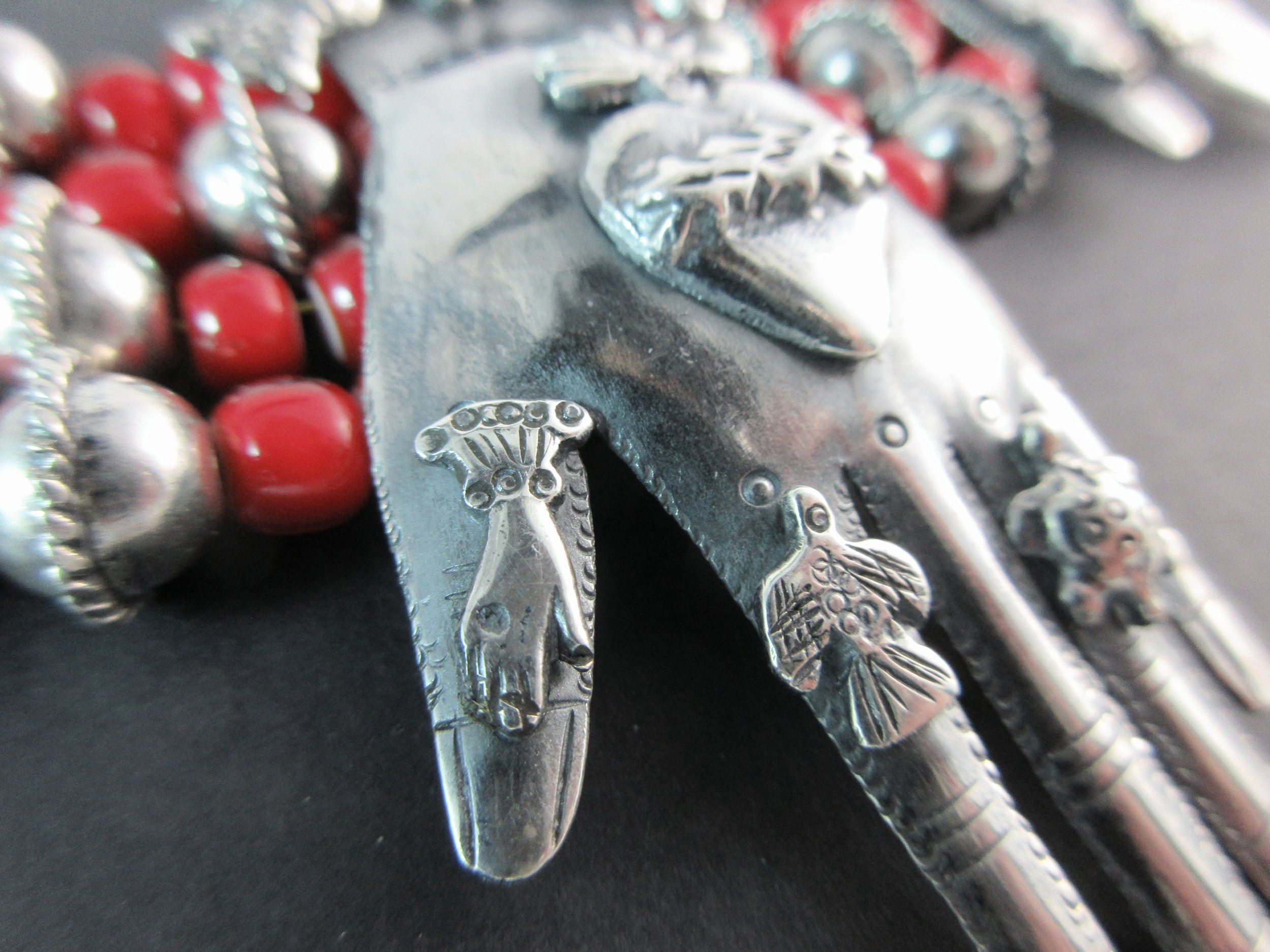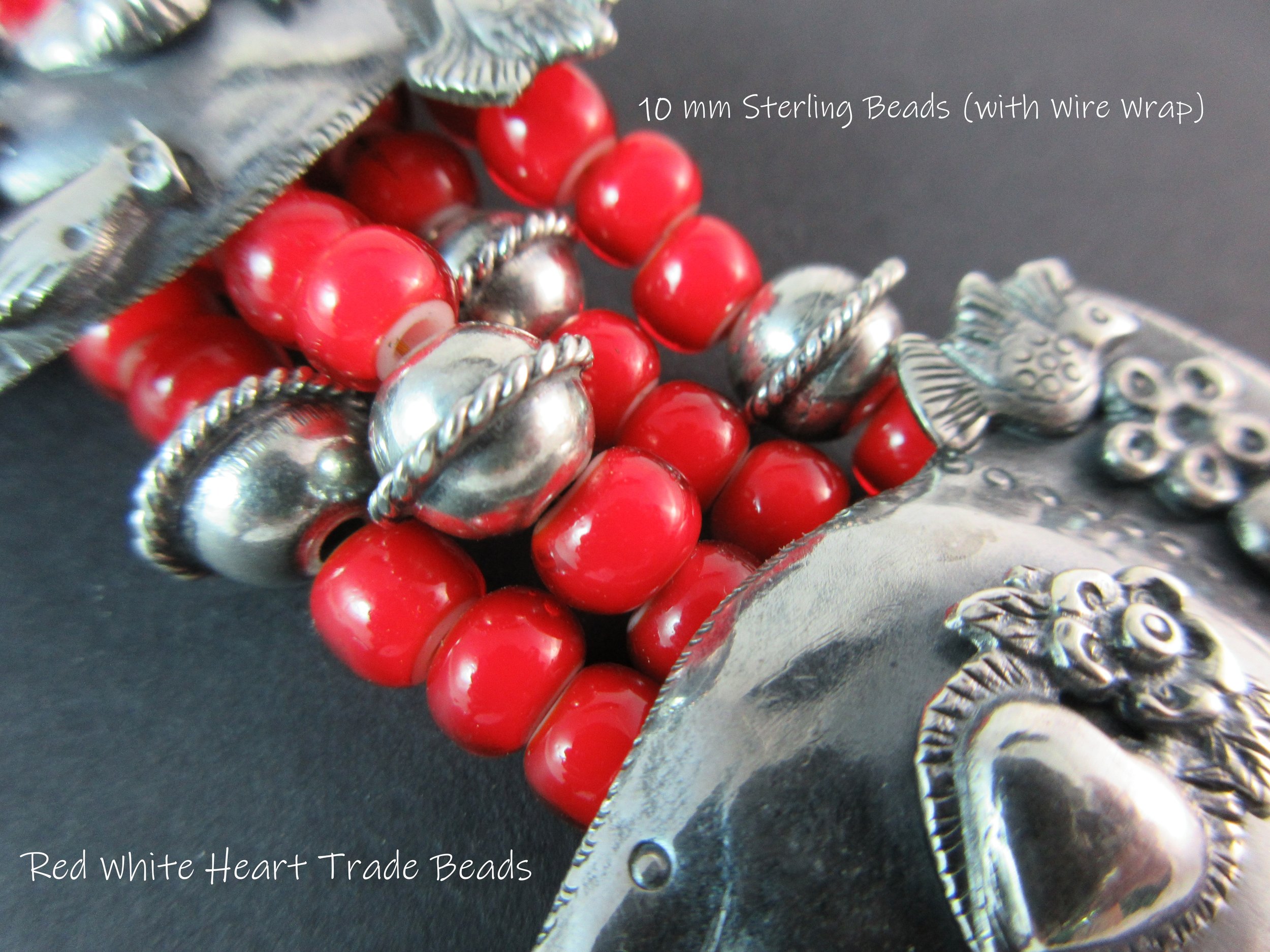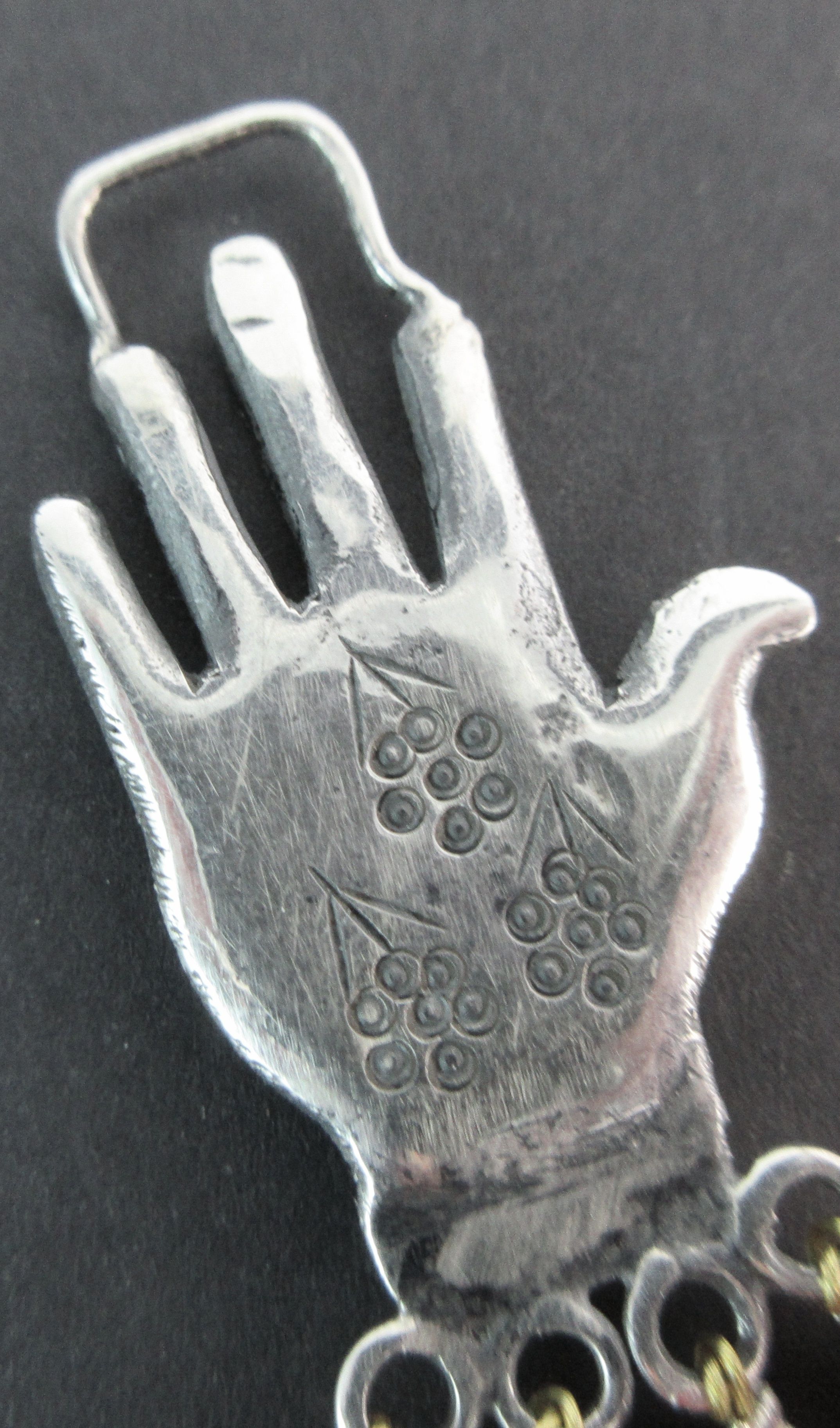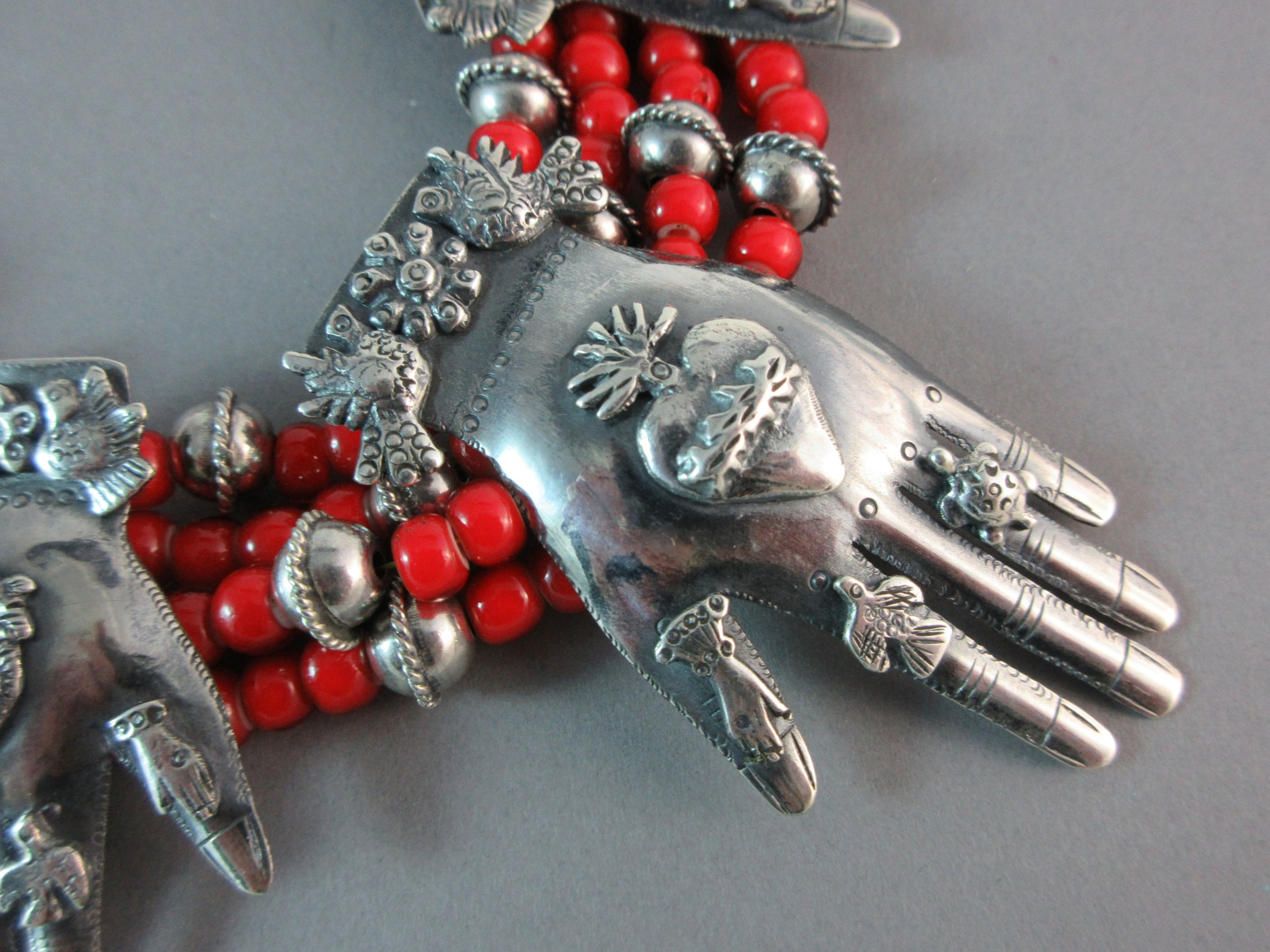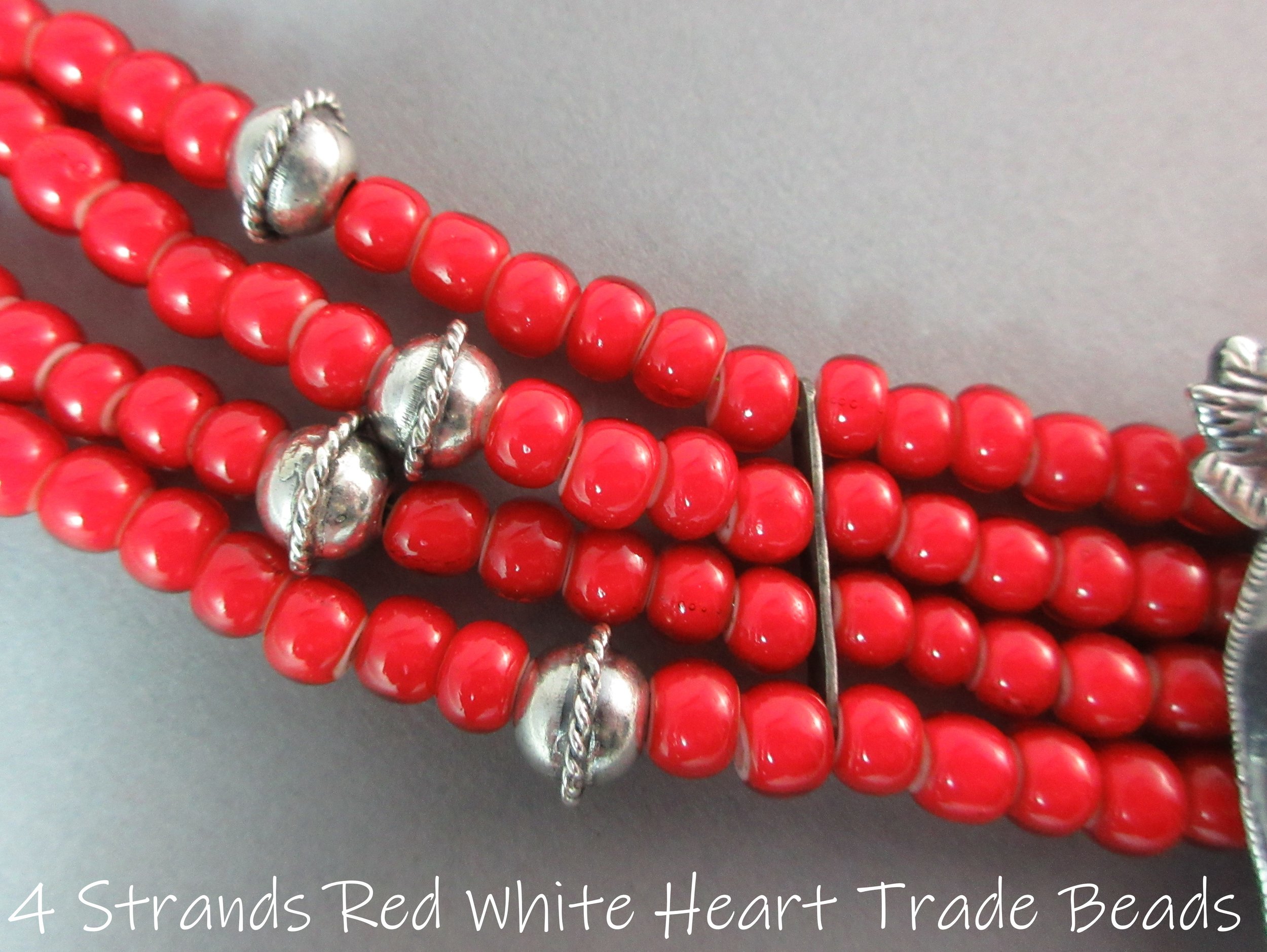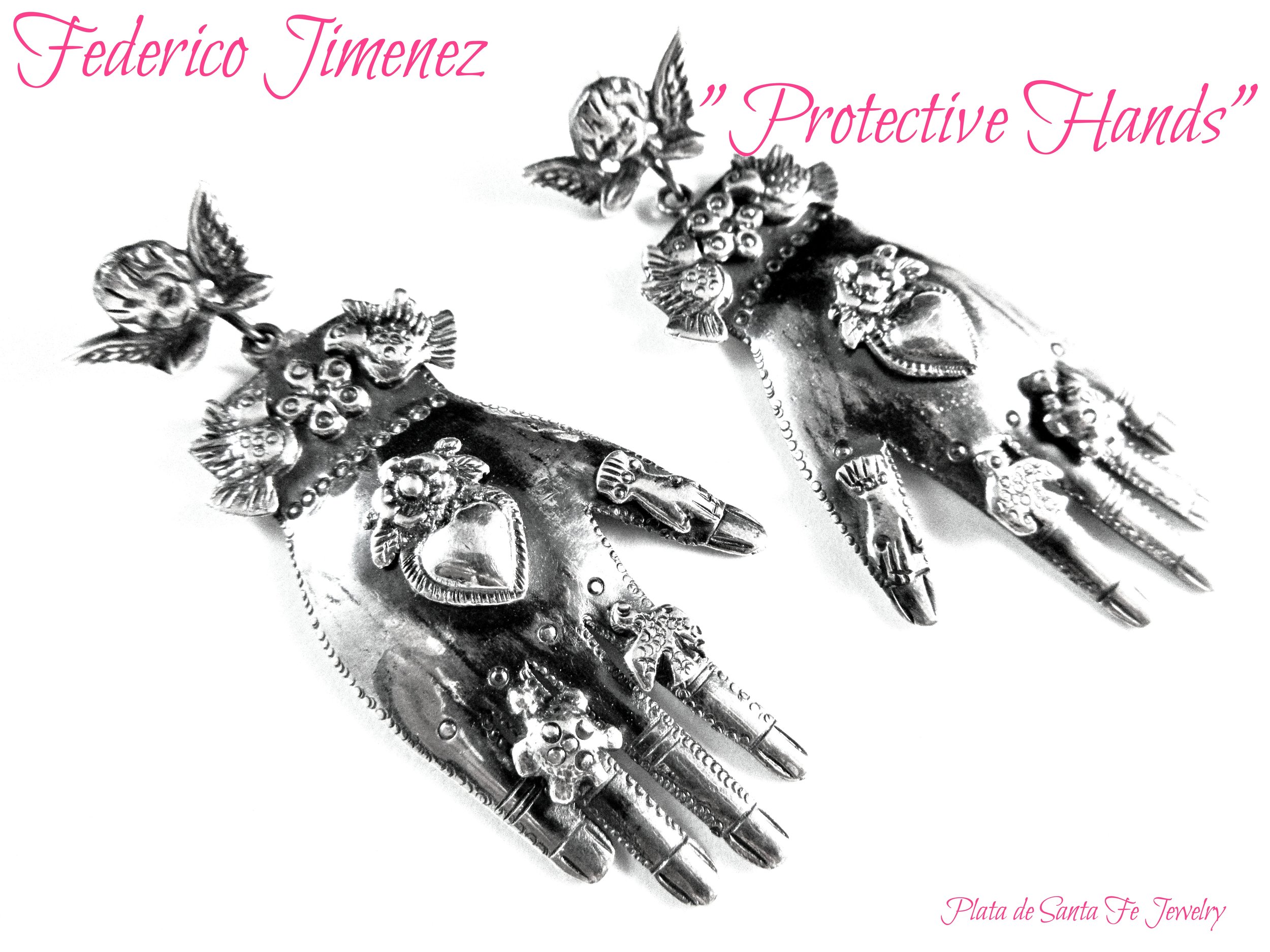 FEDERICO "Protective Hand" Milagro Hands~ 4 Strand Red White Heart Beads Necklace
IFM YOU LIKE THE FULL SET,THEN DON'T FORGET TO CHECK OUT THE MATCHING EARRINGS & BRACELET!!
THE 'PROTECTIVE HAND"
In Mexican culture, hands mean a variety of things..Mostly spiritual, as in the "Protective Hand of God",but also represent strength,power,protection,healing,as well as generosity,(lend a hand)
ABOUT 'MILAGROS'
Milagros are small metal religious charms found in many areas of Latin America, especially Mexico and Peru. The word "Milagro" means "miracle". They are also used in Europe, where they are often referred to as Exvotos (Offerings). These small charms, often depicting arms, legs, hands,praying people, farm animals and a wide range of other subjects are typically nailed or pinned to crosses or wooden statues of various saints like the Virgin Mary or Christ, sacred objects, pinned on the clothing of saint statues, or hung with little red ribbons or threads from altars and shrines. They are also carried for protection and good luck & especially if there is a need to bring healing for what you need in your life.
RED WHITE HEART TRADE BEADS:
Red "White Heart Trade Beads" were a popular type of wound and drawn trade bead produced between 1805 and the early 1900s in Venice, Italy. These are made with two layers of different colors. The core is white,while the outer layer (which wraps the core) is thicker, and is a ruby red.
DESCRIPTION:
Federico took the look of Mexico to a whole new level when designing this phenomenal conversational necklace!!!! And Oaxaca jewelry never looked so good!!!
Looking very similar to a Squash Blossom necklace,the focus here is on all these wonderfully designed hands!!The hands are made of a thicker,non-bendable oxidized sterling & are made with a realistic appearance! The fingers are all hand cut & even have phalanges & nail beds!They are made with a domed dimensional look.Sitting in the center of each hand is a Sacred Heart with a hand milagro on the thumb,a turtle milagro on the ring finger & a flying bird milagro on the pointer finger.Adding o their charm, are "Doves of Peace" that sit at the top & are separated by a flower.The hand fabricated hands graduate in size as the necklace ends
A 4 hole punched bar of sterling is on the backside that is there for the 4 strands of white heart beads to be threaded through.Sterling beads with twisted sterling wire are used for accents.
If you zoom in on photos of the closure,you will find the most unique & equally as beautiful "Hand Closure"!! So when its connected,it gives it such a positive message,as if they are "Helping or "Lending a Hand"!
I put this on to put it through the 'comfort test' & actually,even though it has some weight,it was personally very comfortable! (Weight below)
Perfect to wear during any Folk Art event!!! I will be listing the matching companion bracelet that is shown in photos
INFO:
ARTIST: FEDERICO JIMENEZ
MATERIAL:RED WHITE HEART TRADE BEADS
BEADS RANGE: 7 mm DIAMETER
STRANDS: 4
MILAGRO HAND AMOUNT: 7
MILAGRO HAND SIZE: Center: 2-3/4" X 1-1/4"~Next to Center:2-1/4" X 1-1/8"~ Smallest:1-3/4" X 1"
OXIDIZED BEAD SIZE:8 mm (10 mm with wire wrapping)
METAL:STERLING
METAL FINISH: OXIDIZED
LENGTH:20"(APPROXIMATE BECAUSE OF CURVATURE)
WEIGHT: 8.1 OUNCES (232 GRAMS)
CLOSURE STYLE: HOOK/EYE
HALLMARK: JF/STERLING TAG CONNECTED TO HAND~925 ON BACK OF HANDS)
Will comes gift boxed.
~~~~~~~~~~~~~~~~~~~~~~~~~~~~~
If you love the designs of Federico,then you may want to look at my site,since I carry a wide selection of jewelry by him..I carry his Filigree Dove jewelry,to his high end one of a kind turquoise pieces!! (He is in every category of jewelry!)