Don Lucas 925 14mm~22" Santa Fe Pearls Large Concho Pendant GORGEOUS Matte Finish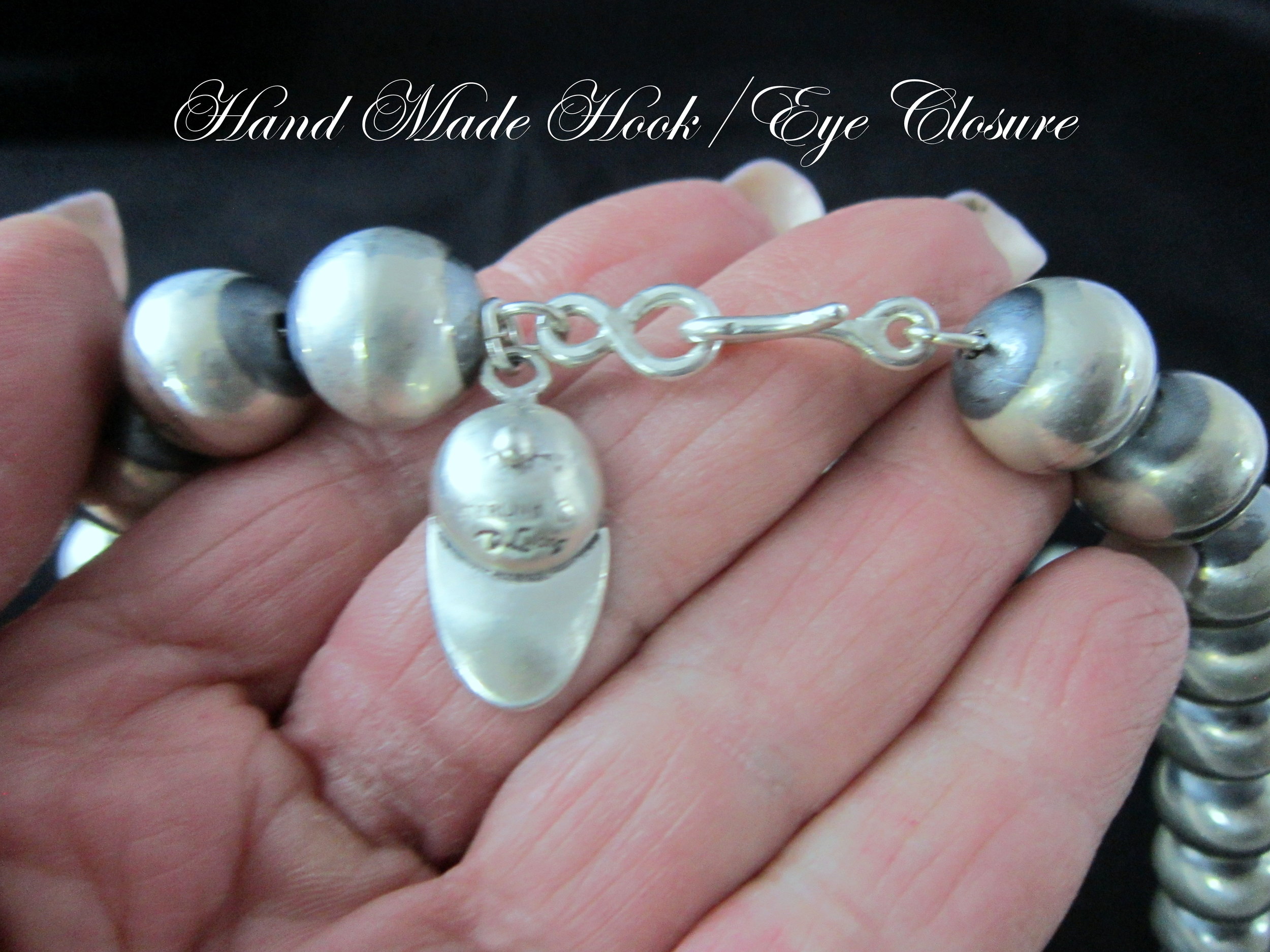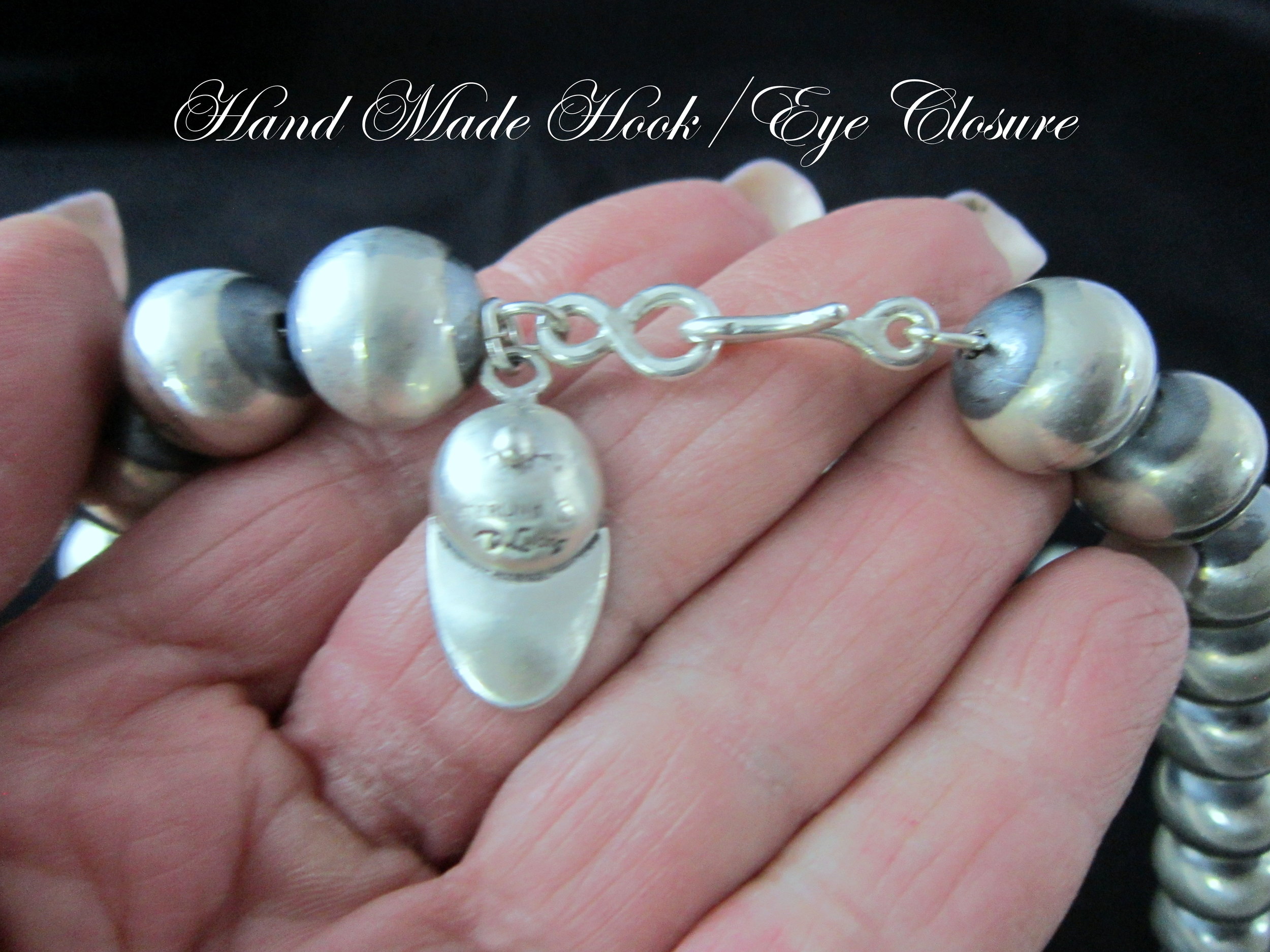 Don Lucas 925 14mm~22" Santa Fe Pearls Large Concho Pendant GORGEOUS Matte Finish
BEAD NECKLACE DESCRIPTION:
Those of who know Don's work,know he makes some of the best sterling Santa Fe style Pearl beads out there in today's market.What makes them so outrageously gorgeous,is not just because they are all made by hand,but its the over all look he gives them,because of the way he finishes the metal!! Its literally 'glistens' with a 'glow' unlike no other..He gives the sterling a vintage style appearance,but has the most beautiful shiny,matte finish..The way he 'worked' the sterling with this set,can leave you breathless.
With a lot of Navajo/Santa Fe Pearls,many artists leave more black oxidation on the bead,but with his,he has it right by the holes,since this is right where patina naturally develops with age.That is what gives them their authentic,vintage style look..They are extremely time consuming to do by hand & all the seams where the two 1/2's join, are also smoothed down with precision...
APPLIQUE PENDANT DESCRIPTION:
Given the same finish as the beads,the concho pendant has an artistic laid out design, that is filled with an assortment of hand stamped/made applique shapes, that precisely fill in the large oval..The bale is huge & has a 3/4" opening.which can fit approximately a 18 mm necklace.The bale itself also is beautifully stamped all the way around..
VERSATILITY!
This is a versatile necklace,since you can wear it with or without the pendant~~Wear the pendant on another necklace~Wear the beads with another large bale pendant~wear the beads alone~layer the beads with more Santa Fe Pearl necklaces! Now,how many necklaces can you do that with??

NECKLACE INFO:
LENGTH:~22"
WEIGHT: ~4.3 OUNCES
BEAD SIZE: 14 mm
STYLE:~ Upscale Santa Fe/Navajo Pearl Necklace
METAL FINISH:~Polished Matte Antiqued
HALLMARK: D.Lucas /Sterling(on Baseball cap charm)
STRUNG ON: Sterling Chain
AGE:~NEW
TRIBE:~None~Native "Influenced"~Anglo
CLOSURE: Hand Made Hook & Eye
~~~~~~~~~~~~~~~~~~~~~~~~~~~~~~~~~~~~~~~~~~~~~~
PENDANT INFO:
SIZE: 3~1/2"(from top of bale to bottom) x 2~1/2" wide
WEIGHT:1.7 ounces
STYLE:~Navajo style Concho Pendant
METAL FINISH:~Polished Matte Antiqued
BALE OPENING: 3/4"opening
HALLMARK: D.Lucas /Sterling/Copyright symbol/2016
AGE:~NEW
TRIBE:~None~Native "Influenced"~Anglo
TOTAL WEIGHT of BOTH:5.9 OUNCES
~~Comes Boxed~~