Master Kewa Pueblo Award Winning Artist~ MARTINE LOVATO~ Multi Stone Reversible Turquoise Mosaic Necklace~ Comes with Award!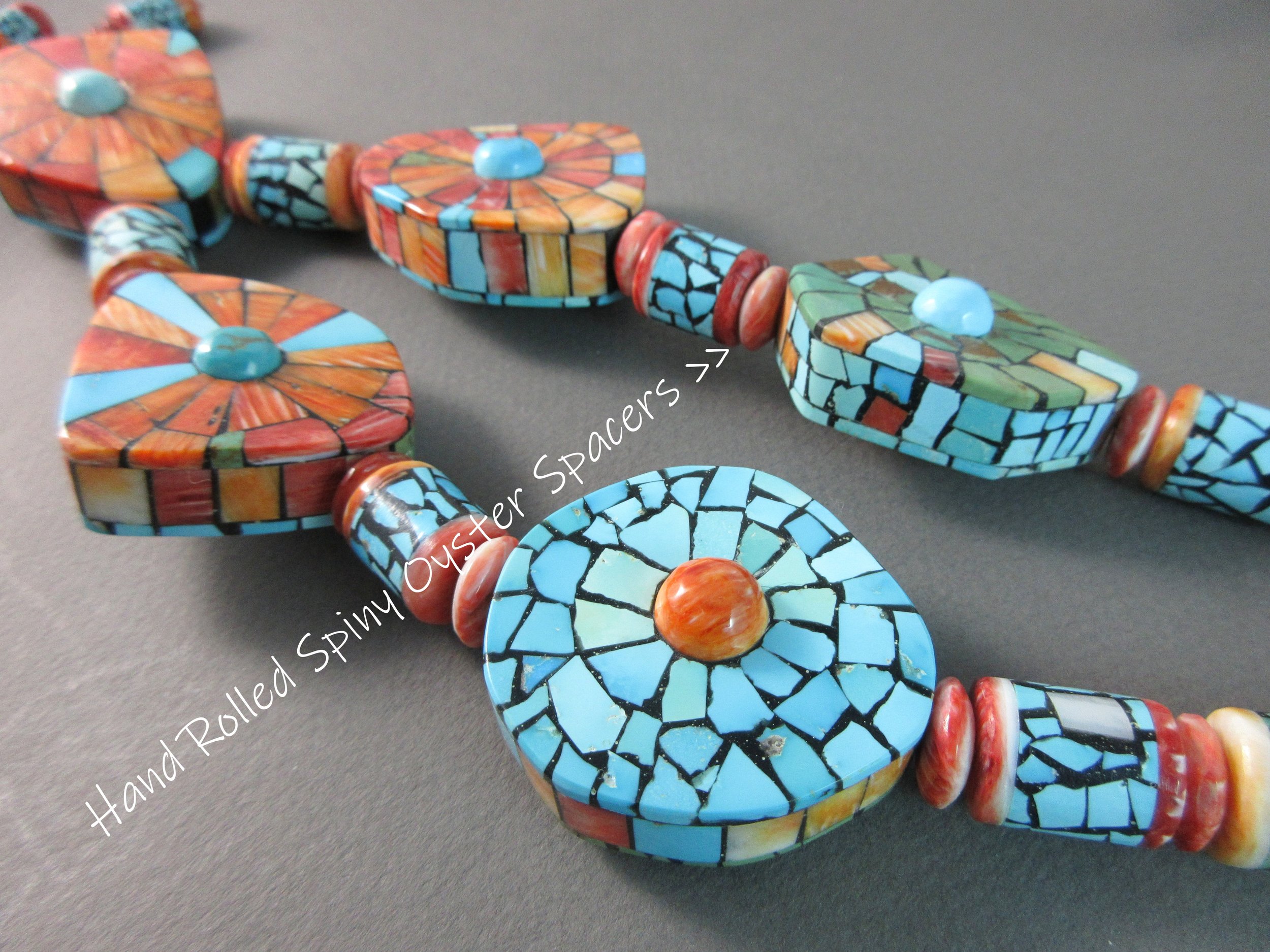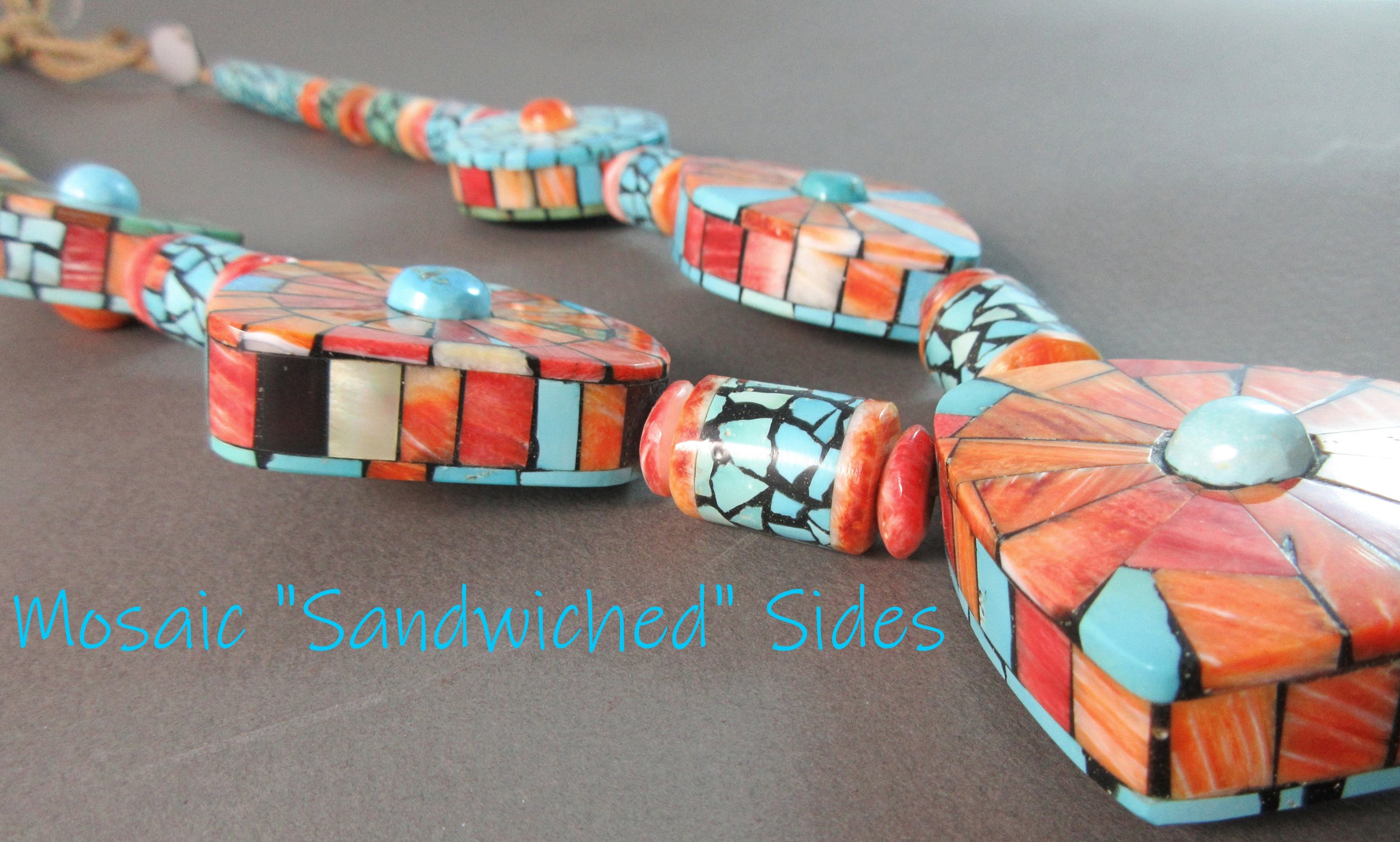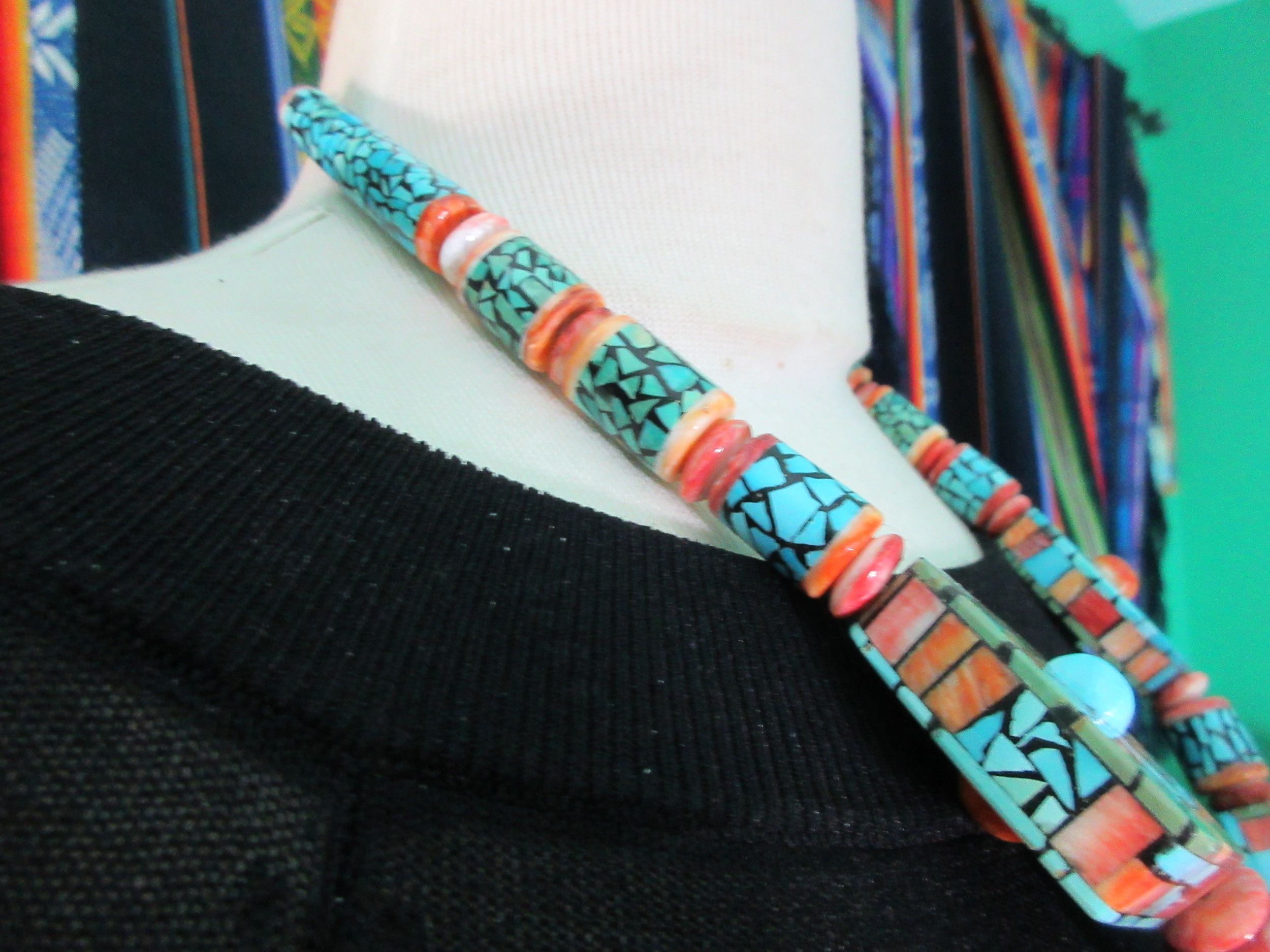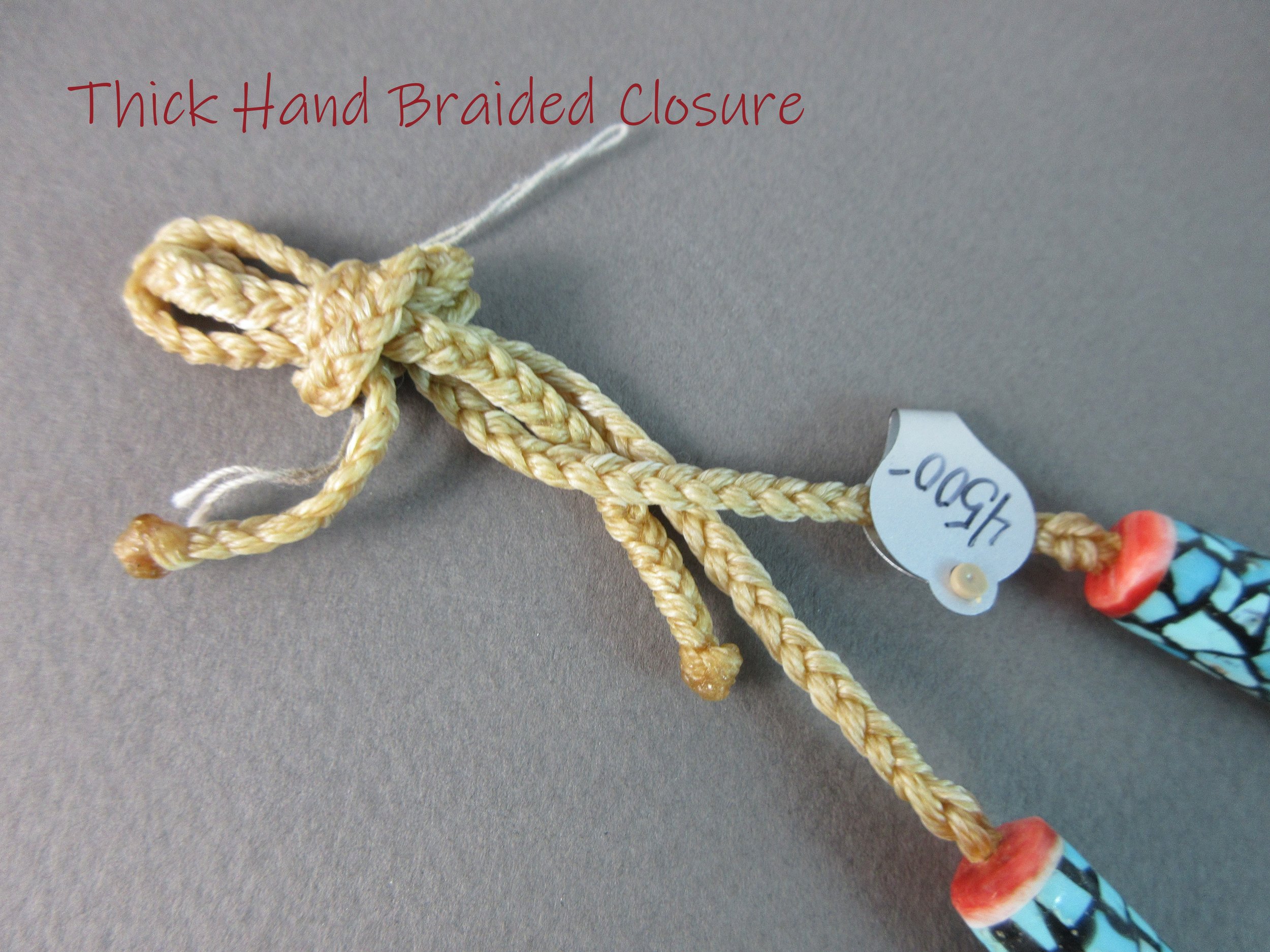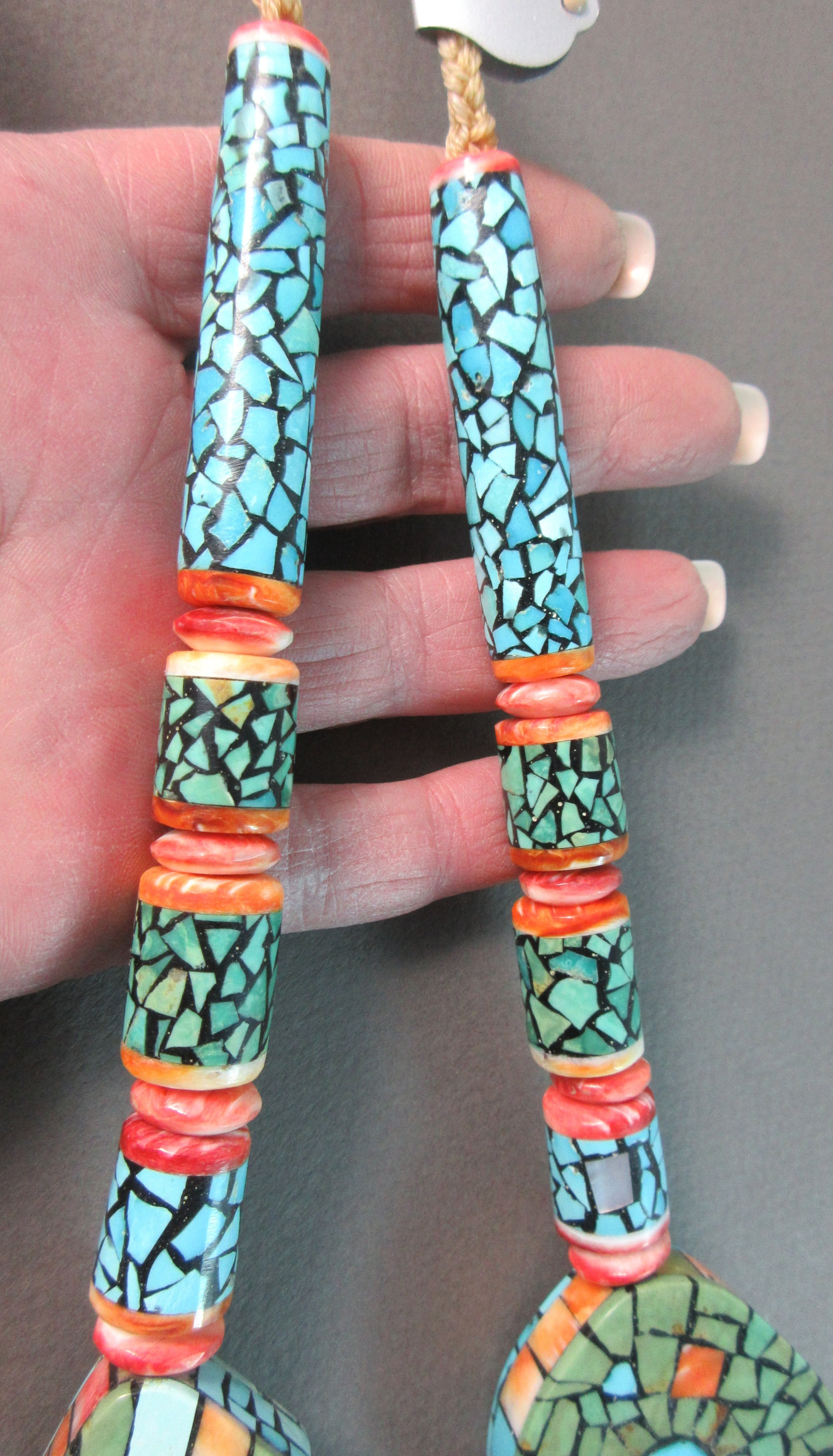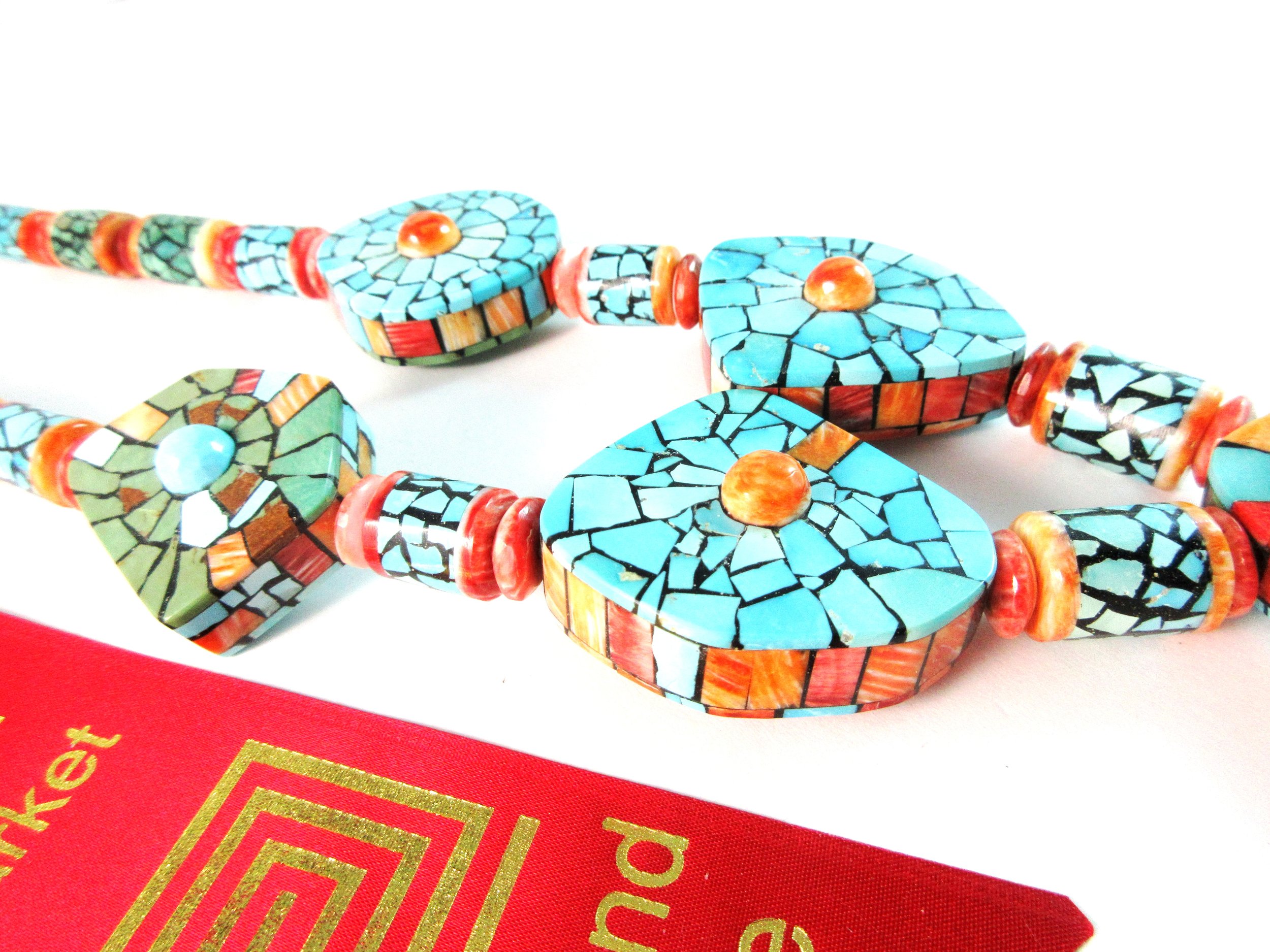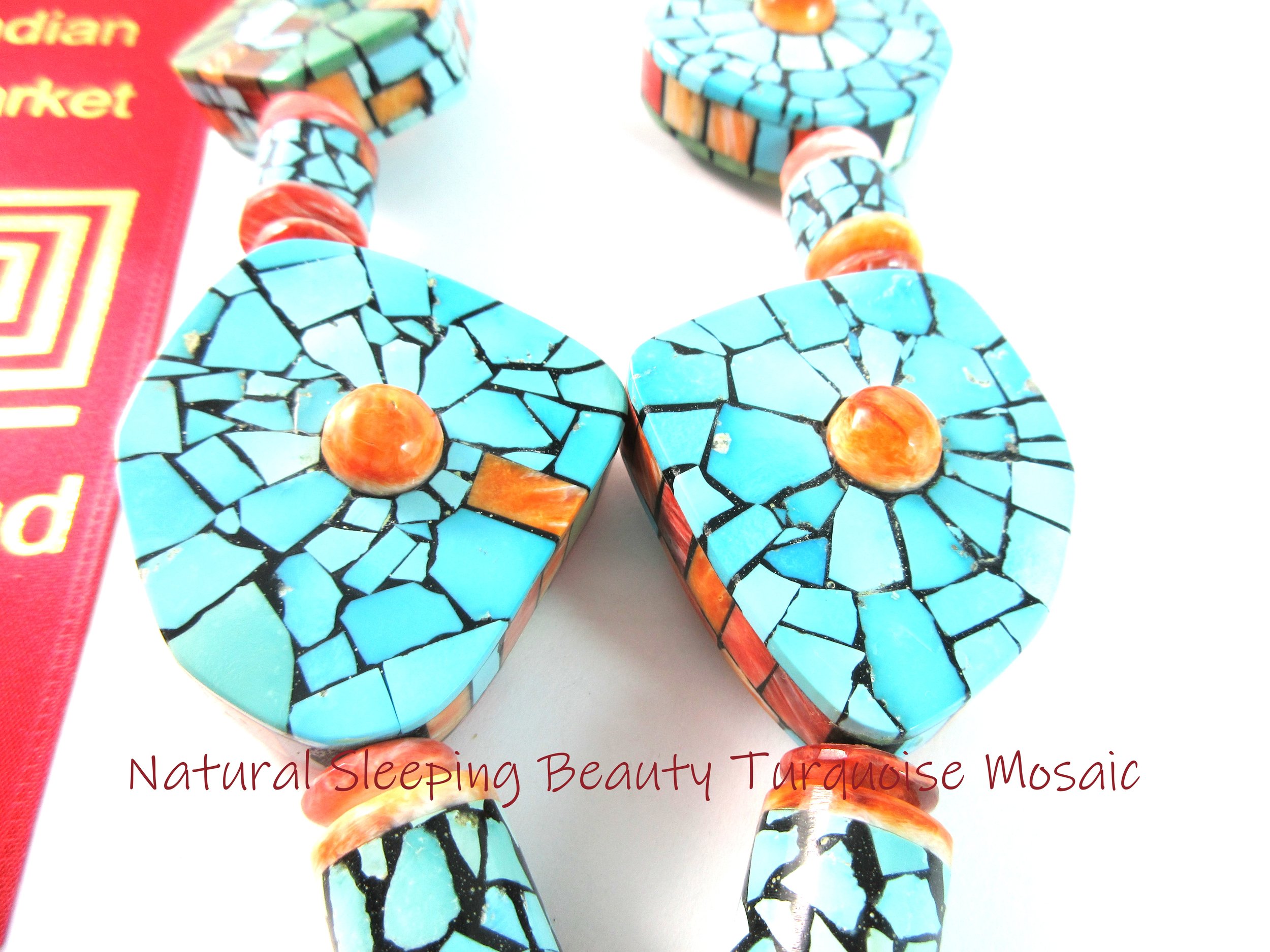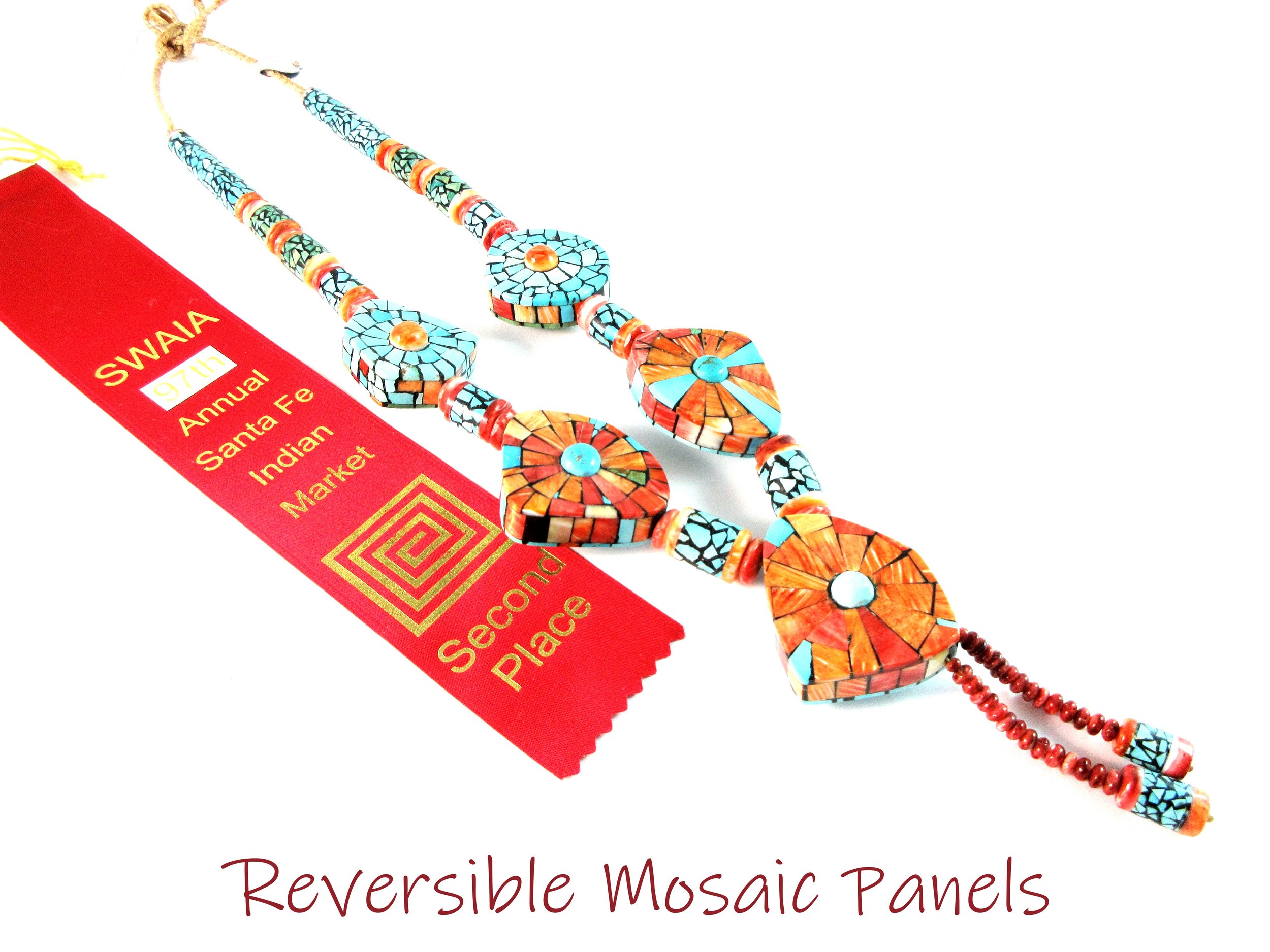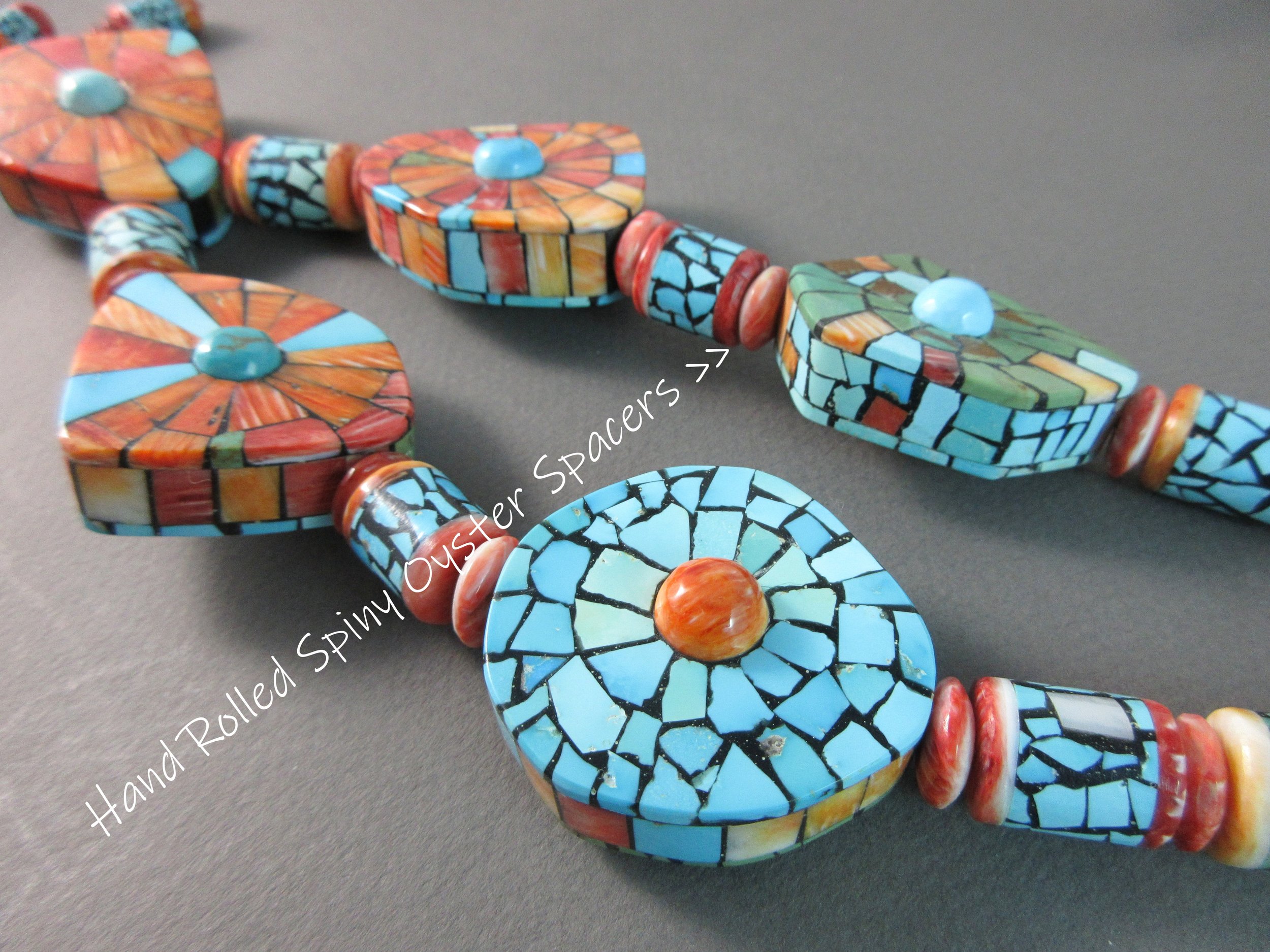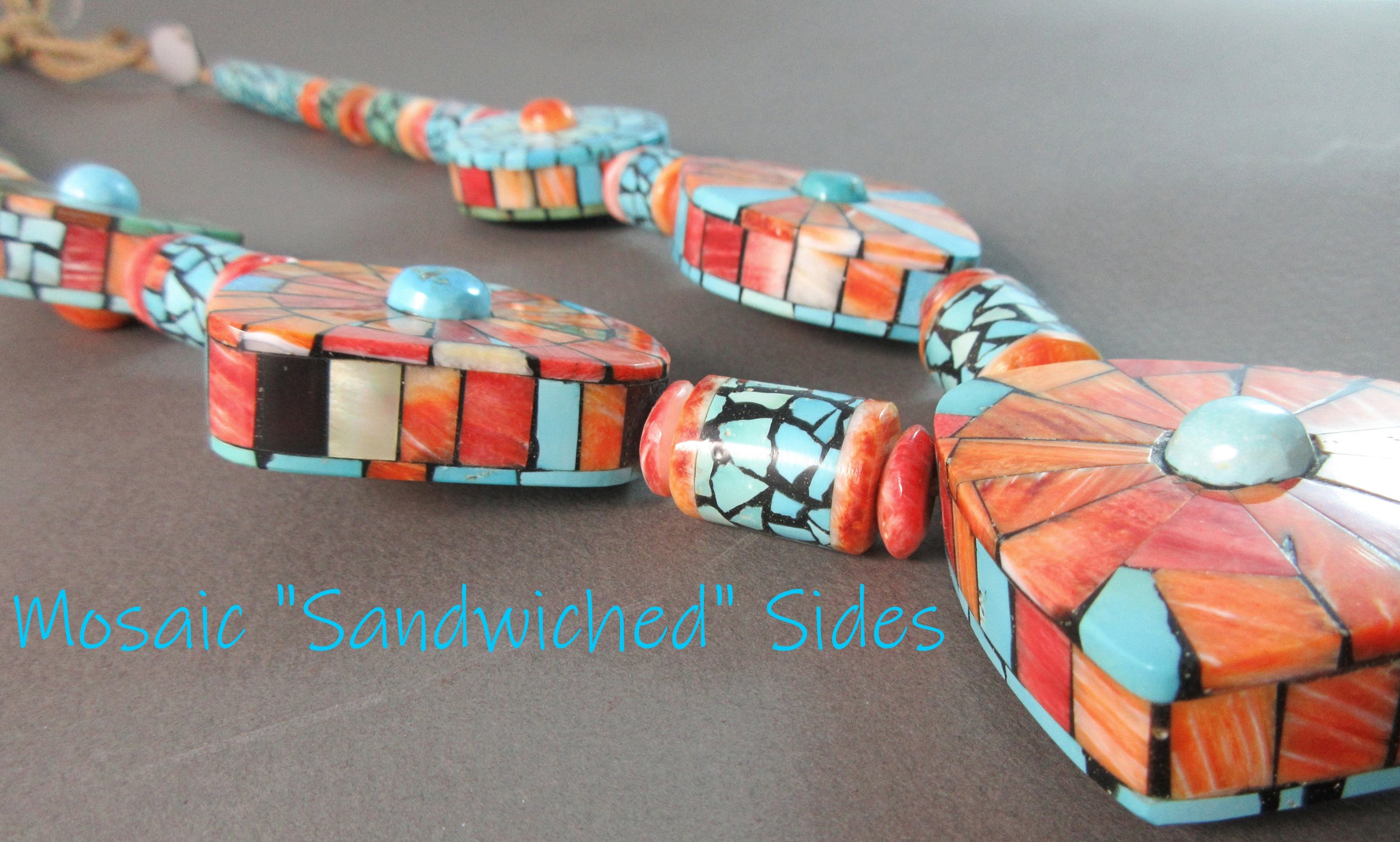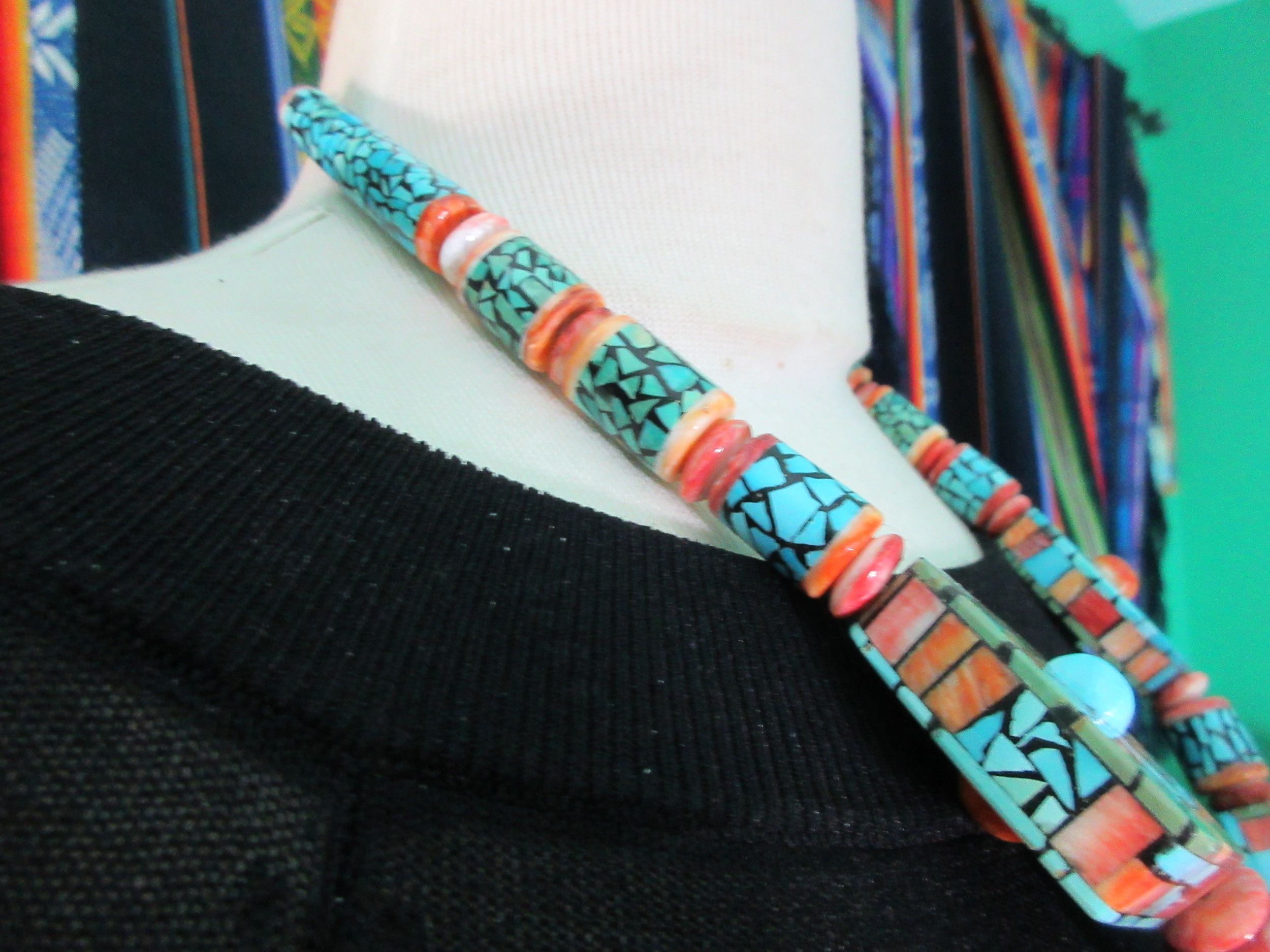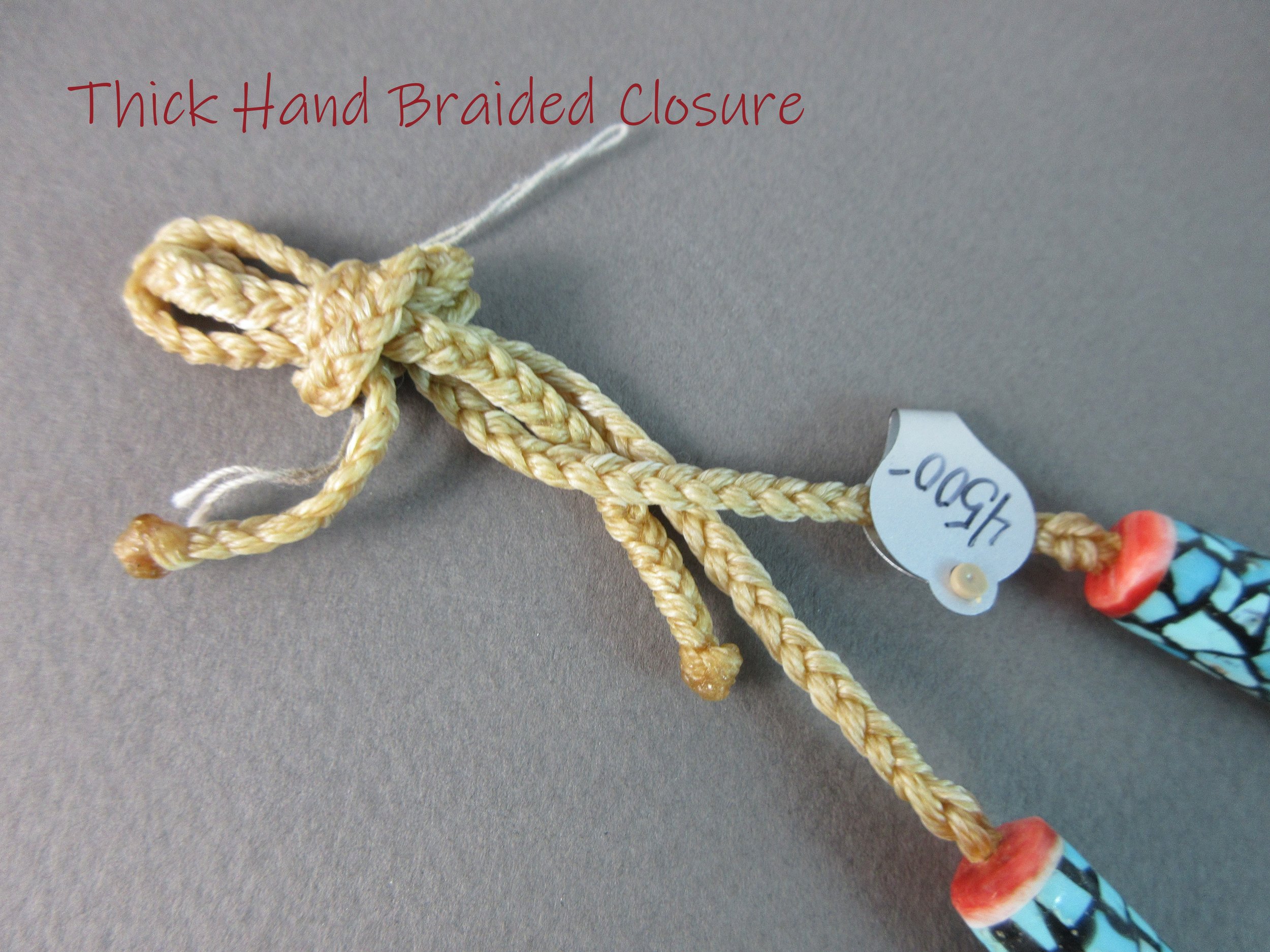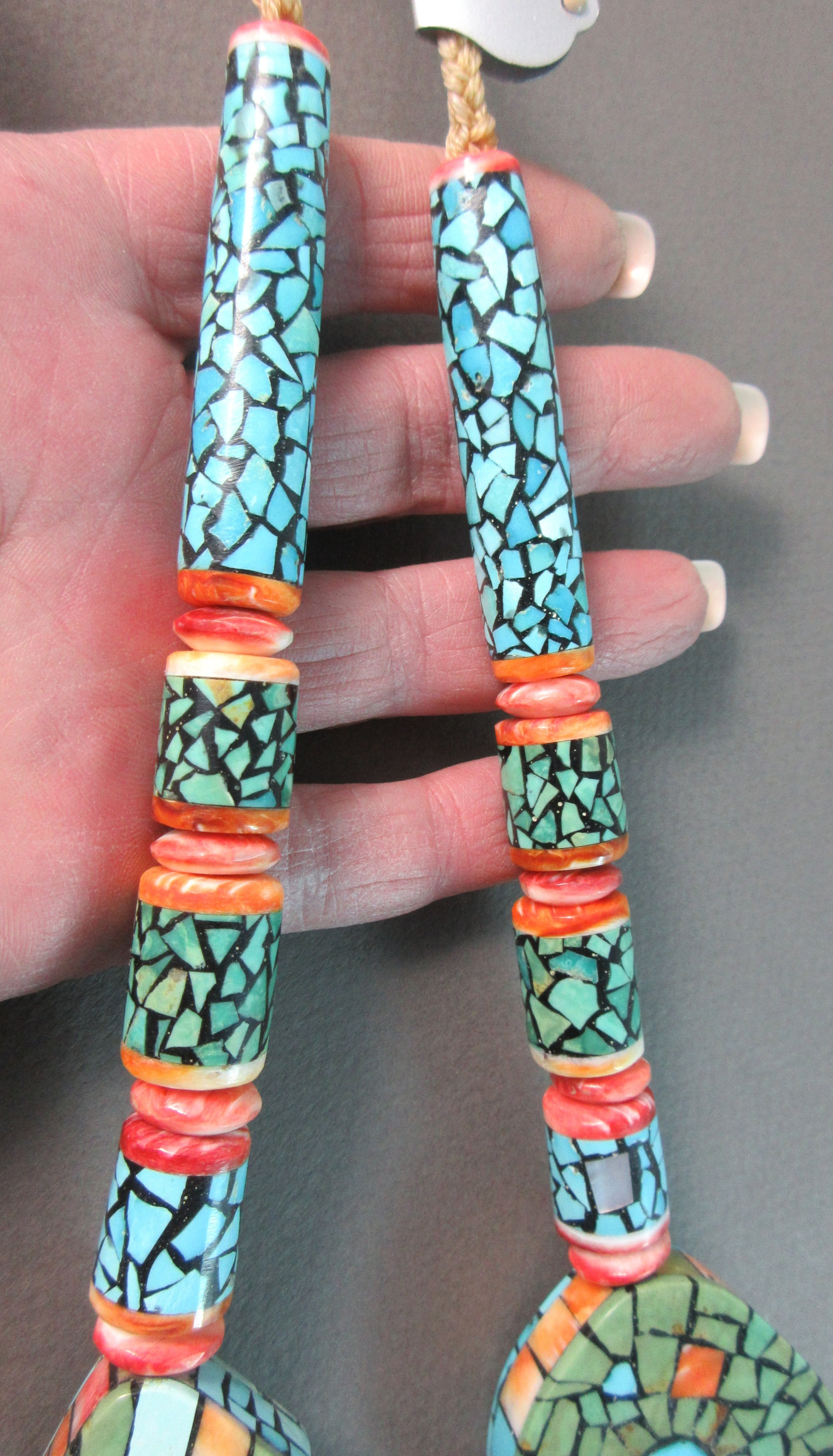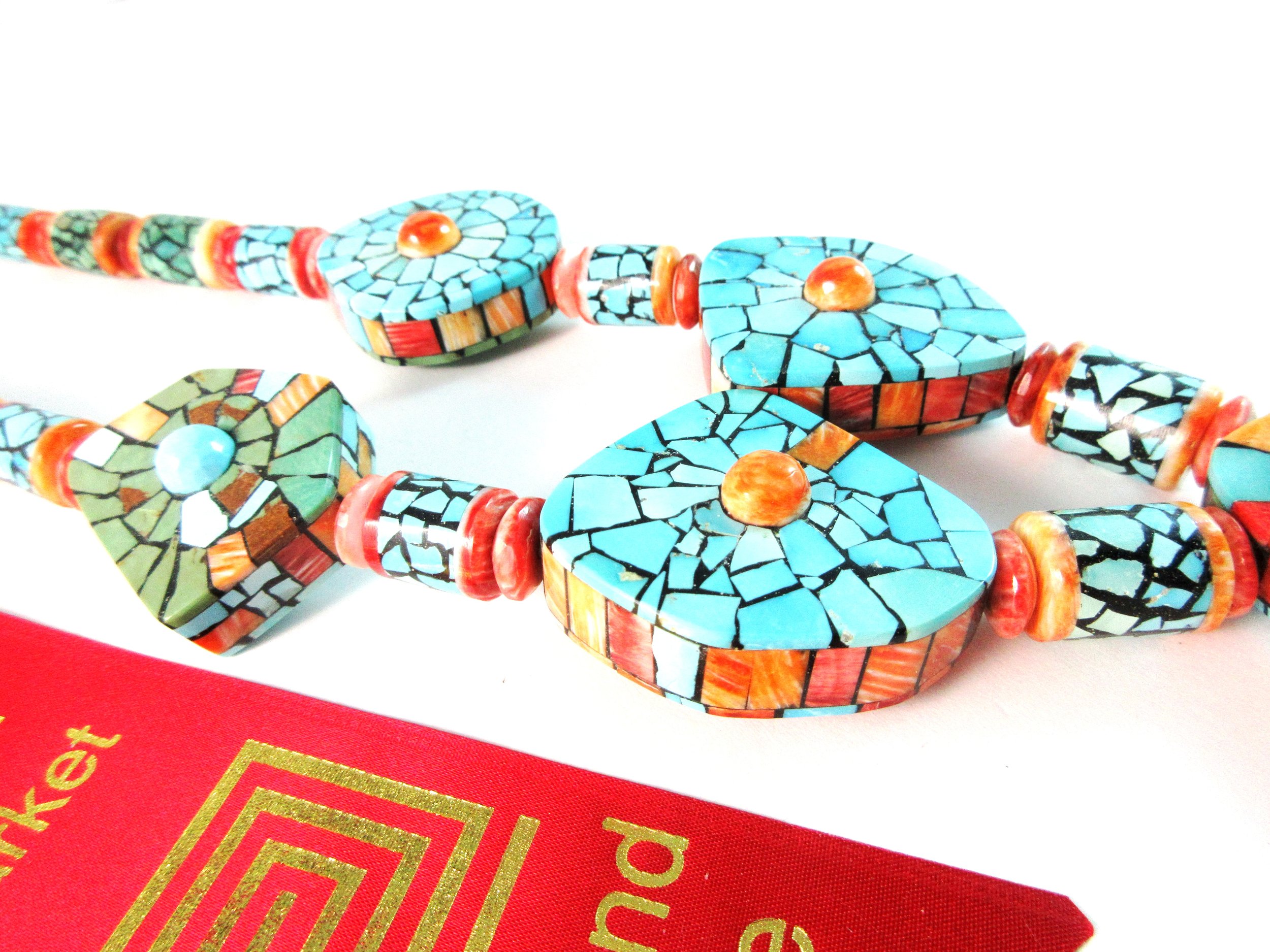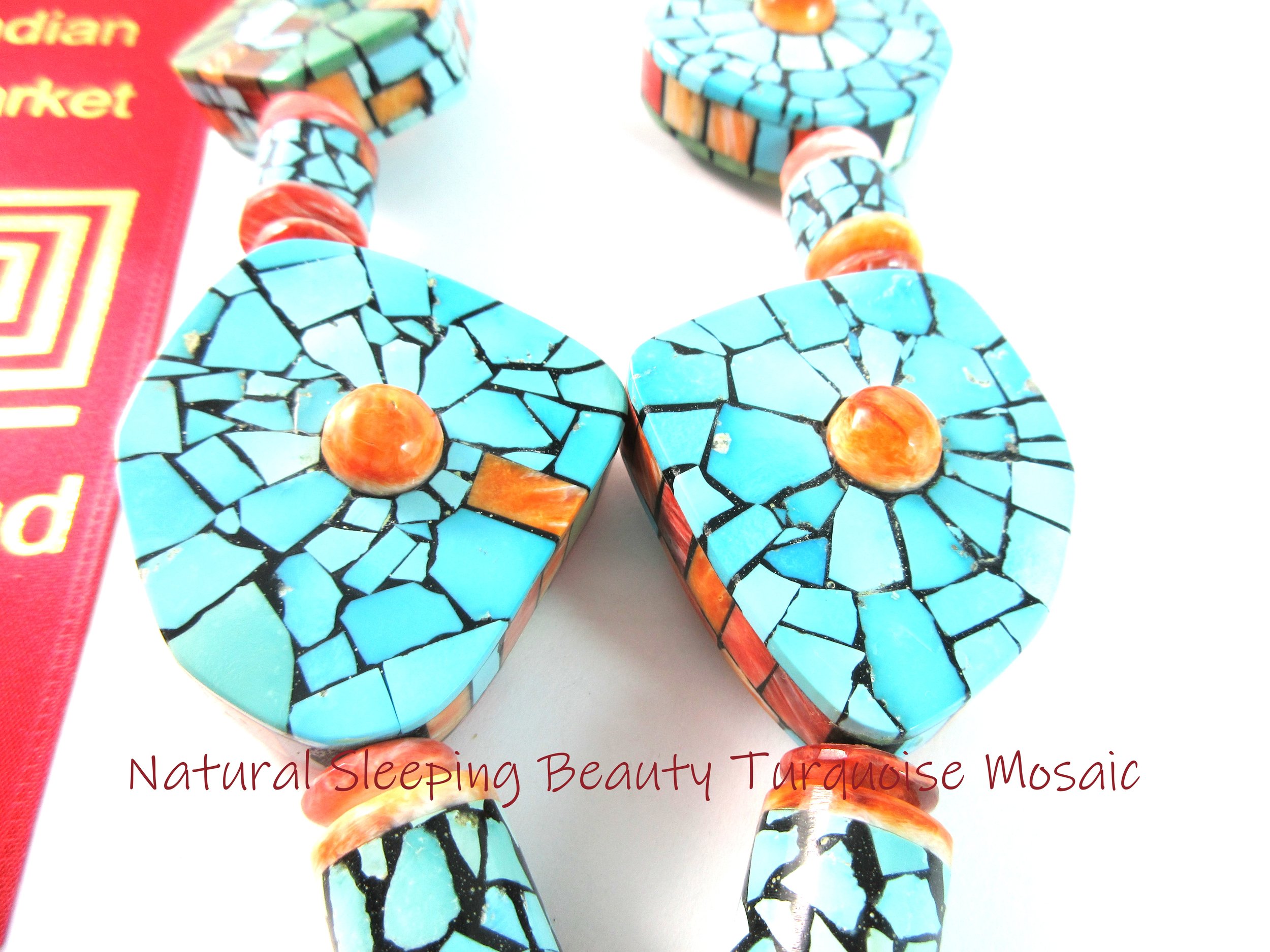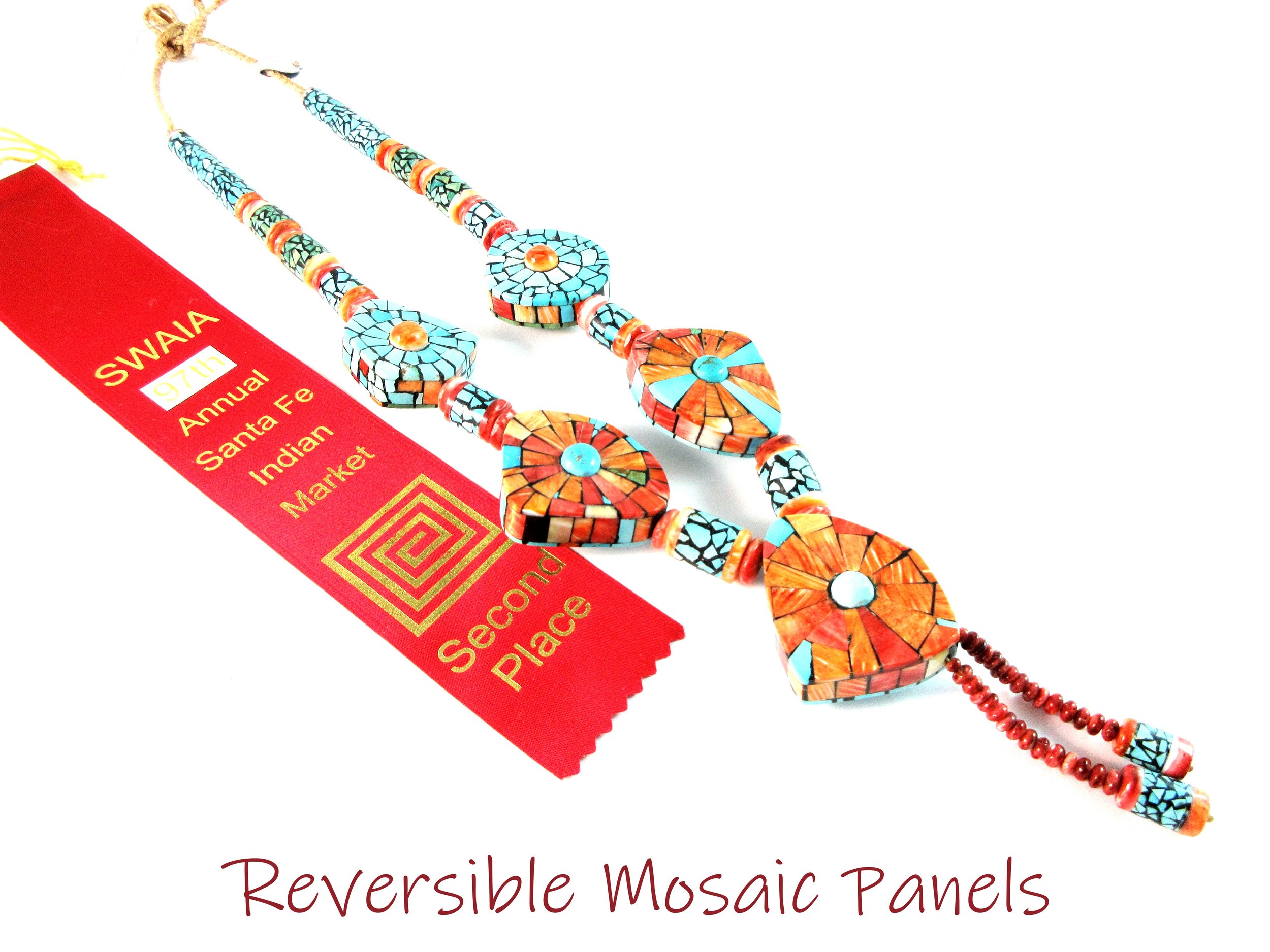 sale
Master Kewa Pueblo Award Winning Artist~ MARTINE LOVATO~ Multi Stone Reversible Turquoise Mosaic Necklace~ Comes with Award!
COMES WITH AWARD!
Martine Lovato is a veteran award winning mosaic artist from the Kewa Pueblo & is the uncle of Reyes Pacheco,who learned the proper art of mosaic from him & got to be so great at it,that her & her husband Farrell went on to win 1st place in the jewelry category at the 2018 Santa Fe Indian Market!!
It is quite obvious the years he has been doing this! He keeps it traditional by staying true to mosaic known to the Pueblo but puts a contemporary twist in all he makes.He has his own style that is recognizable by the way he cuts & lays his own stones for his phenomenal mosaic work.Mosaic is given new meaning with this necklace!
Working daily on this piece,& taking almost a 1/2 year to make,this is a piece that just can't be made overnight! Each & every single anything in this necklace is all hand cut & then like a puzzle,they are cut to fit in the right spots.Just in the cutting of all these tiny stones,is what validates all the hours,weeks, month's it took to make!
~~~~~~~~~~~
THE PANELS:
Choosing naturally formed Elk bone to mosaic atop of,the 5 large pieces are fully mosaic'd on top,bottom & all along the middle.
They are reversible(See photos) with the ones at the ends have natural vibrant Sleeping Beauty Turquoise on one side,green turquoise on the other.The ones closest to the center drop have primarily orange Spiny Oyster on one side,Sleeping Beauty Turquoise on the other.The center drop is designed with the latter.You can turn them however you like to wear them!! (I.E:You can turn them forward to have all the Sleeping Beauty facing front!)
~~~~~~~~~~~
THE BARRELS:
The "Barrels" are mosaic'd atop of Buffalo bone & are a signature look of Martine's. They are perfectly rounded & have snipped cuts of Sleeping Beauty turquoise that is sandwiched between a Spiny Oyster top & bottom..There are no lines of demarcation,so you can't feel where they begin or end!
~~~~~~~~~~~
THE HAND ROLLED BEAD DANGLES/SPACERS:
The technique of hand rolling beads is where one by one,each bead is originally cut from the larger rock of turquoise (or shell) & brought down in size so they can be worked with & then are rounded,sculpted,beveled over & over,one by one (via grinder) & then lastly the hole is drilled for stringing. Many artists choose to buy their beads,since taking time to hand roll them is very time consuming!!
You can witness Martine's skilled lapidary work in the red Spiny Oyster dangles & the 12.5 mm range orange spiny oyster spacers that sit between the barrels.
~~~~~~~~~~~
THE AWARD:
This necklace took 2nd place at the 2018 Santa Fe SWAIA Indian Market & the award comes with the sale.On the back of the award (no room to show in my 12 allowed photos~Email me to see the back if you wish!!) It has his name for winning the award & it was listed as "Reversible Set with Earrings".However,the sale is only for the necklace & the price that you see on there ($4500) is Martine's price, just for the necklace! When I got this from the family I only got the necklace & not the earrings. It also lists the 3 judges who honored him the award.
~~~~~~~~~~~
It is threaded through a 3 strand braided waxed tie,so it is nice & strong! There is no metal closure & you can adjust the length depending on where you tie it.
~~~~~~~~~~~
This is a Museum quality "Collector's" necklace & is truly a "Masterpiece" necklace & can be passed down from generation to generation & will only increase in value.
Perfect as a gift to one who really appreciates not only 'finer',authentic Native American jewelry, but jewelry that is still made with the power of the hand!
ARTIST: MARTINE LOVATO
TRIBE: SANTO DOMINGO PUEBLO/KE-WA PUEBLO
STONE: NATURAL SLEEPING BEAUTY TURQUOISE~ORANGE & RED SPINY OYSTER~NEVADA GREEN TURQUOISE
FULL LENGTH (UNTIED): 39"
LENGTH OF MOSAIC ONLY: 23" (WHERE THE STRING STARTS)
WEIGHT: 266 GRAMS (9.4 OUNCES)
MOSAIC PANEL SIZE:2" x 1-3/4" AVERAGE
MATERIAL: EPOXY/WAXED TIE
TECHNIQUE:HAND CUT STONE & SHELL LAPIDARY WORK/HAND ROLLING BEADS,MOSAIC,DESIGN
COMES BOXED
WILL BE SENT PRIORITY,INSURED,TRACKING PROVIDED,SIGNATURE CONFIRMATION REQUIREMENT.