Kewa Pueblo ~FARRELL/ REYES PACHECO ~ Turquoise Mosaic 'Sky'~ Turquoise Heishi 'Rain'~ Adjustable Leather ~Unisex Necklace~ Up to 60"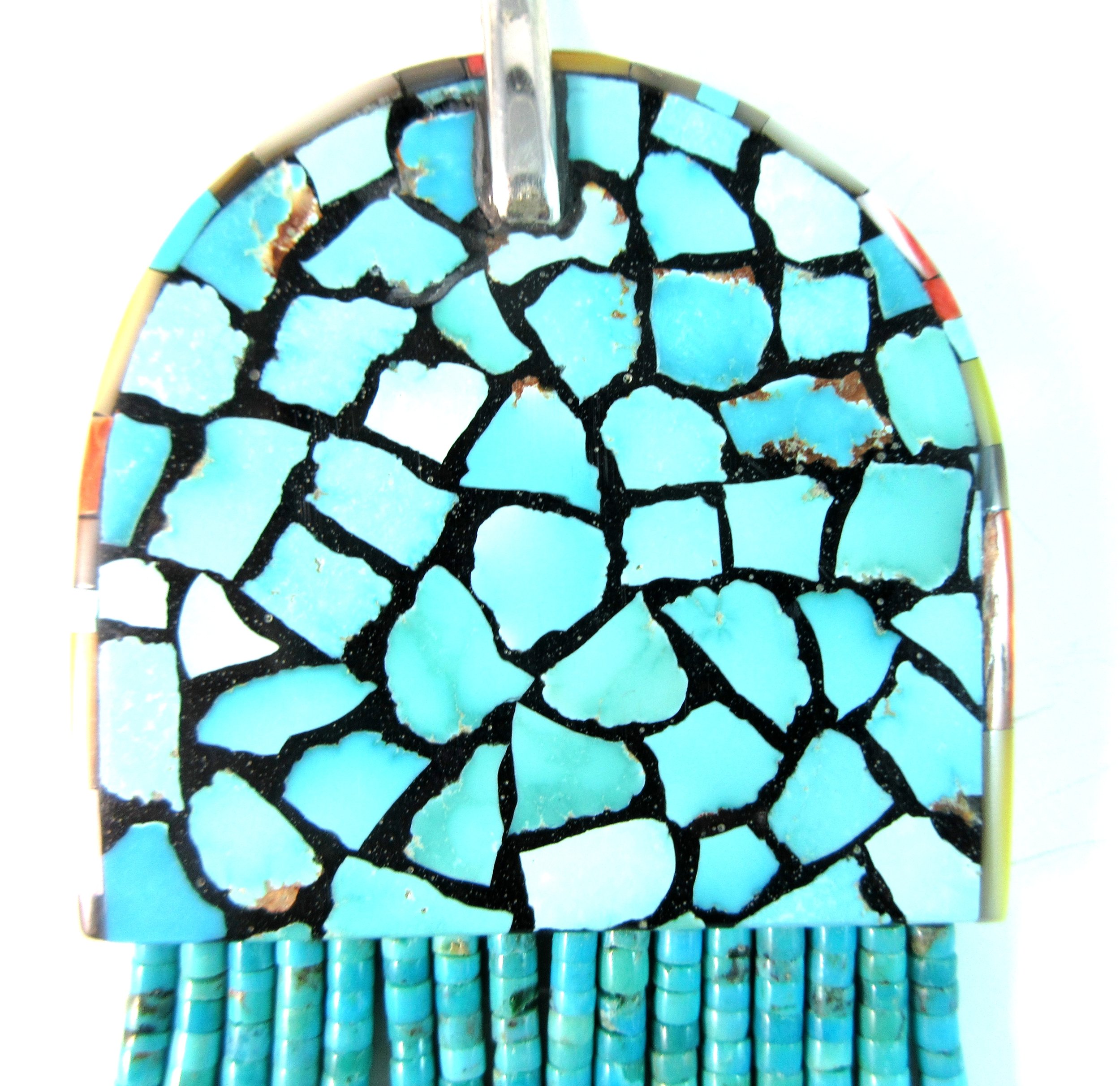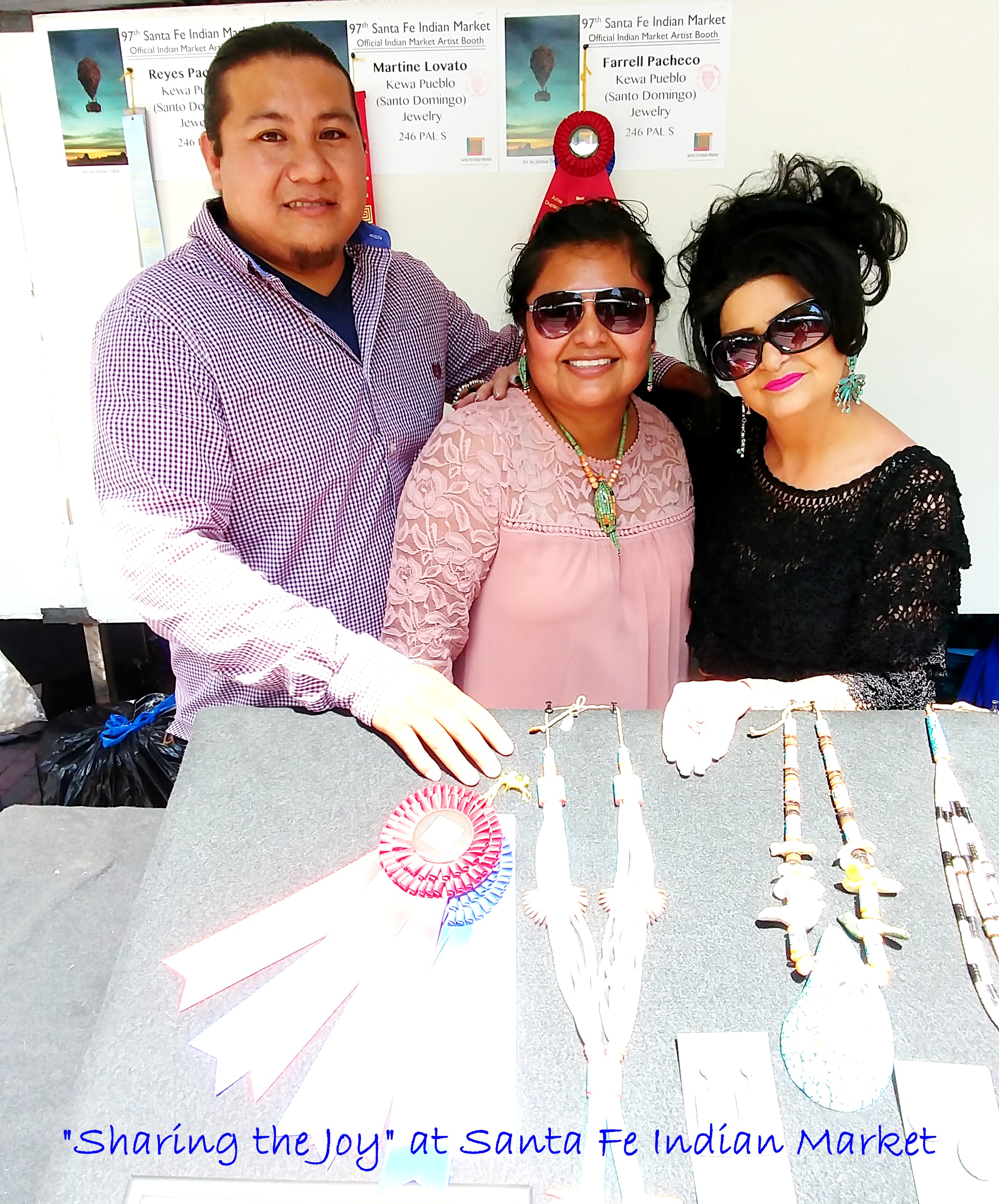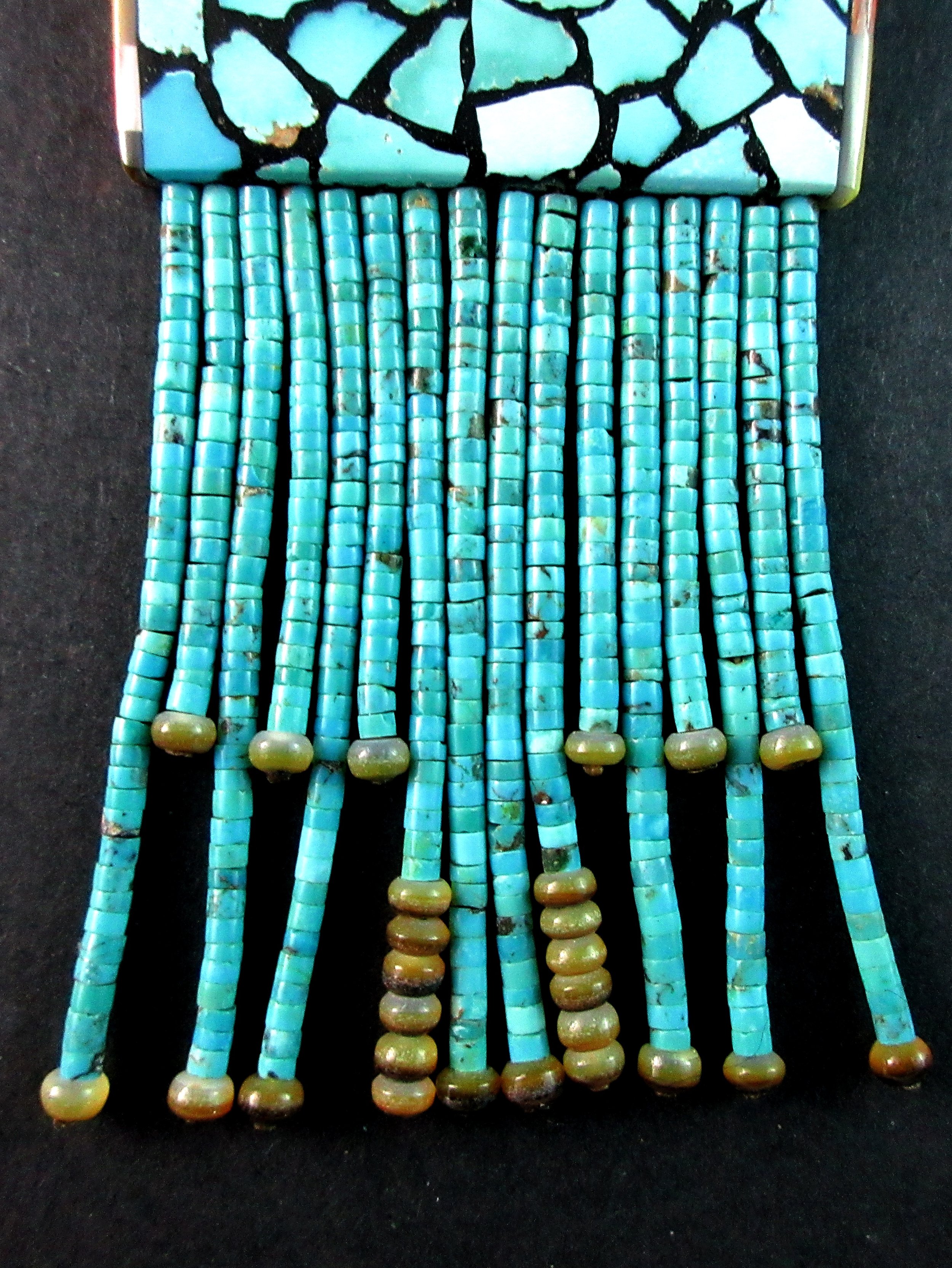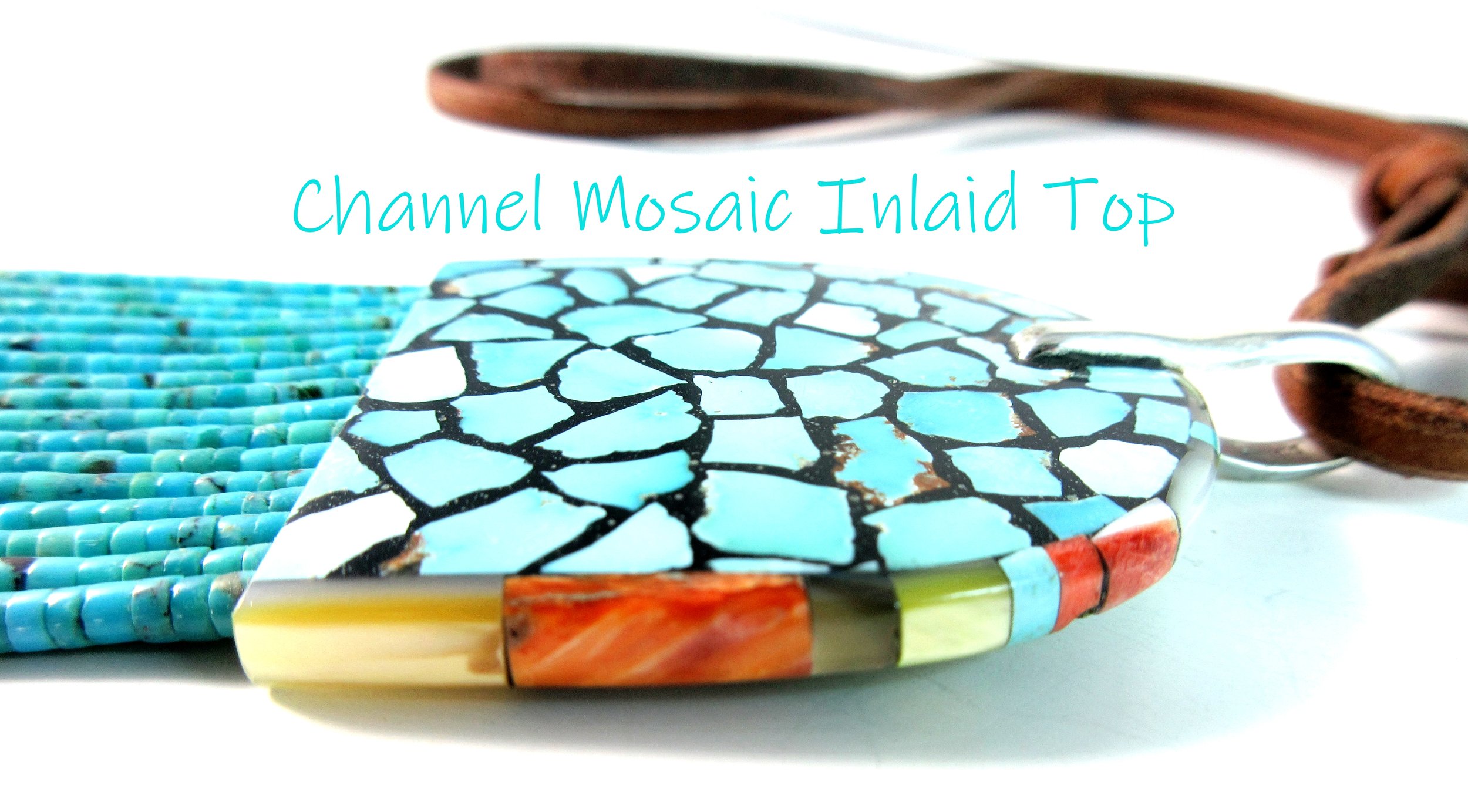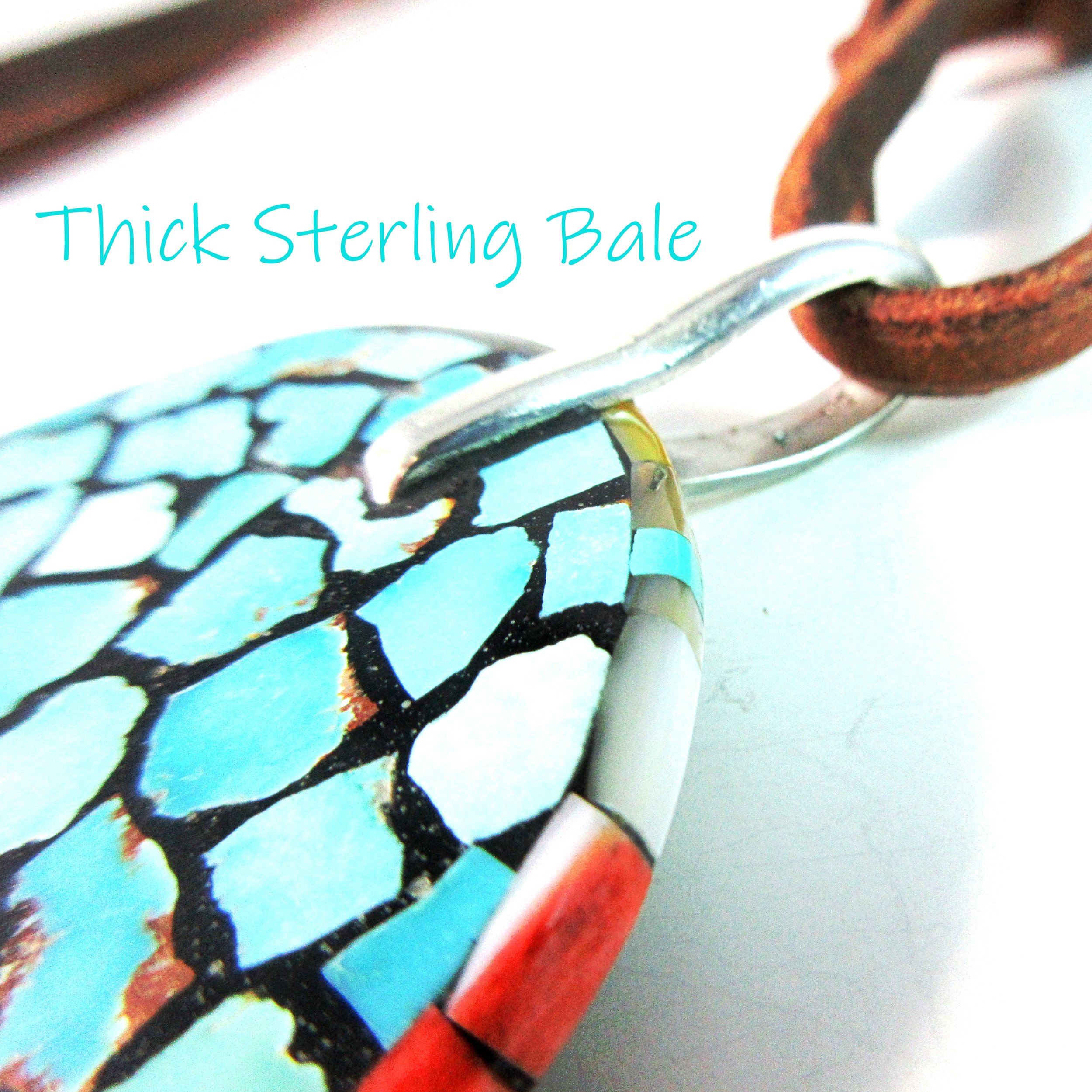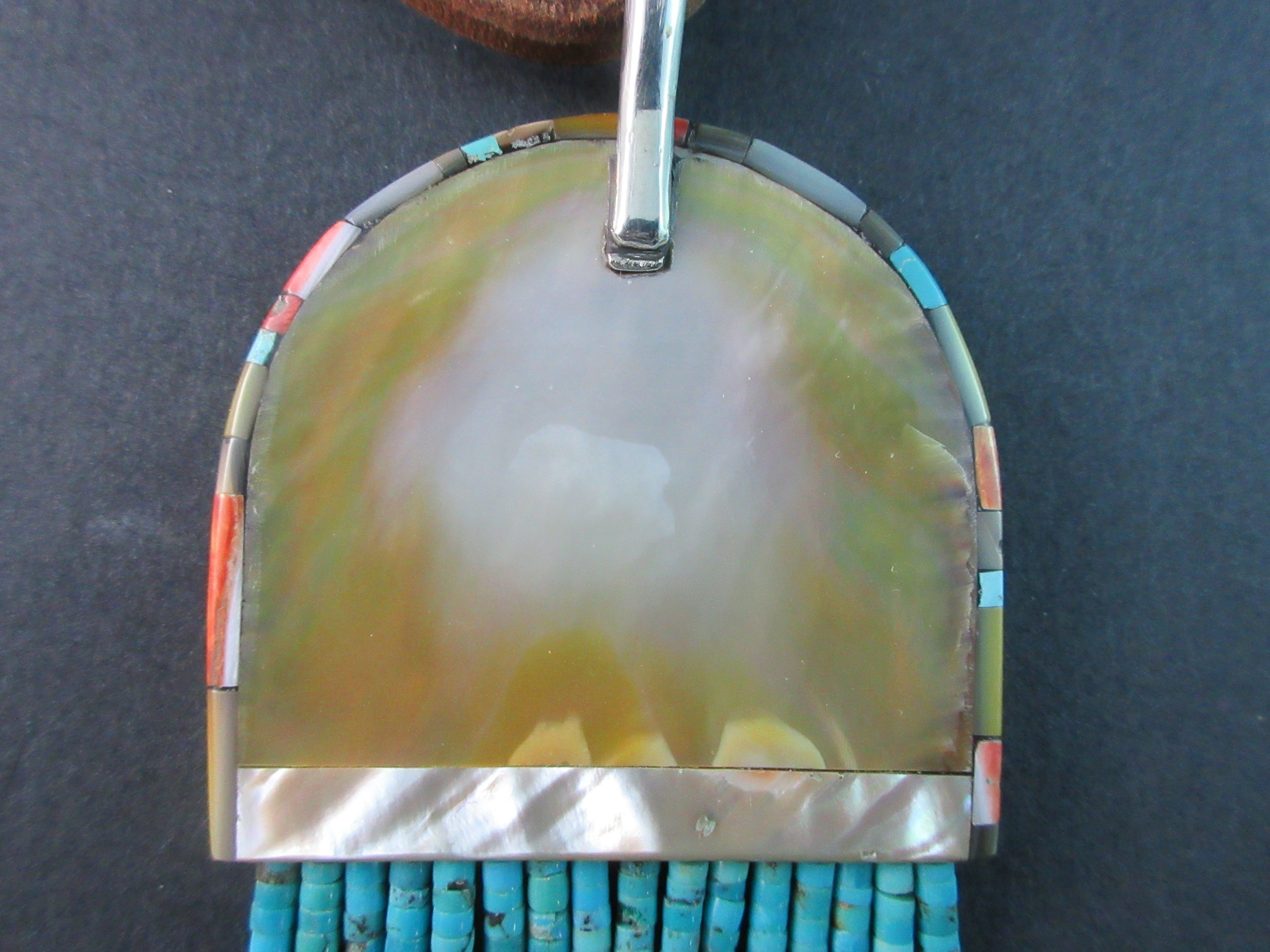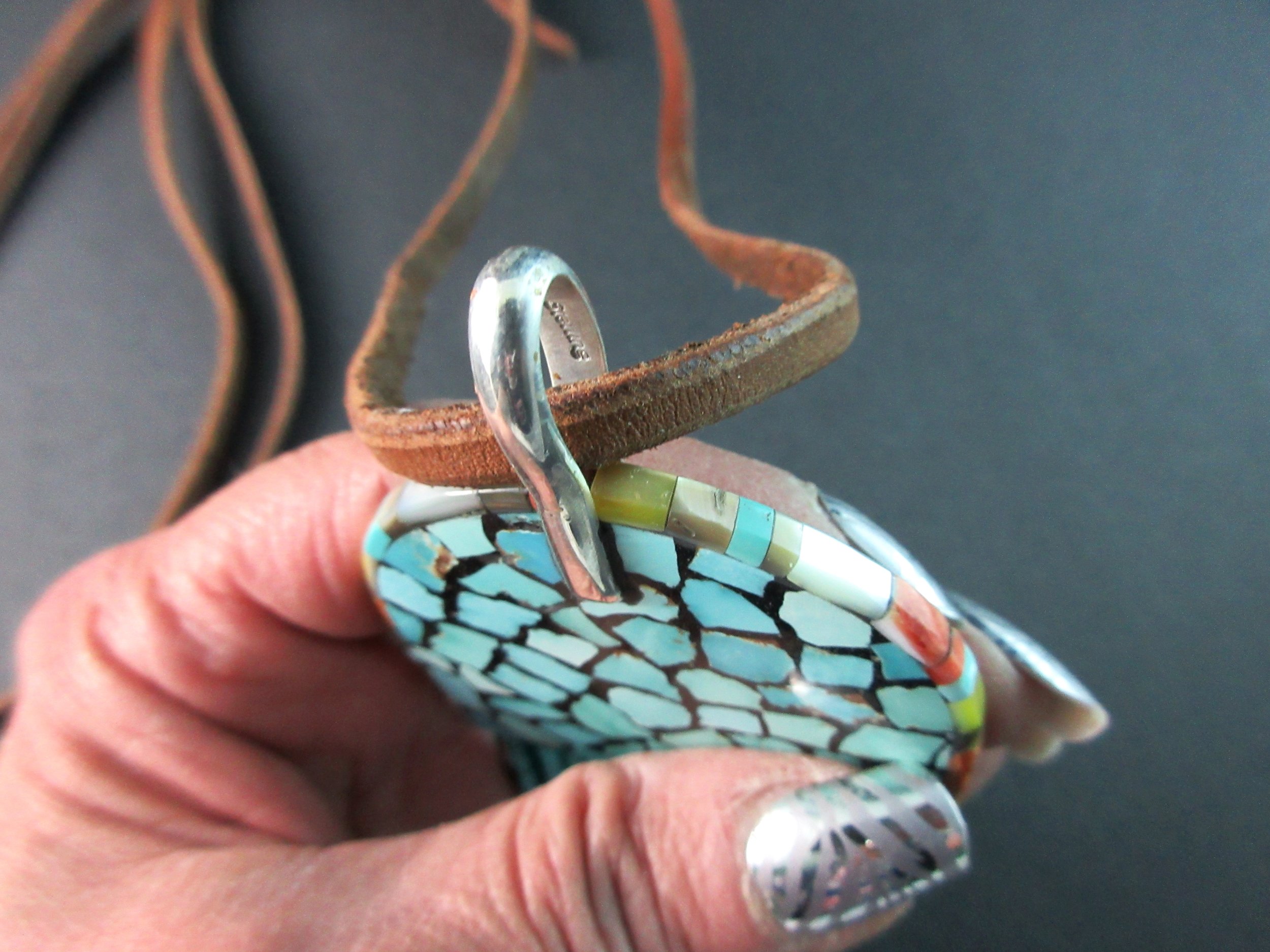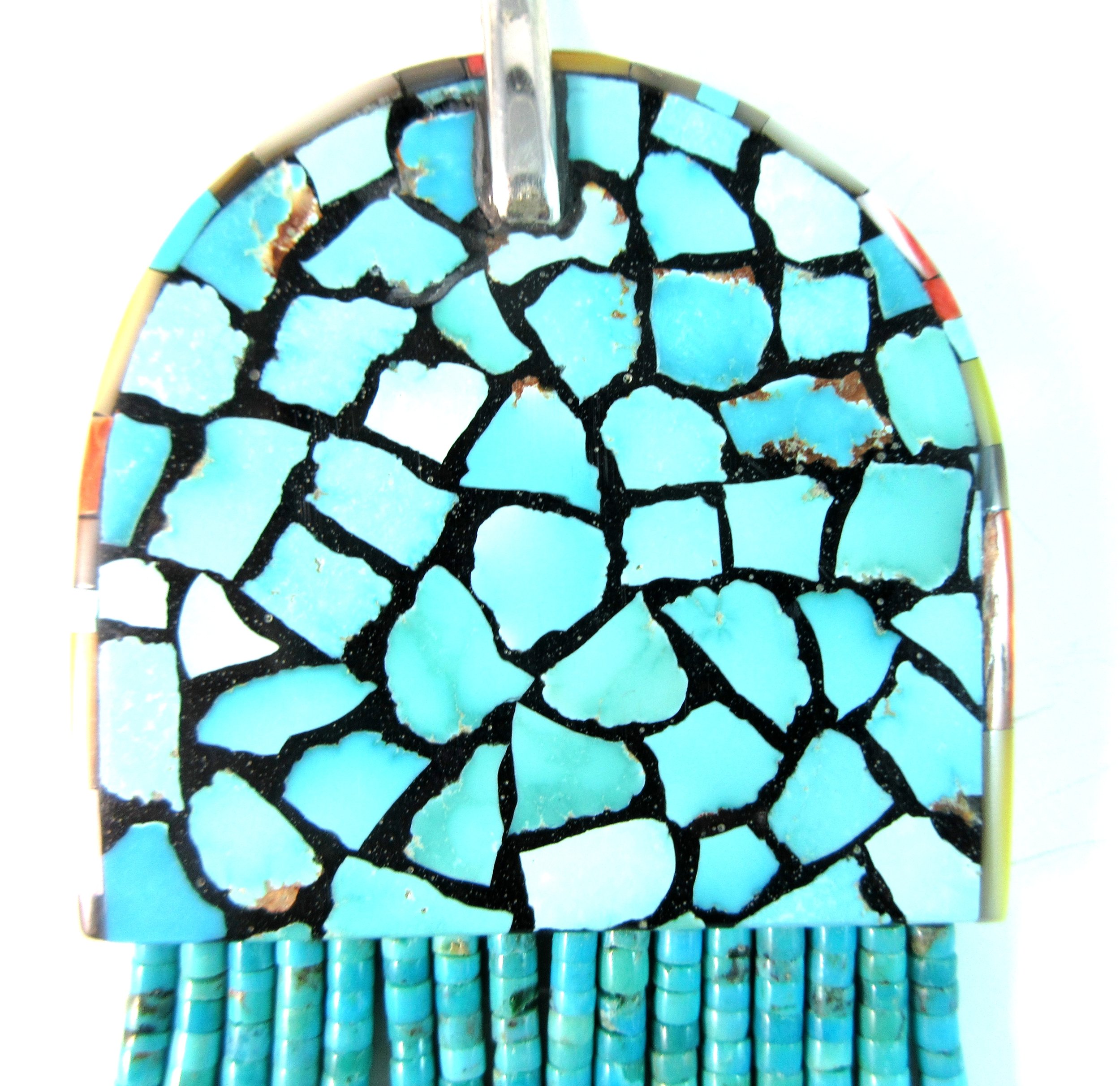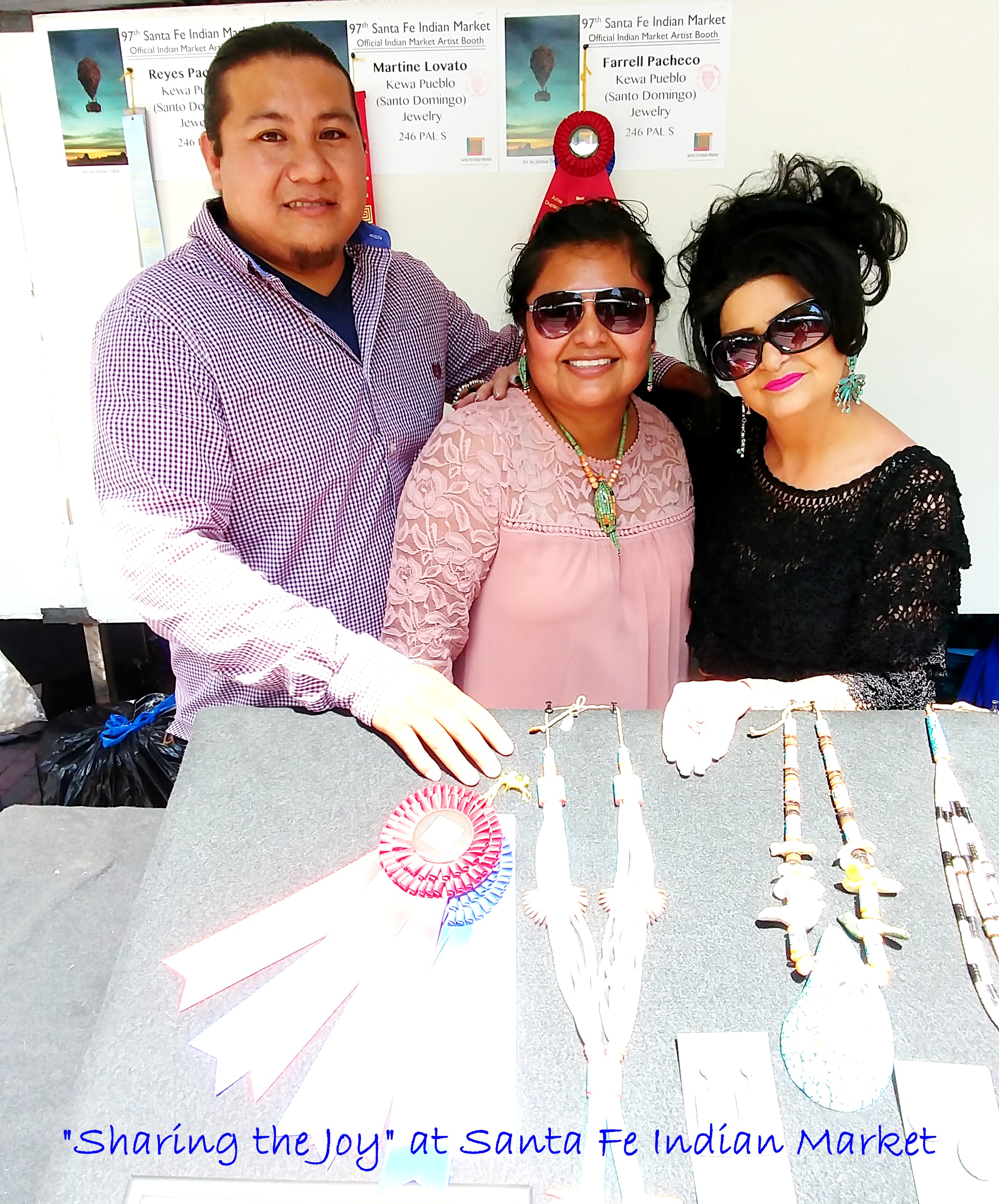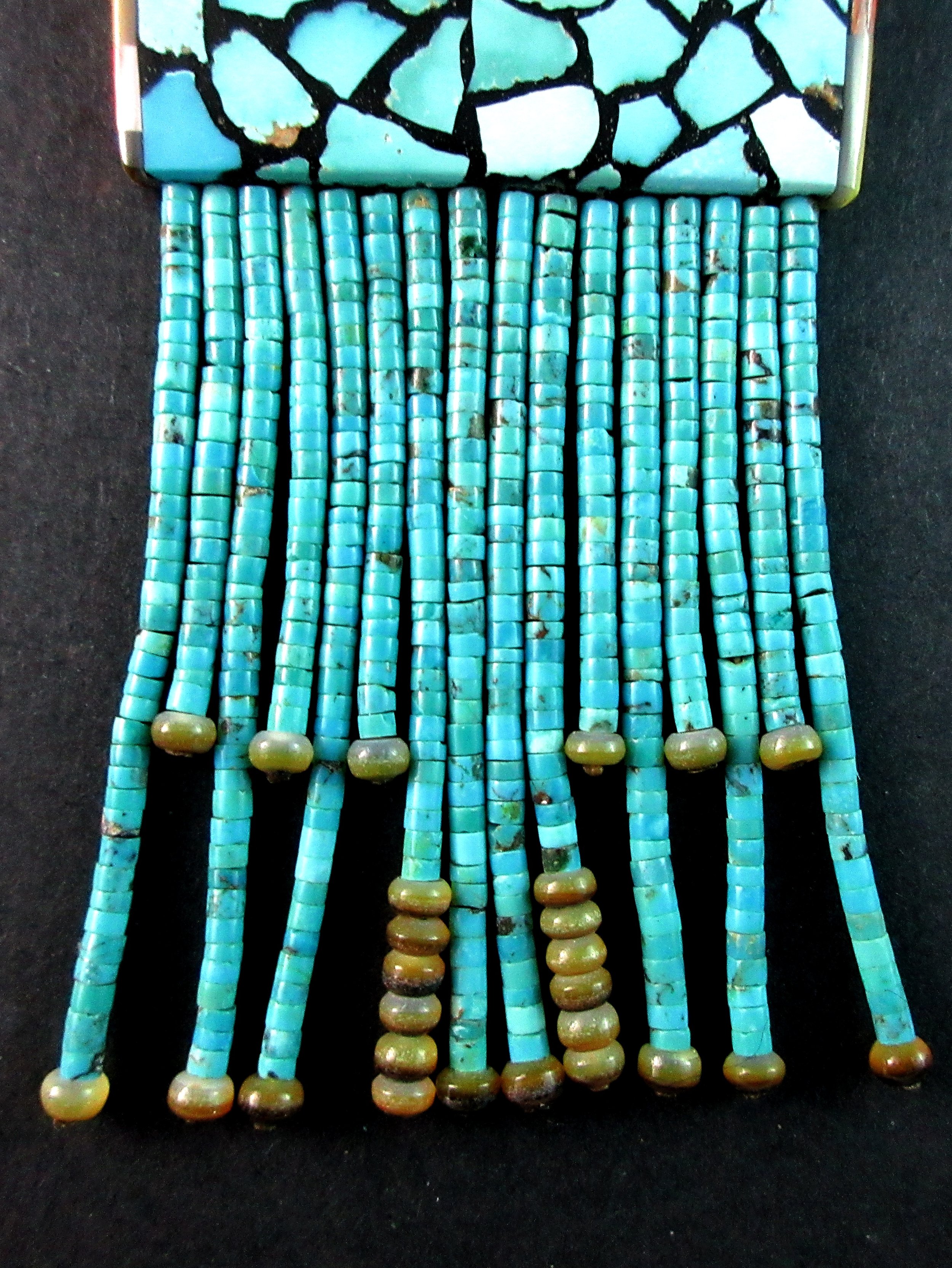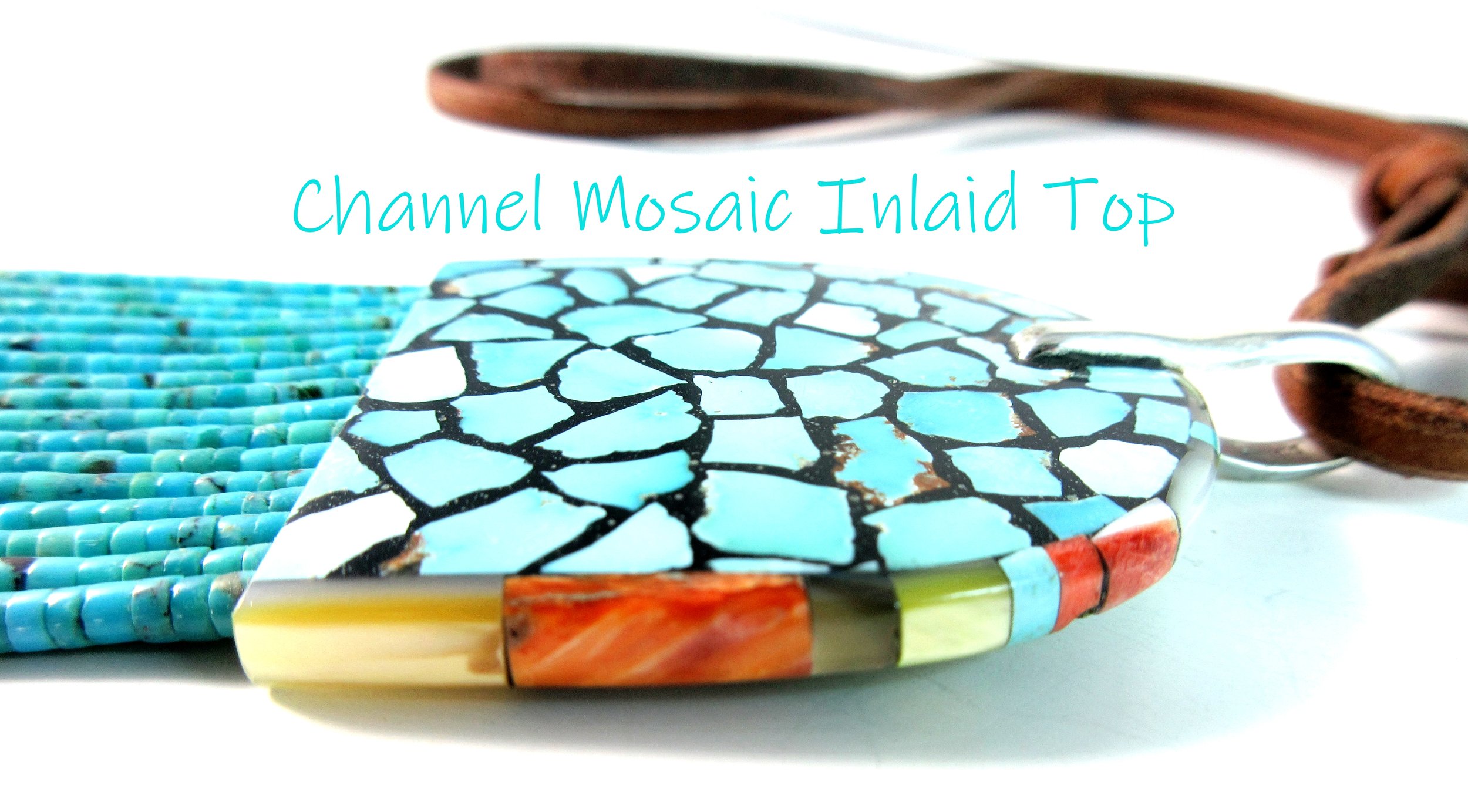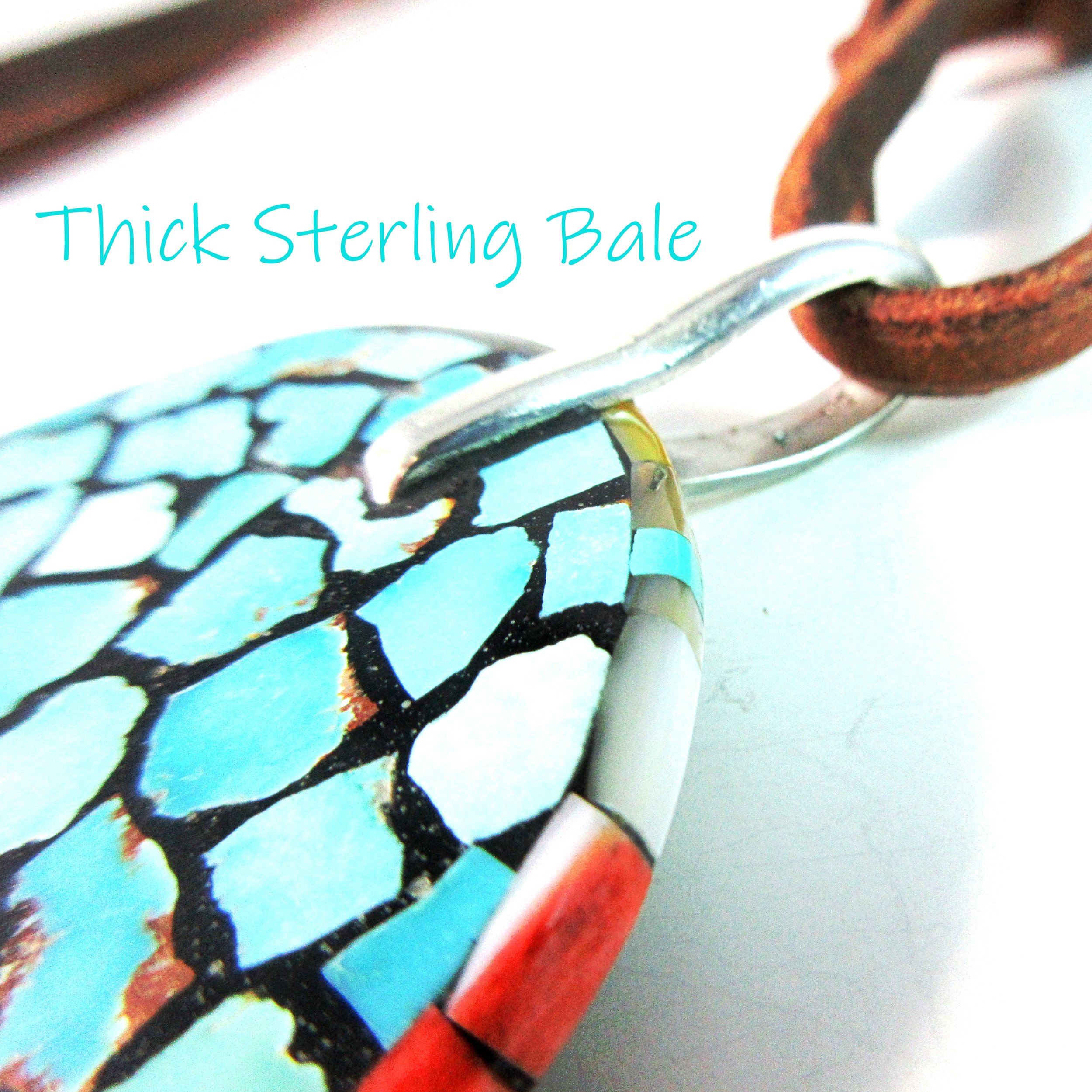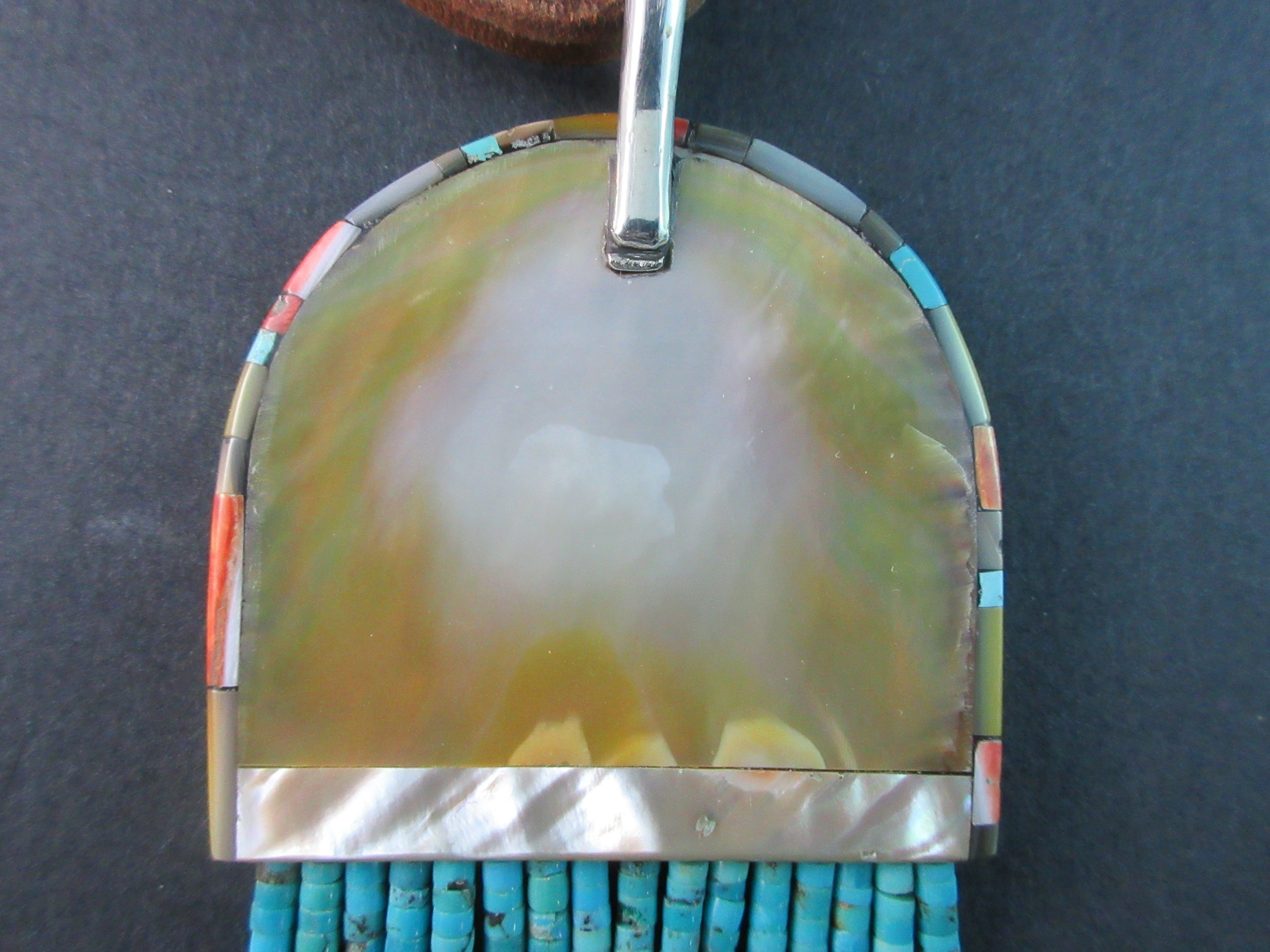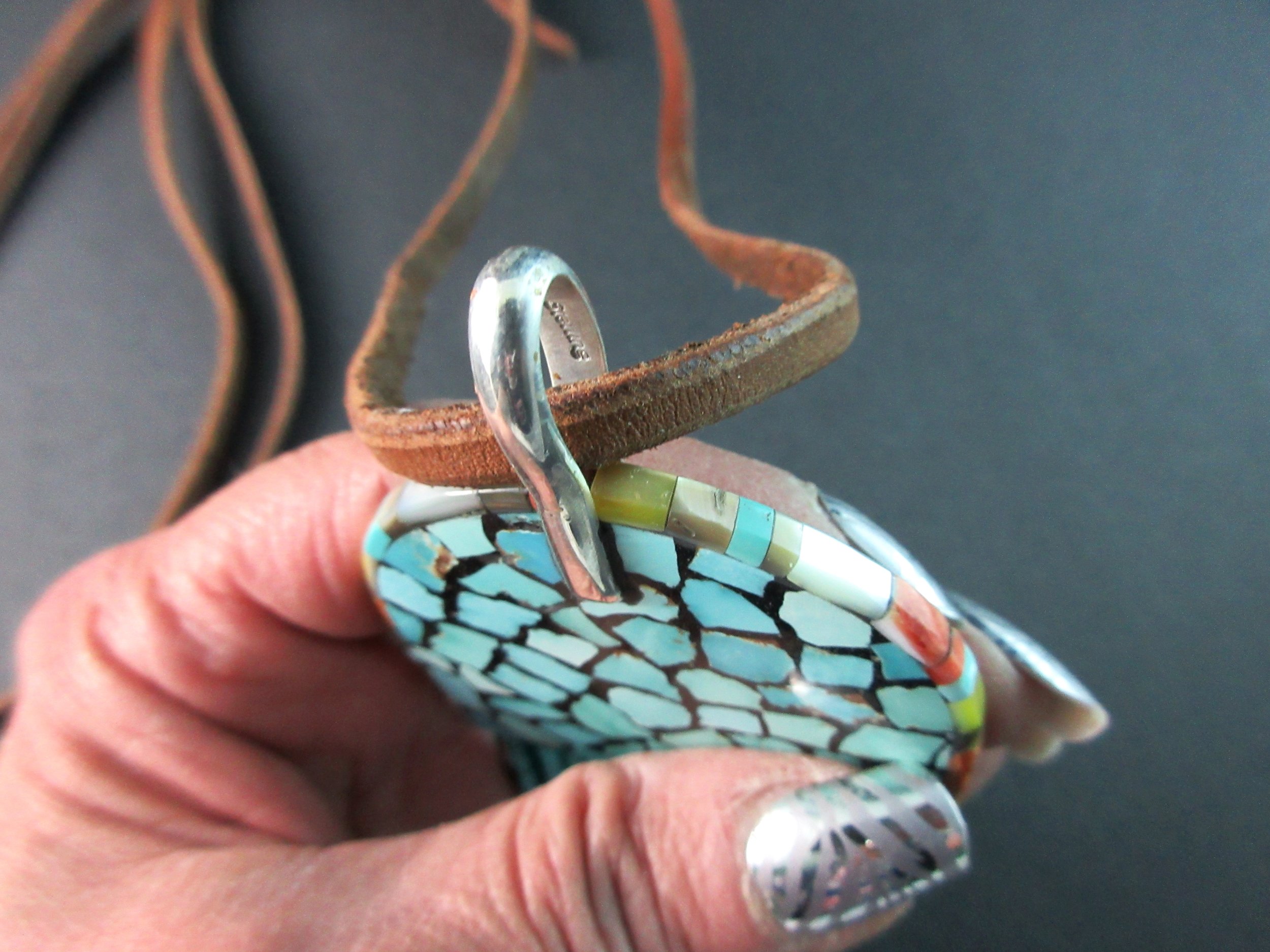 sold out
Kewa Pueblo ~FARRELL/ REYES PACHECO ~ Turquoise Mosaic 'Sky'~ Turquoise Heishi 'Rain'~ Adjustable Leather ~Unisex Necklace~ Up to 60"
~UNISEX~
PERFECT FOR MALE OR FEMALE!!
~~~~~~~~~~~~~~~~~~~~~~~
THE MOSAIC DROP:
In Pueblo jewelry,stones aren't always just placed together,but more times than not,there are actual Native meanings that are portrayed into the designs & are made to represent something,as well as tell a story.
This outstandingly made Pueblo necklace is designed where there is actual meaning behind the large mosaic drop representing the "Sky",while the Kingman turquoise fringed heishi strands represent the "Rain".
If you zoom in on photos,you will see where they connected the front & back together by channel setting a variety of materials that complete the piece! The back side is designed with personally,one of the most gorgeous of the shells "Gold Lip Oyster Shell",which has a wonderful gold color & has the color of the rainbow when you turn it toward certain lighting!
Inserted at the bottom of the base is the "Rain" that consists of 16 dangling strands of all hand cut Kingman Turquoise heishi & hand rolled beads of Gold Lip Oyster Shell that act as the stopper & accents. The technique of "Hand Rolling" beads starts from a larger size rock or shell & then cut into smaller size pieces where then one by one,they are rolled over & over & over by hand,sculpted,beveled & rounded (Via Grinder) until the bead is formed.
When Kewa artists are doing Heishi beads,9 times out of 10,stabilized turquoise is used unless noted..It is cost effective to use stabilized turquoise,because for one, there is so much waste when grinding & also because they need the 'hardness to cut.And 2, the price of what natural turquoise goes for & all the waste in cutting,the price would be extremely high! Natural however can be used with mosaic work since they are snipping the turquoise & not grinding,So in the mosaic front,they used only natural,good quality Sleeping Beauty turquoise!!
~~~~~~~~~~~~~~~~~~~~~~~~~
THE ADJUSTABLE HAND CUT HIDE STRAP:
Instead of buying the leather to make the job go faster,Farrell chooses to cut his own hide to make the necklace part! It is cut & then conditioned at least 2 X's with saddle soap,so it's nice & workable! I do not know how various knots are made,but the way Farrell does his are truly impressive!!
This is a 'slip-over-the-head' necklace that will accommodate either a man or woman's head..It is presently long,but if you want to go shorter or longer,you would adjust this,by moving the slip knot & then while holding on to one of the strands,you move the knot & it goes from being a double strand (Shortest) to a one strand! (longest) The total wearable length is a whopping 60" long! (Single Strand~Without Pendant) It only turns to a 1 strand if you move the knot.I can adjust this to any length you need if you email & let me know.It will come approximately 34" otherwise..But honestly,these look great when worn long!
This has a real western chic look & is the perfect piece to pair with denim & cowgirl/boy boots & you are out all casual!! It has a undeniable traditional Pueblo look but at the same time very contemporary & modern.
ARTIST:Farrell & Reyes Pacheco made exclusively for Plata de Santa Fe Jewelry
TRIBE: Kewa Pueblo (Santo Domingo Pueblo)
METAL: Thick Gauge Sterling Silver (Connection to the leather)
MAXIMUM WEARABLE LENGTH: 60 "(Single Strand~Without Pendant Drop)
PENDANT SIZE (with bale:5-1/2" X 2-1/4" (To longest dangle) WITHOUT BALE: 4-3/4" x 2-1/4"
WEIGHT: 2.5 Ounces (70 Grams)
MOSAIC MATERIAL: Sleeping Beauty Turquoise Mosaic,Hand Cut Kingman Turquoise Heishi Fringe~Gold Lip Oyster Shell~Abalone (Mosaic Front & Back)
MATERIAL AROUND MOSAIC CURVATURE: White Mother of Pearl~Gold Lip Oyster Shell,Orange Spiny Oyster Shell,Turquoise
Hand Cut Brown Leather
TECHNIQUE: Hand Rolling Beads,Hand Cutting Heishi, Mosaic,General Lapidary,Hand Cutting Hide,Original Design
HALLMARK: Only inside Bale~I work very closely with Farrell & Reyes,so I do guarantee this to be theirs! If you need something on paper,let me know!
**To see a wide variety of their work,click on"See other Items" when you are on my page & when you get to the next page,put their name in the search bar.I also carry "Martine Lovato's"work who is Reyes's uncle**