Award Winners~ Kewa Pueblo~ FARRELL/REYES PACHECO ~Hand Cut Baby Olive Shell Heishi with Turquoise Mosaic Drop Necklace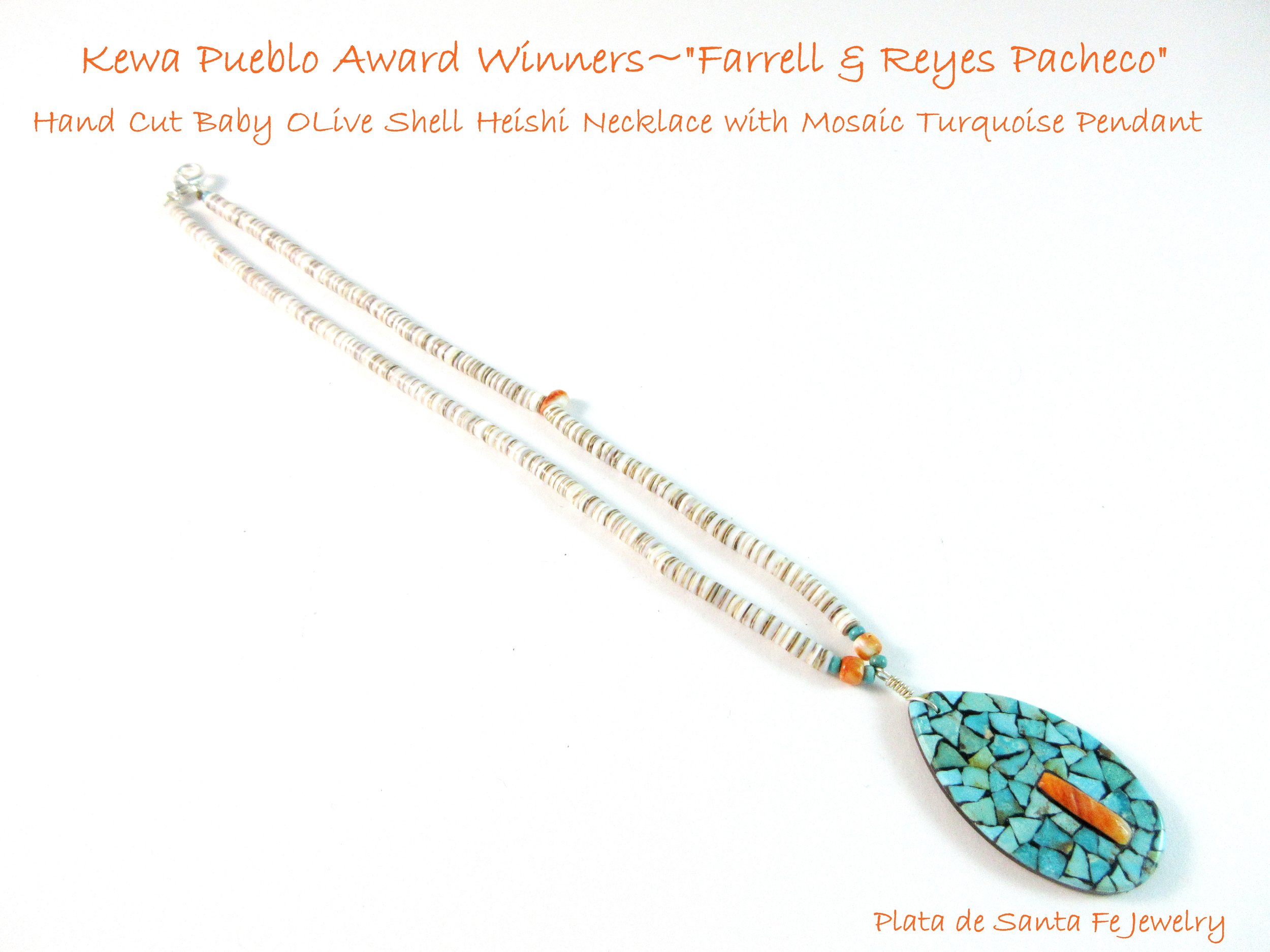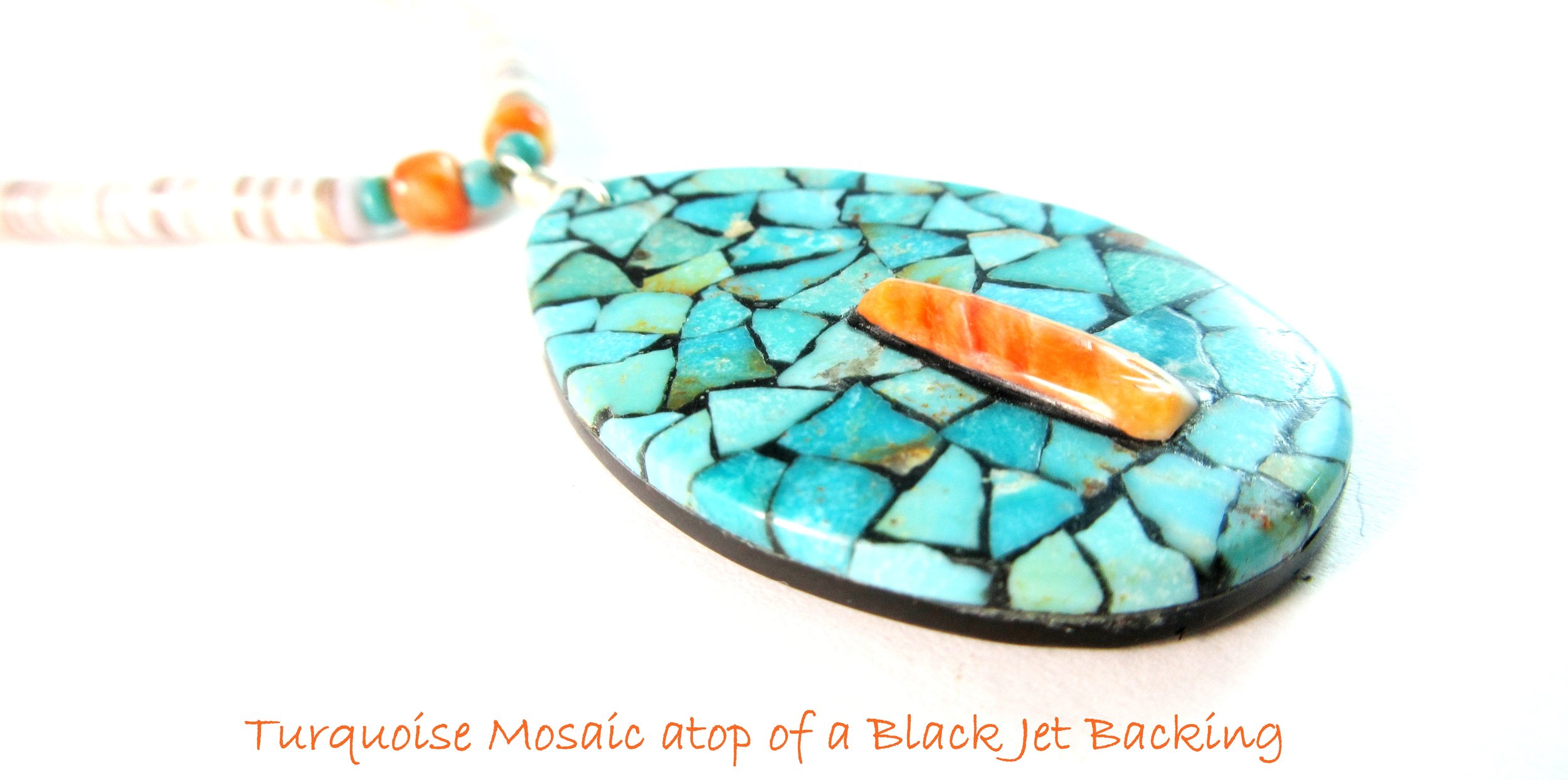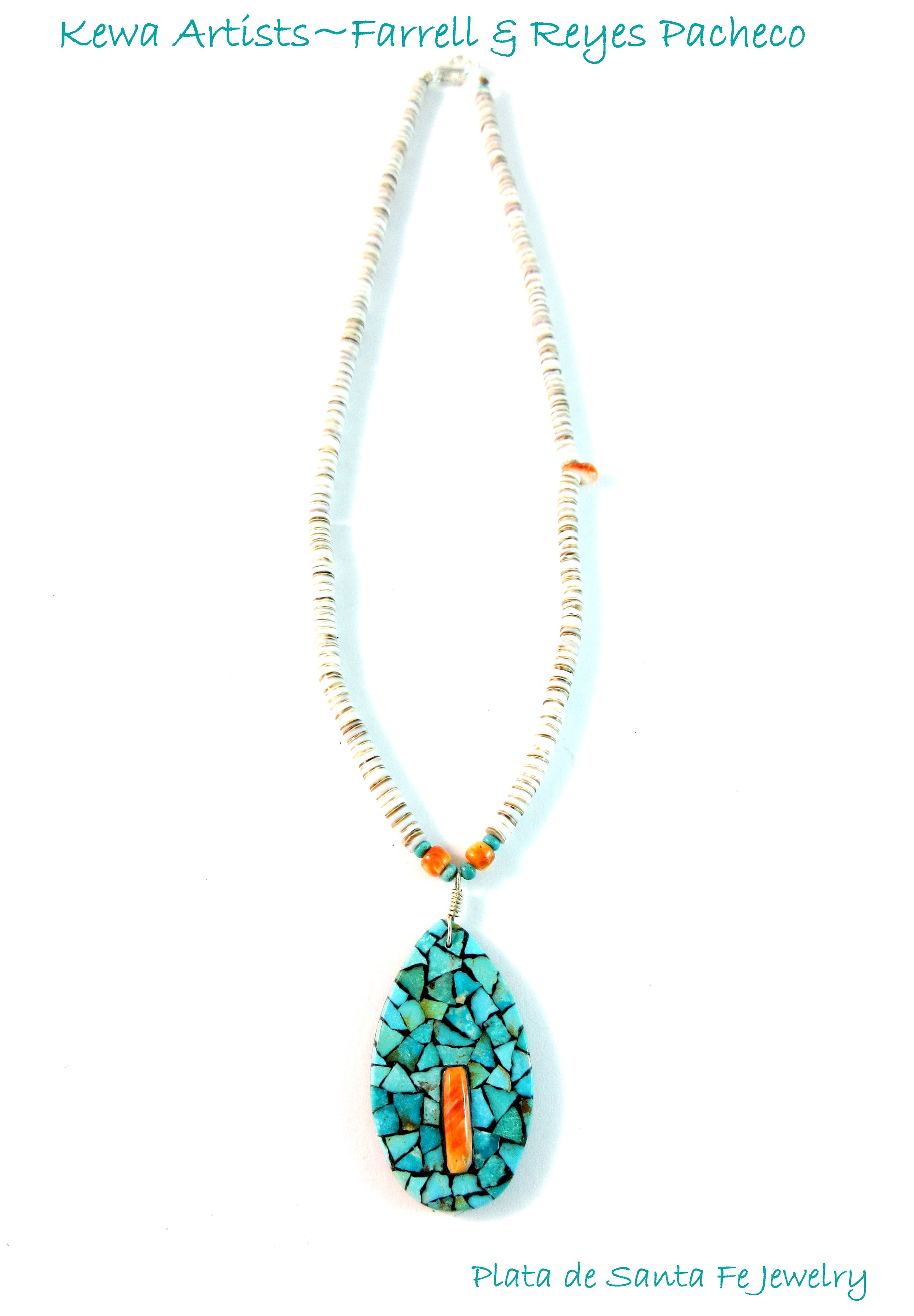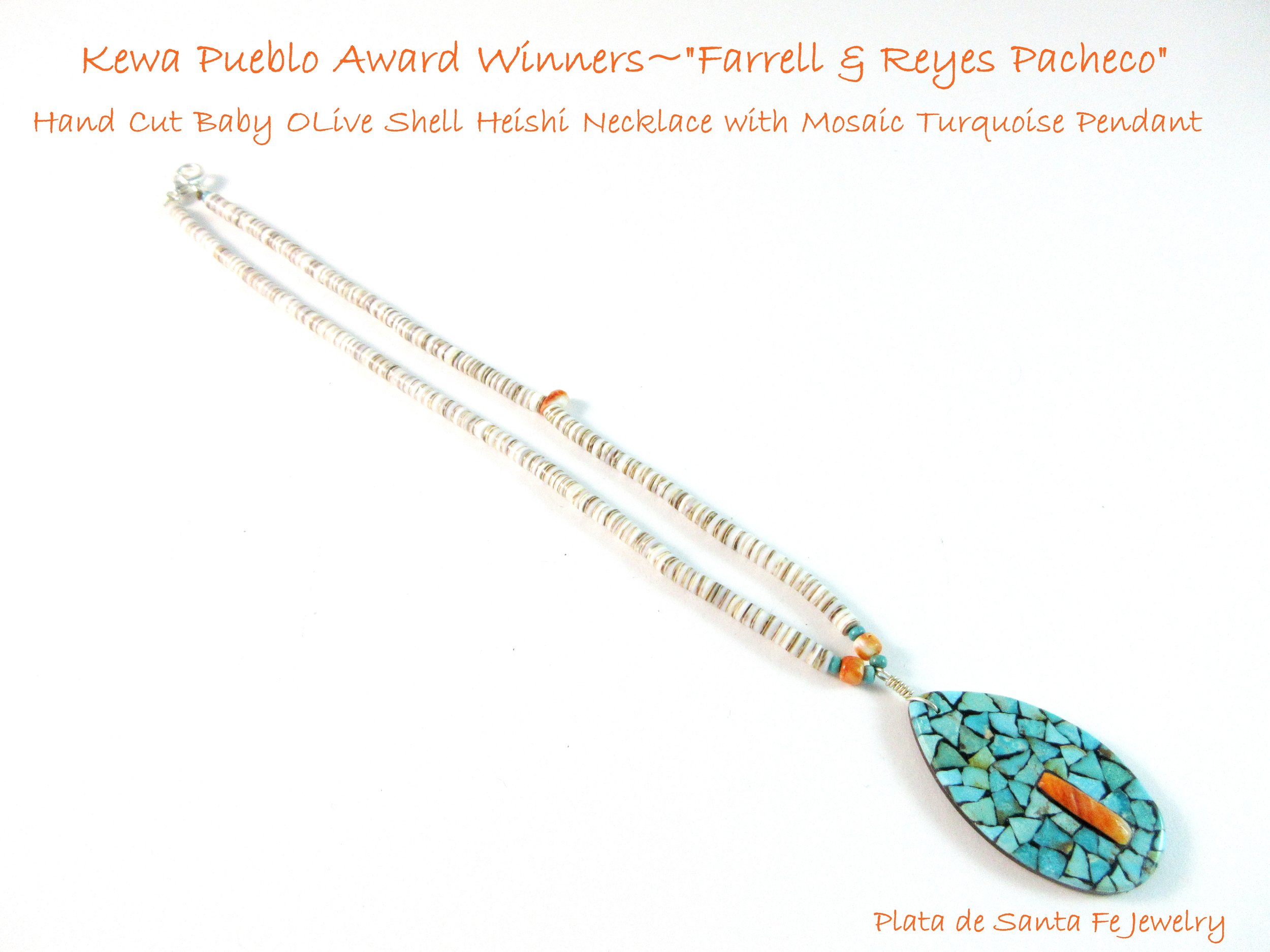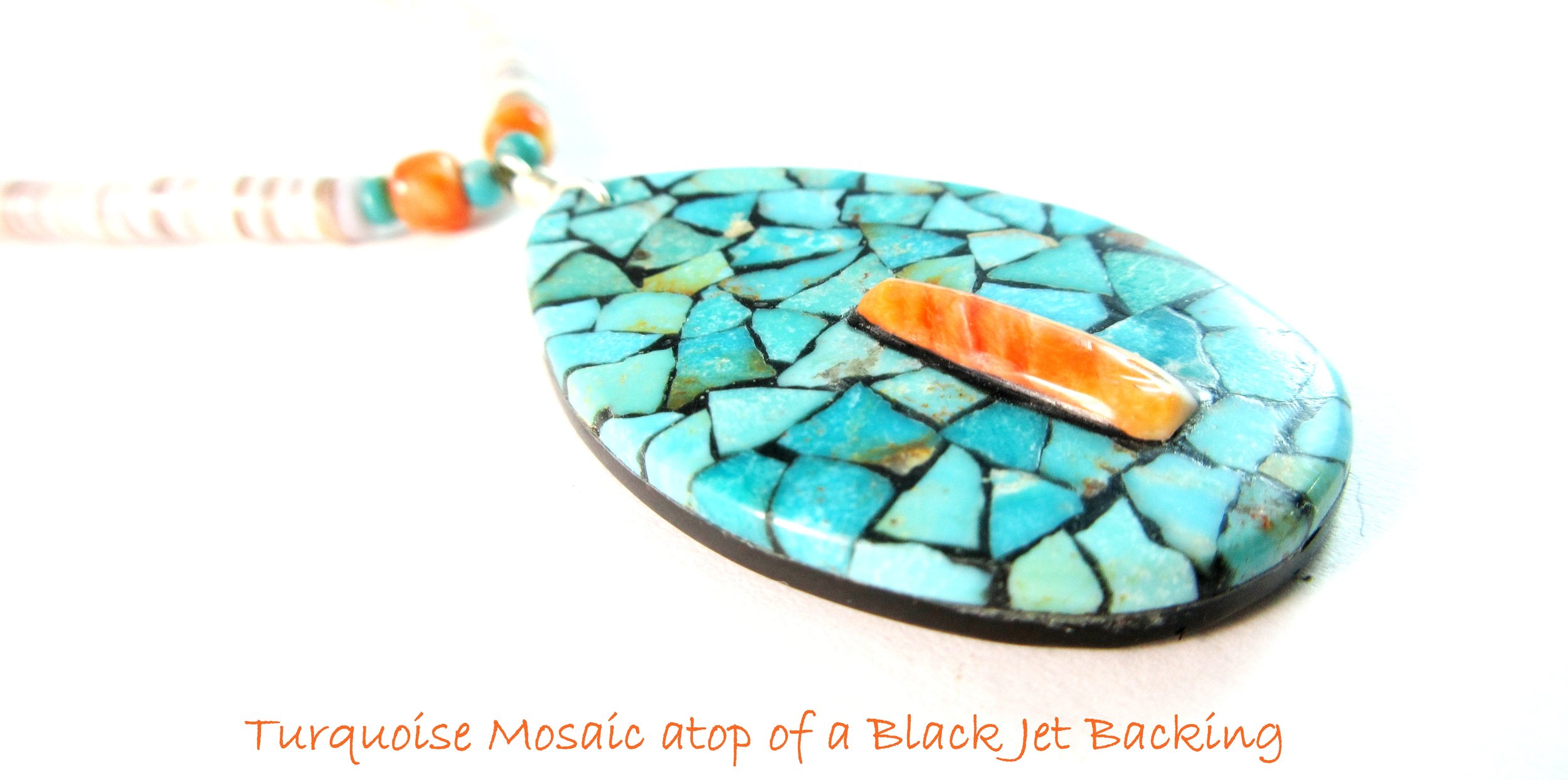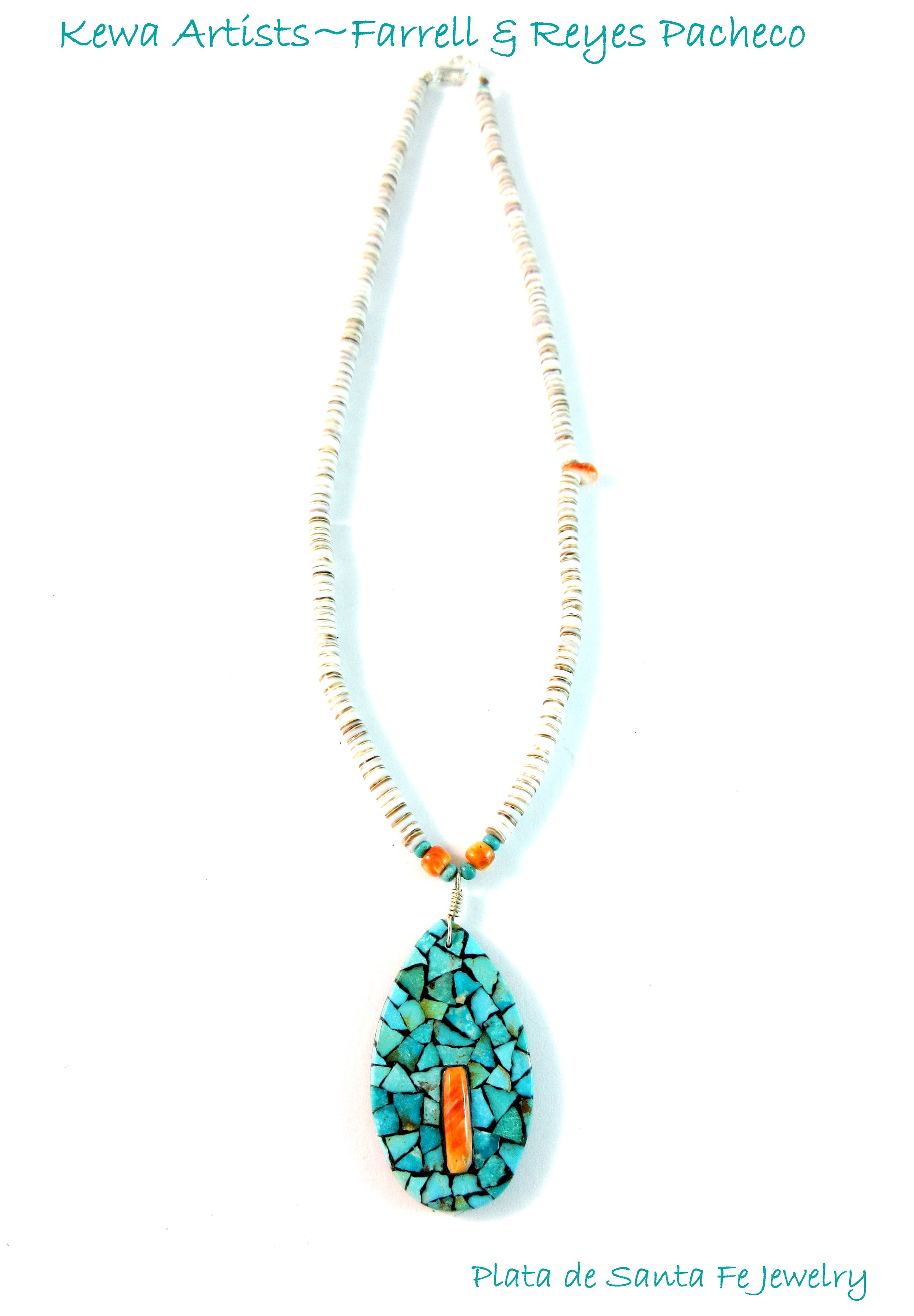 sold out
Award Winners~ Kewa Pueblo~ FARRELL/REYES PACHECO ~Hand Cut Baby Olive Shell Heishi with Turquoise Mosaic Drop Necklace
ABOUT FARRELL & REYES
This Santo Domingo Pueblo husband & wife duo are creating some of the hottest work that is being produced out of the Pueblo in modern day!Their work stood out so much that it caught the eyes of the judges at the 2018 Santa Fe Indian Market,where they ended up taking home the "1st Place Award in the "Best of Class" jewelry category,beating out literally all the 100's of jewelry artists that were showing there!(See photos)They are the 'New Generation' of artists that keep it traditional,while having a contemporary edge to everything they make!No,they are not your everyday artists that are making the same old thing,in the same old typical way..They take a fresh approach by creating jewelry made with the finest of workmanship your going to find!
You'll find their jewelry is different,aesthetically eye appealing,colorful & like past days from their ancestors where everything is literally made by hand..
Their work is the cleanest you'll find,with the most impeccable workmanship that is so perfect that you would think it was machine made! They use no calipers to measure to make their pieces as perfect as they are,but rather everything is done by eye & feel.They cut their own heishi,hand roll all the beads,hand cut their materials for their mosaic,etc..Nothing from any manufactures are used in their jewelry.
I am extremely proud to not only call them personal friends,but to be exclusive both online & in Santa Fe that carries their jewelry!
~~~~~~~~~~~~~~~~~~~
HEISHI NECKLACE DESCRIPTION:
Made in a simple one strand traditional style that Farrell cut all by hand that started from the whole shell.Making well cut heishi beads doesn't happen overnight & literally takes skill,know how & patience & Farrell validates this, in this very evenly cut necklace.It is made of baby olive shell which has a more cream color to it,rather than the darker more mature color that we normally see.The shell is cut in a even 4.5 mm range size bead.
Used for accents at both ends are 'hand rolled' turquoise & orange spiny oyster shell beads that also started from the larger size piece & via grinder,they are rolled & beveled over & over until the bead is formed.There is a tear drop shape spiny oyster piece that sits in the middle of the strand & what is called the "Spirit Stone".The strand is finalized with a sterling lobster clasp closure.
THE PENDANT:
The perfectly cut medallion shaped turquoise mosaic drop is created by Reyes..Reyes is a master mosaic artist & learned the art of traditional Pueblo mosaic from her award winning Uncle Martine Lovato. Reyes snipped all the turquoise that then fits together like a puzzle.It is wire wrapped to the strand & is non-removable.The turquoise is mosaic'd atop of Black jet & has a 4 mm thickness.Giving it a contemporary edginess is a vertically laid cut of vivid orange Spiny Oyster that works as the accent for the pendant.
This can be worn by just about any age,any gender! From teen male/female to adult! It's not over the top,but simply said in looks! Will work well with any western attire!
"Pueblo Jewelry at it's Finest"!!
ARTIST: REYES & FARREL PACHECO made exclusively for PLATA DE SANTA FE JEWELRY
TRIBE: SANTO DOMINGO PUEBLO/KEWA PUEBLO
STONE: BABY OLIVE SHELL HEISHI - KINGMAN TURQUOISE - ORANGE SPINY OYSTER~
HEISHI BEAD SIZE: 4.5 MM RANGE
WEARABLE LENGTH: 17" (WITHOUT PENDANT DROP - CAN EXTEND THIS TO A LONGER LENGTH BY GETTING (OR MAKING) AN EXTENDER)
WEIGHT: 23.6 GRAMS
METAL: STERLING LOBSTER CLASP & EYE CLOSURE
TECHNIQUE: LAPIDARY WORK,HAND CUT HEISHI,HAND CUT SPINY OYSTER SHELL & TURQUOISE,HAND ROLLING BEADS
HALLMARK: NONE~BUT GUARANTEE THIS TO BE THEIRS!