Mexican Well Designed TURQUOISE Tooled Leather Cut Out Design Hand Made Purse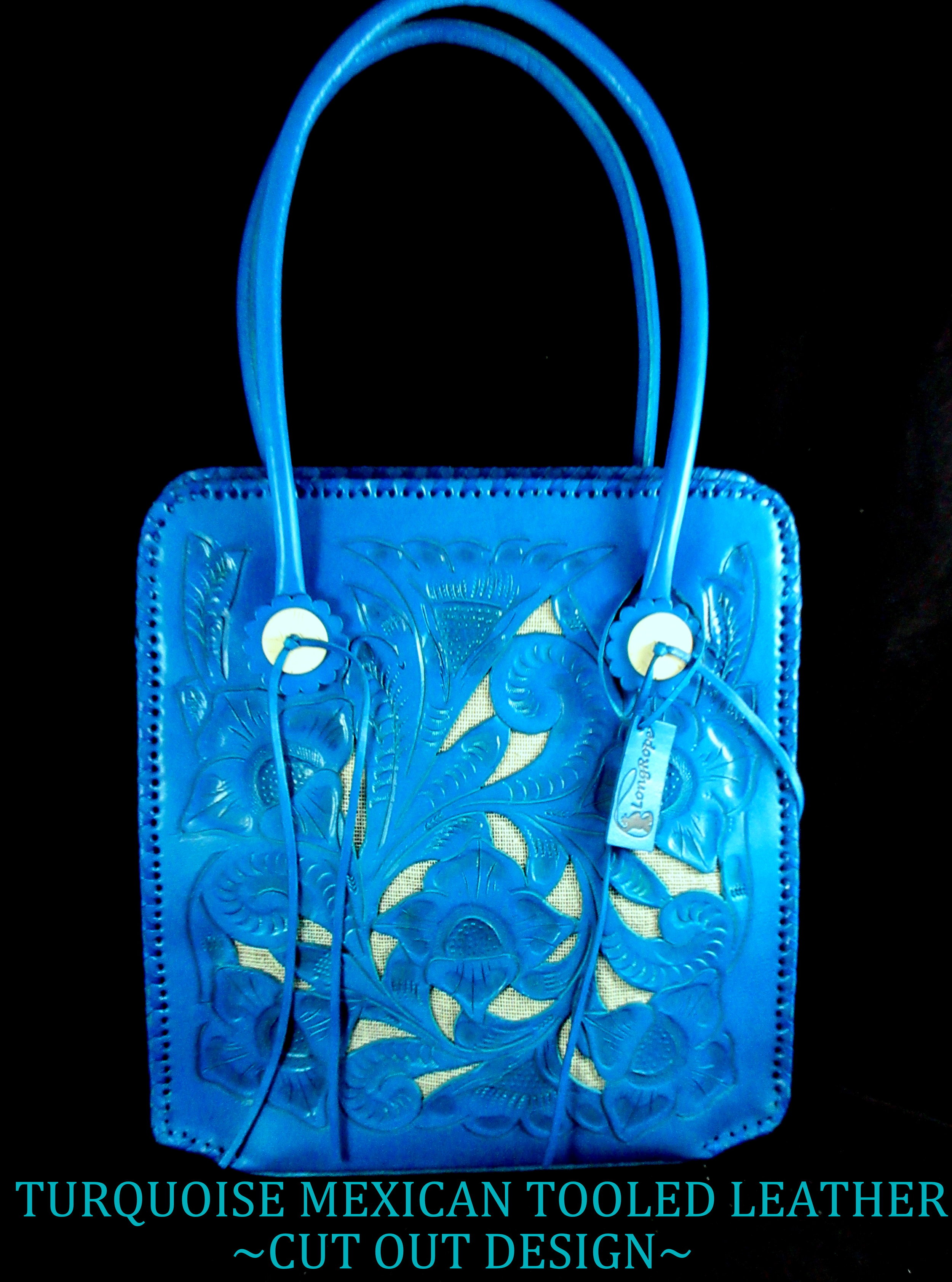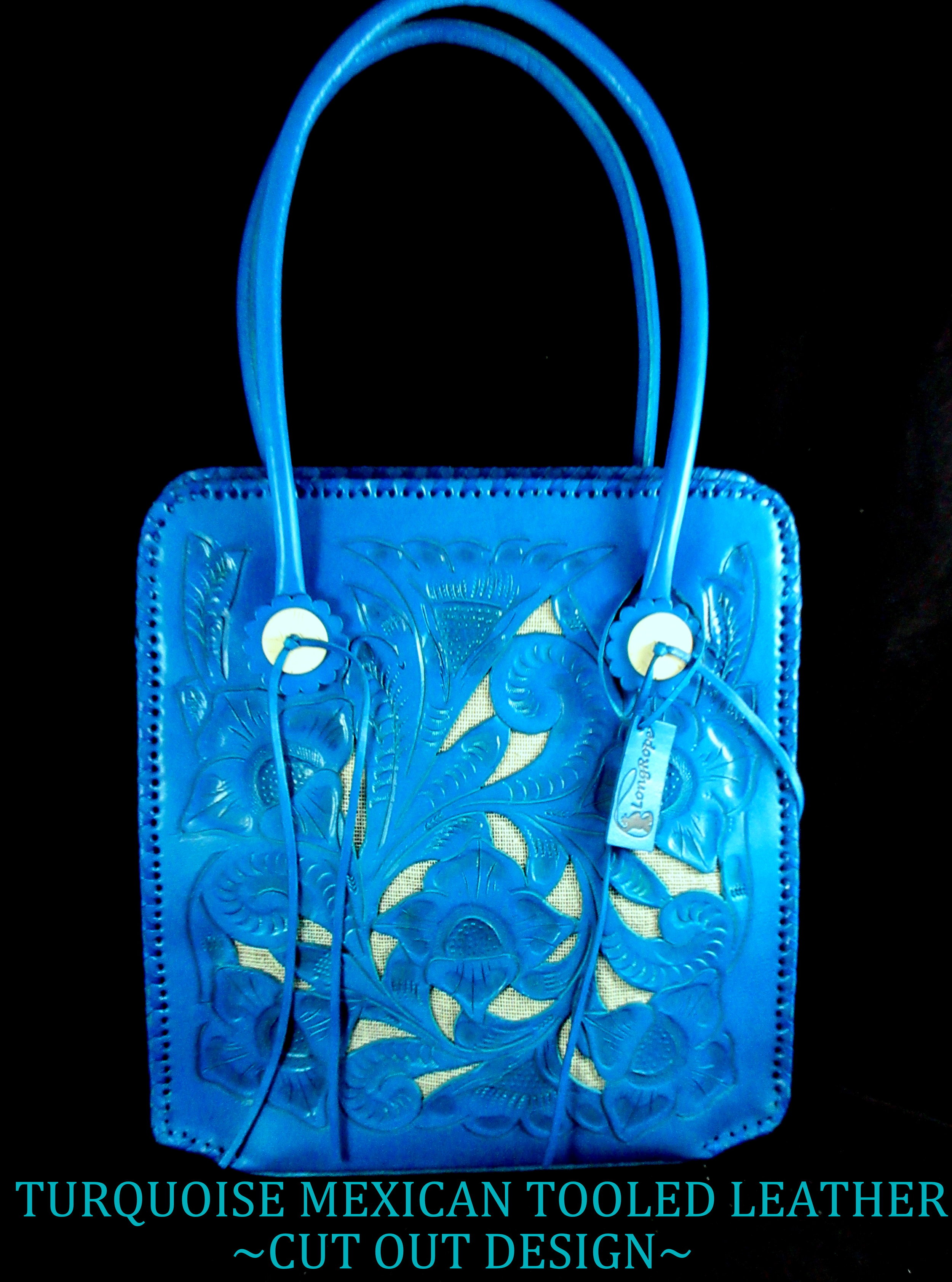 sale
Mexican Well Designed TURQUOISE Tooled Leather Cut Out Design Hand Made Purse
Artistically & Attractively designed like a piece of art! Not only is the work shown off on this incredible turquoise blue,but the design itself is equally as gorgeous!
The turquoise leather is all cut out & is accentuated on top of a natural color jute.Not sure what kind of flowers they are,but are placed all over the front & backside with climbing vines.It won't matter what side you carry this on,since both sides have the same design.The leather is a durable,strong weight & all the borders are whip stitched by hand.At the bottom of the handles are cut out leather flowerettes with a ivory color accent of bone with streams of the leather hanging.
It is on the larger side & has a deep inside,so you can carry quite a bit & also not have to worry about anything falling out.The handles are rounded & strong & long enough to throw this over the shoulder or short enough to hand carry it..The interior is fully lined in suede.
This is one quality purse,that is made with this vibrant turquoise blue & has the ability to brighten any wardrobe OR turquoise jewelry collection it is carried with!Has that true Southwest/Mexican/Western Cowgirl Chic look!
SHIPPING PRICES FROM POST OFFICE ARE BASED ON 3 THINGS:
WEIGHT,DIMENSIONS OF BOX & HOW FAR THE BOX TRAVELS FROM ORIGINAL LOCATION TO DESTINATION.IF ONE OF MY PURSES HANDLES DO NOT FOLD DOWN,THEN OF COURSE IT NEEDS A LONGER BOX.A LONGER,LARGER BOX,MEANS A BIGGER PRICE FOR THE POST OFFICE..I HAVE NO CONTROL OVER THIS.. IF I FIND AT TIME OF CREATING SHIPPING LABEL,THAT IT DID NOT COST AS MUCH AS WHAT I CHARGED,I WILL REIMBURSE YOUR ACCT.,LESS MATERIAL FEES**
MADE BY: LONG ROPE
MADE IN: GUADALAJARA MEXICO
COLOR: HAND RUBBED/APPLIED "TURQUOISE BLUE"
TECHNIQUE: CUT OUT/OVERLAID DESIGN,HAND TOOLING,WHIP STITCHING,MACHINE STITCHING,HAND RUBBED DYED
MATERIAL: LEATHER EXTERIOR/SUEDE INTERIOR/NATURAL JUTE
PURSE HEIGHT: 14" TALL
PURSE WIDTH: 13"WIDE
DEPTH: 3-3/4"
STRAP DROP:9"RANGE (FROM TOP OF STRAP TO BASE)
INTERIOR ZIP COMPARTMENT MEASUREMENT: 5-1/2"-6" RANGE
ADDITIONAL FEATURES:CELL PHONE INTERIOR COMPARTMENT,1 INTERIOR ZIPPED COMPARTMENT
LABELED: LONG ROPE
STYLE: COWGIRL CHIC/MEXICAN/WESTERN
**Please note**
Due to the fact that this is totally hand made & not made by machine made big manufactures,there may be slight variations that are inherit to the leather.**
Also,when I was photographing this,I noticed that there is a small spot at the top on the inside ( By magnetic closure) & don't know if it is natural to the leather or what?It doesn't show & does not affect anything having to do with the beauty of the purse! I feel however,I should mention this.If you need a photo,please let me know.