Mexican Tooled Leather "Marigold Yellow" Floral Design Well Made Barrel Bag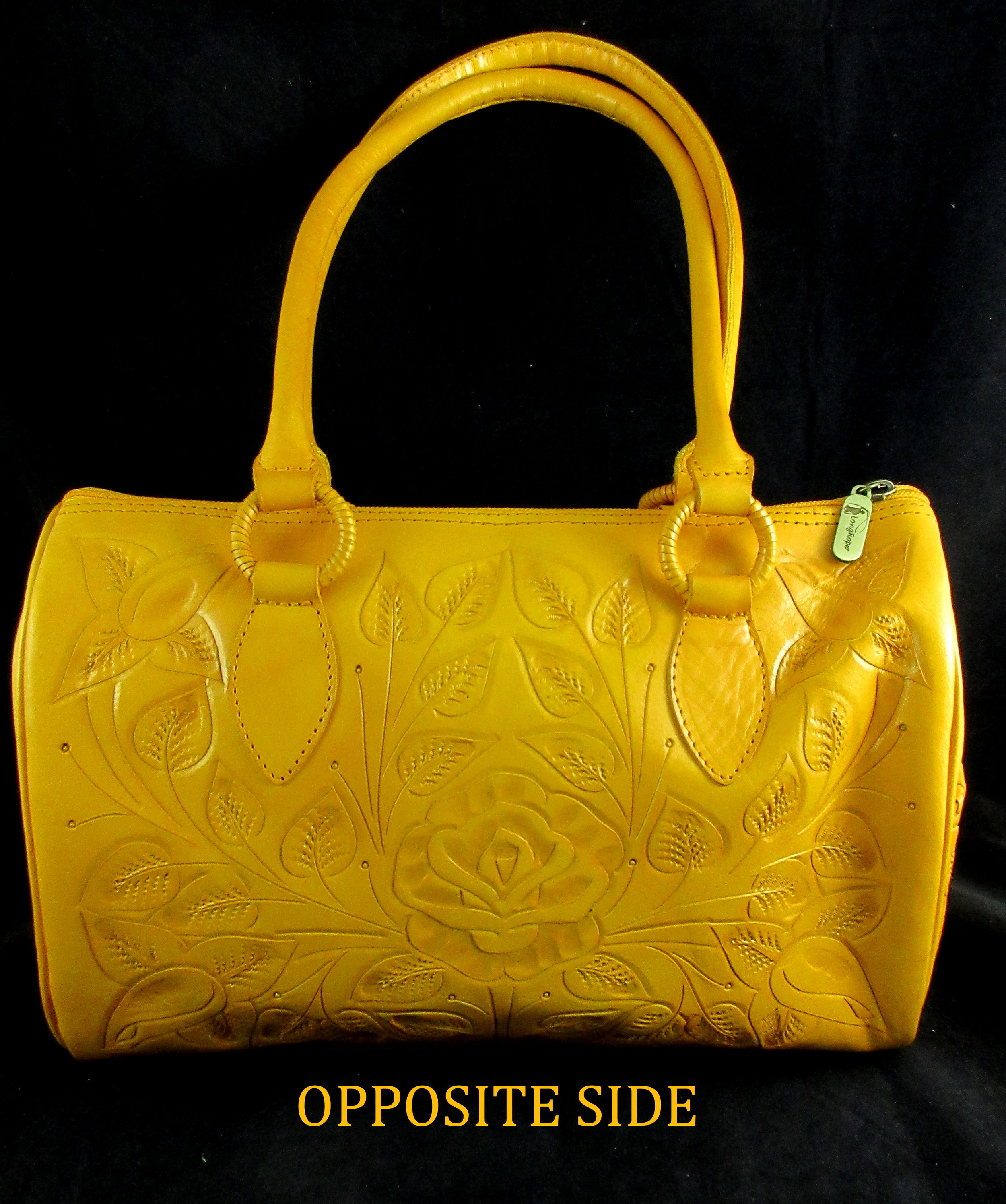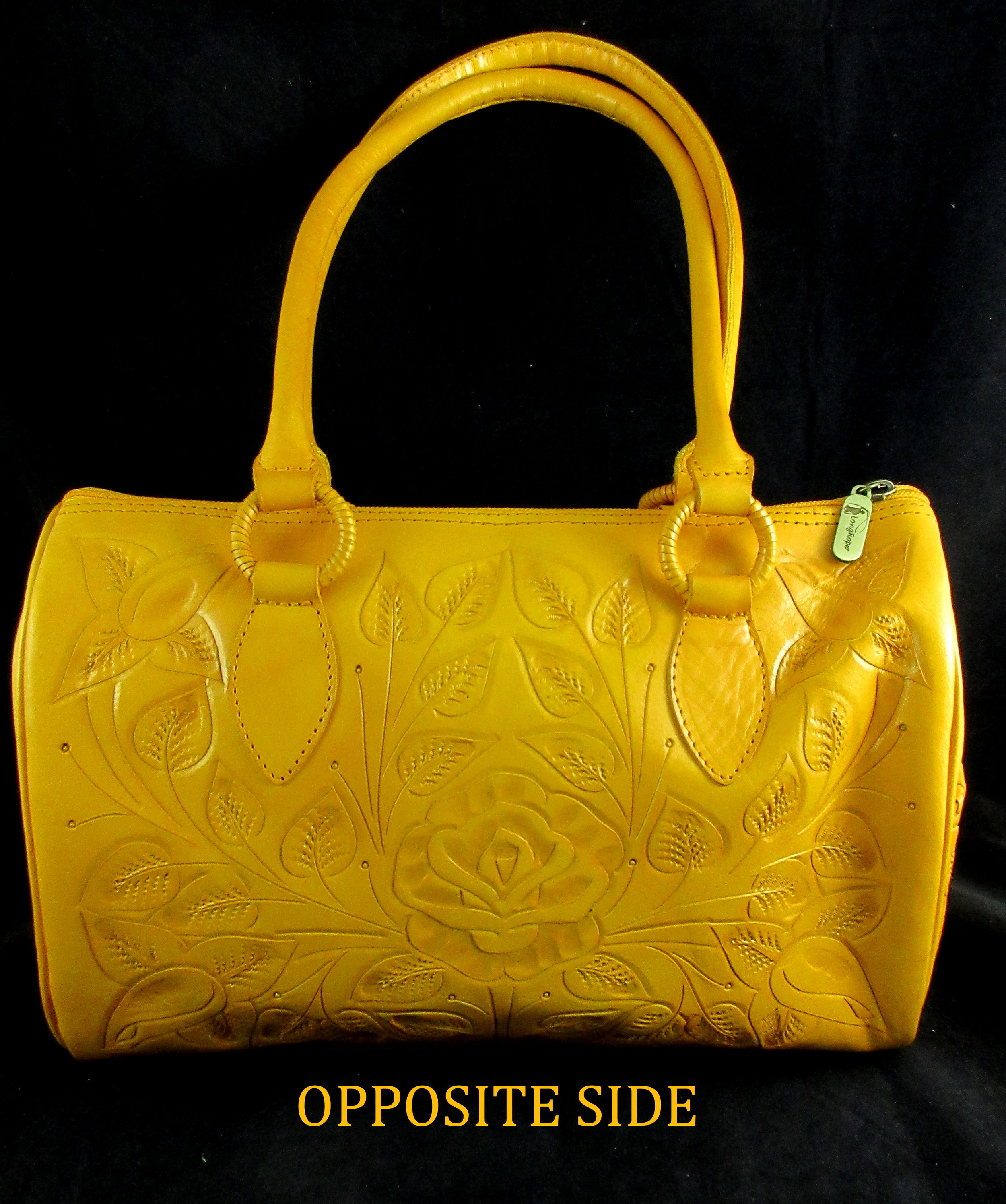 sale
Mexican Tooled Leather "Marigold Yellow" Floral Design Well Made Barrel Bag
This style reminds you of the old Dr.bags & this particular satchel is great when you need to carry a lot,being it has a good amount of storage,but is not so deep,you can't see or find anything..It has a beautiful display of tooled floral work on both sides,so it won't matter which side it is carried.What I personally love are the side pockets on both sides that are tooled with roses & finished off with whip stitching that is done by hand.The pockets are great for easy to grab things,like keys,cell phone,etc.! The handles are rounded & are nice & strong & have rings that have leather wrapped accents that are connected to the base.They are long enough that you can also carry this on the shoulder.The interior is fully lined in brown suede.
This is one gorgeous satchel & cannot speak more highly about it! Perfect for the warmer month's when we wear more color.Also for the colorful artist types or ones who have to have color in their life!
Has that true Southwest/Mexican/Western Cowgirl Chic look!
SHIPPING PRICES FROM POST OFFICE ARE BASED ON 3 THINGS:
WEIGHT,DIMENSIONS OF BOX & HOW FAR THE BOX TRAVELS FROM ORIGINAL LOCATION TO DESTINATION..I HAVE NO CONTROL OVER PRICING.. IF I FIND AT TIME OF CREATING SHIPPING LABEL,THAT IT DID NOT COST AS MUCH AS WHAT I CHARGED,I WILL REIMBURSE YOUR ACCT.,LESS MATERIAL FEES**
MADE BY: LONG ROPE
MADE IN: GUADALAJARA MEXICO
COLOR: HAND RUBBED/APPLIED "MARIGOLD YELLOW"
TECHNIQUE: HAND TOOLING,WHIP STITCHING,MACHINE STITCHING,HAND RUBBED DYED
MATERIAL: LEATHER EXTERIOR/SUEDE INTERIOR
PURSE LENGTH: 14" WIDE
PURSE HEIGHT: 9"
DEPTH: 7"
STRAP DROP:9-1/2"(FROM TOP OF STRAP TO BASE)
INTERIOR ZIP COMPARTMENT MEASUREMENT: 5-1/2"-6" RANGE
ADDITIONAL FEATURES:CELL PHONE INTERIOR COMPARTMENT,1 INTERIOR ZIPPED COMPARTMENT,EXTERIOR SIDE POCKETS FOR EXTRA STORAGE.
LABELED: LONG ROPE
STYLE: COWGIRL CHIC/MEXICAN/WESTERN
**Please note**
Due to the fact that this is totally hand made & not made by machine made big manufactures,there may be slight variations that are inherit to the leather.