Long Rope~ Guadalajara Mexico Made~ Western/Santa Fe Style FUCHSIA/ MAGENTA ~Tooled Leather Handbag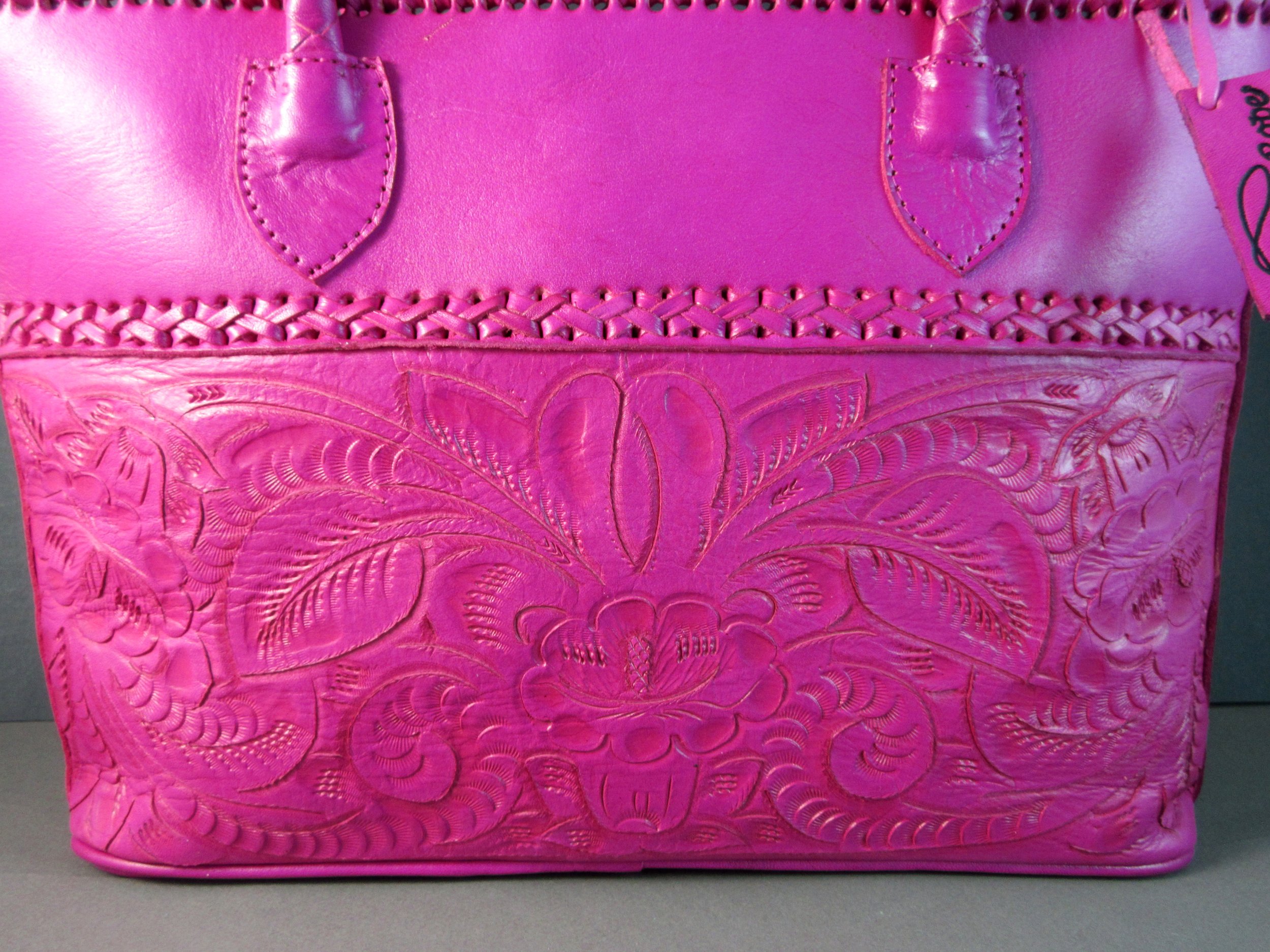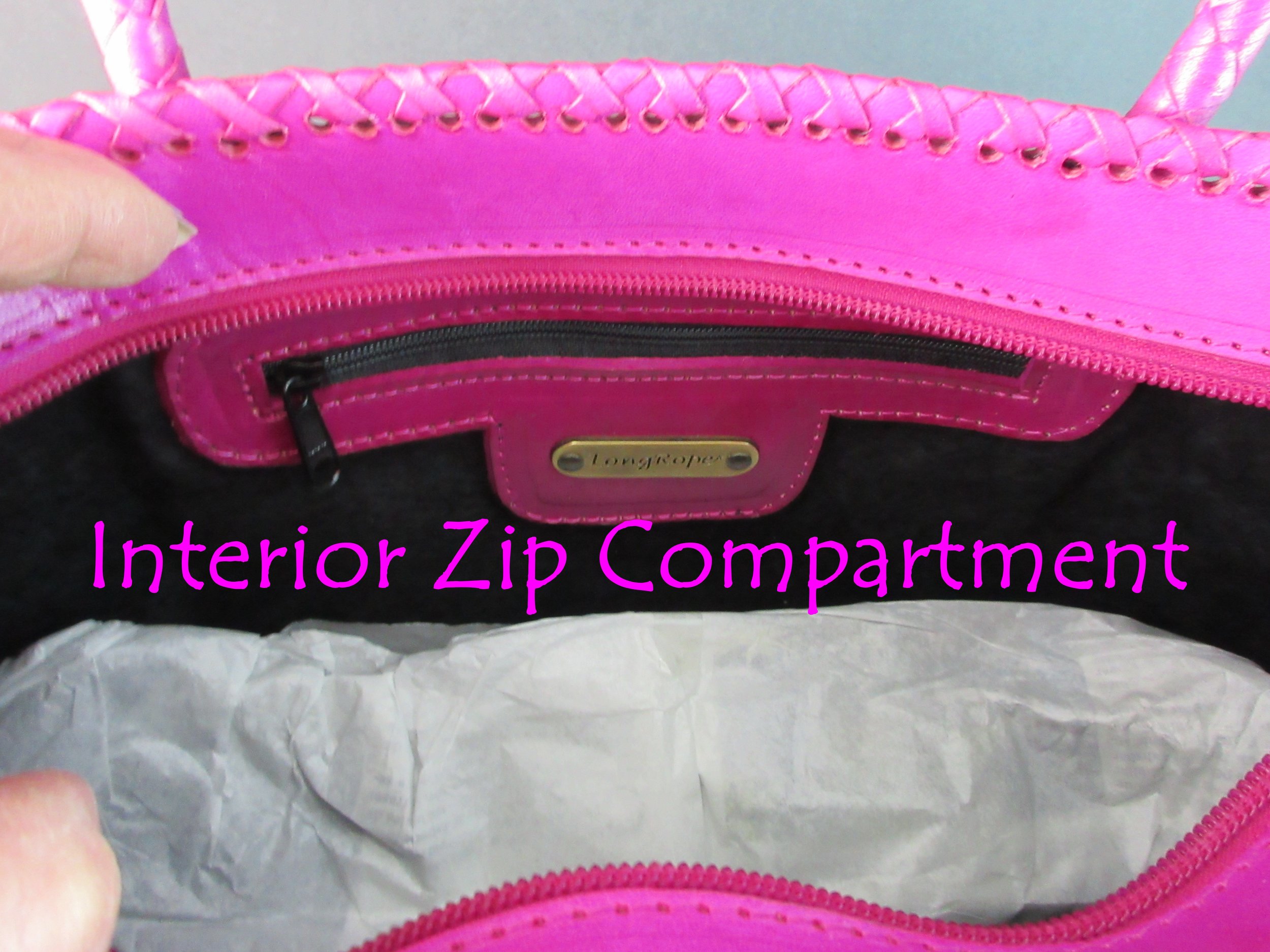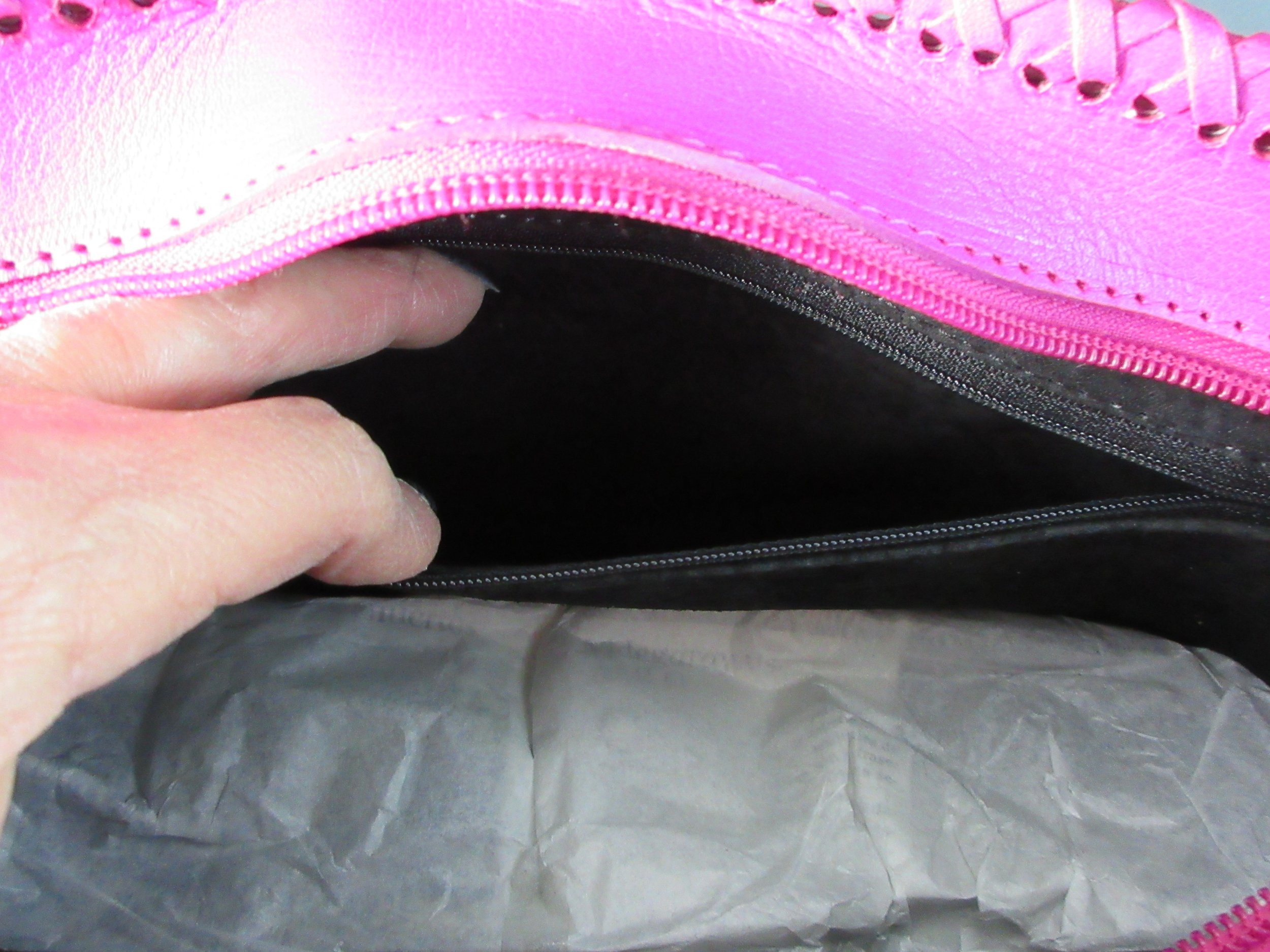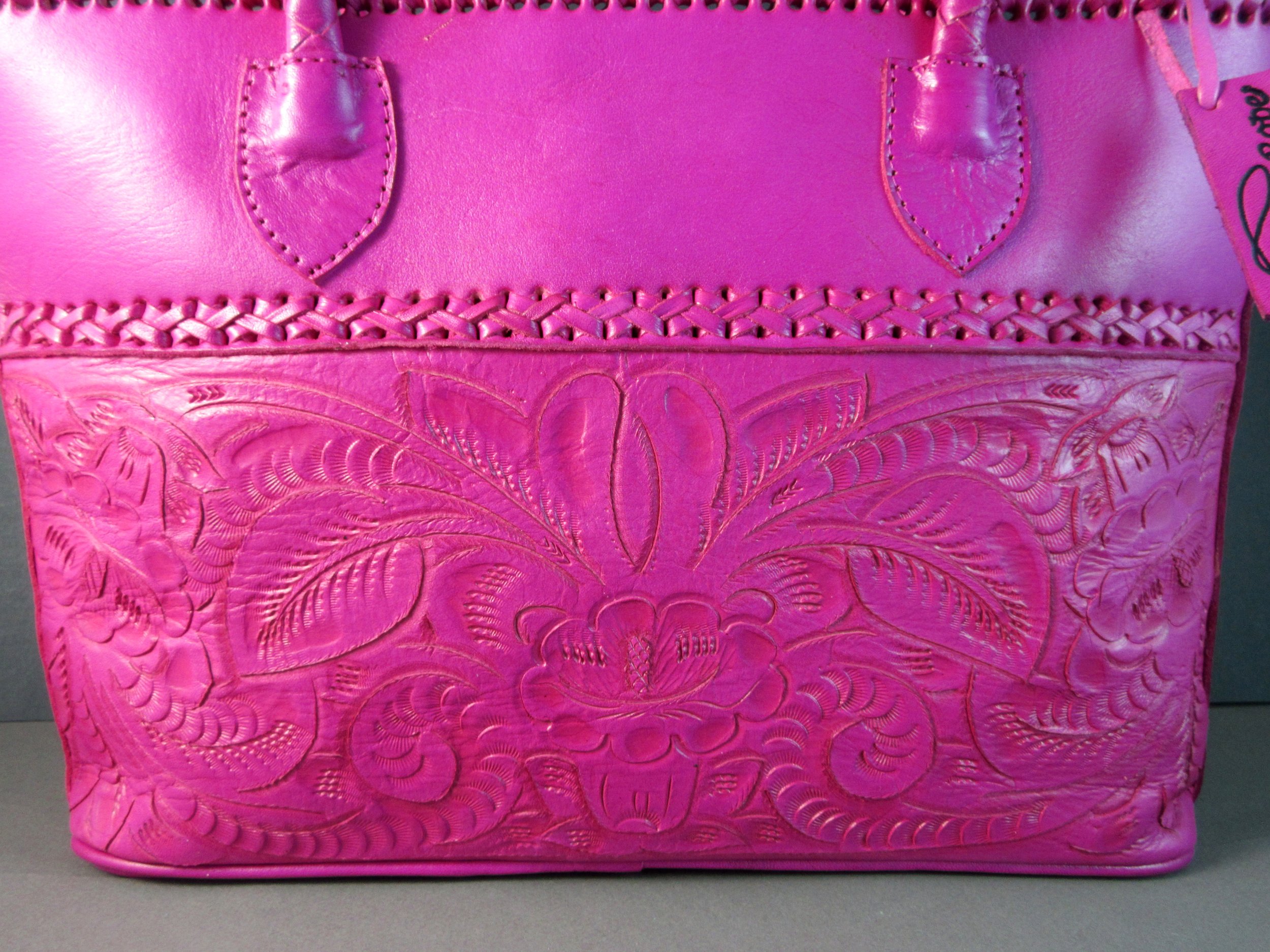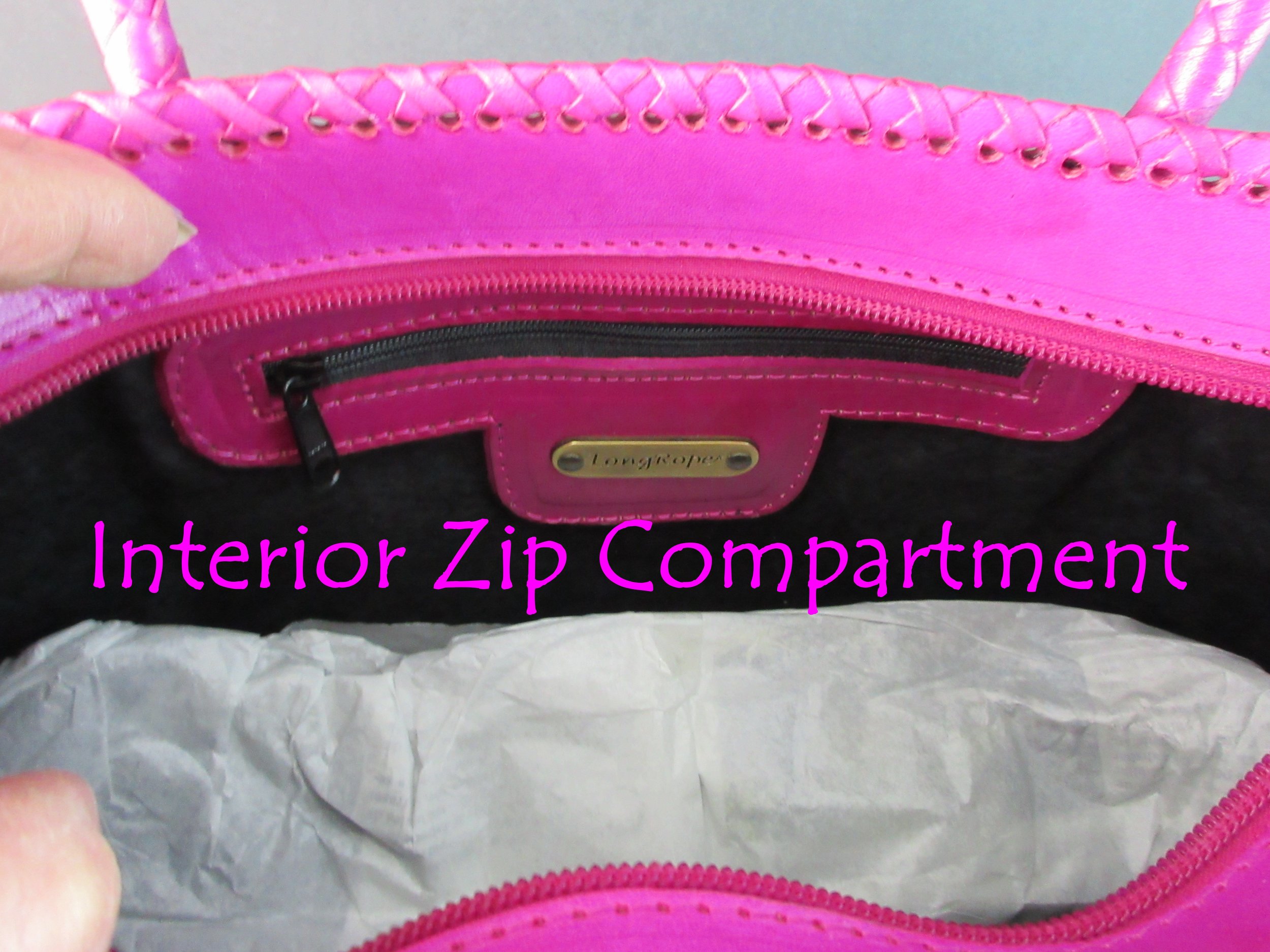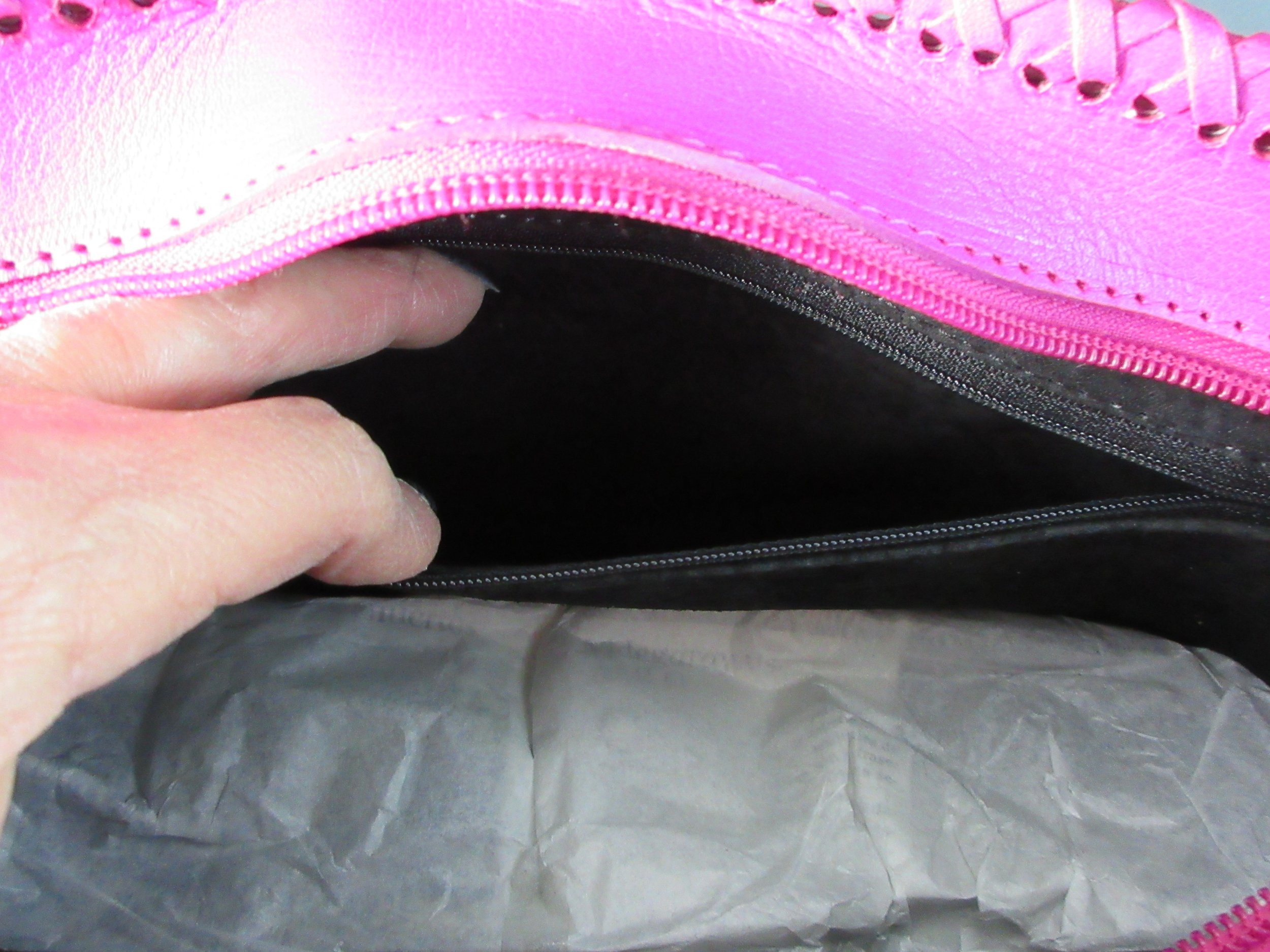 Long Rope~ Guadalajara Mexico Made~ Western/Santa Fe Style FUCHSIA/ MAGENTA ~Tooled Leather Handbag
DESCRIPTION:
This super colorful handbag is one of those "Just the Right Size" purses that is neither too large,nor too small.It is made with impeccable detailing & workmanship that is beautifully tooled along 2/3 rds of the front & back with hand braided accents separating the tooling from the smooth portion..This size lets you carry your basic items & is shallow enough to where you can see & be able to grab anything your looking for! The handles are all hand braided & rounded for comfort when you want to throw it over your shoulder..The top is accented with hand whip stitching..The interior is fully lined in suede & has 2 interior zipped compartments for organizing.
The artisans use a thicker,more durable leather for their purses,so they can pound the design into it without ruining the integrity of the leather,so the bag is nice & strong & will stand the test of time without falling apart in a matter of month's!
The Fuchsia color is a color you just have to see in person & is the perfect color to let you express your colorful side! And with summer coming,this bag will go so well with all the color we wear!
**Just like we have to condition our skin,it is also wise to condition these about every 6 month's & you want to do it more often, if you live in a dry climate.A 'boot cream' is recommended..It will leave it soft! **
Perfect Western Cowgirl Chic purse or will also look stunning with any Mexican wardrobe!
MADE BY: LONG ROPE
MADE IN: GUADALAJARA MEXICO
COLOR: HAND RUBBED FUCHSIA/HOT PINK/MAGENTA
TECHNIQUE: HAND FLORAL TOOLING,WHIP STITCHING,MACHINE STITCHING,BRAIDING,HAND APPLIED DYED,LOVE
MATERIAL: LEATHER EXTERIOR/ BLACK SUEDE INTERIOR
PURSE LENGTH:14-1/2" WIDE
PURSE HEIGHT: 9-1/4"
USABLE DEPTH:2-1/2"
STRAP DROP: 7" (TOP OF STRAP TO BASE)
STRAP STYLE: ROUND~BRAIDED
BOTTOM OF PURSE SHAPE: FLAT
INTERIOR ZIP COMPARTMENTS MEASUREMENT: 1~8" & 1~5"
ADDITIONAL FEATURES: 2 INTERIOR SIDE ZIPPED COMPARTMENTS,TOP ZIPPED CLOSURE
LABELED: LONG ROPE
STYLE: SANTA FE'AN/COWGIRL/MEXICAN/WESTERN
So far I have this style in Yellow,Deep Turquoise.(See Last Photos)
PLEASE READ TERMS BEFORE PURCHASE:
SHIPPING PRICES FROM POST OFFICE ARE BASED ON 3 THINGS:
WEIGHT,DIMENSIONS OF BOX & HOW FAR THE BOX TRAVELS FROM ORIGINAL LOCATION TO DESTINATION.IF ONE OF MY PURSES HANDLES DO NOT FOLD DOWN,(like this one) THEN OF COURSE IT NEEDS A LONGER BOX.A LONGER,LARGER BOX,MEANS A HIGHER PRICE FOR THE POST OFFICE.IF YOU THINK THE SHIPPING IS MORE THAN YOU WANT TO PAY,THEN PLEASE TALK TO OUR POST OFFICE..I HAVE NO CONTROL OVER THIS.. I TRY TO SHIP IN THE SMALLEST BOX,SO I CAN KEEP COSTS DOWN FOR YOU..IF I FIND AT TIME OF CREATING SHIPPING LABEL,THAT IT DID NOT COST AS MUCH AS WHAT I CHARGED,I WILL REIMBURSE YOUR ACCT.,LESS MATERIAL FEES**
**Please note**
Due to the fact that this is totally hand made & not made by machine made big manufactures,there may be slight variations that are inherit to the leather..