Long Rope "GREEN" Tooled Leather Hand Held Western/Mexican Larger Size Clutch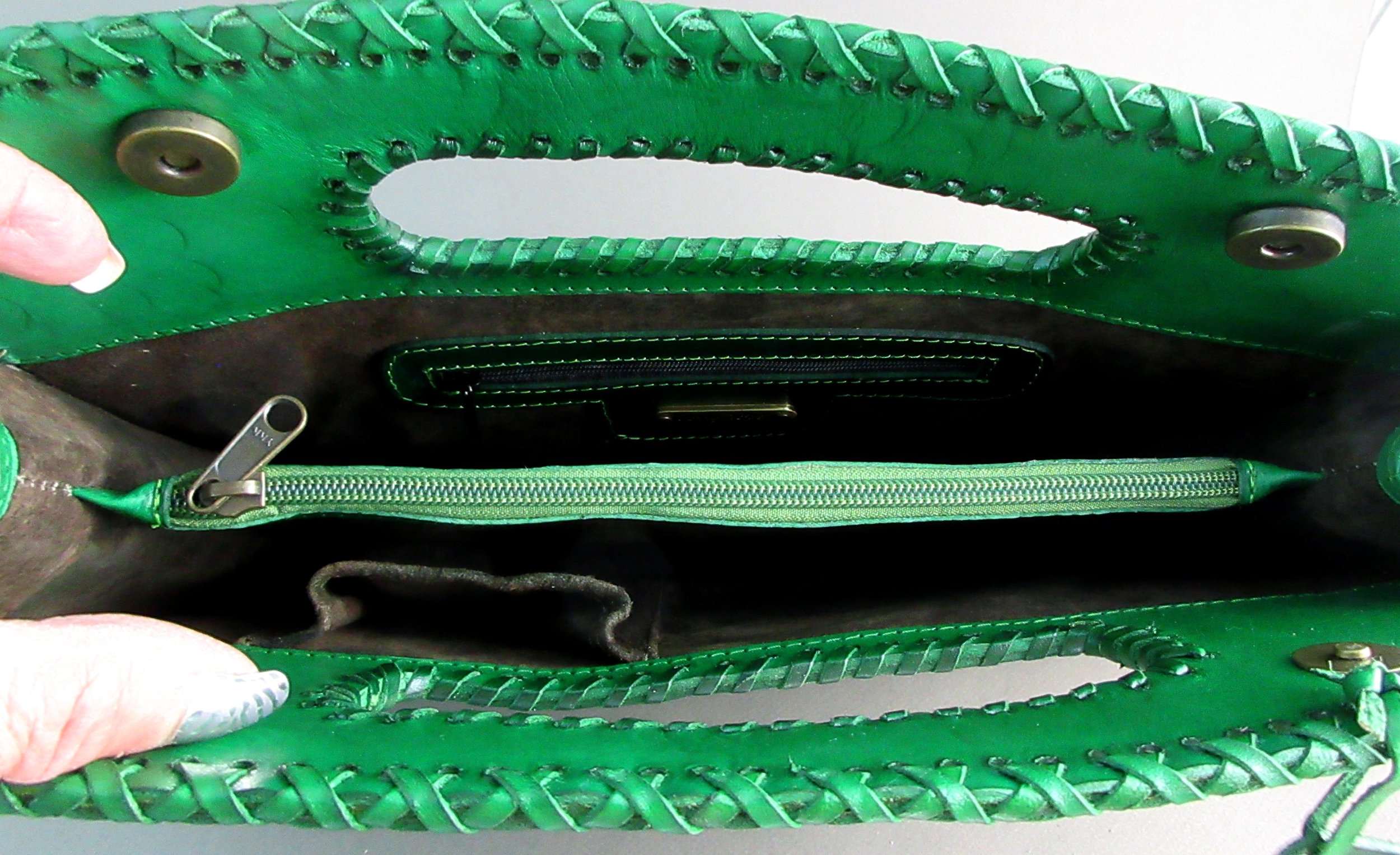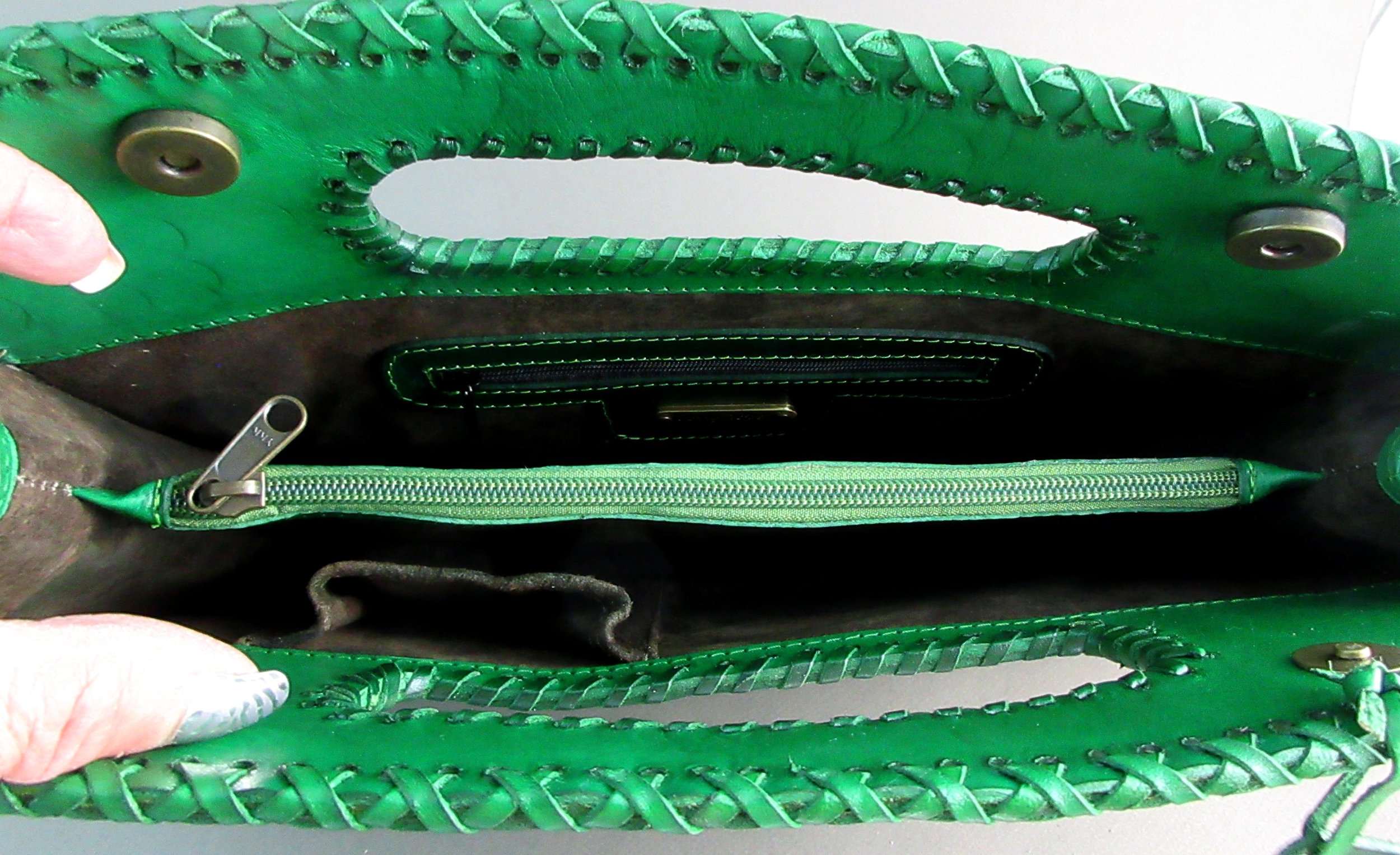 Long Rope "GREEN" Tooled Leather Hand Held Western/Mexican Larger Size Clutch
Long Rope puts out some of the prettiest colors,but personally,the greens they do,take my breath away!! Perfect size for an evening out or when you don't want to carry a big size purse.Compared to some other clutch's.this one is a larger size clutch that actually holds quite a bit for it's size & is a hand held type with no strap.
The tooling is not a lightweight,'surface' type,but is given a deeper tooling so you can witness the attractive design.This is also the reason why they use a thicker,more durable leather for these purses,so the artisan can pound their design into it without ruining the integrity of the leather.The bag is strong & will stand the test of time,so these are not made to wear out in a matter of month's & in time,they break in nicely!
Each hole punched along the borders,is done by hand in order to wrap the whip stitching through each hole for more reinforcement.The interior is fully lines in soft black sued suede.
It is beautifully tooled on both sides,so it won't matter how it is carried.What you will love about the design is,rather than putting a single magnetic snap in the middle,(and if it opens,things can fall out) they put the snaps on both ends on the top,so it is more secure(see pics)
Another great feature is the ability to keep things separated in the inside so you have more organization,since it has a middle zipped section & then has the opened sections on the sides of the center zipped one.
**Just like we have to condition our skin,it is also wise to condition these about every 6 month's & you want to do it more often, if you live in a dry climate.A 'boot cream' is recommended..It will leave it soft! **
If your looking for a great southwest style purse,look no further!! This has that true Southwest/Mexican/Western Cowgirl Chic look & can go with any Mexican or (South) Western !
"Made with time & love"!
LABELED: LONG ROPE
HAND MADE IN: GUADALAJARA MEXICO
COLOR: HAND RUBBED APPLIED "GREEN"
TECHNIQUE: HAND TOOLING,WHIP STITCHING,MACHINE STITCHING,HAND RUBBED DYED
MATERIAL: LEATHER EXTERIOR/SUEDE INTERIOR
PURSE LENGTH: 14"(TOP) 14-1/2" (BOTTOM)
PURSE HEIGHT:10"
DEPTH: APPROX.2-1/2"
STYLE: TOOLED LEATHER HAND HELD CLUTCH
INTERIOR ZIP COMPARTMENT MEASUREMENT: 5-1/2"-6" RANGE
ADDITIONAL FEATURES:CELL PHONE INTERIOR COMPARTMENT, 1 INTERIOR SIDE ZIPPED COMPARTMENT,MIDDLE ZIPPED COMPARTMENT,2 SNAP CLOSURE
STYLE: COWGIRL CHIC/MEXICAN/WESTERN CLUTCH
**Please note**
Due to the fact that this is totally hand made & not made by machine made big manufactures,there may be slight variations inherit to the leather..