Guadalajara "MARIGOLD YELLOW"~ Hand Tooled Leather~ Large Size Western Style Bag ~ Great For Business or Travel!!!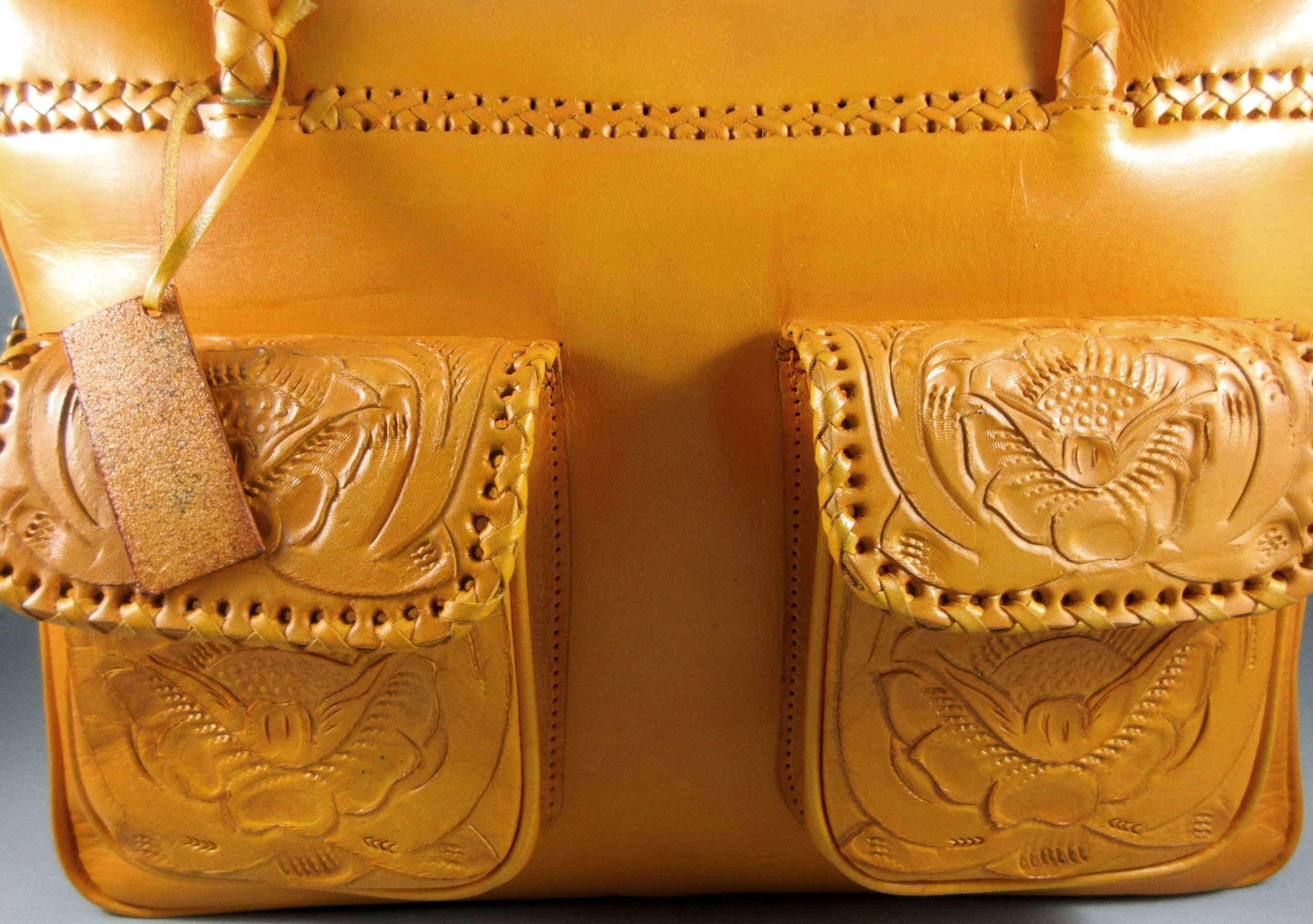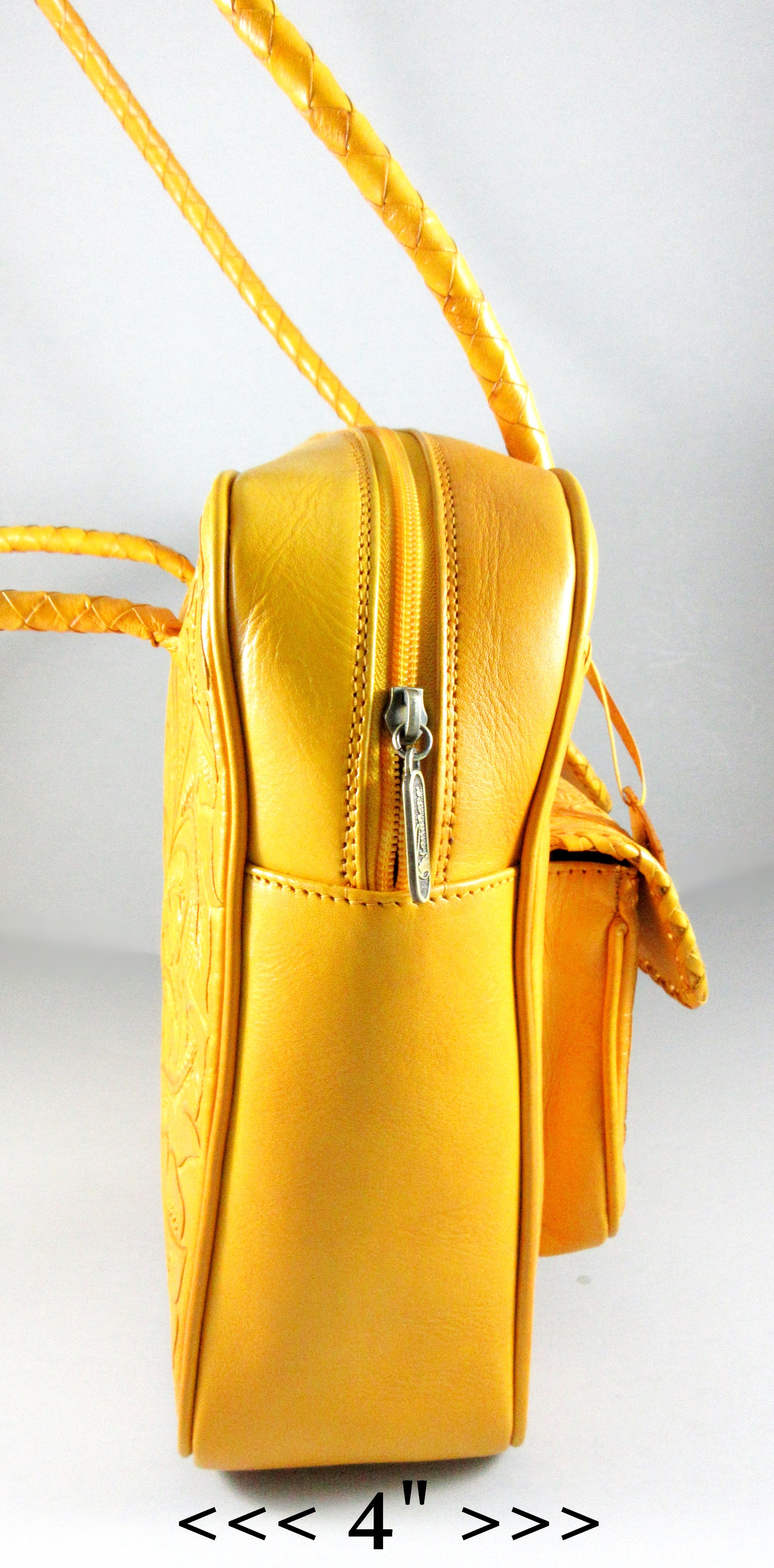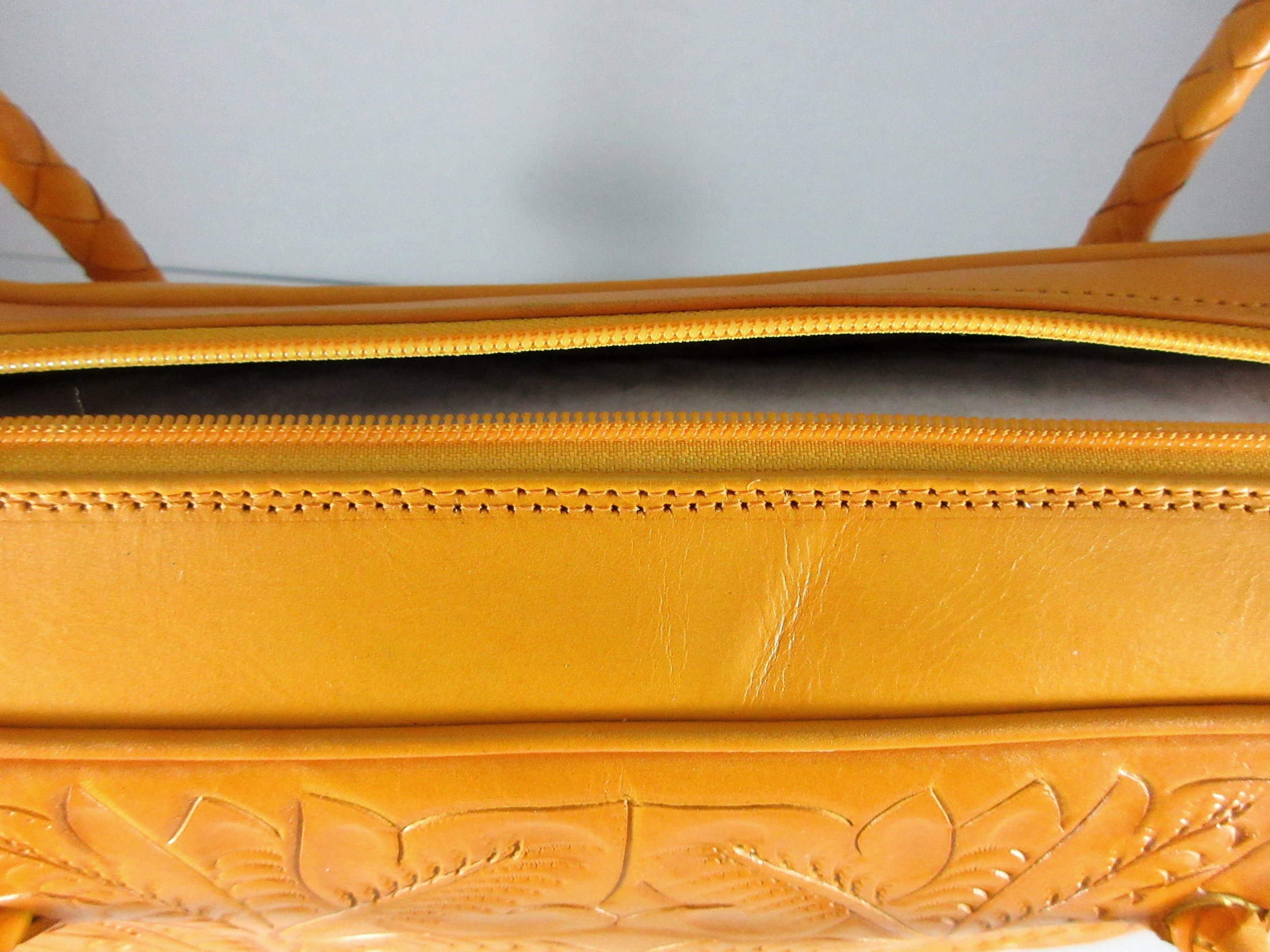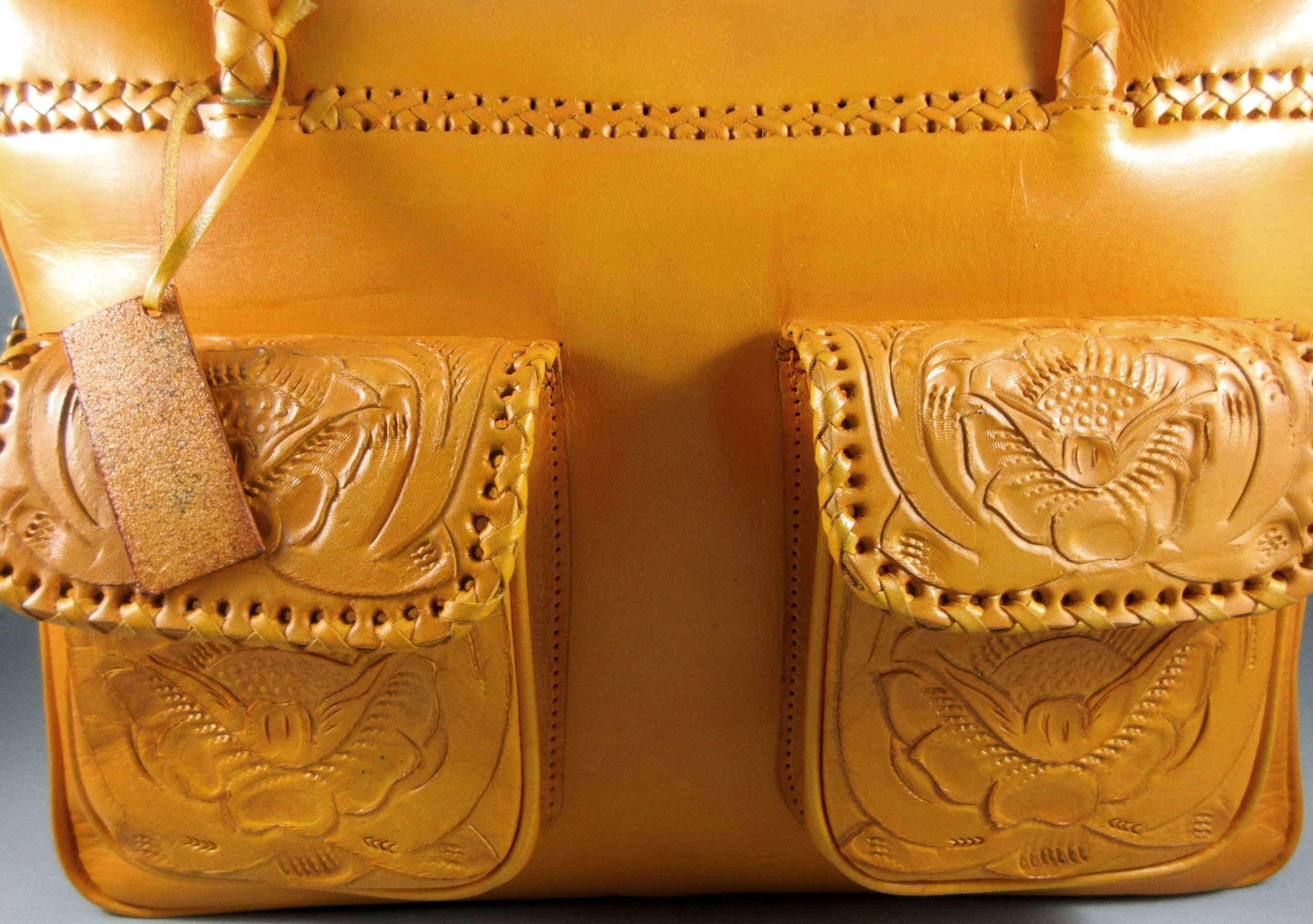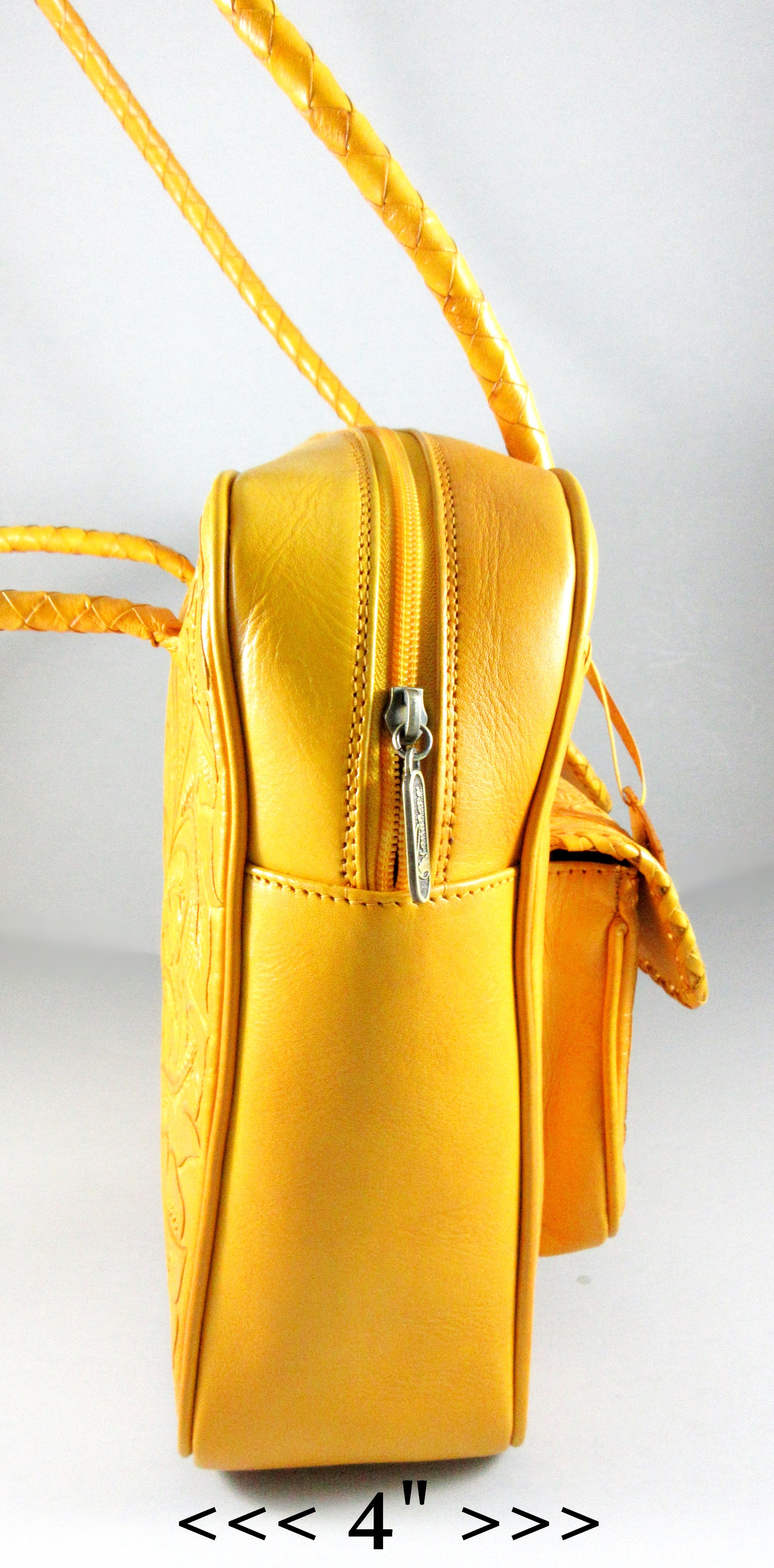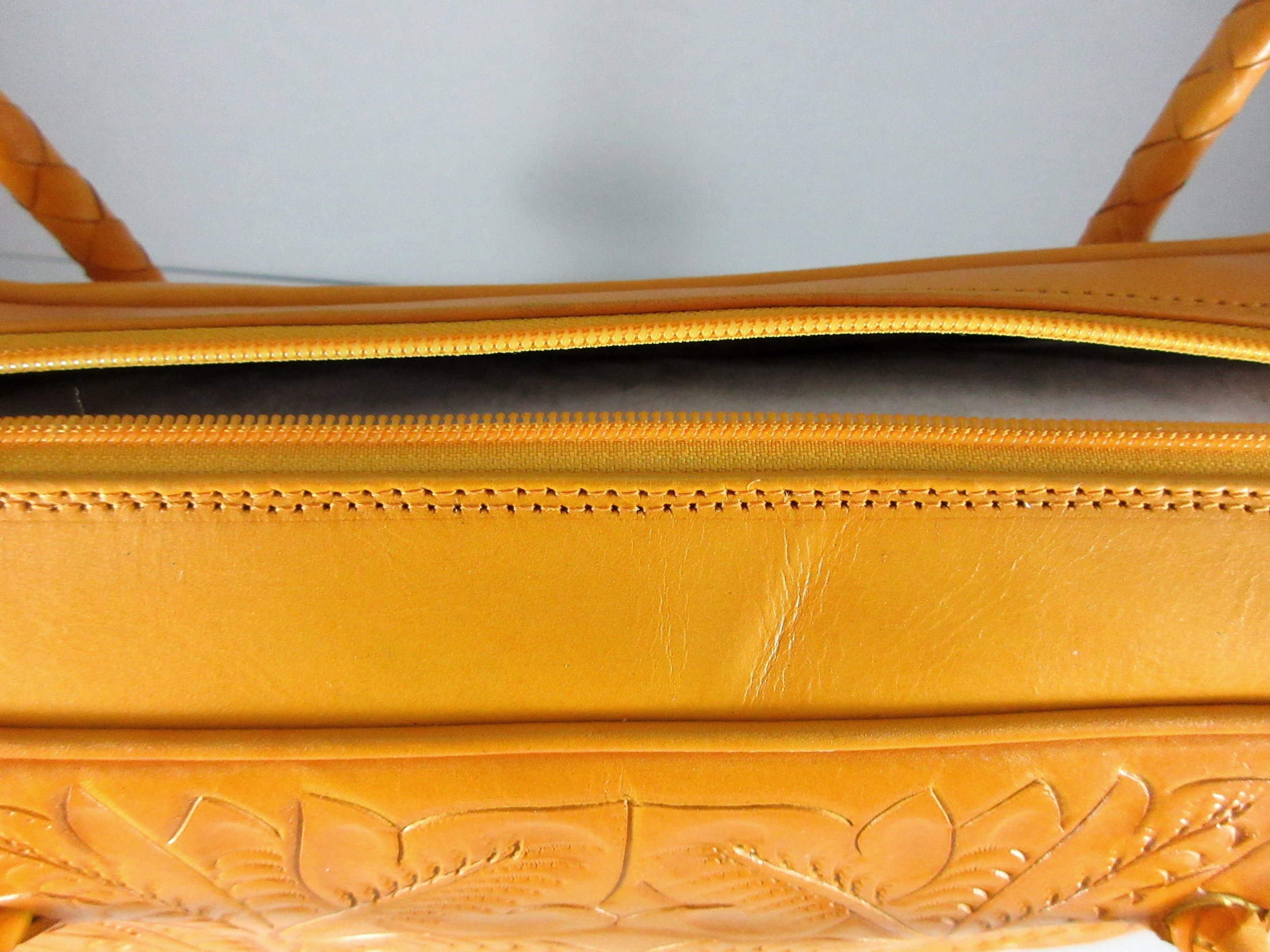 sale
Guadalajara "MARIGOLD YELLOW"~ Hand Tooled Leather~ Large Size Western Style Bag ~ Great For Business or Travel!!!
ABOUT THE COMPANY
Made in Mexico by one of Guadalajara's leading tooled leather manufactures, who not only make some of the finest tooled purses I have found,but a manufacturer who gives us these fun & vibrantly colored purses like no other! These are festive & they are perfect for the person who loves color... You will witness the impeccable workmanship & all the time that is put into each one of their purses,with their workmanship showing throughout,with every little detail..
DESCRIPTION:
This particular purse is perfect for the woman who loves to be organized & wants her more important belongings,to be easily accessible..Who wants to spend time looking for something??With this, you can put things where you can find them in a hurry..
Made of a more durable weighted leather,this is on the larger side & you can even use this for a smaller laptop case,if you like.(Measurements below) But whatever you choose to use it for,you can pack quite a bit in this one..
On the front you have 2 beautifully floral tooled pockets that have whipped stitched borders & a magnetic snap closure.The backside is so artistically tooled,it is literally a work of floral tooled art! (In leather form) The handles are hand braided,so they are nice & strong & are made for comfort if you carry on the shoulder.
Has that true Southwest/Mexican/Western Cowgirl Chic look & can go with any Mexican wardrobe or Western !
Perfect color for the 'Artsy-Colorful types,Business people who have to carry files & small computer,Overnight/Travel bag,Lawyers,etc.!!
**Just like we have to condition our skin,it is also wise to condition these about every 6 month's & you want to do it more often, if you live in a dry climate.A 'boot cream' is recommended..(I will condition before sending!)**
MADE BY: LONG ROPE
MADE IN: GUADALAJARA MEXICO
COLOR: HAND RUBBED YELLOW
TECHNIQUE: HAND TOOLING,MACHINE STITCHING,HAND RUBBED DYED,BRAIDING
MATERIAL: LEATHER EXTERIOR/SUEDE INTERIOR/BRASS HARDWARE BOTTOM
PURSE LENGTH: 15" WIDE
PURSE HEIGHT:11" TALL
DEPTH: APPROX. 4"
STRAP DROP: 13-1/2"(FROM TOP OF STRAP TO BASE)
FRONT POCKETS(CLOSED): 5" WIDE X 5-1/2" TALL
INTERIOR ZIP COMPARTMENT MEASUREMENT: 5-1/2"-6" RANGE
ADDITIONAL FEATURES:CELL PHONE INTERIOR COMPARTMENT, 1 INTERIOR ZIPPED COMPARTMENT,1 INTERIOR NON-ZIPPED SIDE COMPARTMENT
LABELED: LONG ROPE
STYLE: MEXICAN~ARTSY~WESTERN
~~~~~~~~~~~~~~~~~~~~~~~~~~~~
*****SHIPPING PRICES FROM POST OFFICE ARE BASED ON 3 THINGS:******
WEIGHT,DIMENSIONS OF BOX & HOW FAR THE BOX TRAVELS FROM ORIGINAL LOCATION TO DESTINATION.IF ONE OF MY PURSES HANDLES DO NOT FOLD DOWN,THEN OF COURSE IT NEEDS A LONGER BOX.A LONGER,LARGER BOX,MEANS A BIGGER PRICE FOR THE POST OFFICE.I HAVE NO CONTROL OVER THIS!
HOWEVER,IF I FIND AT TIME OF CREATING SHIPPING LABEL,THAT IT DID NOT COST AS MUCH AS WHAT I CHARGED,I WILL REIMBURSE YOUR ACCT.,LESS MATERIAL FEES(Like if I have to buy a box,etc..)**
**Please note**
Due to the fact that this is totally hand made & not made by machine made big manufactures,there may be slight variations.