Long Rope Guadalajara Mexican "PURPLE" Tooled Leather Crossbody Shoulder Purse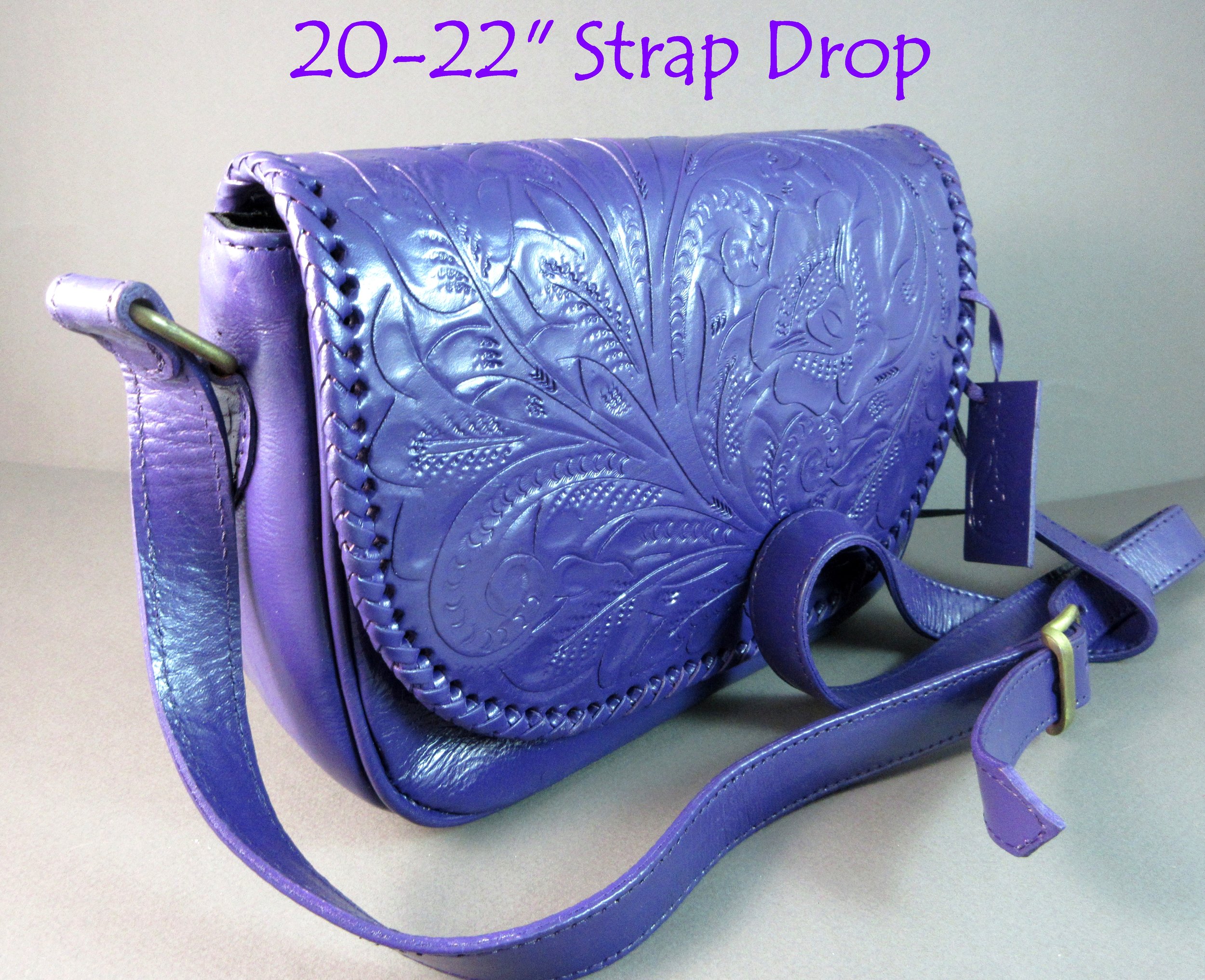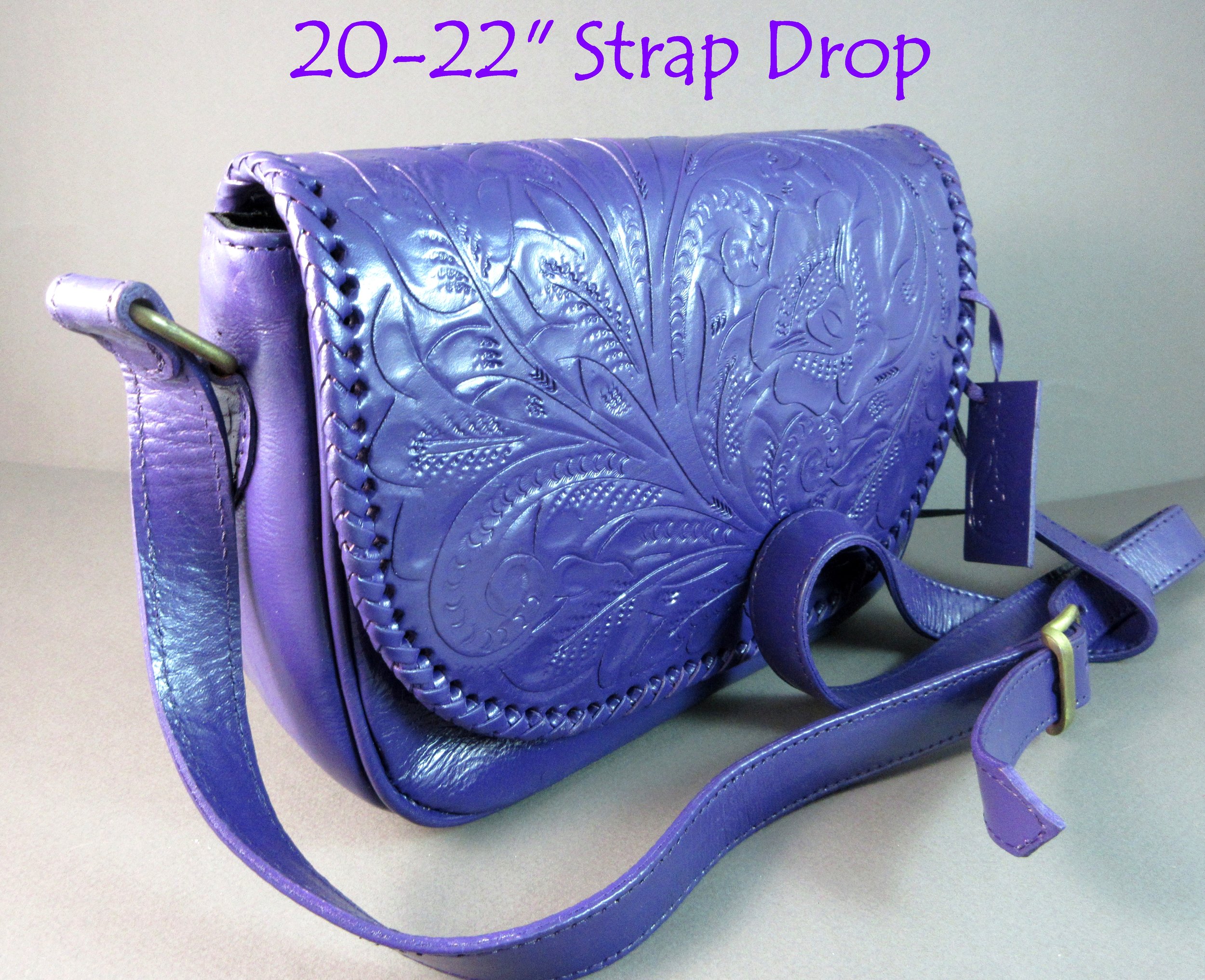 Long Rope Guadalajara Mexican "PURPLE" Tooled Leather Crossbody Shoulder Purse
Made in Guadalajara,Mexico by a manufacture that specializes in not only giving us the most pristine workmanship,but gives us these hard to find,fun colors!!

This cross body shoulder style purse is literally a work of art,(in tooled leather form) where the tiniest attention to detail is at the top of their list,since putting out the best, is what this company is about.

It's not too often you see a wonderful purple purse & with all the color we wear in the summer,this will surely be a great addition!!

This purse is great for those who love a little bit more security,since it is made with a front flap that has a magnetic closure.This is also the kind of purse you want if you need your hands free for shopping,safety,when you have other bags to carry like when your going through airports or have children to tend to.It's great when your out shopping as well..The adjustable strap is nice & long & is a perfect purse to cross over the shoulder,so you will always know where it's at!
The purse is on the smaller scale & is a perfect size & when you don't have much to carry & like to find what you need pretty quick! The interior is only 7" high,which makes things easy to locate.
The front flap is hand punched with holes for all the whip stitch braiding that follows the border & is done with the power of the hand.The backside is designed with no tooling & has a exterior pocket so you can find your more important & more accessible items easy,like a cellphone or keys for one!
They do a deeper tooling than others,not only to accentuate the artful display,but because they use a thicker leather so the artisan can pound their design into the leather without ruining the integrity of the leather.The bag is very durable!!

You can't pick any better color to go with a Mexican,Santa Fe style wardrobe!
In the last photo you will see just a few of the colors I carry!!
LABELED: LONG ROPE
HAND MADE IN: GUADALAJARA MEXICO
COLOR:PURPLE
TECHNIQUE: HAND TOOLING,WHIP STITCHING,HAND STITCHING,MACHINE STITCHING,HAND RUBBED APPLIED DYED
MATERIAL: LEATHER EXTERIOR/ FULLY LINED BLACK SUEDE INTERIOR
PURSE LENGTH: 10" WIDE
PURSE HEIGHT:7"
DEPTH:3"
ADJUSTABLE STRAP DROP: 20"-22" WITH THE ABILITY TO ADD MORE HOLES
INTERIOR ZIP COMPARTMENT MEASUREMENT: 5-1/2"-6" RANGE
ADDITIONAL FEATURES:1 INTERIOR ZIPPED COMPARTMENT,I INTERIOR NON-ZIPPED COMPARTMENT,BACKSIDE POCKET
STYLE: SOUTHWESTERN/MEXICAN
**Please note**
Due to the fact that this is totally hand made & not made by machine made big manufactures,there may be slight variations.
I am not ,nor claim to be,a professional photographer,but I do try to do my best at giving you accuracy in color..Sometimes however,colors can vary,depending on settings,either on your end or mine..So please go through all photos,to see any variation*