ROJA Colorful Embroidered ROSA TUNIC DRESS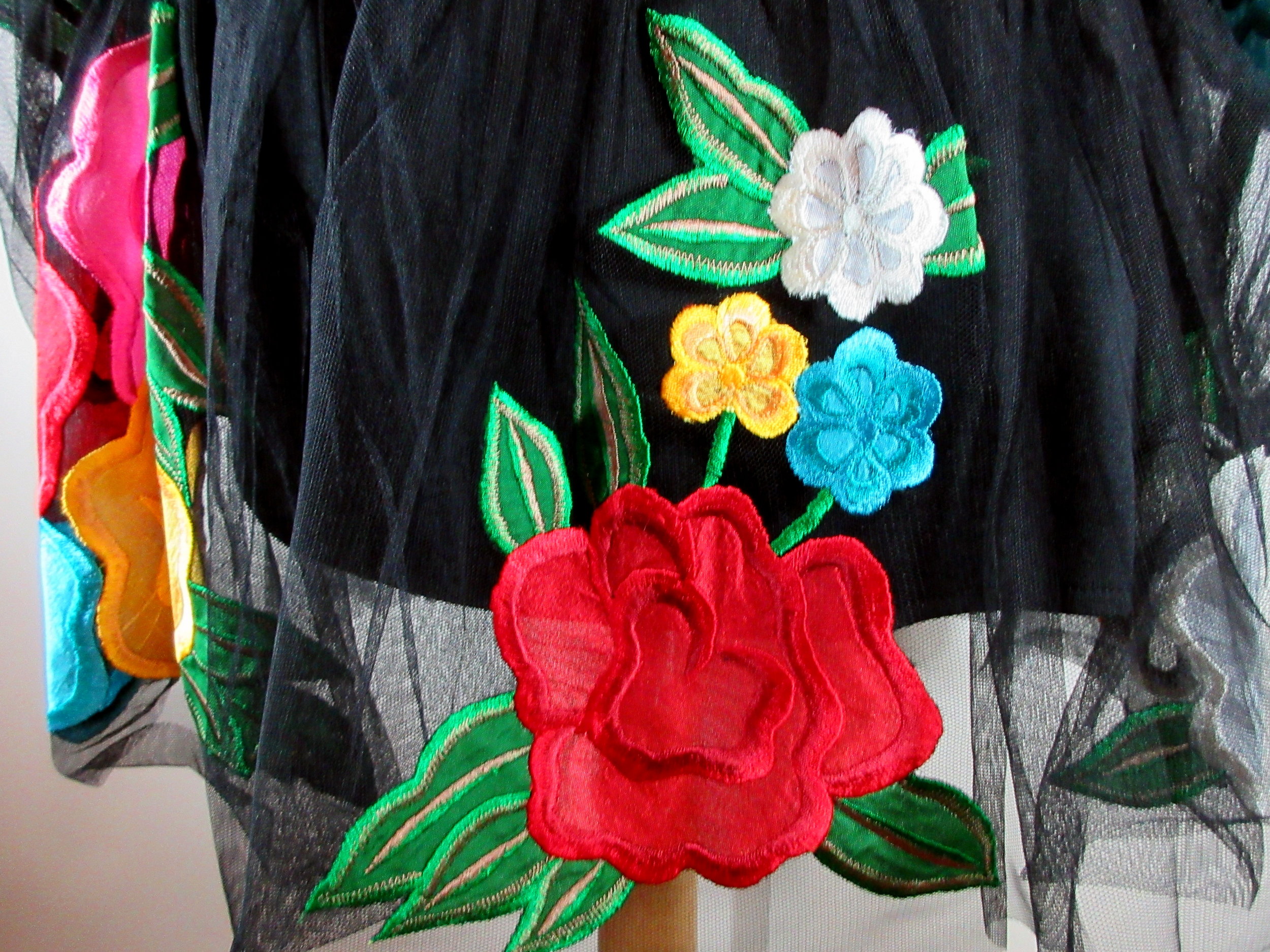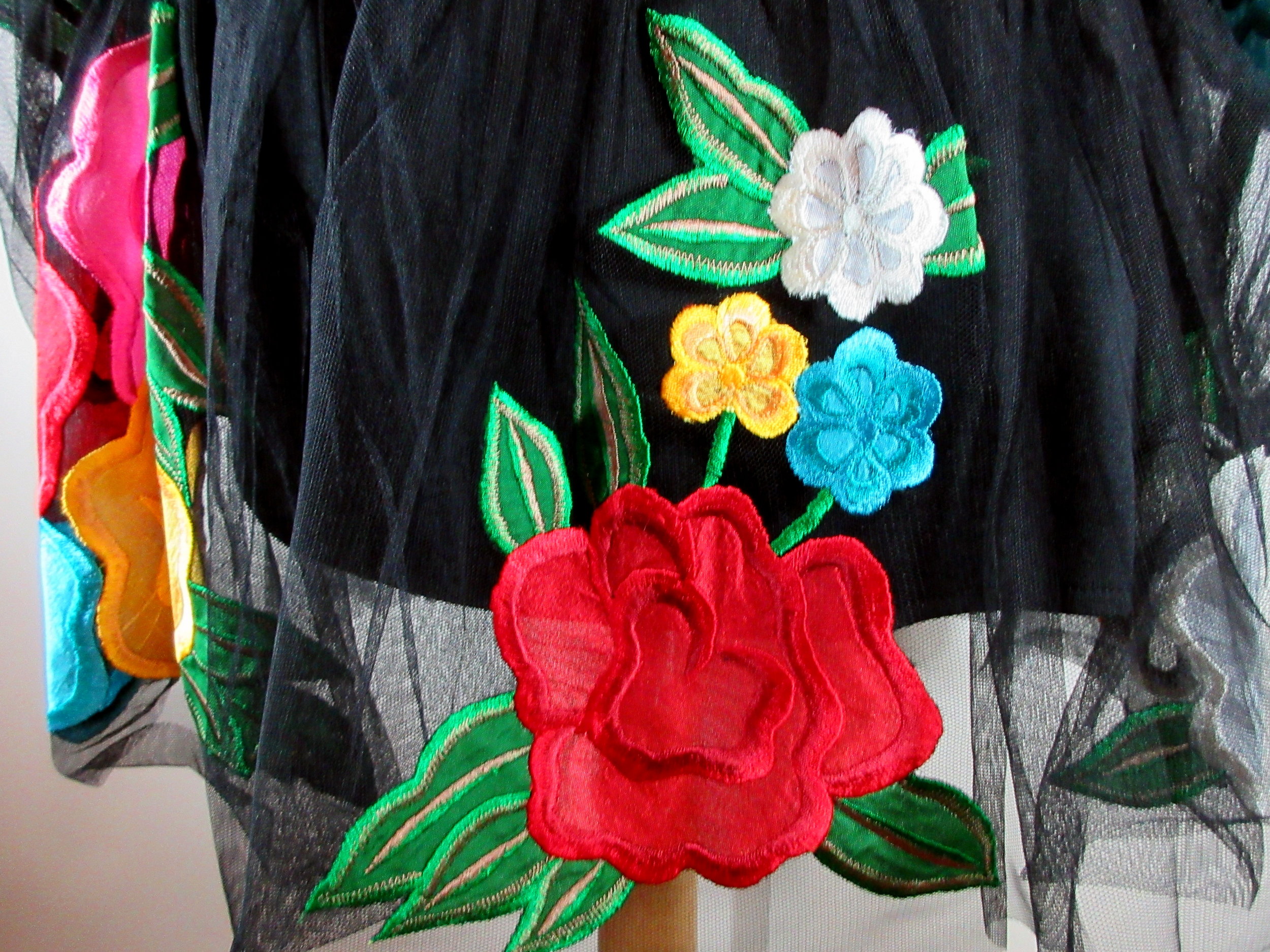 sold out
ROJA Colorful Embroidered ROSA TUNIC DRESS
NO RETURNS ON CLOSEOUTS

Definitely was made for the young at heart & colorful,fun,artsy types..

The vibrant floral colors seem to explode against the stark, black sheer background & has a mixture of color that makes up the huge floral..From pinks, to deep Chanel color exotic reds,to turquoise,yellows,whites that are sewn next to kelly green leaves.The flowers are made of almost a metallic type fabric & a satin type embroidered threading that has a sheen to them & helps to accentuate the floral design.

The tunic is larger than the cami that goes underneath..The piece & the cami are connected by snaps,to help the garment can stay put.

The sleeves have a peasant feel & balloon out from the elbow area on down & this is where the flowers are..The left side has different colors than the right side..It is given an elastic neckline,so you can wear this off the shoulder if you choose.

I love that the sleeves have elastic at the wrists,so you can push them up or wear them full length!This works well for people who have different arm length's! The top itself is roomy & flares out in the hip area.The Tunic is meant to be 'roomy' & not form fitting,while the cami is more form fitting(but can be changed out)

Try some leggings,jeans,skirt with this! This is one of those pieces that has versatility..
MEASUREMENTS TAKEN UN-STRETCHED & MEASURED ON ONE SIDE ONLY..
Please DOUBLE the Underarm,Bust,Waist!!!
**Because of the movement of the fabric,ALL MEASUREMENTS ARE APPROXIMATE**
--------------------------------------------------------------------------------------------------------------------------------
SIZE SMALL~CAMI:17"(Bust~waist~~Please double)
ROSA TUNIC MEASUREMENT:Underarm~19",Bust~18",Waist~17",Length~30",Sleeves~22"(approx.since there is no shoulder seam)
-----------------------------------------------------------------------------------------------------------------------------------------------SIZE MEDIUM~CAMI:17"(Bust~waist~~Please double)
ROSA TUNIC MEASUREMENT:Underarm~20",Bust~19",Waist~18",Length~30",Sleeves~22"(approx.since there is no shoulder seam)
------------------------------------------------------------------------------------------------------------------------------------------------SIZE LARGE~CAMI:18"(Bust~waist~~Please double)
ROSA TUNIC MEASUREMENT:Underarm~22",Bust~19-1/2",Waist~19-1/2",Length~30",Sleeves~23"(approx.since there is no shoulder seam)
------------------------------------------------------------------------------------------------------------------------------------------------SIZE XL~CAMI:20"(Bust~waist~~Please double)
ROSA TUNIC MEASUREMENT:Underarm~24",Bust~21-1/2",Waist~21",Length~31",Sleeves~23"(approx.since there is no shoulder seam)
------------------------------------------------------------------------------------------------------------------------------------------------
SIZE XXL~CAMI:21"(Bust waist~~Please double)
ROSA TUNIC MEASUREMENT:Underarm~26",Bust~24",Waist~24",Length~32",Sleeves~25"(approx.since there is no shoulder seam)
----------------------------------------------------------------------------------------